Note: Supplemental materials are not guaranteed with Rental or Used book purchases.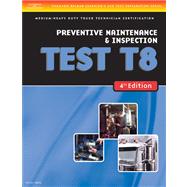 ASE Test Preparation Medium/Heavy Duty Truck Series Test T8: Preventive Maintenance
ISBN13:
9781418048365
by
Delmar, Cengage Learning
Related Products
Summary
This updated fourth edition has been completely updated to provide the most current ASE test preparation material for Medium/Heavy Duty Trucks available anywhere. Test T8: Preventative Maintenance provides valuable preparation for automotive technicians seeking certification in the Preventative Maintenance ASE Medium/Heavy Duty Truck Technician Certification area. Readers are afforded scores of opportunities to ascertain their knowledge of critical concepts, through the extensive array of sample problems, ASE-style exams, and competency-specific test questions required for certification by ASE. Refresher materials, helpful test-taking strategies, and thorough explanations round out this comprehensive preparation package.
Table of Contents
Preface
v

| | |
| --- | --- |
| | Section 1 The History and Purpose of ASE |

| | |
| --- | --- |
| | Section 2 Take and Pass Every ASE Test |

| | |
| --- | --- |
| | How are the tests administered? |

3
(1)

| | |
| --- | --- |
| | Who writes the questions? |

3
(1)
4
(1)
5
(1)
6
(1)
6
(1)
6
(3)

| | |
| --- | --- |
| | Section 3 Types of Questions on an ASE Exam |

| | |
| --- | --- |
| | Multiple Choice Questions |

9
(1)
10
(1)

| | |
| --- | --- |
| | Technician A, Technician B Questions |

10
(1)
11
(1)
12
(1)
12
(1)

| | |
| --- | --- |
| | Section 4 Overview of Task List |

| | |
| --- | --- |
| | Preventive Maintenance Inspection (PMI) (Test T8) |

13
(1)
14
(51)

| | |
| --- | --- |
| | Engine Systems (12 questions) |

14
(1)
14
(2)

| | |
| --- | --- |
| | Fuel System (2 questions) |

16
(2)

| | |
| --- | --- |
| | Air Induction and Exhaust System (2 questions) |

18
(1)

| | |
| --- | --- |
| | Cooling System (4 questions) |

19
(3)

| | |
| --- | --- |
| | Lubrication System (2 questions) |

22
(1)

| | |
| --- | --- |
| | Cab and Hood (6 questions) |

23
(1)

| | |
| --- | --- |
| | Instruments and Controls (2 questions) |

23
(3)

| | |
| --- | --- |
| | Safety Equipment (1 question) |

26
(1)
27
(2)

| | |
| --- | --- |
| | Air Conditioning and Heating (HVAC) (2 questions) |

29
(2)

| | |
| --- | --- |
| | Electrical/Electronics (10 questions) |

31
(1)

| | |
| --- | --- |
| | Battery and Starting Systems (4 questions) |

31
(3)

| | |
| --- | --- |
| | Charging System (4 questions) |

34
(1)

| | |
| --- | --- |
| | Lighting System (2 questions) |

35
(1)

| | |
| --- | --- |
| | Frame and Chassis (19 questions) |

36
(1)
36
(11)

| | |
| --- | --- |
| | Hydraulic Brakes (2 questions) |

47
(3)

| | |
| --- | --- |
| | Drive train (3 questions) |

50
(4)

| | |
| --- | --- |
| | Suspension and Steering Systems (3 questions) |

54
(4)

| | |
| --- | --- |
| | Tires and Wheels (3 questions) |

58
(2)

| | |
| --- | --- |
| | Frame and 5th Wheel (2 questions) |

60
(2)

| | |
| --- | --- |
| | Road/Operational Test (3 questions) |

62
(3)

| | |
| --- | --- |
| | Section 5 Sample Test for Practice |

65
(28)

| | |
| --- | --- |
| | Section 6 Additional Test Questions for Practice |

| | |
| --- | --- |
| | Additional Test Questions |

93
(16)

| | |
| --- | --- |
| | Answers to the Test Questions for the Sample Test Section 5 |

109
(2)

| | |
| --- | --- |
| | Explanations to the Answers for the Sample Test Section 5 |

111
(29)

| | |
| --- | --- |
| | Answers to the Test Questions for the Additional Test Questions Section 6 |

140
(1)

| | |
| --- | --- |
| | Explanations to the Answers for the Additional Test Questions Section 6 |

141
(16)
Glossary
157