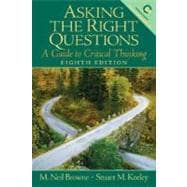 List Price: $48.20
Usually Ships in 2-3 Business Days

More New and Used
from Private Sellers
Questions About This Book?
What version or edition is this?
This is the 8th edition with a publication date of 1/1/2007.
What is included with this book?
The Used copy of this book is not guaranteed to inclue any supplemental materials. Typically, only the book itself is included.
Summary
This highly popular text helps students to bridge the gap between simply memorizing or blindly accepting information and the greater challenge of critical analysis and synthesis. It teaches them to respond to alternative points of view and develop a solid foundation for making personal choices about what to accept and what to reject. While the structure of this new edition remains the same, for the sake of currency and relevance about two-thirds of the practice passages are new, as well as many of the longer illustrations and the final critical thinking case. Also, this eighth edition has been revised to emphasize the positive value of critical thinking as a means to autonomy, curiousity, reasonableness, openness, and better decisions.
Table of Contents
Preface
viii

| | |
| --- | --- |
| | 1 The Benefit of Asking the Right Questions |

1
(14)
1
(1)

| | |
| --- | --- |
| | Critical Thinking to the Rescue |

2
(1)

| | |
| --- | --- |
| | The Sponge and Panning for Gold: Alternative Thinking Styles |

3
(2)

| | |
| --- | --- |
| | An Example of the Panning-for-Gold Approach |

5
(2)

| | |
| --- | --- |
| | Panning for Gold: Asking Critical Questions |

7
(1)

| | |
| --- | --- |
| | The Myth of the "Right Answer" |

7
(1)
8
(1)

| | |
| --- | --- |
| | The Efficiency of Asking the Question, "Who Cares?" |

9
(1)

| | |
| --- | --- |
| | Weak-Sense and Strong-Sense Critical Thinking |

10
(1)

| | |
| --- | --- |
| | The Satisfaction of Using the Panning-for-Gold Approach |

11
(1)
11
(1)

| | |
| --- | --- |
| | Effective Communication and Critical Thinking |

12
(1)

| | |
| --- | --- |
| | The Importance of Practice |

12
(1)
13
(2)

| | |
| --- | --- |
| | 2 What Are the Issue and the Conclusion? |

15
(10)
16
(1)
17
(1)

| | |
| --- | --- |
| | Searching for the Author's or Speaker's Conclusion |

18
(1)

| | |
| --- | --- |
| | Clues to Discovery: How to Find the Conclusion |

19
(2)

| | |
| --- | --- |
| | Critical Thinking and Your Own Writing and Speaking |

21
(1)
22
(3)
25
(12)

| | |
| --- | --- |
| | Reasons + Conclusion = Argument |

26
(1)

| | |
| --- | --- |
| | Initiating the Questioning Process |

27
(2)

| | |
| --- | --- |
| | Words That Identify Reasons |

29
(1)
29
(2)

| | |
| --- | --- |
| | Keeping the Reasons and Conclusions Straight |

31
(1)

| | |
| --- | --- |
| | Reasons First, Then Conclusions |

32
(1)

| | |
| --- | --- |
| | "Fresh" Reasons and Your Growth |

32
(1)

| | |
| --- | --- |
| | Critical Thinking and Your Own Writing and Speaking |

33
(1)
33
(4)

| | |
| --- | --- |
| | 4 What Words or Phrases Are Ambiguous? |

37
(16)

| | |
| --- | --- |
| | The Confusing Flexibility of Words |

38
(1)

| | |
| --- | --- |
| | Locating Key Terms and Phrases |

39
(1)
40
(1)
41
(2)
43
(1)

| | |
| --- | --- |
| | Ambiguity, Definitions, and the Dictionary |

44
(2)

| | |
| --- | --- |
| | Ambiguity and Loaded Language |

46
(2)

| | |
| --- | --- |
| | Limits of Your Responsibility to Clarify Ambiguity |

48
(1)

| | |
| --- | --- |
| | Ambiguity and Your Own Writing and Speaking |

48
(1)
49
(1)
50
(3)

| | |
| --- | --- |
| | 5 What Are the Value Conflicts and Assumptions? |

53
(18)

| | |
| --- | --- |
| | General Guide for Identifying Assumptions |

55
(1)

| | |
| --- | --- |
| | Value Conflicts and Assumptions |

56
(1)
57
(1)

| | |
| --- | --- |
| | From Values to Value Assumptions |

58
(2)
60
(1)

| | |
| --- | --- |
| | The Communicator's Background as a Clue to Value Assumptions |

61
(1)

| | |
| --- | --- |
| | Consequences as Clues to Value Assumptions |

61
(2)

| | |
| --- | --- |
| | More Hints for Finding Value Assumptions |

63
(1)

| | |
| --- | --- |
| | Avoiding a Typical Difficulty When Identifying Value Assumptions |

64
(1)

| | |
| --- | --- |
| | Finding Value Assumptions on Your Own |

65
(2)
67
(1)
68
(1)
68
(3)

| | |
| --- | --- |
| | 6 What Are the Descriptive Assumptions? |

71
(12)

| | |
| --- | --- |
| | Illustrating Descriptive Assumptions |

72
(2)

| | |
| --- | --- |
| | Clues for Locating Assumptions |

74
(2)
76
(2)

| | |
| --- | --- |
| | Avoiding Analysis of Trivial Assumptions |

78
(1)

| | |
| --- | --- |
| | Assumptions and Your Own Writing and Speaking |

78
(1)
79
(1)
79
(4)

| | |
| --- | --- |
| | 7 Are There Any Fallacies in the Reasoning? |

83
(20)

| | |
| --- | --- |
| | A Questioning Approach to Finding Reasoning Fallacies |

85
(1)

| | |
| --- | --- |
| | Evaluating Assumptions as a Starting Point |

86
(2)

| | |
| --- | --- |
| | Discovering Other Common Reasoning Fallacies |

88
(6)
94
(2)

| | |
| --- | --- |
| | Sleight of Hand: Begging the Question |

96
(1)

| | |
| --- | --- |
| | Summary of Reasoning Errors |

97
(2)

| | |
| --- | --- |
| | Expanding Your Knowledge of Fallacies |

99
(1)

| | |
| --- | --- |
| | Fallacies and Your Own Writing and Speaking |

99
(1)
99
(4)

| | |
| --- | --- |
| | 8 How Good is the Evidence: Intuition, Personal Experience, Testimonials, and Appeals to Authority? |

103
(14)
104
(1)
105
(1)
106
(1)
107
(1)

| | |
| --- | --- |
| | Dangers of Appealing to Personal Experience as Evidence |

108
(1)

| | |
| --- | --- |
| | Personal Testimonials as Evidence |

109
(1)

| | |
| --- | --- |
| | Appeals to Authority as Evidence |

110
(3)
113
(1)
114
(3)

| | |
| --- | --- |
| | 9 How Good is the Evidence: Personal Observation, Research Studies, Case Examples, and Analogies? |

117
(20)
117
(1)

| | |
| --- | --- |
| | Research Studies as Evidence |

118
(5)

| | |
| --- | --- |
| | Generalizing from the Research Sample |

123
(1)

| | |
| --- | --- |
| | Biased Surveys and Questionnaires |

124
(2)

| | |
| --- | --- |
| | Critical Evaluation of a Research-Based Argument |

126
(2)

| | |
| --- | --- |
| | Case Examples as Evidence |

128
(1)
129
(4)
133
(1)
134
(3)
10 Are There Rival Causes?
137
(18)

| | |
| --- | --- |
| | When to Look for Rival Causes |

138
(1)

| | |
| --- | --- |
| | The Pervasiveness of Rival Causes |

139
(2)
141
(1)
142
(1)

| | |
| --- | --- |
| | Rival Causes and Scientific Research |

143
(1)

| | |
| --- | --- |
| | Rival Causes for Differences Between Groups |

144
(2)

| | |
| --- | --- |
| | Confusing Causation with Association |

146
(1)

| | |
| --- | --- |
| | Confusing "After this" with "Because of this" |

147
(2)

| | |
| --- | --- |
| | Explaining Individual Events or Acts |

149
(1)
150
(1)

| | |
| --- | --- |
| | Evidence and Your Own Writing and Speaking |

150
(1)
150
(1)
151
(4)
11 Are the Statistics Deceptive?
155
(12)

| | |
| --- | --- |
| | Unknowable and Biased Statistics |

156
(1)
156
(2)

| | |
| --- | --- |
| | Concluding One Thing, Proving Another |

158
(1)

| | |
| --- | --- |
| | Deceiving by Omitting Information |

159
(2)

| | |
| --- | --- |
| | Risk Statistics and Omitted Information |

161
(1)
162
(1)
163
(4)
12 What Significant Information is Omitted?
167
(14)

| | |
| --- | --- |
| | The Benefits of Detecting Omitted Information |

168
(1)

| | |
| --- | --- |
| | The Certainty of Incomplete Reasoning |

168
(2)

| | |
| --- | --- |
| | Questions that Identify Omitted Information |

170
(4)

| | |
| --- | --- |
| | The Importance of the Negative View |

174
(1)

| | |
| --- | --- |
| | Omitted Information That Remains Missing |

175
(1)

| | |
| --- | --- |
| | Missing Information and Your Own Writing and Speaking |

176
(1)
176
(5)
13 What Reasonable Conclusions Are Possible?
181
(12)

| | |
| --- | --- |
| | Assumptions and Multiple Conclusions |

182
(1)

| | |
| --- | --- |
| | Dichotomous Thinking: Impediment to Considering Multiple Conclusions |

182
(1)
183
(3)

| | |
| --- | --- |
| | Searching for Multiple Conclusions 185 Productivity of If-Clauses |

186
(1)

| | |
| --- | --- |
| | Alternative Solutions as Conclusions |

187
(1)

| | |
| --- | --- |
| | The Liberating Effect of Recognizing Alternative Conclusions |

188
(1)

| | |
| --- | --- |
| | All Conclusions Are Not Created Equal |

188
(1)
189
(7)
196
14 Practice and Review
193
(12)

| | |
| --- | --- |
| | Question Checklist for Critical Thinking |

193
(1)

| | |
| --- | --- |
| | Asking the Right Questions: A Comprehensive Example |

194
(2)

| | |
| --- | --- |
| | What Are the Issue and Conclusion? |

196
(1)
196
(1)

| | |
| --- | --- |
| | What Words or Phrases Are Ambiguous? |

197
(1)

| | |
| --- | --- |
| | What Are the Value Conflicts and Assumptions? |

198
(1)

| | |
| --- | --- |
| | What are the Descriptive Assumptions? |

198
(1)

| | |
| --- | --- |
| | Are There Any Fallacies in the Reasoning? |

199
(1)

| | |
| --- | --- |
| | How Good Is the Evidence? |

200
(1)
201
(1)

| | |
| --- | --- |
| | Are the Statistics Deceptive? |

201
(1)

| | |
| --- | --- |
| | What Significant Information Is Omitted? |

202
(1)

| | |
| --- | --- |
| | What Reasonable Conclusions Are Possible? |

203
(2)
Final Word
205
(4)

| | |
| --- | --- |
| | The Tone of Your Critical Thinking |

205
(1)

| | |
| --- | --- |
| | Strategies for Effective Critical Thinking |

206
(3)
Index
209