Note: Supplemental materials are not guaranteed with Rental or Used book purchases.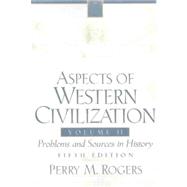 Aspects of Western Civilization: Problems and Sources in History, Volume II
ISBN13:
9780130384928
by
Rogers, Perry M.
Questions About This Book?
Why should I rent this book?
Renting is easy, fast, and cheap! Renting from eCampus.com can save you hundreds of dollars compared to the cost of new or used books each semester. At the end of the semester, simply ship the book back to us with a free UPS shipping label! No need to worry about selling it back.
How do rental returns work?
Returning books is as easy as possible. As your rental due date approaches, we will email you several courtesy reminders. When you are ready to return, you can print a free UPS shipping label from our website at any time. Then, just return the book to your UPS driver or any staffed UPS location. You can even use the same box we shipped it in!
What version or edition is this?
This is the 5th edition with a publication date of 1/1/2005.
What is included with this book?
The Used copy of this book is not guaranteed to include any supplemental materials. Typically, only the book itself is included.
The Rental copy of this book is not guaranteed to include any supplemental materials. You may receive a brand new copy, but typically, only the book itself.
Summary
For freshman/sophomore level courses in Western Civilization from the ancient world to present, or Intro to Humanities or survey courses of a particular period. A chronologically arranged compilation of primary and some secondary sources in Western Civilization. Organized around eight major themes to provide direction and cohesion to the text while allowing for originality of thought in both written and oral analysis. Students are presented with basic questions regarding historical development, human nature, moral action and practical necessity while incorporating a wide variety of political, social, economic, religious, intellectual and scientific issues. The readings present history as a vehicle for better understanding in the present rather than a stagnant observation of past societies.
Table of Contents
Preface
xxvii

| | |
| --- | --- |
| | PART ONE FOUNDATIONS OF THE MODERN WORLD |

1
(96)

| | |
| --- | --- |
| | ``I Am the State'': The Absolutism Of Louis XIV |

3
(28)

| | |
| --- | --- |
| | The Theory of Absolute Monarchy |

7
(9)

| | |
| --- | --- |
| | ``The Mortal God'': Leviathan (1651) |

8
(3)

| | |
| --- | --- |
| | The Ideal Absolute State (1697) |

11
(3)

| | |
| --- | --- |
| | Politics and Scripture (1679) |

14
(2)

| | |
| --- | --- |
| | The Practice of Absolute Rule |

16
(8)

| | |
| --- | --- |
| | Letters to His Heirs: ``Allow Good Sense to Act'' |

16
(3)

| | |
| --- | --- |
| | The Revocation of the Edict of Nantes (1685) |

19
(1)

| | |
| --- | --- |
| | ``A Frightful Plot'': Results of the Revocation The Duke of Saint-Simon |

20
(1)

| | |
| --- | --- |
| | The Sighs of Enslaved France (1690) |

21
(3)
24
(7)

| | |
| --- | --- |
| | ``Vanity Was His Ruin'' The Duke of Saint-Simon |

24
(4)

| | |
| --- | --- |
| | The Palace of Versailles: ``A Celebration of Greatness'' |

28
(2)
30
(1)

| | |
| --- | --- |
| | ``Dare to Know!'': The Scientific Revolution |

31
(21)
33
(9)

| | |
| --- | --- |
| | The Heliocentric Statement (ca. 1520) |

34
(1)

| | |
| --- | --- |
| | On the Movement of the Earth (1543) |

35
(1)

| | |
| --- | --- |
| | Science and the Bible: ``They Would Have Us Abandon Reason'' (1615) |

36
(4)

| | |
| --- | --- |
| | The Resolution: ``Science and Faith Are Both Gifts from God'' (1993) |

40
(2)

| | |
| --- | --- |
| | The Foundations of Modern Science |

42
(10)

| | |
| --- | --- |
| | The Advancement of Learning (1605) |

42
(2)

| | |
| --- | --- |
| | ``I Think, Therefore I Am'': Discourse on Method (1637) |

44
(2)

| | |
| --- | --- |
| | ``I Learn and Teach from the Fabric of Nature'': On the Circulation of the Blood (1628) |

46
(3)

| | |
| --- | --- |
| | Principles of Analysis---Induction and God: Optics (1704) |

49
(3)

| | |
| --- | --- |
| | The Enlightenment and the Revolution of the Mind |

52
(45)

| | |
| --- | --- |
| | Thoughts on the Human Condition and Human Progress |

55
(7)

| | |
| --- | --- |
| | The Blank State of the Mind: An Essay Concerning Human Understanding (1690) |

55
(1)

| | |
| --- | --- |
| | The Progress of the Human Mind (1795) |

56
(2)

| | |
| --- | --- |
| | ``The Greatest Happiness of the Greatest Number'': On Crimes and Punishments (1764) |

58
(2)

| | |
| --- | --- |
| | What Is Enlightenment? (1784) |

60
(2)
62
(4)

| | |
| --- | --- |
| | God---``A Cause Contradicted by Its Effects'': Common Sense (1770) |

62
(2)
64
(1)

| | |
| --- | --- |
| | ``If God Did Not Exist, He Would Have to Be Invented'' |

65
(1)
66
(8)

| | |
| --- | --- |
| | A Philosophical Dictionary (1764) |

66
(5)

| | |
| --- | --- |
| | Introduction to the Encyclopedia (1751) |

71
(1)

| | |
| --- | --- |
| | ``We Did Not Live Entirely in Vain'' (1764) |

72
(2)

| | |
| --- | --- |
| | Thoughts on Government: The Political Framework |

74
(10)

| | |
| --- | --- |
| | Second Treatise of Civil Government (1690) |

74
(5)

| | |
| --- | --- |
| | The Spirit of the Laws (1748) |

79
(1)

| | |
| --- | --- |
| | The Social Contract (1762) |

80
(4)

| | |
| --- | --- |
| | Thoughts on Women: The Social Framework |

84
(6)

| | |
| --- | --- |
| | Woman: ``Especially Constituted to Please Man'' |

84
(2)

| | |
| --- | --- |
| | A Vindication of the Rights of Women (1792) |

86
(2)

| | |
| --- | --- |
| | The Parisian Salon of an ``Indispensable Woman'' |

88
(2)

| | |
| --- | --- |
| | Thoughts on Commerce: The Economic Framework |

90
(7)

| | |
| --- | --- |
| | Mercantilist Regulation: ``The Maxim of All Polite Nations'' |

90
(2)

| | |
| --- | --- |
| | The Wealth of Nations (1776) |

92
(5)

| | |
| --- | --- |
| | PART TWO THE ERA OF REVOLUTION |

97
(190)

| | |
| --- | --- |
| | ``Liberty, Equality, Fraternity!'': The French Revolution |

99
(45)

| | |
| --- | --- |
| | Conditions of Society on the Eve of Revolution |

102
(7)

| | |
| --- | --- |
| | The Corruption of the French Court |

103
(1)

| | |
| --- | --- |
| | ``Ancient Oaks Mutilated by Time'' |

103
(1)
104
(1)

| | |
| --- | --- |
| | The Superficial Education of the Nobility |

105
(1)

| | |
| --- | --- |
| | ``Luxury, Debauchery, and Lavish Expenditure'' |

105
(1)

| | |
| --- | --- |
| | The Grievances of Carcassonne |

106
(2)

| | |
| --- | --- |
| | Beggars, Rags, and Misery |

108
(1)

| | |
| --- | --- |
| | The Outbreak of Revolution (1789--1791) |

109
(13)

| | |
| --- | --- |
| | ``What Is the Third Estate?'' (January 1789) The Abbe Sieyes |

109
(1)

| | |
| --- | --- |
| | Women of the Third Estate (January 1789) |

110
(2)

| | |
| --- | --- |
| | The Tennis Court Oath (June 29, 1789) |

112
(1)

| | |
| --- | --- |
| | The Fall of the Bastille (July 14, 1789) |

112
(4)

| | |
| --- | --- |
| | Declaration of the Rights of Man (August 27, 1789) |

116
(2)

| | |
| --- | --- |
| | Declaration of the Rights of Woman (1791) |

118
(4)

| | |
| --- | --- |
| | The Historical Intersection New York: 1978 |

122
(6)

| | |
| --- | --- |
| | ``If Men Could Menstruate'' |

| | |
| --- | --- |
| | Reflections on the Revolution (1790) |

125
(2)

| | |
| --- | --- |
| | The Clerical Oath of Loyalty (November 27, 1790) |

127
(1)

| | |
| --- | --- |
| | The Radicalization of the Revolution (1792-1794) |

128
(1)
128
(7)

| | |
| --- | --- |
| | The Indictment of Louis XVI (December 11, 1792) |

129
(1)

| | |
| --- | --- |
| | The Execution of Louis XVI (January 21, 1793) |

130
(2)

| | |
| --- | --- |
| | Henry Edgeworth De Firmont |

| | |
| --- | --- |
| | Proclamation of the Convention to the French People (January 23, 1793) |

132
(1)
133
(1)

| | |
| --- | --- |
| | Reality Check: An Update on the Political Rights of Women (1793) |

134
(1)
135
(9)

| | |
| --- | --- |
| | ``You Would Exterminate All Your Enemies by the Guillotine!'' (December 20, 1793) |

136
(3)

| | |
| --- | --- |
| | ``Virtue and Terror'': Speech to the Convention (February 5, 1794) |

139
(1)

| | |
| --- | --- |
| | The Administration of Terror (June 10, 1794) |

140
(2)

| | |
| --- | --- |
| | The Execution of Robespierre (July 28, 1794) |

142
137
(7)

| | |
| --- | --- |
| | Nationalism and Romanticism: ``The Spirit of the People'' |

144
(55)

| | |
| --- | --- |
| | The Napoleonic Era (1796--1815) |

149
(1)

| | |
| --- | --- |
| | The Will to Power (1796--1802) |

149
(2)

| | |
| --- | --- |
| | On the Realities of Power (1796) |

150
(1)

| | |
| --- | --- |
| | The Historical Intersection Florence: 1512 |

151
(2)

| | |
| --- | --- |
| | ``How a Prince Should Keep His Word'' |

| | |
| --- | --- |
| | The First Consul: ``A Citizen Devoted to the Republic'' (November 10, 1799) |

153
(2)

| | |
| --- | --- |
| | Suppression of the Newspapers (1800) |

155
(1)

| | |
| --- | --- |
| | Articles for the Catholic Church (1802) |

156
(1)

| | |
| --- | --- |
| | The Imperial Mantle (1804--1806) |

156
(5)

| | |
| --- | --- |
| | ``The Only Salvation Lies in Hereditary Power'' (December 1804) |

157
(1)

| | |
| --- | --- |
| | Why the French Submitted to Napoleon's Rule (1804) |

158
(1)

| | |
| --- | --- |
| | The Imperial Catechism (April 1806) |

159
(2)

| | |
| --- | --- |
| | The Historical Intersection Switzerland: 1541 |

161
(1)
162
(5)

| | |
| --- | --- |
| | ``An End to the Woes of Anarchy'' (1810) |

163
(1)

| | |
| --- | --- |
| | ``Napoleon Crossing the Alps'' |

163
(2)

| | |
| --- | --- |
| | The Invasion of Russia (1812) |

165
(1)

| | |
| --- | --- |
| | ``Everything Had Failed Us'' |

166
(1)

| | |
| --- | --- |
| | Exile and Death: The Hero in History |

167
(4)

| | |
| --- | --- |
| | Napoleon in Exile: ``We Stand as Martyrs to an Immortal Cause!'' |

167
(1)

| | |
| --- | --- |
| | Ode to Napoleon Bonaparte |

168
(1)

| | |
| --- | --- |
| | ``The Third of May, 1808'' |

169
(1)

| | |
| --- | --- |
| | The Role of Great Men in History |

170
(1)

| | |
| --- | --- |
| | The Romantic Movement (1780--1830) |

171
(1)
172
(3)

| | |
| --- | --- |
| | ``The Language of the Sense, the Anchor of My Purest Thoughts'' |

172
(2)

| | |
| --- | --- |
| | Ode to the West Wind (1820) |

174
(1)
175
(6)

| | |
| --- | --- |
| | Faust: ``Into Witchery and Dreams . . .'' |

176
(1)

| | |
| --- | --- |
| | Johann Wolfgang Von Goethe |

177
(3)

| | |
| --- | --- |
| | Johann Wolfgang Von Goethe |

180
(1)

| | |
| --- | --- |
| | Mary Wollstonecraft Shelley |

181
(1)

| | |
| --- | --- |
| | Volksgeist: ``The Spirit of the People'' |

181
(11)

| | |
| --- | --- |
| | The Conservative Confession of Faith |

183
(3)

| | |
| --- | --- |
| | Prince Klemens Von Metternich |

| | |
| --- | --- |
| | Stirrings: The People and the Fatherland |

186
(2)
188
(2)

| | |
| --- | --- |
| | Greek Independence (1822): ``To Avenge Ourselves Against a Frightful Tyranny'' |

190
(2)
192
(7)

| | |
| --- | --- |
| | ``Greece on the Ruins of Missolonghi'' |

192
(1)

| | |
| --- | --- |
| | ``Liberty Leading the People'' (1832) |

192
(3)

| | |
| --- | --- |
| | ``A Moderate Amount of Happiness for All Men'' |

195
(1)

| | |
| --- | --- |
| | 1848: ``A Great Outbreak of Elemental Forces Had Begun'' |

196
(3)

| | |
| --- | --- |
| | ``A World to Win!'': The Industrial Revolution |

199
(44)

| | |
| --- | --- |
| | Rural and Urban Transformations |

203
(4)

| | |
| --- | --- |
| | The Dependent Poor (1795) |

204
(1)

| | |
| --- | --- |
| | ``How Are Men to Provide for Their Families?'': A Workers Petition (1786) |

205
(2)
207
(1)
207
(11)
207
(1)

| | |
| --- | --- |
| | Testimony before the Sadler Committee (1832) |

208
(3)
211
(3)

| | |
| --- | --- |
| | A Defense of the Factory System (1835) |

214
(4)
218
(3)

| | |
| --- | --- |
| | The Condition of the Working Class in England (1844) |

218
(1)

| | |
| --- | --- |
| | The Impact of the Factory System on Women and the Family |

219
(2)
221
(1)

| | |
| --- | --- |
| | Law and Liberty: The Liberal Truth |

221
(8)

| | |
| --- | --- |
| | The Principle of Population (1798) |

221
(2)

| | |
| --- | --- |
| | The Iron Law of Wages (1817) |

223
(3)

| | |
| --- | --- |
| | The Chartist Demands (1838) |

226
(1)

| | |
| --- | --- |
| | A Middle-Class Perspective (1859) |

227
(2)

| | |
| --- | --- |
| | Visions of a New World: The Socialist Truth |

229
(14)
229
(3)

| | |
| --- | --- |
| | The Communist Manifesto (1848) |

232
(6)
238
(5)

| | |
| --- | --- |
| | ``Mark Them with Your Dead!'': The Scramble for Global Empire |

243
(44)

| | |
| --- | --- |
| | ``Send Forth the Best Ye Breed!'': The Foundations of Imperialism |

247
(1)

| | |
| --- | --- |
| | Political Unification and Consolidation |

248
(7)

| | |
| --- | --- |
| | Proclamation for the Liberation of Sicily (1860) |

249
(1)

| | |
| --- | --- |
| | Address to the Italian Parliament (1871) |

250
(2)

| | |
| --- | --- |
| | ``We Germans Fear God, and Naught Else in the World'': Speech to the Reichstag (1888) |

252
(3)

| | |
| --- | --- |
| | Racism and the Corruption of Science |

255
(6)

| | |
| --- | --- |
| | The Descent of Man (1871) |

255
(2)

| | |
| --- | --- |
| | The Standpoint of Science (1900) |

257
(2)

| | |
| --- | --- |
| | The Backward Peoples (1920) |

259
(2)
261
(7)

| | |
| --- | --- |
| | The Mandate System: Britain's Duty in Egypt (1890) |

261
(2)

| | |
| --- | --- |
| | ``France Must Be a Great Country!'' (1883) |

263
(1)

| | |
| --- | --- |
| | Germany's Place in the Sun (1901) |

264
(1)

| | |
| --- | --- |
| | ``The Hand of God'': American Imperialism in the Philippines (1900) |

265
(3)

| | |
| --- | --- |
| | The Historical Intersection France: 1095 |

268
(2)

| | |
| --- | --- |
| | The Spirit of the Crusades: ``It Is the Will of God!'' |

| | |
| --- | --- |
| | The White Man's Burden (1899) |

270
(2)

| | |
| --- | --- |
| | ``To Seek Another's Profit and Work Another's Gain'' |

272
(1)

| | |
| --- | --- |
| | ``Your New-Caught Sullen Peoples'' |

273
(1)

| | |
| --- | --- |
| | Education in India: ``The Intrinsic Superiority of Western Literature'' (1835) |

274
(1)

| | |
| --- | --- |
| | Thomas Babington Macaulay |

275
(1)

| | |
| --- | --- |
| | ``The Great African Hunt'' |

276
(2)

| | |
| --- | --- |
| | ``A Natural Inclination to Submit to a Higher Authority'' (1893) |

278
(2)

| | |
| --- | --- |
| | Sir Frederick Dealtry Lugard |

| | |
| --- | --- |
| | The Historical Intersection Bolivia: 1550 |

280
(3)

| | |
| --- | --- |
| | The Barbarians of the New World: ``They Are Slaves by Nature'' |

| | |
| --- | --- |
| | ``The Judgment of Your Peers'' |

283
(4)

| | |
| --- | --- |
| | The ``White Man's Face'': Terror in the Congo |

283
(1)

| | |
| --- | --- |
| | The Battle Hymn of the Republic (Brought Down to Date) |

284
(3)

| | |
| --- | --- |
| | PART THREE THE TWENTIETH CENTURY |

287
(308)

| | |
| --- | --- |
| | The Great War and the Birth of the Modern Era |

289
(70)
294
(1)

| | |
| --- | --- |
| | The Woman Question and Anti-Feminism |

294
(7)

| | |
| --- | --- |
| | Against Woman Suffrage (1884) |

295
(3)

| | |
| --- | --- |
| | ``The Brain Weight of Women is Five Ounces Less Than That of Men'' (1887) |

298
(3)

| | |
| --- | --- |
| | The Historical Intersection Seneca Falls: 1848 |

301
(2)

| | |
| --- | --- |
| | Declaration of Sentiments and Resolutions |

| | |
| --- | --- |
| | ``This Is the Logic of Demons!'' |

303
(1)

| | |
| --- | --- |
| | ``I Incite This Meeting to Rebellion'' (1912) |

304
(1)

| | |
| --- | --- |
| | The Revolt Against Reason |

305
(8)

| | |
| --- | --- |
| | The Grand Inquisitor (1880) |

307
(2)

| | |
| --- | --- |
| | Faith, Love, and Hope: ``Enough! Enough!'' (1887) |

309
(3)
312
(1)
313
(1)
313
(5)

| | |
| --- | --- |
| | ``Without War, No State Could Exist'' |

314
(2)

| | |
| --- | --- |
| | Establishing ``Laws of War'': The Hague Convention (1907) |

316
(1)

| | |
| --- | --- |
| | ``Blind Obedience to Primitive Instincts'' (1910) |

317
(1)

| | |
| --- | --- |
| | ``The Lamps Go Out Over Europe'' |

318
(7)

| | |
| --- | --- |
| | Statutes of ``The Black Hand'' |

319
(1)

| | |
| --- | --- |
| | Assassination at Sarajevo: The Plot and Murder (June 28, 1914) |

320
(3)

| | |
| --- | --- |
| | ``The Sword is Drawn!'' (August 18, 1914) |

323
(2)

| | |
| --- | --- |
| | ``They Shall Not Pass'': The Great War (1914--1918) |

325
(1)
325
(11)

| | |
| --- | --- |
| | The Battle of Verdun (February--December 1916) |

326
(3)

| | |
| --- | --- |
| | The Battle of the Somme (July-November 1916) |

329
(1)
330
(2)

| | |
| --- | --- |
| | What Are You Fighting For, Michel? |

332
(1)

| | |
| --- | --- |
| | The Red Baron: Glory in the Skies? |

333
(3)

| | |
| --- | --- |
| | Baron Manfred Von Richthofen |

| | |
| --- | --- |
| | ``On the Other Side of the Boundary'' |

336
(1)

| | |
| --- | --- |
| | ``World Without End'': Women in War |

336
(3)

| | |
| --- | --- |
| | ``There Had Never Been Untruth Between Us'' |

337
(1)

| | |
| --- | --- |
| | ``If the Men Refuse to Fight, We Will Show What the Women Can Do!'' |

338
(1)

| | |
| --- | --- |
| | It Is Sweet and Proper to Die for One's Country |

339
(4)
340
(1)

| | |
| --- | --- |
| | A German War Letter: ``One Blood-Soaked, Corpse-Strewn Field'' |

341
(1)
342
(1)

| | |
| --- | --- |
| | The Aftermath: The Light That Failed |

343
(9)

| | |
| --- | --- |
| | ``This Is the Way the World Ends'' |

343
(1)

| | |
| --- | --- |
| | The Framework of Peace (1918) |

343
(3)

| | |
| --- | --- |
| | A German Soldier Returns Home: ``A Complete Stranger'' |

346
(1)

| | |
| --- | --- |
| | Treaty Concerning Submarines and Poisonous Gases in Warfare (1922) |

347
(2)

| | |
| --- | --- |
| | ``If You Want to Endure Life---Prepare for Death'' |

349
(2)
351
(1)

| | |
| --- | --- |
| | The Reflection in the Mirror (1925--1930) |

352
(7)

| | |
| --- | --- |
| | The International Anarchy (1926) |

353
(1)

| | |
| --- | --- |
| | A Room of One's Own (1929) |

354
(2)
356
(3)

| | |
| --- | --- |
| | The Russian Revolution and the Development of the Totalitarian State (1917-1939) |

359
(46)

| | |
| --- | --- |
| | The Provisional Government (March-November 1917) |

365
(6)

| | |
| --- | --- |
| | Shall the Romanov Dynasty Remain? (March 15, 1917) |

365
(1)

| | |
| --- | --- |
| | First Declaration of the Provisional Government (March 19, 1917) |

366
(2)

| | |
| --- | --- |
| | Policy of the Petrograd Soviet (March 27, 1917) |

368
(1)

| | |
| --- | --- |
| | The April Theses (April 20, 1917) |

369
(2)

| | |
| --- | --- |
| | The Bolshevik Revolution (November-December 1917) |

371
(8)

| | |
| --- | --- |
| | The Overthrow of the Provisional Government: ``A New Page in the History of Russia'' |

372
(1)

| | |
| --- | --- |
| | ``Little Good Is to Be Expected'' (November 8, 1917) |

373
(1)

| | |
| --- | --- |
| | Censorship of the Press (November 9, 1917) |

373
(1)

| | |
| --- | --- |
| | Establishment of the Secret Police (December 20, 1917) |

373
(3)

| | |
| --- | --- |
| | Dissolution of the Constituent Assembly (December 1917) |

376
(1)

| | |
| --- | --- |
| | A Self-Portrait (March 7, 1921) |

377
(2)

| | |
| --- | --- |
| | The Aftermath of Revolution |

379
(9)

| | |
| --- | --- |
| | State and Revolution: The Transition from Capitalism to Communism (August 1917) |

379
(4)

| | |
| --- | --- |
| | ``Days of Grueling Work'' |

383
(1)

| | |
| --- | --- |
| | The Communist Emancipation of Women (1920) |

384
(2)

| | |
| --- | --- |
| | ``Stalin Is Too Rude'' (January 4, 1923) |

386
(1)

| | |
| --- | --- |
| | Stalin's Falsification of History (1927) |

387
(1)

| | |
| --- | --- |
| | The Development of the Totalitarian State |

388
(1)

| | |
| --- | --- |
| | The Soviet Control of Society |

389
(7)

| | |
| --- | --- |
| | Industrialization: ``Either Perish or Overtake Capitalistic Countries'' (1931) |

389
(1)

| | |
| --- | --- |
| | Collectivization and the Liquidation of the Kulaks (1929) |

390
(2)

| | |
| --- | --- |
| | ``For the Fatherland!'' (1936) |

392
(2)

| | |
| --- | --- |
| | The Purge Trials: ``Traitors Must Be Shot Like Dirty Dogs!'' (1938) |

394
(1)

| | |
| --- | --- |
| | The Gulag: ``Stalin's Sadistic Nature Thirsted for Blood!'' (1938) |

395
(1)
396
(7)

| | |
| --- | --- |
| | The Creation of ``Stalinism'' (1934) |

396
(2)

| | |
| --- | --- |
| | Literature and the Soviet Ideal: ``The Craftsmen of Culture'' (1934) |

398
(2)

| | |
| --- | --- |
| | Our Country: ``A Dream Come True'' (1937) |

400
(3)

| | |
| --- | --- |
| | The Historical Intersection London: 1948 |

403
(2)

| | |
| --- | --- |
| | 1984: ``Power Is in Tearing Human Minds to Pieces'' |

| | |
| --- | --- |
| | Europe Between the Wars: Fascism and the Nazi Rise to Power (1919-1939) |

405
(50)

| | |
| --- | --- |
| | The Legacy of World War I |

409
(1)

| | |
| --- | --- |
| | The Rise of Benito Mussolini |

410
(6)

| | |
| --- | --- |
| | ``The State's Authority Was Ready for the Grave'' (1922) |

410
(1)

| | |
| --- | --- |
| | The Fascist March on Rome (October 26, 1922) |

411
(2)

| | |
| --- | --- |
| | The Doctrine of Fascism: ``This Will Be the Century of the State'' |

413
(3)

| | |
| --- | --- |
| | ``Germany in Her Deepest Humiliation'' |

416
(3)

| | |
| --- | --- |
| | ``I Resolved Now to Become a Politician'' |

416
(1)

| | |
| --- | --- |
| | ``Stabbed in the Back'' (1919) |

417
(1)

| | |
| --- | --- |
| | The Treaty of Versailles (1919) |

418
(1)
419
(1)

| | |
| --- | --- |
| | Germany's Unstable Democracy: The Best and Worst of Times |

420
(6)

| | |
| --- | --- |
| | The Weimar Constitution: Fundamental Rights and Duties of the Germans (1919) |

420
(1)

| | |
| --- | --- |
| | Loyalty to the Weimar Republic |

421
(1)

| | |
| --- | --- |
| | Inflation: ``The Boiling Kettle of a Wicked Witch'' |

422
(2)

| | |
| --- | --- |
| | The Devaluation of Currency |

424
(1)

| | |
| --- | --- |
| | ``The Outlawry of War'': Kellogg-Briand Pact (1928) |

424
(2)

| | |
| --- | --- |
| | Hitler's Response to Germany's Problems |

426
(5)
426
(2)

| | |
| --- | --- |
| | ``We Fashion Once More a Hammer---a German Sword!'' |

428
(2)

| | |
| --- | --- |
| | Nazi Political Rally Announcement (February 1921) National Socialist German Workers' Party |

430
(1)
431
(1)
431
(3)

| | |
| --- | --- |
| | Nationalists, Socialists, and Jews (1930) |

432
(1)
433
(1)
434
(2)

| | |
| --- | --- |
| | Elections to the German Reichstag (1924--1932) |

435
(1)
436
(4)

| | |
| --- | --- |
| | Decree for the Protection of the People and State (February 28, 1933) |

436
(2)

| | |
| --- | --- |
| | The Enabling Act (March 24, 1933) |

438
(1)

| | |
| --- | --- |
| | Law Against the New Formation of Parties (July 14, 1933) |

438
(1)

| | |
| --- | --- |
| | Law Concerning the Head of the German State (August 1, 1934) |

439
(1)

| | |
| --- | --- |
| | The Role of the Family in the Nazi State |

440
(2)

| | |
| --- | --- |
| | ``Our Fanatical Fellow-Combatants'' (September 8, 1934) |

440
(2)

| | |
| --- | --- |
| | The Historical Intersection Argentina: 1951 |

442
(3)

| | |
| --- | --- |
| | ``Yes, I am Fanatically Peronista'' |

| | |
| --- | --- |
| | ``The Disenfranchisement of Women'' |

445
(1)

| | |
| --- | --- |
| | Hitler Youth: ``Tough As Leather, Hard As Krupp Steel'' |

446
(2)

| | |
| --- | --- |
| | Conversion and Resistence |

448
(7)

| | |
| --- | --- |
| | ``Now I Know Which Road to Take'' |

448
(1)

| | |
| --- | --- |
| | ``I Had Given Him My Heart'' |

449
(2)
451
(1)

| | |
| --- | --- |
| | ``Guilty! Guilty! Guilty!'': Leaflets of ``The White Rose'' (1942) |

452
(3)

| | |
| --- | --- |
| | ``The Abyss Also Looks into You'': War and Holocaust (1939--1945) |

455
(66)

| | |
| --- | --- |
| | The Road to War (1938--1939) |

459
(1)

| | |
| --- | --- |
| | The Czechoslovak Crisis (September 1938-March 1939) |

459
(5)

| | |
| --- | --- |
| | ``The Misery of the Sudeten Germans Is Indescribable'' (September 12, 1938) |

460
(1)

| | |
| --- | --- |
| | ``Czechoslovakia Has Ceased to Exist'' (March 15, 1939) |

461
(2)

| | |
| --- | --- |
| | ``I Bitterly Regret What Has Now Occurred'' (March 15, 1939) |

463
(1)

| | |
| --- | --- |
| | The Invasion of Poland (September 1939) |

464
(4)

| | |
| --- | --- |
| | ``Our Enemies Are Little Worms'' (August 22, 1939) |

464
(2)

| | |
| --- | --- |
| | ``At Dawn We Crossed into Poland'' (September 1, 1939) |

466
(1)

| | |
| --- | --- |
| | Lieutenant Baron Tasslio Von Bogenhardt |

| | |
| --- | --- |
| | ``Everything I Have Hoped for Has Crashed into Ruins'' (September 3, 1939) |

467
(1)
468
(1)

| | |
| --- | --- |
| | The Battlefield and the Homefront |

469
(12)

| | |
| --- | --- |
| | The Invasion of France: ``We Were Through the Maginot Line!'' (May 15, 1940) |

469
(2)

| | |
| --- | --- |
| | Alone: ``Their Finest Hour'' (June 18, 1940) |

471
(1)

| | |
| --- | --- |
| | The Battle of Britain: ``So Much Owed by So Many to So Few'' (August 20, 1940) |

472
(1)
473
(1)

| | |
| --- | --- |
| | The Japanese Attack on Pearl Harbor: ``I Saw My Maker on Sunday'' |

474
(2)

| | |
| --- | --- |
| | The U.S.S. Arizona: ``Some Sort of Hellish Nightmare!'' |

476
(1)

| | |
| --- | --- |
| | ``A Date Which Will Live in Infamy'' |

477
(2)

| | |
| --- | --- |
| | President Franklin Delano Roosevelt |

| | |
| --- | --- |
| | Women in the Factories: ``My Hands Are as Smooth as the Steel I Worked On'' |

479
(2)

| | |
| --- | --- |
| | Holocaust: The Final Solution |

481
(2)

| | |
| --- | --- |
| | Nazi Racial Policy and Propaganda |

483
(3)

| | |
| --- | --- |
| | ``I Got You at Last, You Little German Girl!'' (1938) |

483
(1)

| | |
| --- | --- |
| | ``A Complete Solution to the Jewish Question'' (July 31, 1941) |

484
(1)

| | |
| --- | --- |
| | The Wansee Conference (January 20, 1942) |

485
(1)
486
(5)

| | |
| --- | --- |
| | Sites of Nazi Concentration Camps |

487
(1)
487
(4)

| | |
| --- | --- |
| | The Historical Intersection China: 1937 |

491
(2)
493
(1)
494
(2)
496
(1)
497
(2)
499
(1)

| | |
| --- | --- |
| | Gotterdammerung: The Final Destruction (1944--1945) |

500
(1)

| | |
| --- | --- |
| | The D-Day Invasions (June 6, 1944) |

501
(6)

| | |
| --- | --- |
| | The Paratrooper: ``He Was Blown Away'' |

501
(1)

| | |
| --- | --- |
| | The Assault on Omaha Beach: ``I'm Hit! I'm Hit!'' |

502
(3)

| | |
| --- | --- |
| | Fiftieth Anniversary of D-Day: ``When They Were Young, These Men Saved the World'' |

505
(2)

| | |
| --- | --- |
| | The Historical Intersection Athens: 430 B.C.E. |

507
(2)

| | |
| --- | --- |
| | ``Freedom Depends on Being Courageous'': The Funeral Oration of Pericles (430 B.C.E.) |

| | |
| --- | --- |
| | ``Like Cherry Blossoms in the Spring'': The Fall of Japan |

509
(7)

| | |
| --- | --- |
| | Kamikaze: ``Death and I Are Waiting'' |

509
(1)

| | |
| --- | --- |
| | The Destruction of Hiroshima (August 6, 1945) |

510
(3)
513
(1)

| | |
| --- | --- |
| | ``In the End, My Husband Didn't Come Back'' |

514
(2)
516
(5)

| | |
| --- | --- |
| | Nuremberg: The Crimes of the Nazi Regime |

516
(1)

| | |
| --- | --- |
| | Justice Robert H. Jackson |

| | |
| --- | --- |
| | The Destruction of the European Jews |

517
(2)

| | |
| --- | --- |
| | The Responsibility of the Individual (1956) |

519
(2)

| | |
| --- | --- |
| | The Era of the Superpowers: Confrontation and the Dynamics of Change |

521
(74)

| | |
| --- | --- |
| | Retrenchment (1945--1965) |

527
(1)

| | |
| --- | --- |
| | The Reconstruction of Europe |

527
(4)

| | |
| --- | --- |
| | The Marshall Plan (June 1947) |

528
(1)

| | |
| --- | --- |
| | Program for the Welfare State: The Beveridge Report |

529
(2)
531
(7)

| | |
| --- | --- |
| | Vietnam: ``Determined to Fight to the Bitter End'' (1945) |

532
(2)

| | |
| --- | --- |
| | British Rule in India (1946) |

534
(2)

| | |
| --- | --- |
| | The Suez Canal Incident: ``Those Who Attack Egypt Will Never Leave Egypt Alive'' (1956) |

536
(2)

| | |
| --- | --- |
| | The Domestic Retreat and the Women's Movement |

538
(8)
539
(3)

| | |
| --- | --- |
| | The Feminine Mystique (1963) |

542
(4)

| | |
| --- | --- |
| | The Historical Intersection New York: 1991 |

546
(4)

| | |
| --- | --- |
| | Backlash: The Undeclared War Against American Women |

550
(1)

| | |
| --- | --- |
| | The ``Superpower'' Rivalry |

550
(15)

| | |
| --- | --- |
| | The Soviet Victory: Capitalism Versus Communism (February 1946) |

550
(2)

| | |
| --- | --- |
| | ``An Iron Curtain Has Descended Across the Continent'' (March 1946) |

552
(1)

| | |
| --- | --- |
| | The Truman Doctrine (March 1947) |

553
(2)

| | |
| --- | --- |
| | An Assessment of Communism (1953) |

555
(2)

| | |
| --- | --- |
| | How to Spot a Communist (1955) |

557
(3)
560
(3)

| | |
| --- | --- |
| | ``The Victory of Communism Is Inevitable'': Speech to the 22nd Communist Party Congress (1962) |

563
(2)

| | |
| --- | --- |
| | Currents of Dissent in the ``Evil Empire'' |

565
(4)

| | |
| --- | --- |
| | ``Freedom of Thought Is the Only Guarantee'' (1974) |

566
(1)

| | |
| --- | --- |
| | ``What Have You to Fear?'' (1974) |

567
(2)

| | |
| --- | --- |
| | Alexander I. Solzhenitsyn |

| | |
| --- | --- |
| | ``A World Turned Upside Down!'': The Gorbachev Era and Beyond |

569
(11)

| | |
| --- | --- |
| | Perestroika and the Socialist Renewal of Society (September 11, 1989) |

571
(3)

| | |
| --- | --- |
| | Gorbachev's Resignation: ``This Society Has Acquired Freedom'' (December 25, 1991) |

574
(3)

| | |
| --- | --- |
| | Communism: ``Far Away from the Main Stream of Civilization'' (December 31, 1999) |

577
(3)
580
(1)

| | |
| --- | --- |
| | Political and Economic Initiatives |

580
(7)

| | |
| --- | --- |
| | A United Germany in a United Europe (June 5, 1990) |

580
(2)

| | |
| --- | --- |
| | The Reconciliation of France and Germany (September 24, 1990) |

582
(3)

| | |
| --- | --- |
| | Monetary Union: Europe's Global Role (1998) |

585
(2)

| | |
| --- | --- |
| | Ethnic Strife and Terrorism |

587
(8)

| | |
| --- | --- |
| | Ethnic Strife in Eastern Europe (April 15, 1994) |

588
(2)

| | |
| --- | --- |
| | Crimes Against Humanity: Ethnic Cleansing (1992) |

590
(2)

| | |
| --- | --- |
| | The Trial of Slobodan Milosevic (2001) |

592
(3)

| | |
| --- | --- |
| | ``We Wage a War to Save Civilization Itself'' (2001) |

595
Excerpts
The Roman orator Cicero once remarked that "History is the witness of the times, the torch of truth, the life of memory, the teacher of life, the messenger of antiquity." In spite of these noble words, historians have often labored under the burden of justifying the study of events that are over and done. Human beings are practical, more concerned with their present and future than with their past. And yet the study of history provides us with unique opportunities for self-knowledge. It teaches us what we have done and therefore helps define what we are. On a less abstract level, the study of history enables us to judge present circumstance by drawing on the laboratory of the past. Those who have lived and died, through their recorded attitudes, actions, and ideas, have left a legacy of experience. One of the best ways to travel through time and perceive the very "humanness" of history is through the study of primary sources. These are the documents, coins, letters, inscriptions, and monuments of past ages. The task of historians is to evaluate this evidence with a critical eye and then construct a narrative that is consistent with the "facts" as they have been established. Such interpretations are inherently subjective and open to dispute. History is thus filled with controversy as historians argue their way toward the truth. The only effective way to understand the past is through personal examination of the primary sources. Yet, for the beginning student, this poses some difficulties. Such inquiry casts the student adrift from the security of accepting the "truth" as revealed in a textbook. In fact, history is too often presented in a deceptively objective manner; one learns facts and dates in an effort to obtain the right answers for multiple-choice tests. But the student who has wrestled with primary sources and has experienced voices from the past on a more intimate level accepts the responsibility of evaluation and judgment. He or she understands that history does not easily lend itself to right answers, but demands reflection on the problems that have confronted past societies and are at play even in our contemporary world. Aspects of Western Civilizationoffers the student an opportunity to evaluate the primary sources of the past in a structured and organized format. The documents provided include state papers, secret dispatches, letters, diary accounts, poems, newspaper articles, papal encyclicals, propaganda' fliers, and even wall graffiti. Occasionally, the assessments of modern historians are included. Yet this two-volume book has been conceived as more than a simple compilation of sources. The subtitle of the work,Problems and Sources in History,gives true indication of the nature of its premise. Students learn from the past most effectively when faced with problems that have meaning for their own lives. In evaluating the material fromAspects of Western Civilization,the student will discover that issues are not nearly as simple as they may appear at first glance. Historical sources often contradict each other, and truth then depends upon logic and upon one's own experience and outlook on life. Throughout these volumes, the student is confronted with basic questions regarding historical development, human nature, moral action, and practical necessity. The text is therefore broad in its scope, incorporating a wide variety of political, social, economic, religious, intellectual, and scientific issues. It is internally organized aroundeight major themesthat provide direction and cohesion while allowing for originality of thought in both written and oral analysis: Imperialism:How has imperialism been justified throughout Western history, and what are the moral implications of gaining and maintaining empire? Is defensive imperialism a practical foreign policy option? This theme is often juxtaposed with subtopics of nationalism, war, altruism, and