Note: Supplemental materials are not guaranteed with Rental or Used book purchases.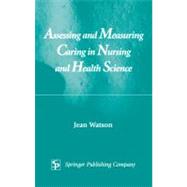 Assessing and Measuring Caring in Nursing and Health Sciences
ISBN13:
9780826123138
by
Watson, Jean
Summary
"A magnificent job ... Dr. Jean Watson and her colleagues have focused their careers on the phenomenon of caring, and this book is another one of their great contributions to the scientific community." -from the Foreword by Ora L. Strickland, RN, PhD, FAAN Dr. Watson and her colleagues have gathered all the available measurement instruments on caring in nursing in this book, along with discussion of their origins, development, and use. Nurse clinicians, educators, researchers, and managers will find this a valuable resource.
Table of Contents
Contributors
ix
Foreword
xi
Preface
xiii
Part I: Overview

| | |
| --- | --- |
| | Introduction: Measuring Caring |

3
(8)

| | |
| --- | --- |
| | Caring and Nursing Science: Contemporary Discourse |

11
(9)

| | |
| --- | --- |
| | Background for Selection of Caring Instruments |

20
(5)
Part II: Summary of Each Instrument for Measuring Caring

| | |
| --- | --- |
| | Care-Q and CARE/SAT (Larson and Larson & Ferketich; Swedish Version) |

25
(36)

| | |
| --- | --- |
| | Caring Behaviors Inventory (Wolf) |

61
(16)

| | |
| --- | --- |
| | Caring Behaviors Assessment Tool (Cronin & Harrison) |

77
(15)

| | |
| --- | --- |
| | Caring Behaviors of Nurses Scale (Hinds) |

92
(8)

| | |
| --- | --- |
| | Professional Caring Behaviors (Horner) |

100
(8)

| | |
| --- | --- |
| | Nyberg Caring Assessment (Attributes) Scale (Nyberg) |

108
(4)

| | |
| --- | --- |
| | Caring Ability Inventory (Nkongho) |

112
(7)

| | |
| --- | --- |
| | Caring Behavior Checklist and Client Perception of Caring (McDaniel) |

119
(6)

| | |
| --- | --- |
| | Caring Assessment Tools (Duffy) |

125
(26)

| | |
| --- | --- |
| | Peer Group Caring Interaction Scale and Organizational Climate for Caring Questionnaire (Hughes) |

151
(16)

| | |
| --- | --- |
| | Caring Efficacy Scale (Coates) |

167
(7)

| | |
| --- | --- |
| | Holistic Caring Inventory (Latham) |

174
(8)

| | |
| --- | --- |
| | Caring Dimensions Inventory (Watson & Lea) |

182
(6)

| | |
| --- | --- |
| | Caring Attributes Professional Self-Concept Technological Influence (Arthur et al.) |

188
(15)

| | |
| --- | --- |
| | Caring Professional Scale (Swanson) |

203
(4)

| | |
| --- | --- |
| | Methodist Health Care System Nurse Caring Instrument (Shepherd & Sherwood et al.) |

207
(8)
Part III: Challenges and Future Directions

| | |
| --- | --- |
| | The Evolution of Measuring Caring: Moving Toward Construct Validity |

215
(27)

| | |
| --- | --- |
| | Postscript: Free Thoughts on Caring Theories and Instruments for Measuring Caring |

242
(8)
References
250
(9)
Appendix: Master Matrix Blueprint for All Instruments for Measuring Caring
259
(54)
Index
313