Note: Supplemental materials are not guaranteed with Rental or Used book purchases.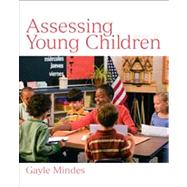 Questions About This Book?
What version or edition is this?
This is the 4th edition with a publication date of 3/16/2010.
What is included with this book?
The Used copy of this book is not guaranteed to include any supplemental materials. Typically, only the book itself is included.
Related Products
Summary
KEY BENEFITThis book addresses the concerns of the teacher who wants to understand and deliver an effective educational program for all young children from birth through age 8.KEY TOPICSIt covers appropriate practice for prospective teachers and discusses current trends for experienced teachers; It approaches assessment as an integral part of the teaching and learning process. Key components of the assessment system include cultural sensitivity,family collaboration, and a vision of inclusionary practice in all early childhood environmentschild care and school. Relevant professional standards are addressed throughout. The text is written in nontechnical language with support from the most current research. All "hot topics" are included as wellstandards-based and outcomes-based teaching, high-stakes testing, response to intervention (RTI), coping with legislative demands, as well as relevant technology in the assessment process.MARKETproviders of assessment in early childhood education courses.
Author Biography
Gayle Mindes is Professor of Education and Program Leader for Early Childhood Education at DePaul University in Chicago. She teaches in the pre-service early childhood and elementary education programs there. Mindes, a life-long urban educator writes and speaks on the topics of assessment, social studies, and kindergarten. Books include:
· Assessing Young Children, 4th Ed., Upper Saddle River, NJ: Prentice Hall/Merrill, 2011.
· Teaching young children social studies. by invitation of Early Childhood Series Editors: Doris P. Fromberg and Leslie R.
Williams for Greenwood Press. Paperback edition released by Rowman & Littlefield, 2007.
· Koralek, D. & Mindes, G. (2006) Spotlight on young children and social studies. Washington, DC: National Association for
the Education of Young Children.
· Ornstein, A. C. & Lasley, T. (2005) Secondary and Middle School Methods 2nd Ed. Boston: Pearson/Allyn & Bacon.
· Mindes, G. & Donavan, M. A. (2001) Building character: Five enduring themes for a stronger early childhood curriculum.
With Marie Donovan. Needham Heights: Allyn & Bacon.
She earned a B.S. in Elementary Education from the University of Kansas; M. S. in Counseling and Behavioral Disabilities from the University of Wisconsin; and Ed. D. in Curriculum and Instruction with emphasis on early childhood education at Erikson Institute, from Loyola University of Chicago.
Table of Contents
Chapter 1 A Comprehensive Assessment System for Birth Through Age 8
The Age Span of Early Childhood
Matching Assessment Methods to Early Childhood Settings
Stakeholders in the Process
Defining and Creating a Comprehensive Assessment System
Current Issues in the Assessment of Young Children
Summary
Chapter 2 Developing Family Partnerships in Assessment
Family Partnerships in the Assessment System
Methods for Obtaining Information from Families

Parents' Educational Programs

Family—Teacher Collaboration
Parents' Rights
Summary
Chapter 3 Observation as the Key Method in the System
Observation in the Assessment System–Planning, Deciding, and Recording
Summary
Chapter 4 Using Basic Concepts of Measurement
New Paradigms in Assessment

Importance of Basic Concepts of Measurement for Teachers
Terminology
Standardization and Norms
Different Types of Test Scores
Reliability
Validity
Guidelines for Test Evaluation

Summary
Chapter 5 Testing: Choosing the Right Measure
Tests in the Assessment System
Early Childhood Tests and Their Use
Diagnostic Testing
Coordination of Testing Programs
Performance Assessment
Summary
Chapter 6 Using Alternative Assessment Strategies
Role of Alternative Assessment Strategies in the Classroom
Play-Based Assessment
Structured Questions to Identify Student-Learning Processes
Task Analysis
Dynamic Assessment
Ecological Assessment

Functional Assessment
Strength-Based Assessment and Intervention
Curriculum-Based Language Assessment
Multiple Intelligences
Response to Intervention (RTI)
Prereferral Screening
Summary
Chapter 7 Record Keeping, Reporting, and Collaborating with Families and Others
Record Keeping and Reporting in the Assessment System
Maintaining Confidentiality of Assessment Information

Involving Parents in Assessment
Conferencing with Parents
Grading in the Early Years
Preparing Report Cards
When Families Are Clients
Multidisciplinary Staffing

Reporting to Other Stakeholders
Summary
Chapter 8 Building a Child Study
Child Studies in the Assessment System
Purposes of Child Studies
Elements of a Child Study
Conducting a Child Study to Determine Teaching or Intervention Strategies
Examples of Child Studies
Summary
Chapter 9 Special Issues in Infant and Toddler Assessment
The Total Assessment Process of Infants and Toddlers
The Importance of Assessment in the First 3 Years
Unique Aspects of Infants and Toddlers
Principles That Guide Infant and Toddler Assessmen
Ecologically and Developmentally Relevant Assessment Strategies
The Integration of Assessment Information into Programming
Documenting Infant/Toddler Progress In Typical Care Situations
Summary
Chapter 10 Issues in Preschool Assessment
Preschool Assessment System Issues
Selection for the Preschool Program
Choosing a Screening Instrument
Planning for Instruction
Referral for Special Services
Transition to Kindergarten or First Grade
Summary
Chapter 11 Special Issues in Primary Grades
Primary Assessment Systems Issues
Transition from Preschool
Assessing Teaching Level

Performance Assessment with Technology
Portfolios
Standards-Based Teaching
Achievement Testing

Textbook Tests

Individualized Academic Tests
Test Prep
Summary
Appendix A Self-Assessment Pretest Associated with Terms to Know
Appendix B Child Development Chart for Typical Development
Appendix C Selected Early Childhood Tests to Consider for Use in Educational and Child-Care Settings
Appendix D Test Evaluation Guidelines
Appendix E Choosing Technology and Software to Support Assessment
Appendix F Portfolio Template
Appendix G Child Interview Protocols
Appendix H Example Forms for Collecting Assessment Information
Appendix I Chicago Early Development Screening Inventory for Teachers II
Appendix J Websites that Address Assessment For Teachers of Young Children
Appendix K Assessment Bibliography for Kindergarten and Primary Teachers