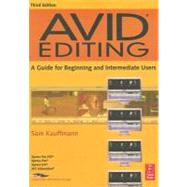 Avid Editing : A Guide for Beginning and Intermediate Users
by
Kauffmann
Questions About This Book?
What version or edition is this?
This is the 3rd edition with a publication date of 3/3/2006.
What is included with this book?
The eBook copy of this book is not guaranteed to include any supplemental materials. Typically only the book itself is included.
Related Products
Summary
Avid Editing is a comprehensive guide covering Avid Xpress Pro, Avid Xpress Pro HD, Avid Xpress DV, and Avid Media Composer. Suitable for beginning editors or experienced editors new to the Avid, the book provides step-by-step instructions for hundreds of editing tasks in jargon-free terms. Over 500 images and screen captures make difficult concepts easy to grasp. The chapters guide you through all the techniques you'll need in order to edit any type of project. The book can be read and studied at home or while sitting in front of an Avid, following the book's clear instructions. The accompanying DVD provides narrative footage to download and edit for immediate, hands-on practice.
Author Biography
Sam Kauffmann is a professor at Boston University's College of Communication
Table of Contents
Introduction
xxiii
1
(30)
1
(1)
2
(1)

| | |
| --- | --- |
| | Film and Video---The Old Way |

2
(1)
3
(9)

| | |
| --- | --- |
| | The Many Parts of Your System |

4
(4)
8
(1)
9
(3)
12
(1)

| | |
| --- | --- |
| | The Avid Interface on Your Computer |

13
(9)
13
(1)
14
(1)
15
(1)
15
(1)
16
(1)
16
(1)
16
(1)
17
(1)
18
(1)
18
(1)
18
(1)
19
(1)
20
(1)
20
(1)
20
(1)
21
(1)
22
(1)
22
(1)

| | |
| --- | --- |
| | Starting an Editing Session |

22
(6)
24
(2)

| | |
| --- | --- |
| | Adding Shots to Your Sequence |

26
(2)

| | |
| --- | --- |
| | Ending an Editing Session |

28
(3)

| | |
| --- | --- |
| | Script for ``Wanna Trade'' |

28
(3)
31
(18)
31
(1)

| | |
| --- | --- |
| | Starting Your Second Editing Session |

32
(1)
32
(2)
33
(1)
34
(1)
34
(1)
35
(6)

| | |
| --- | --- |
| | Selecting and Deselecting Tracks |

35
(1)
36
(1)
36
(1)
36
(1)
37
(1)
37
(1)

| | |
| --- | --- |
| | Scaling and Scrolling the Timeline |

38
(1)
39
(1)
40
(1)

| | |
| --- | --- |
| | Marking Clips in the Timeline |

40
(1)
41
(1)
42
(2)
44
(1)

| | |
| --- | --- |
| | It Takes Three Marks to Make an Edit |

44
(2)
45
(1)
46
(1)
47
(1)
47
(2)
49
(22)
49
(1)
50
(5)
50
(1)
50
(1)
50
(2)

| | |
| --- | --- |
| | Changing the Default View |

52
(1)
52
(2)
54
(1)
54
(1)
54
(1)
55
(1)
56
(1)
56
(1)

| | |
| --- | --- |
| | Deleting Sequences and Clips |

57
(2)
59
(1)

| | |
| --- | --- |
| | Settings: Have It Your Way |

60
(8)
60
(1)
61
(1)
62
(1)
63
(1)
64
(3)
67
(1)
68
(1)
69
(2)
71
(20)
72
(1)
72
(2)
72
(2)
74
(1)
75
(1)
76
(3)
79
(1)
80
(1)
80
(1)
80
(2)

| | |
| --- | --- |
| | Changing from Single-Roller to Dual-Roller Trim Mode |

81
(1)

| | |
| --- | --- |
| | Adding and Removing Rollers |

81
(1)

| | |
| --- | --- |
| | Advanced Trim Mode Techniques |

82
(5)
82
(2)

| | |
| --- | --- |
| | Trim One Side, Then the Other |

84
(1)
84
(1)
85
(1)

| | |
| --- | --- |
| | Picture and Sound Overlaps |

86
(1)
87
(1)

| | |
| --- | --- |
| | Sync Problems in Single-Roller Trim Mode |

87
(1)

| | |
| --- | --- |
| | Enter Trim Mode on Selected Tracks |

88
(1)
89
(1)
89
(1)
89
(1)
89
(1)
89
(1)

| | |
| --- | --- |
| | Add Rollers and Delete Rollers |

90
(1)
90
(1)
90
(1)
90
(1)
91
(10)
91
(1)
92
(1)
93
(2)
95
(1)

| | |
| --- | --- |
| | Story Structure---Beginning, Middle, and End |

96
(1)
97
(1)

| | |
| --- | --- |
| | Screening a Work in Progress |

98
(2)

| | |
| --- | --- |
| | Being Your Own Projectionist |

98
(1)
99
(1)
100
(1)
100
(1)
101
(28)
102
(2)

| | |
| --- | --- |
| | Standard-Definition Tape Formats---Analog and Digital |

104
(1)

| | |
| --- | --- |
| | Compression and Subsampling |

104
(1)

| | |
| --- | --- |
| | Capture Systems and Techniques |

105
(1)

| | |
| --- | --- |
| | Connecting Your Equipment |

106
(4)

| | |
| --- | --- |
| | Configuring a Deck or Camera |

107
(2)
109
(1)
110
(2)
110
(1)
111
(1)
112
(1)
112
(1)
112
(1)
113
(4)

| | |
| --- | --- |
| | Configuring the Capture Tool |

114
(2)

| | |
| --- | --- |
| | If the Avid Says ``NO DECK'' |

116
(1)
117
(1)
117
(4)
118
(1)

| | |
| --- | --- |
| | Batch Capturing Your Logged Clips |

119
(1)
120
(1)
120
(1)
121
(1)

| | |
| --- | --- |
| | Capturing Material Without Timecode |

122
(1)
123
(1)

| | |
| --- | --- |
| | Mojo (Not Available on Xpress DV) |

124
(4)
127
(1)
128
(1)
129
(24)
130
(3)
133
(2)
135
(5)
140
(3)
143
(1)
144
(2)
146
(2)
148
(1)
148
(1)
148
(1)

| | |
| --- | --- |
| | Tracking and Monitor Menus |

149
(2)
149
(2)
151
(1)

| | |
| --- | --- |
| | Mapping Menu Items to Keyboard |

151
(2)
153
(26)
153
(1)
154
(1)

| | |
| --- | --- |
| | Monitoring Only One Track |

154
(1)
155
(1)
155
(1)

| | |
| --- | --- |
| | Selecting the Tracks for Scrubbing |

156
(1)
156
(1)
156
(1)
156
(2)
158
(1)
158
(10)

| | |
| --- | --- |
| | Fixing Volume Output Levels |

158
(1)
159
(2)

| | |
| --- | --- |
| | Mixing Tool with Audio Tool |

161
(1)
161
(1)
162
(1)
162
(1)

| | |
| --- | --- |
| | Changing Volume and Panning on Multiple Clips |

163
(2)
165
(1)

| | |
| --- | --- |
| | Placing Key Frames Manually |

165
(2)

| | |
| --- | --- |
| | Placing Key Frames Automatically |

167
(1)
168
(4)
169
(1)
170
(1)
171
(1)

| | |
| --- | --- |
| | When to Use the Different Audio Tools |

172
(1)
172
(1)
173
(1)

| | |
| --- | --- |
| | Using Trim Mode with Waveforms to Fix Audio |

174
(1)

| | |
| --- | --- |
| | Other Audio Techniques to Fix Problems |

174
(1)
175
(1)
175
(1)
176
(1)

| | |
| --- | --- |
| | Building Your Sound Tracks |

176
(1)
177
(1)
177
(1)
177
(2)
179
(20)
179
(7)
180
(1)

| | |
| --- | --- |
| | Extract/Splice Segment Mode Button |

180
(2)

| | |
| --- | --- |
| | Lift/Overwrite Segment Mode Button |

182
(2)

| | |
| --- | --- |
| | Moving Sound to Different Tracks |

184
(1)

| | |
| --- | --- |
| | Lassoing to Get into Segment Mode |

185
(1)

| | |
| --- | --- |
| | Trimming in Two Directions |

186
(3)
188
(1)
189
(3)
189
(2)
191
(1)
192
(2)
194
(1)

| | |
| --- | --- |
| | Replace (Not on Xpress DV) |

194
(3)
197
(2)
199
(20)
200
(1)
200
(1)

| | |
| --- | --- |
| | Creating Your First Title |

201
(1)
201
(1)
202
(1)
203
(1)

| | |
| --- | --- |
| | Cutting Titles into Your Sequence |

203
(3)

| | |
| --- | --- |
| | RealTime Effects Button (Xpress Pro 4.+ Versions) |

205
(1)

| | |
| --- | --- |
| | RealTime Encoding (Xpress Pro 5.+) |

205
(1)

| | |
| --- | --- |
| | Adjusting Your Title's Length |

205
(1)

| | |
| --- | --- |
| | Adding Fades to Your Title |

205
(1)
206
(2)
208
(1)

| | |
| --- | --- |
| | Creating Title Style Sheets |

209
(1)
209
(1)
210
(1)
210
(2)
212
(1)
212
(1)
213
(1)
214
(1)
214
(1)
214
(1)
215
(2)

| | |
| --- | --- |
| | Cutting in Rolling Titles |

215
(1)
216
(1)

| | |
| --- | --- |
| | Adjusting the Speed of the Rolling Titles |

216
(1)
217
(1)
217
(1)
218
(1)
219
(26)
219
(1)
220
(1)
221
(3)

| | |
| --- | --- |
| | Xpress Pro 4.+ RealTime Effects Button |

223
(1)
223
(1)
224
(1)

| | |
| --- | --- |
| | Third-Party Plug-In Effects |

224
(1)
225
(8)
228
(5)
233
(1)

| | |
| --- | --- |
| | Saving an Effect as a Template |

233
(1)
233
(1)
234
(1)
234
(1)
234
(1)
235
(1)
235
(1)

| | |
| --- | --- |
| | Rendering Multiple Effects |

236
(1)

| | |
| --- | --- |
| | Waiting for Effects to Render |

236
(1)
236
(2)
236
(1)

| | |
| --- | --- |
| | Rendering Two-Field Motion Effects |

237
(1)
238
(1)
238
(1)
238
(6)
239
(2)
241
(1)
241
(1)

| | |
| --- | --- |
| | The HSL Group---Hue Offsets |

242
(1)
243
(1)

| | |
| --- | --- |
| | Saving Your Color Correction Settings |

243
(1)
244
(1)
245
(10)

| | |
| --- | --- |
| | If It's a Computer It Will Crash |

245
(1)
246
(2)
248
(1)
248
(1)
248
(1)
249
(2)

| | |
| --- | --- |
| | Retrieving a File from the Attic |

250
(1)

| | |
| --- | --- |
| | Batch Capture Offline Media |

251
(1)
252
(2)
253
(1)
253
(1)
254
(1)
254
(1)
255
(14)
255
(1)

| | |
| --- | --- |
| | The Source of Your Problems |

256
(1)
256
(1)

| | |
| --- | --- |
| | Many Tracks Mean Many Sync Problems |

257
(1)
258
(1)
259
(1)

| | |
| --- | --- |
| | Editing Tricks to Stay in Sync |

259
(8)

| | |
| --- | --- |
| | Trimming in Two Directions---A Review |

260
(1)
261
(1)
262
(1)
263
(4)
267
(1)
268
(1)
269
(24)
269
(1)
270
(1)
270
(3)

| | |
| --- | --- |
| | Computers versus Television |

273
(1)
273
(1)

| | |
| --- | --- |
| | DV Aspect Ratio and Pixels |

274
(1)
274
(1)
274
(2)
275
(1)
275
(1)
276
(1)
276
(1)

| | |
| --- | --- |
| | Importing Audio from a CD |

276
(1)
277
(2)

| | |
| --- | --- |
| | Importing Other File Types |

279
(1)
279
(1)
280
(1)

| | |
| --- | --- |
| | Exporting a Production Still |

280
(3)
283
(4)

| | |
| --- | --- |
| | Exporting a QuickTime Reference Movie |

283
(2)

| | |
| --- | --- |
| | Exporting a QuickTime Movie |

285
(2)

| | |
| --- | --- |
| | Exporting Audio to a Pro Tools® Work Station |

287
(4)
288
(1)
289
(2)

| | |
| --- | --- |
| | Exporting Other File Types |

291
(1)
292
(1)

| | |
| --- | --- |
| | Digital Filmmaking at 24p |

293
(22)

| | |
| --- | --- |
| | Interlaced versus Progressive |

294
(1)
295
(1)
295
(3)
296
(1)
297
(1)
297
(1)
298
(1)

| | |
| --- | --- |
| | How Progressive Works---Pulldown |

298
(1)
299
(1)
300
(1)

| | |
| --- | --- |
| | Advantages of 24p over 30i |

301
(1)
301
(1)
301
(1)

| | |
| --- | --- |
| | 35-mm Theatrical Release Print |

301
(1)
301
(1)
302
(1)
303
(2)
304
(1)
305
(1)

| | |
| --- | --- |
| | Anamorphic Film-to-Tape Transfer |

305
(1)
306
(1)
307
(1)
307
(5)

| | |
| --- | --- |
| | 4:3 Letterbox Version---Xpress Pro, Xpress Pro HD 5.+, and Media Composer |

307
(1)

| | |
| --- | --- |
| | 4:3 Letterbox Version---Xpress DV and Xpress Pro 4.+ |

308
(1)

| | |
| --- | --- |
| | Creating a 4:3 Pan and Scan Version for Standard Television |

309
(2)

| | |
| --- | --- |
| | 4:3 on Xpress DV and Earlier Xpress Pro Versions |

311
(1)
312
(1)
312
(1)
313
(2)
315
(14)
315
(1)
316
(2)
317
(1)
317
(1)
317
(1)
318
(1)
318
(1)

| | |
| --- | --- |
| | All Those Pesky HD Frames-per-Second Rates |

319
(1)

| | |
| --- | --- |
| | Cameras---Expensive to Unbelievably Expensive |

320
(2)
322
(4)
323
(1)
324
(1)

| | |
| --- | --- |
| | Using Mojo to Monitor Your HD or HDV Video |

324
(1)

| | |
| --- | --- |
| | 16:9 Source/Record Monitors |

325
(1)
325
(1)
326
(1)

| | |
| --- | --- |
| | Making a 35-mm Theatrical Release Print |

326
(1)

| | |
| --- | --- |
| | Downconverting to Get a Standard-Definition Version |

326
(2)
328
(1)
329
(24)
329
(1)
330
(1)
330
(1)
331
(1)
331
(2)
333
(1)

| | |
| --- | --- |
| | Linking Clips to the Script |

333
(1)
334
(2)
336
(1)
336
(1)
337
(1)
337
(1)
338
(1)

| | |
| --- | --- |
| | Deleting Takes and Slates |

338
(1)

| | |
| --- | --- |
| | Loading and Playing Takes |

338
(1)
339
(1)
340
(2)
342
(1)

| | |
| --- | --- |
| | A Faster Way to Place Script Marks |

343
(1)
344
(1)
344
(1)
345
(1)
345
(1)
346
(1)
346
(1)
347
(1)
348
(1)

| | |
| --- | --- |
| | Identifying the Preferred Take |

348
(1)
349
(1)
349
(4)
353
(26)
353
(1)

| | |
| --- | --- |
| | Examining Your Media Drives |

354
(3)

| | |
| --- | --- |
| | Deleting Unreferenced Precomputes |

355
(2)
357
(1)

| | |
| --- | --- |
| | Recapturing Your Sequence |

357
(2)

| | |
| --- | --- |
| | Preparing to Recapture Your Sequence |

357
(1)
358
(1)
358
(1)
359
(1)

| | |
| --- | --- |
| | Replacing Your Audio Tracks |

360
(1)
360
(1)
360
(1)
361
(2)

| | |
| --- | --- |
| | Connecting and Powering up a DV Device |

362
(1)

| | |
| --- | --- |
| | Manual Recording or Crash Recording to Tape |

362
(1)

| | |
| --- | --- |
| | Manual Record to a DV Deck or Camera |

363
(1)
363
(5)

| | |
| --- | --- |
| | Changing the Sequence Timecode |

364
(1)
364
(1)

| | |
| --- | --- |
| | Xpress DV and Xpress Pro 4.x |

365
(1)

| | |
| --- | --- |
| | The Digital Cut Tool Xpress Pro and Pro HD Version 5.1.x |

366
(2)
368
(5)
368
(1)

| | |
| --- | --- |
| | Talk to Your Online Facility |

369
(1)
369
(3)
372
(1)
372
(1)
372
(1)
373
(3)
373
(2)
375
(1)
375
(1)

| | |
| --- | --- |
| | Making a 35-mm Theatrical Release Print |

376
(2)
378
(1)
378
(1)

| | |
| --- | --- |
| | Shooting on Film, Finishing on Film |

379
(22)
379
(1)
380
(1)

| | |
| --- | --- |
| | The Film-to-Tape Transfer |

380
(1)

| | |
| --- | --- |
| | Finishing on Film or Finishing on Tape |

380
(1)

| | |
| --- | --- |
| | Hire a Negative Cutter First |

381
(1)
381
(1)

| | |
| --- | --- |
| | The 2:3 Standard Pulldown |

381
(1)
382
(1)
383
(1)

| | |
| --- | --- |
| | Identifying the First Frame with a Punch |

384
(1)
385
(1)
385
(1)
386
(1)
386
(1)
386
(1)
387
(1)

| | |
| --- | --- |
| | Setting up Your Film Project |

388
(2)
389
(1)

| | |
| --- | --- |
| | Importing Your Telecine Log File |

389
(1)
390
(1)

| | |
| --- | --- |
| | Field Recording with a Timecode DAT |

391
(1)
391
(1)

| | |
| --- | --- |
| | Slowing Down the DAT During Digitizing |

392
(1)
392
(1)
392
(2)
394
(1)
394
(1)
395
(1)
395
(1)

| | |
| --- | --- |
| | Opening the Cut Lists Tool |

395
(4)

| | |
| --- | --- |
| | ``Matchback Shortened the Tail of the Clip by 1 Frame'' |

399
(1)

| | |
| --- | --- |
| | Mix and Optical Sound Track |

399
(1)
399
(1)
400
(1)
400
(1)
401
(4)

| | |
| --- | --- |
| | Where Do You Go from Here? |

401
(1)

| | |
| --- | --- |
| | Information on the Internet |

402
(1)

| | |
| --- | --- |
| | Getting a Job as an Avid Editor |

402
(1)
403
(1)
403
(2)
Index
405
(14)
DVD-ROM Instructions
419
(1)
Instructions for Mounting ``Wanna Trade'' onto a Macintosh Computer
420
(1)
Instructions for Mounting ``Wanna Trade'' onto a PC Computer
420
(1)
Instructions for Mounting ``Gaffer's Delight'' (Not Available for Xpress DV)
421
(1)
Instructions for Mounting Xpress DV 16x9 Practice for Xpress DV Users
421