Note: Supplemental materials are not guaranteed with Rental or Used book purchases.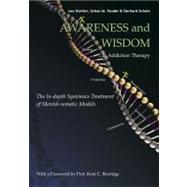 Awareness and Wisdom in Addiction Therapy : The in-Depth Systemics Treatment of Mental-somatic Models
ISBN13:
9781928706632
by
Unknown
Summary
In this extended essay, experts address both the recovery and the long-term goal of healing from addiction, arguing that a full cure from drug addiction or habitual addiction can be achieved. Combining both the principles of systemic therapy and experience gained through years of counseling, they have developed a unique model called "in-depth systemic" therapy, which extends the classic model by introducing and expanding on the mental dimension. The central point of this work is the thesis that addicts themselves have to reorganize and restructure their own habitual ways of perception and cognition, with Vipassana meditation serving as the instrument to realize this transformation. Vipassana comprises an ethical lifestyle, concentration of the mind through meditation, and working progressively on one's one mental-somatic models, offering a unique and successful approach to the treatment of addiction.
Author Biography
Leo Gürtler is a psychologist with a PhD in educational sciences and a systemic coach and therapist. Urban M. Studer is a mathematical physicist, a therapeutic researcher, and the leader of internal case management at the Swiss Federal Railway. Gerhard Scholz is a sociologist and founder and CEO at Start Again. Kent Berridge is a professor of psychology and neuroscience at the University of Michigan.
Table of Contents
Abstract
p. 7
Foreword
p. 9
Contents
p. 11
List of Figures
p. 13
On the concept of the In-depth Systemics approach
p. 15
Introduction
p. 17
Foundations - about the logic of addiction
p. 19
The contradictory unit - the 'need' and the 'obligation'
p. 20
Falling apart of subjective justifications and objectively restorable motives
p. 23
The large gap among feeling, thinking, and doing
p. 24
Models to explain addiction
p. 27
The sociological background
p. 27
The neurobiological basis
p. 31
A critique of the classical learning theories
p. 32
The contributions of the Theravada to In-depth Systemics
p. 36
Consequences - the goal of therapeutic actions
p. 43
What in practical terms is needed for recovery from addiction?
p. 43
Intervention and the In-depth Systemics approach
p. 47
The concept of start again
p. 47
Short outline of In-depth Systemics
p. 50
The initial model and autonomy
p. 51
Recovery from addiction
p. 54
Current model of In-depth Systemics
p. 58
Evaluation
p. 65
The start again evaluation study, 1995-98
p. 65
Catamnestic findings
p. 73
Principles of recovery
p. 73
Excerpts from the case studies
p. 77
Conclusion
p. 83
Bibliography
p. 87
Table of Contents provided by Ingram. All Rights Reserved.