Note: Supplemental materials are not guaranteed with Rental or Used book purchases.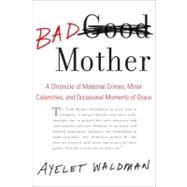 Summary
In the tradition of recent hits like The Bitch in the House and Perfect Madness comes a hilarious and controversial book that every woman will have an opinion about, written by America's most outrageous writer. In our mothers' day there were good mothers, neglectful mothers, and occasionally great mothers. Today we have only Bad Mothers. If you work, you're neglectful; if you stay home, you're smothering. If you discipline, you're buying them a spot on the shrink's couch; if you let them run wild, they will be into drugs by seventh grade. If you buy organic, you're spending their college fund; if you don't, you're risking all sorts of allergies and illnesses. Is it any wonder so many women refer to themselves at one time or another as "a bad mother"? Ayelet Waldman says it's time for women to get over it and get on with it, in a book that is sure to spark the same level of controversy as her now legendary "Modern Love" piece, in which she confessed to loving her husband more than her children. Covering topics as diverse as the hysteria of competitive parenting (Whose toddler can recite the planets in order from the sun?), the relentless pursuits of the Bad Mother police, balancing the work-family dynamic, and the bane of every mother's existence (homework, that is), Bad Mother illuminates the anxieties that riddle motherhood today, while providing women with the encouragement they need to give themselves a break.
Author Biography
AYELET WALDMAN is the author of Daughter's Keeper and Love and Other Impossible Pursuits. Her writing has appeared in The New York Times, Salon, New York, Elle, Vogue, and other publications. She and her husband, the novelist Michael Chabon, live in Berkeley, California, with their four children.
Table of Contents
Introduction: Or, Life in Eighteen Pieces
p. 1
Bad Mother
p. 5
The Life She Wanted for Me
p. 21
Free to Be You and I
p. 42
Breast Is Best
p. 58
Tech Support
p. 70
Like a Fish Needs a Bicycle
p. 80
My Mother-in-Law, Myself
p. 86
Drawing a Line
p. 97
So Ready to Be the Mother of a Loser
p. 103
Sexy Witches and Cereal Boxes
p. 109
Rocketship
p. 122
A Nose for Bad News
p. 137
To Each His Own Mother
p. 145
Legacy
p. 154
Darling, I Like You That Way
p. 172
Baby Lust
p. 179
The Audacity of Hope
p. 186
The Life I Want for Them
p. 196
Acknowledgments
p. 209
Table of Contents provided by Ingram. All Rights Reserved.
Excerpts
1. Bad Mother
I busted my first Bad Mother in the spring of 1994, on a Muni train in San Francisco. She was sitting on the edge of her seat, her young daughter standing between her knees. She had two barrettes clamped between her lips and a hair elastic stretched around the fingers of one hand. With her other hand she was brushing the little girl's long dark hair, trying to gather the slippery strands into a neat ponytail. It was not going well. She would smooth one side and then lose her grip on the other, or gather up the hair in the front only to watch the hairs at the nape of the girl's neck slide free. The ride was rough, the Muni car bucking and jerking along, causing the little girl periodically to lose her footing. When the driver took a turn too sharply, the little girl stumbled forward, her sudden motion causing her mother once again to lose hold of the ponytail. With a frustrated click of her tongue, the mother yanked a handful of the girl's hair, hard, and hissed, "Stand still!"
That's when, indignant, confident that someday, when it was my turn to brush my own daughter's hair, I would never be so abusive, I leaned forward in my seat, caught the woman's eye, and said, in a voice loud enough for everyone in the train car to hear, "Lady, we're all watching you."
We are always watching: the Bad Mother police force, in a perpetual state of alert-level orange. Sometimes the avatars of maternal evil that come to obsess us are grave and terrible, like Andrea Yates, who was found not guilty by reason of insanity for drowning her five children in the bathtub. Sometimes our fixation on a particular Bad Mother has to do with our own racism, as in the national obsession in the 1980s with the mythical welfare queen, described by Ronald Reagan as a woman with "80 names, 30 addresses, [and] 12 Social Security cards," or the current hysteria about undocumented women giving birth to "anchor" babies in order to immunize themselves from deportation. Sometimes the crime is so lunatic that it approaches a kind of horrible grandeur, like that of Wendy Cook, a prostitute in Saratoga Springs who snorted cocaine off her baby's stomach while she was breast-feeding. (And here I've always been proud of being able to nurse and read at the same time!)
As soon as one Bad Mother fades from view, another quickly takes her place in the dock of the court of public opinion. Not long ago, the dingbat pop starlet Britney Spears was hoisted up as the latest agent of villainy. Her Bad Mother rap sheet is long and varied. It includes being committed to a psychiatric facility, losing visitation rights after failing to submit to court-mandated drug testing, driving with her infant son on her lap, and running in her car over the feet of photographers and sheriff's deputies. And apart from her legal troubles, there are her miscellaneous crimes of lifestyle. Her constant partying, her spendthrift ways ($737,000 every month!), and, most notoriously perhaps, her inexplicable refusal to wear undergarments. We can all agree, can't we, that Britney Spears is at best an incompetent mother and at worst a neglectful one. She's far worse than my first collar, the Medea of Muni, who pulled her daughter's hair on the J Church line. So why, then, do I find myself feeling like she's gotten a bit of a rough deal?
Perhaps because in a smaller way, at the periphery of the public eye, I was myself made to do the Bad Mother perp walk. For a Warholian fifteen I became fodder for the morning talk shows and gossip blogs, held up to scorn and ridicule as an example of maternal perfidy. My crime? Confessing in the pages of the New York Times style section to loving my husband more than my children.
In that essay I wondered about why so many of the women I knew were not having sex with their husbands, while I still was, and I concluded that it might be because they, unlike me, had refocused their passion from t
---

Excerpted from Bad Mother: A Chronicle of Maternal Crimes, Minor Calamities, and Occasional Moments of Grace by Ayelet Waldman
All rights reserved by the original copyright owners. Excerpts are provided for display purposes only and may not be reproduced, reprinted or distributed without the written permission of the publisher.