Note: Supplemental materials are not guaranteed with Rental or Used book purchases.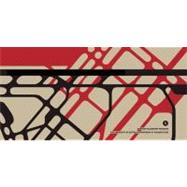 Questions About This Book?
What version or edition is this?
This is the edition with a publication date of 11/29/2011.
What is included with this book?
The New copy of this book will include any supplemental materials advertised. Please check the title of the book to determine if it should include any CDs, lab manuals, study guides, etc.
Summary
Peter Reyner Banham, renowned architectural historian and cultural critic, taught in the architecture program at the State University of New York at Buffalo between 1976 and 1980. During his tenure, inspired by daylight factories and grain silos of the region, he conducted research that led to his seminal book, A Concrete Atlantis, illuminating the relationship between American industrial buildings and European modern architecture. The Peter Reyner Banham Fellowship program at Buffalo was established to celebrate Banham's legacy at Buffalo, and, most importantly, to project new work that is inspired by Banham's foundational body of scholarship on material and visual culture. Each year, the Banham Fellow engages the students and faculty of the department through research, creative activity, and teaching, and the Fellow presents that body of work through an exhibition and a lecture. The projections of the past five Banham Fellows are documented: Jonathan Solomon, Sergio Lopez-Pineiro, Eva Franch Gilabert, Michael Kubo, and Brian Tabolt.
Author Biography
Mehrdad Hadighi: Professor Mehrdad Hadighi completed his post-professional studies at Cornell University, and holds a professional degree in architecture and a degree in studio art from the University of Maryland. His scholarly work focuses on drawing parallels between 20th century theory and criticism and the constructive principles of architecture. Hadighi's premiated design competition entries include the Studentenheim + Bauernmarkt, Glockengasse (1995), Public Space in the New American City, Atlanta (1994), Berlin Alexanderplatz Design Competition (1993), Austrian Cultural Institute in Manhattan (1992), and the Peace Garden Design Competition (1989). He has produced site specific installations for galleries in Washington, DC, Buffalo, Ithaca and New York City, and has received fellowships from the National Endowment for the Arts, the New York Foundation for the Arts, and the Council on the Creative and Performing Arts. The Architectural League of New York selected Hadighi as one of the six Notable Young Architects. Recently, Hadighi was selected as one of "25 most intriguing, innovative and intrepid architects, from all over the world" by Wallpaper* magazine in their 2004 Annual Design Directory issue; and as one of "10 Young Firms Reshaping the Globe" by the Architectural Record magazine in their 2003 Design Vanguard issue. Brian Tabolt: Brian Tabolt received his Master of Architecture from Princeton University and holds a Bachelor of Science in Architecture with High Honors from the University of Virginia, where he was the recipient of the Z Society Edgar J Shannon Award for Design Excellence. Tabolt has worked in the offices of SHoP Architects and Agrest & Gandelsonas in New York among others. He has been an invited critic at Syracuse University, Parsons School of Design, the New Jersey Institute of Technology, and Barnard College in addition to teaching architectural design studio at the University at Buffalo. Tabolt has also been an assistant instructor at the University of Virginia and Princeton University. In 2003 his collaboration with Peter Waldman received Second Prize in the Free Union School Competition in Charlottesville, Virginia. Tabolt was a founding editor and co-designer of Pidgin, a journal of the Graduate students of the Princeton University School of Architecture, now in its 6th bi-annual issue. Tabolt's research will focus on reestablishing instrumental links between architecture and the contemporary American city. Essential to this research is an investigation of the formless quality of the contemporary city, read as the product of a collision between avant-garde ambitions and mass-cultural desires. The megastructure - modernism's last gasp to organize and combat the dispersed condition its own urban schemes had helped create - will be brushed against the grain of its original intentions for rigid management to create architectural proposals more open to this formless context. Through this technique, the normally strategic ambition of the megastructure becomes a tactic for rethinking the relationship between architecture and the city, the individual and the collective, at a variety of scales. Michael Kubo: Michael Kubo has been appointed as the 2008 Banham Fellow. Michael studied at the University of Massachusetts, where he received his B.A. in Architecture magna cum laude in 2000, and at the Harvard University Graduate School of Design, where he received the M.Arch in 2006, completing his thesis with distinction. His current practice spans across the domains of writing, teaching, editing, and publishing. Kubo's editorial work is based on an alternative understanding of publishing as a critical form of architectural practice, in which publications can give structure to architectural concepts and elaborate new methodologies where the production of the book-object and modes of architectural investigation are inseparable in form and content. Some of the most prominent architects of the last century have also been prolific publishers, editors, journalists, critics, and authors. In this history, publishing has been a strategic tool utilized by architects for its unique capacity both to frame the practice of the architect and to perform as a critical form of architecture itself. Kubo's research at Buffalo focuses on the history of publications by architects—manifestoes, monographs, pamphlets, magazines, articles, and interviews—that have constituted this parallel form of architectural practice in the twentieth century. Kubo's current work extends this research to the question of strategic practices in architecture and its related discursive practices. Primary in this undertaking is his study of the strategic Cold War architecture of the RAND Corporation, currently being developed for publication with the support of the Graham Foundation. The RAND headquarters was the epicenter of strategic military thought in the postwar period, designed according to a diagram drawn by a mathematician as a literal extension of the Corporation's interdisciplinary research model. The built result of a complex set of ideas on how to stimulate creative thinking in a group environment, the RAND headquarters was itself one of the most important strategic products to emerge from the Cold War: a spatial experiment in human interaction and creative thinking conducted at the scale of a building for 300 people. Kubo is currently Adjunct Assistant Professor of Architecture at Pratt Institute and a consulting editor at the Harvard University Graduate School of Design. He has taught studios and seminars at the University of Texas at Austin, and at the Harvard University Graduate School of Design in collaboration with Farshid Moussavi. He worked previously with Actar Publishers in Barcelona as founding director of its editorial office in New York, and with the Office for Metropolitan Architecture in Rotterdam as Associate Editor for the Harvard Project on the City. His publications include The Function of Ornament (2006), with Farshid Moussavi, Desert America: Territory of Paradox (2006), Seattle Public Library (2004), Phylogenesis: FOA's Ark (2003), The Yokohama Project (2002), and the Verb Boogazine series, published since 2002. He has also edited books by various authors including Sanford Kwinter's Far From Equilibrium: Essays on Technology and Design Culture, Kazys Varnelis's The Infrastructural City: Networked Ecologies in Los Angeles, and Eve Blau and Ivan Rupnik's Project Zagreb: Transition as Condition, Strategy, Practice. His work has been exhibited at the Van Alen Institute in New York, Galeria RAS in Barcelona, Studio X / Columbia University in New York, and the Centro Andaluz de Arte Contemporaneo in Sevilla. Eva Franch-Gilabert: Eva Franch Gilabert has been appointed as the 2007 Banham Fellow. Eva studied at TU Delft, at ETS Arquitectura Barcelona where she received her Diploma in Architecture with Honors in 2003 and at Princeton University where she received the Suzanne Kolarik Underwood Prize and her M.Arch II degree in 2007. Franch's work draws on cultural, political, social, technological and formal archeologies in addressing the contemporary need for local desires and global understandings. Her research in architecture focuses on the search of representation of collective aspiration through conceptual, ideological and formal constructions of meaning through doubt. Her current research at Buffalo -- "Architecture of doubt" focuses in three operative fields: utopias (historic), metaphors (formal-cognoscitive) and atmospheres (experiential). "Utopia as doubt" is a research seminar that intends to identify and redefine the limits of utopia, histories, stories and projects of the twentieth century in order to construct possible pasts, and simultaneously possible futures. Parallel to the composite figure of utopia, "Generative metaphors" is a research on banality and the production and conceptualization of architecture that imply a turn from a rhetoric of representation to a hermeneutic of generation. Finally, "goose bumps" or the architecture of effect, is a research on the (im)Possibilities of discourse and representation of atmospheres in architectural practice. Franch's work has been exhibited at the Center for Architecture in New York, Korean Institute of Architects in Daegu, FAD Barcelona, NAI Rotterdam, Shenzen Biennale of Architecture, SOA Princeton, COAR Rioja and ETSA Barcelona among others. Selected publications include "CityThemeCity" and "Content_A" in Pidgin, "Dementia" in Postboks, "Pause Pavillion" in Pasajes, "Generative metaphors" in Sources of architectural form, and "R.E.D. studies" in Imagined Spaces. Awarded the Howard Crosby Butler Traveling Fellowship 2006 by Princeton University, Franch also received the La Caixa 2005-2007 full fellowship in residence for postgraduate studies, the Incubadora del FAD prize for emerging architects 2007, a Pasajes-iGuzzini prize, a Dragados Foundation prize and the Erasmus Fellowship among others. She is a registered architect in Catalonia. Sergio López-Piñeiro Pérez: Sergio López-Piñeiro's work is dedicated to the production of a psychological space for the global urban context. Located in-between the scales of architecture and urbanism, this space occupies the gap produced by the aging of our current concept of public domain. The design of this space requires the unification of several political, social, and urban actors, such as wireless networks, NGOs and new formal coherences. As the 2006-2007 Peter Reyner Banham Fellow, Sergio López-Piñeiro will be conducting a seminar on the different forms of collective life that architects have proposed along the second half of the twentieth century. During the spring of 2007, he will be leading a design studio on the instrumentalization of technological, social, and material interconnectivity as an architectural design tool and a seminar on the definition and production of architectural blankness. Sergio López-Piñeiro (Madrid, 1973) received his Diploma in Architecture from ETS Arquitectura Madrid in 1998 and his MArch degree from Princeton University in 2004, where he was awarded the Suzanne Kolarik Underwood Prize. He has previously worked as an architect at Foreign Office Architects (London, 2000-02) and at no.mad (Madrid, 1998-2000). Currently, he maintains an independent practice, Holes of Matter. Jonathan Solomon: Jonathan D Solomon is an American architect based in Hong Kong; his work explores future forms of urbanism through multidisciplinary collaborations. Solomon is a founding editor of 306090 Books, a publication series featuring novel developments in architecture, landscape architecture and urbanism that published its 14th volume, Making a Case, in 2011. In 2010, he co-curated Workshopping: An American Model of Architectural Practice, at the US Pavilion at the Venice Architecture Biennale. In 2009, his design for Ooi Botos Gallery, an adaptive reuse project in a Hong Kong street market, won two AIA awards. He is the author of several essays on the contemporary Asian city in the journal Log, and his proposals for converting a Bronx highway into a public park were published as the 26th volume of the acclaimed Pamphlet Architecture series from Princeton Architectural Press. Solomon has taught design at the City College of New York and, as a Banham Fellow, at the University at Buffalo, as well as the University of Hong Kong. He is a licensed architect in the State of Illinois and Member of the American Institute of Architects."