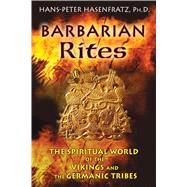 Summary
Before the conversion of Europe to Christianity in the Middle Ages, Germanic tribes roamed the continent, plundering villages and waging battles to seek the favor of Odin, their god of war, ecstasy, and magic. Centuries later, predatory Viking raiders from Scandinavia carried on similar traditions. These wild ˘barbarians÷ had a system of social classes and familial clans with complex spiritual customs, from rites of passage for birth, death, and adulthood to black magic practices and shamanic ecstatic states, such as the infamous ˘berserker's rage.÷
Author Biography
Hans-Peter Hasenfratz, Ph.D., is professor emeritus of the history of religion at the Ruhr University in Bochum, Germany. The author of numerous works in German on ancient cultures and religions, he lives in Bochum, Germany.
Table of Contents
Translator's Foreword
p. vii
Introduction
p. 1
A Brief History of the Germanic Tribes
p. 21
Society and Its Values (Sociography and Axiology)
p. 33
The Rituals of Transition (Rites of Passage)
p. 62
Magic
p. 76
The Powers
p. 90
The Conception of the World (Cosmography)
p. 124
The Beginnings of Time and the End Times
p. 128
Notes
p. 134
Bibliography
p. 153
Index
p. 159
Table of Contents provided by Ingram. All Rights Reserved.