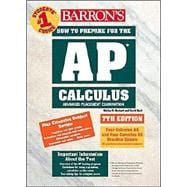 Barron's How to Prepare for the Ap Calculus: Advanced Placement Examination : Review of Calculus Ab and Calculus Bc
by
Hockett, Shirley O.
;
Bock, David
Barrons Educational Series Inc
List Price: $16.95

More New and Used
from Private Sellers
Related Products
Summary
This updated manual offers four practice exams in Calculus AB and four more in Calculus BC, all with answers and explanations. Extensive review sections cover functions and their graphs, derivatives and integrals, differential equations, sequences and series, and many applications. Students will also find important information about the AP testing program and guidelines for using a graphing calculator on the exam. Test-taking tips help students get higher scores.
Table of Contents
Preface
vii
Introduction
viii
The Courses
viii
Comparison of Calculus AB and Calculus BC Courses
viii
The ``New'' AP Calculus Courses
viii
Topics That May Be Tested on the Calculus AB Exam
ix
Topics That May Be Tested on the Calculus BC Exam
x
The Examinations
x
The Graphing Calculator: Using Your Graphing Calculator on the AP Exam
xi
Grading the Examinations
xvi
The CLEP Calculus Examination
xvii
This Review Book
xvii
TOPICAL REVIEW AND PRACTICE
1
(21)
22
(23)
45
(48)

| | |
| --- | --- |
| | Applications of Differential Calculus |

93
(59)
152
(32)
184
(41)

| | |
| --- | --- |
| | Applications of Integration to Geometry |

225
(49)

| | |
| --- | --- |
| | Further Applications of Integration |

274
(23)
297
(42)
339
(54)

| | |
| --- | --- |
| | Miscellaneous Multiple-Choice Practice Questions |

393
(37)

| | |
| --- | --- |
| | Miscellaneous Free-Response Practice Problems |

430
(193)
PRACTICE EXAMINATIONS: SECTIONS I and II
455
(22)
477
(21)
498
(25)
523
(28)
551
(17)
568
(18)
586
(17)
603
(20)
Appendix: Formulas and Theorems for Reference
623
(10)
Index
633