Note: Supplemental materials are not guaranteed with Rental or Used book purchases.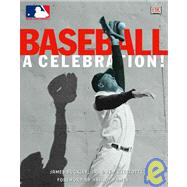 Summary
Baseball is a game we first play as children, but love for all of our lives. This book takes you on a visual journey through the history of baseball, using more than 700 historic, evocative, emotional, and colorful photographs that bring to life the faces, places, moments, and memories that have made the game America's National Pastime. Celebrate the game with everyone from the greatest Major League stars to the youngest sandlot players. Relive the march of memories that have given baseball its constant sense of nostalgia, even as every day brings new thrills to the diamonds of the world. Baseball: A Celebration! spans the entire history of the game, from its earliest days on rough fields drawn up by determined sportsmen through the heady days of the early pro game; from the Golden Age of Babe Ruth to the magic time when New York City was the center of the baseball universe; through the color and flash of the 1960s, all the way to the sky-high home runs of Mark McGwire, Sammy Sosa, and other stars of today. Featuring photographs drawn from the world's greatest repositories of baseball imagery, including Major League Baseball Photos and the National Baseball Hall of Fame, and fact-filled narrative commentary on each photograph by veteran sportswriters James Buckley, Jr., and Jim Gigliotti, Baseball! A Celebration takes you out to the ballgame, page after glorious page.
Author Biography
James Buckley, Jr., is the author of more than 20 books on sports, including a half-dozen other baseball books DK Publishing, including Eyewitness Baseball and The Visual Dictionary of Baseball. A sports writer and editor for more than 15 years, he has worked at Sports Illustrated and has contributed dozens of articles on baseball to national publications. A lifelong fan of the Boston Red Sox, Buckley is the editorial director of the Shoreline Publishing Group in Santa Barbara, California, where he lives with his wife and two children. Jim Gigliotti is a writer and editor who lives with his wife and two young children in southern California. He has worked for the University of Southern California athletic department, the Los Angeles Dodgers, and NFL Properties. A native of San Francisco, he has fond memories of many chilly nights at Candlestick Park.
Table of Contents
Introduction America's Game
6
(14)
Baseball Photography An essay
14
(12)
26
(12)
38
(22)

| | |
| --- | --- |
| | 1900s Welcome the World Series |

60
(32)

| | |
| --- | --- |
| | 1910s High Hopes and Black Sox |

92
(32)
124
(44)
168
(52)
220
(52)
272
(72)

| | |
| --- | --- |
| | 1960s Suddenly the Sixties |

344
(62)

| | |
| --- | --- |
| | 1970s The Polyester Seventies |

406
(56)

| | |
| --- | --- |
| | 1980s Baseball Keeps Growing |

462
(68)
530
(74)
604
Excerpts
Baseball Photography by Jim Gigliotti When Steve Howe closed out the Dodgers'' 9-2 victory over the Yankees in Game 6 of the 1981 World Series, photographer Jayne Kamin-Oncea was there to capture moment. Kamin-Oncea got a joyous shot of the three Steves--Howe, first baseman Steve Garvey, and catcher Yeager--celebrating on the infield. In the locker room, there were hugs and champagne spray all around, and Kamin-Oncea photographed much of the drama. But she missed the one shot she really wanted. "I wanted to capture the emotion from the dugout just as they won it," she says. "So I told myself that the next time I would be ready with a remote." She had to wait until 1988. After the Dodgers built a 3-1 lead over the Oakland A''s in the World Series, Kamin-Oncea was prepared for the celebration following Los Angeles''s 5-2 win in Oakland in Game 5. "I had a remote with a foot switch focused on the dugout," she says. "I shot the mound, as usual, but this time I also got them coming out of the dugout." The result was a memorable photo of the Dodgers as they claimed the franchise''s sixth world title. You''ll find the photograph on the previous page. It''s one of hundreds of shots that help illustrate the glorious history of baseball, from an unknown photographer''s depiction of the New York Baseball Club from 1855 on page 30 (the Society for American Baseball Research calls this the oldest known baseball photograph) to a tender embrace between Barry Bonds and his father, Bobby, in 2001 on page 623--and a whole lot in between. It was in 1839 that Louis Jacques Mande Daguerre and officials in France officially announced the invention of photography. Kamin-Oncea''s remote could hardly have been envisioned by Daguerre when he was credited with inventing photography. Nor could today''s lightning-fast shutter speeds, nearly instant global transmission, or digital photography. Abner Doubleday is often credited with inventing baseball in Cooperstown, New York, that same year. There''s as much fiction as fact in the two events. Daguerre hardly was alone in the development of photography. And there is no evidence that Cooperstown was the birthplace of baseball or Doubleday its father. But no matter their true origins, baseball and photography fit each other as snugly as ball and glove, and their marriage was destined from the start. They grew up together in the 1800s, matured through growing innovation and technology, and emerged as viable professions and hobbies. At first, it hardly seemed likely that the two arts would cross. It not only took a while for photographers to turn their attention to something as "trivial" as baseball, but the earliest forms of photography could not capture the action of a pitcher in his windup or a player swinging a bat, let alone someone sliding into home. But photography evolved quickly, with each new process helping to bring photography out of the portrait studio. In the 1860s, Matthew Brady and others brought graphic images of Civil War battlefields to the public. In 1869, Brady shot a studio portrait of the Cincinnati Red Stockings (page 35), baseball''s first professional team. Still, few photographers were willing to bring the camera out to the park. For one thing, cameras were still generally b big and bulky and had to be lugged around the field, and shutter speeds were too slow for generating anything but posed pictures. But then, a succession of events helped bring the camera to the park. In the late nineteenth century, Kodak''s portable camera brought photography to the masses and stimulated interest again, and halftone plates made it feasible to put photographs in newspapers. And in 1904, John B. Foster, the editor of Spalding''s Official Baseball Guide, approached Charles M. Conlon, a proofreader from the New York Telegram. Foster knew that Conlon''s hobby was taking pictures. "Charley, they need pictures of ball players for the Guide," Foster said. "There is no reason you can''t take pictures of players, as well