Note: Supplemental materials are not guaranteed with Rental or Used book purchases.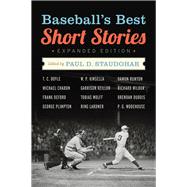 Baseball's Best Short Stories
ISBN13:
9781613743768
by
Unknown
Summary
No other sport has inspired as many great writers as baseball and this exceptional anthology brings together 37 short stories about the national pastime. The stories span several decades and are written by some of America's favorite writers, including Zane Grey, James Thurber, Robert Penn Warren, T. C. Boyle, and Michael Chabon, among others. Many of the stories are about the game itself, while others use baseball as a backdrop for timeless themes, such as morality, greed, and love. Nine new stories have been added for this new edition and include "Bullet in the Brain" by Tobias Wolff in which baseball is the surprising last memory of a dying man; George Plimpton's "The Curious Case of Sidd Finch," a story about a fictional baseball player who throws a 150-mph fastball and was a notorious April Fools' Day hoax in Sports Illustrated; and Leslie Pietrzyk's "What We All Want" about a pitcher's wife's concern for her aging husband. This collection is for all baseball lovers--long after the season is over.
Author Biography
Paul D. Staudohar is the editor of 10 anthologies of short stories including Best Dog Stories, Fishing's Best Short Stories, Football's Best Short Stories, Golf's Best Short Stories, Hunting's Best Short Stories, and Murder Short and Sweet. He lives in Lafayette, California.
Table of Contents
Preface to the Expanded Edition
p. ix
Preface to the Original Edition
p. xi
Casey at the Bat
p. 1
Casey at the Bat
p. 5
The Thrill of the Grass
p. 33
The Rube's Waterloo
p. 43
Alibi Ike
p. 55
Three New Twins Join Club in Spring
p. 73
A Family Game
p. 77
Goodwood Comes Back
p. 99
The Rookie
p. 109
The Crab
p. 123
Baseball in April
p. 139
You Could Look It Up
p. 147
Smoke
p. 161
One Throw
p. 171
A Game of Catch
p. 177
A Pitcher Grows Tired
p. 183
Baseball Hattie
p. 189
Bullet in the Brain
p. 201
The Master's Touch
p. 207
What Did We Do Wrong?
p. 223
Horseshoes
p. 233
Fielder's Choice
p. 255
Brooklyns Lose
p. 261
The Pitcher and the Plutocrat
p. 269
Gandhi at the Bat
p. 281
The Curious Case of Sidd Finch
p. 287
Jamesie
p. 301
Leg
p. 319
The Crambury Tiger
p. 333
What We All Want
p. 343
Who's on First?
p. 361
Death of a Right Fielder
p. 391
The Umpire Was a Rookie
p. 395
The Hector Quesadilla Story
p. 409
Acknowledgments
p. 421
Credits
p. 423
Table of Contents provided by Ingram. All Rights Reserved.