Note: Supplemental materials are not guaranteed with Rental or Used book purchases.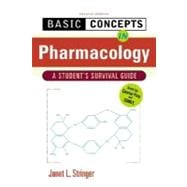 Basic Concepts in Pharmacology : A Student's Survival Guide
ISBN13:
9780071356992
by
Stringer, Janet L.
Related Products
Summary
The best way for students to learn and understand the most complex pharmacology concepts. Includes a comprehensive review of drugs necessary to passing the course and preparing for the USMLE. Includes updated information on poisoning/toxicology, and coverage of new classes of drugs. Easy to format, includes tables, charts, and an approach that really works.
Table of Contents
Where to Start. Receptor Theory. Absorption, Distribution, and Clearance. Pharmacokinetics. Drug Metabolism and Renal Elimination. Drugs That Affect the Autonomic Nervous System. Review of the Autonomic Nervous System. Cholinergic Agonists. Cholinergic Antagonists. Adrenergic Agonists. Adrenergic Antagonists. Drugs That Affect the Cardiovascular System. Drugs That Improve Cardiac Contractility. Antihypertensive Drugs. Drugs Used in Heart Failure. Antiarrhthmic Drugs. Drugs That Affect Blood. Lipid-Lowering Drugs. Part IV: Drugs That Act on the Central Nervous System. Anxiolytic and Hypnotic. Antidepressants and Lithium. Antipschoitics or Neuroleptics. Drugs Used in Parkinson's Disease. Antiepileptic Drugs. Narcotics (Opiates). General Anesthetics. Local Anesthetics. Chemotherapeutic Agents. Introduction to Chemotherapy. Inhibitors of Cell Wall Synthesis. Protein Synthesis Inhibitors. Folate Antagonists. Quinolones and Urinary Tract Antiseptics. Drugs Used in Tuberculosis and Leprosy. Antifungal Drugs. Anthelmintic Drugs. Antiviral Drugs. Antiprotozoal Drugs. Anticancer Drugs. Drugs That Affect the Endocrine System. Adrenocortical Hormones. Sex Steroids. Thyroid and Antithyroid Drugs. Insulin, Glucagon, and Oral Hypoglycemic Drugs. Part VII: Miscellaneous Drugs. Histamine and Antihistamines. Respiratory Drugs. Drugs that Affect the GI Tract. Nonnarcotic Analgesics and Anti-Inflammatory Drugs. Immunosuppressives. Drugs Used in Osteoporosis. Toxicology and Poisoning.