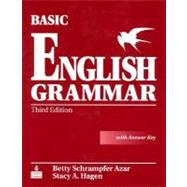 List Price: $65.00
In Stock Usually Ships in 24-48 Hours
Currently Available, Usually Ships in 24-48 Hours
Questions About This Book?
What version or edition is this?
This is the 3rd edition with a publication date of 7/18/2005.
What is included with this book?
The New copy of this book will include any supplemental materials advertised. Please check the title of the book to determine if it should include any CDs, lab manuals, study guides, etc.
The Used copy of this book is not guaranteed to inclue any supplemental materials. Typically, only the book itself is included.
Customer Reviews
basic
January 20, 2011
by





I choose the best option the most economical and best quality


Flag Review
---
Basic English Grammar with Audio CDs and Answer Key, 3e

:
stars based on
1
user reviews.
Summary
Blending communicative and interactive approaches with tried-and-true grammar teaching, Basic English Grammar, Third Edition, by Betty Schrampfer Azar and Stacy A. Hagen, offers concise, accurate, level-appropriate grammar information with an abundance of exercises, contexts, and classroom activities.
New features of Basic English Grammar, Third Edition:
Increased speaking practice through interactive pair and group work.
New structure-focused listening exercises.
More activities that provide real communication opportunities.
Added illustrations to help students learn vocabulary, understand contexts, and engage in communicative language tasks.
New Workbook solely devoted to self-study exercises.
New Audio CDs and listening script in the back of the Student Book.
Student Book is available with or without Answer Key.
Student Book and Workbook are available in split versions.
Table of Contents
Preface to the Third Edition
xi
Acknowledgment
xv

| | |
| --- | --- |
| | Noun + is + noun: singular |

2
(2)

| | |
| --- | --- |
| | Noun + are + noun: plural |

4
(3)
7
(1)
8
(2)
10
(2)
12
(6)
18
(3)

| | |
| --- | --- |
| | Summary: basic sentence patterns with be |

21
(3)
24
(1)

| | |
| --- | --- |
| | Short answers to yes/no questions |

25
(3)

| | |
| --- | --- |
| | Questions with be: using where |

28
(2)
30
(3)

| | |
| --- | --- |
| | Using my, your, his, her, our, their |

33
(5)
38
(2)
40
(2)

| | |
| --- | --- |
| | Asking questions with what and who + be |

42
(11)

| | |
| --- | --- |
| | Form and basic meaning of the simple present tense |

53
(3)

| | |
| --- | --- |
| | Using frequency adverbs: always, usually, often, sometimes, seldom, rarely, never |

56
(2)

| | |
| --- | --- |
| | Other frequency expressions |

58
(1)

| | |
| --- | --- |
| | Using frequency adverbs with be |

59
(2)

| | |
| --- | --- |
| | Spelling and pronunciation of final -es |

61
(2)

| | |
| --- | --- |
| | Adding final -s/-es to words that end in -y |

63
(1)

| | |
| --- | --- |
| | Irregular singular verbs: has, does, goes |

64
(2)

| | |
| --- | --- |
| | Spelling and pronunciation of final -s/-es |

66
(3)

| | |
| --- | --- |
| | The simple present: negative |

69
(5)

| | |
| --- | --- |
| | The simple present: yes/no questions |

74
(4)

| | |
| --- | --- |
| | The simple present: asking information questions with where |

78
(2)

| | |
| --- | --- |
| | The simple present: asking information questions with when and what time |

80
(2)

| | |
| --- | --- |
| | Summary: information questions with be and do |

82
(10)

| | |
| --- | --- |
| | Using the Present Progressive |

| | |
| --- | --- |
| | Be + -ing: the present progressive tense |

92
(5)
97
(2)

| | |
| --- | --- |
| | The present progressive: negatives |

99
(3)

| | |
| --- | --- |
| | The present progressive: questions |

102
(4)

| | |
| --- | --- |
| | The simple present vs. the present progressive |

106
(5)

| | |
| --- | --- |
| | Nonaction verbs not used in the present progressive |

111
(3)

| | |
| --- | --- |
| | See, look at, watch, hear, and listen to |

114
(3)

| | |
| --- | --- |
| | Think about and think that |

117
(4)

| | |
| --- | --- |
| | Talking About the Present |

| | |
| --- | --- |
| | Using it to talk about time |

121
(2)
123
(2)

| | |
| --- | --- |
| | Using it to talk about the weather |

125
(3)
128
(2)

| | |
| --- | --- |
| | There + be: yes/no questions |

130
(3)

| | |
| --- | --- |
| | There + be: asking questions with how many |

133
(1)
134
(1)

| | |
| --- | --- |
| | Some prepositions of place: a list |

135
(8)

| | |
| --- | --- |
| | Need and want + a noun or an infinitive |

143
(3)
146
(2)
148
(10)

| | |
| --- | --- |
| | Nouns: subjects and objects |

158
(3)
161
(3)

| | |
| --- | --- |
| | Subject pronouns and object pronouns |

164
(4)

| | |
| --- | --- |
| | Nouns: singular and plural |

168
(5)

| | |
| --- | --- |
| | Nouns: irregular plural forms |

173
(8)

| | |
| --- | --- |
| | Nouns: count and noncount |

181
(2)
183
(2)
185
(6)

| | |
| --- | --- |
| | Measurements with noncount nouns |

191
(4)

| | |
| --- | --- |
| | Using many, much, a few, a little |

195
(4)
199
(4)

| | |
| --- | --- |
| | Using Ø (no article) to make generalizations |

203
(2)
205
(8)

| | |
| --- | --- |
| | Expressing Past Time, Part 1 |

213
(1)
214
(2)
216
(5)

| | |
| --- | --- |
| | The simple past tense: using -ed |

221
(4)

| | |
| --- | --- |
| | Past time words: yesterday, last, and ago |

225
(2)

| | |
| --- | --- |
| | The simple past: irregular verbs (Group 1) |

227
(4)

| | |
| --- | --- |
| | The simple past: negative |

231
(3)

| | |
| --- | --- |
| | The simple past: yes/no questions |

234
(4)

| | |
| --- | --- |
| | Irregular verbs (Group 2) |

238
(3)

| | |
| --- | --- |
| | Irregular verbs (Group 3) |

241
(3)

| | |
| --- | --- |
| | Irregular verbs (Group 4) |

244
(8)

| | |
| --- | --- |
| | Expressing Past Time, Part 2 |

| | |
| --- | --- |
| | The simple past: using where, when, what time, and why |

252
(5)
257
(3)
260
(4)

| | |
| --- | --- |
| | Irregular verbs (Group 5) |

264
(2)

| | |
| --- | --- |
| | Irregular verbs (Group 6) |

266
(3)

| | |
| --- | --- |
| | Irregular verbs (Group 7) |

269
(4)

| | |
| --- | --- |
| | Before and after in time clauses |

273
(3)
276
(2)

| | |
| --- | --- |
| | The present progressive and the past progressive |

278
(3)

| | |
| --- | --- |
| | Using while with the past progressive |

281
(1)

| | |
| --- | --- |
| | While vs. when in past time clauses |

282
(2)

| | |
| --- | --- |
| | Simple past vs. past progressive |

284
(10)

| | |
| --- | --- |
| | Expressing Future Time, Part 1 |

| | |
| --- | --- |
| | Future time: using be going to |

294
(5)

| | |
| --- | --- |
| | Using the present progressive to express future time |

299
(2)

| | |
| --- | --- |
| | Words used for past time and future time |

301
(4)

| | |
| --- | --- |
| | Using a couple of or a few with ago (past) and in (future) |

305
(2)

| | |
| --- | --- |
| | Using today, tonight, and this + morning, afternoon, evening, week, month, year |

307
(3)
310
(2)

| | |
| --- | --- |
| | Asking questions with will |

312
(4)

| | |
| --- | --- |
| | Verb summary: present, past, and future |

316
(2)

| | |
| --- | --- |
| | Verb summary: forms of be |

318
(7)

| | |
| --- | --- |
| | Expressing Future Time, Part 2 |

325
(2)

| | |
| --- | --- |
| | Maybe (one word) vs. may be (two words) |

327
(7)

| | |
| --- | --- |
| | Future time clauses with before, after, and when |

334
(2)
336
(3)

| | |
| --- | --- |
| | Expressing habitual present with time clauses and if-clauses |

339
(3)

| | |
| --- | --- |
| | Using what + a form of do |

342
(12)

| | |
| --- | --- |
| | Modals, Part 1: Expressing Ability |

354
(2)

| | |
| --- | --- |
| | Pronunciation of can and can't |

356
(1)
357
(3)
360
(2)
362
(3)
365
(3)

| | |
| --- | --- |
| | Using very and too + adjective |

368
(5)
373
(1)

| | |
| --- | --- |
| | More about prepositions: at and in for place |

374
(5)

| | |
| --- | --- |
| | Modals, Part 2: Advice, Necessity, Requests, Suggestions |

379
(4)

| | |
| --- | --- |
| | Using have + infinitive (have to/has to) |

383
(4)
387
(4)

| | |
| --- | --- |
| | Polite questions: may I, could I, and can I |

391
(2)

| | |
| --- | --- |
| | Polite questions: could you and would you |

393
(2)
395
(3)
398
(1)

| | |
| --- | --- |
| | Summary chart: modal axillaries and similar expressions |

399
(3)
402
(3)

| | |
| --- | --- |
| | Modifying nouns with adjectives and nouns |

405
(5)
410
(5)

| | |
| --- | --- |
| | Expressions of quantity: all of, most of, some of, almost all of |

415
(2)

| | |
| --- | --- |
| | Expressions of quantity: subject-verb agreement |

417
(2)

| | |
| --- | --- |
| | Expressions of quantity: one of, none of |

419
(4)

| | |
| --- | --- |
| | Indefinite pronouns: nothing and no one |

423
(1)

| | |
| --- | --- |
| | Indefinite pronouns: something, someone, anything, anyone |

424
(2)
426
(2)

| | |
| --- | --- |
| | Linking verbs + adjectives |

428
(3)
431
(5)
436
(3)

| | |
| --- | --- |
| | Possessive: irregular plural nouns |

439
(3)

| | |
| --- | --- |
| | Possessive pronouns: mine, yours, his, hers, ours, theirs |

442
(4)
446
(3)

| | |
| --- | --- |
| | Comparisons: using the same (as), similar (to), and different from |

449
(3)

| | |
| --- | --- |
| | Comparisons: using like and alike |

452
(2)

| | |
| --- | --- |
| | The comparative: using -er and more |

454
(7)

| | |
| --- | --- |
| | The superlative: using -est and most |

461
(8)

| | |
| --- | --- |
| | Using one of + superlative + plural noun |

469
(6)
475
(1)
476
(4)

| | |
| --- | --- |
| | Making comparisons with adverbs |

480
(7)
Appendix Irregular Verbs
487
(2)
Listening Script
489
(11)
CD Tracking Script
500
(1)
Answer Key
501
Index