Note: Supplemental materials are not guaranteed with Rental or Used book purchases.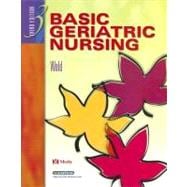 Basic Geriatric Nursing
ISBN13:
9780323023894
by
Wold
Related Products
Summary
This book presents the theories and concepts of aging, the physiologic and psychosocial changes and problems associated with the process, and appropriate nursing interventions. The 3rd edition includes expanded content on delegation, leadership, and management, ethical and legal issues, and a new chapter on end-of-life care. Many new features have been added, such as Cultural Considerations, Complementary and Alternative Therapies, Delegation Considerations, and Patient Teaching boxes. This book is part of the LPN Threads series.
Table of Contents
UNIT ONE OVERVIEW OF AGING,
1
(60)

| | |
| --- | --- |
| | Introduction to Geriatric Nursing, |

1
(2)

| | |
| --- | --- |
| | Historical Perspective on the Study of Aging, l |

| | |
| --- | --- |
| | What Is in a Name. Geriatrics, Gerontology, and Gerontics, |

1
(2)
3
(19)
3
(1)

| | |
| --- | --- |
| | Categorizing the Aging Population, |

3
(1)

| | |
| --- | --- |
| | Attitudes Toward Aging and Older Adults, |

4
(1)

| | |
| --- | --- |
| | Ageism and the Myths Related to Aging, |

5
(2)
7
(1)
7
(2)
9
(1)

| | |
| --- | --- |
| | The Role of the Nurse in Financial Issues, |

10
(1)

| | |
| --- | --- |
| | Housing and Older Adults, |

11
(2)
13
(2)
14
(1)
15
(2)
15
(1)

| | |
| --- | --- |
| | The Nurse and Family Interactions, |

16
(1)
17
(3)
17
(1)

| | |
| --- | --- |
| | Abuse or Neglect by the Family, |

17
(3)

| | |
| --- | --- |
| | Abuse by Unrelated Caregivers, |

20
(1)

| | |
| --- | --- |
| | Prevention of Elder Abuse, |

20
(2)
21
(1)
21
(1)
22
(3)
22
(1)
23
(1)

| | |
| --- | --- |
| | Implications for Nursing, |

23
(2)
25
(36)

| | |
| --- | --- |
| | THE INTEGUMENTARY SYSTEM, |

26
(3)

| | |
| --- | --- |
| | Normal Structure and Function, |

26
(1)

| | |
| --- | --- |
| | Normal Age-Related Changes, |

26
(1)

| | |
| --- | --- |
| | Abnormal Conditions Common With Aging, |

27
(2)
27
(1)
27
(1)

| | |
| --- | --- |
| | Inflammation and Infection, |

27
(2)
29
(1)

| | |
| --- | --- |
| | THE MUSCULOSKELETAL SYSTEM, |

29
(3)

| | |
| --- | --- |
| | Normal Structure and Function, |

29
(2)
29
(1)
29
(1)
29
(1)
29
(1)
30
(1)

| | |
| --- | --- |
| | Normal Age-Related Changes, |

31
(1)

| | |
| --- | --- |
| | Conditions Common With Aging, |

31
(1)
31
(1)

| | |
| --- | --- |
| | Degenerative Joint Disease, |

31
(1)
32
(3)

| | |
| --- | --- |
| | Normal Structure and Function |

32
(1)
32
(1)
32
(1)

| | |
| --- | --- |
| | Air Exchange (Respiration), |

33
(1)

| | |
| --- | --- |
| | Normal Age-Related Changes, |

33
(1)

| | |
| --- | --- |
| | Conditions Common With Aging, |

33
(2)

| | |
| --- | --- |
| | Chronic Obstructive Pulmonary Disease, |

33
(1)
34
(1)
34
(1)
34
(1)
35
(1)

| | |
| --- | --- |
| | THE CARDIOVASCULAR SYSTEM, |

35
(4)

| | |
| --- | --- |
| | Normal Structure and Function, |

35
(1)
35
(1)
35
(1)
36
(1)

| | |
| --- | --- |
| | Normal Age-Related Changes, |

36
(1)

| | |
| --- | --- |
| | Conditions Common With Aging, |

36
(3)
36
(1)
37
(1)
37
(1)

| | |
| --- | --- |
| | Congestive Heart Failure, |

37
(1)
37
(1)

| | |
| --- | --- |
| | Peripheral Vascular Disease, |

38
(1)

| | |
| --- | --- |
| | Occlusive Peripheral Vascular Problems, |

38
(1)
38
(1)
38
(1)
38
(1)

| | |
| --- | --- |
| | THE HEMATOPOIETIC AND LYMPHATIC SYSTEMS, |

39
(2)

| | |
| --- | --- |
| | Normal Structure and Function, |

39
(1)
39
(1)
39
(1)

| | |
| --- | --- |
| | Normal Age-Related Changes, |

40
(1)

| | |
| --- | --- |
| | Conditions Common With Aging, |

40
(1)
40
(1)
40
(1)

| | |
| --- | --- |
| | THE GASTROINTESTINAL SYSTEM, |

41
(3)

| | |
| --- | --- |
| | Normal Structure and Function, |

41
(1)
41
(1)
41
(1)
41
(1)
41
(1)
41
(1)
41
(1)
42
(1)

| | |
| --- | --- |
| | Normal Age-Related Changes, |

42
(1)

| | |
| --- | --- |
| | Conditions Common With Aging, |

42
(2)
42
(1)
43
(1)

| | |
| --- | --- |
| | Diverticulosis and Diverticulitis, |

43
(1)
44
(1)
44
(1)
44
(1)
44
(2)

| | |
| --- | --- |
| | Normal Structure and Function, |

44
(1)
44
(1)
44
(1)

| | |
| --- | --- |
| | Characteristics of Urine, |

44
(1)

| | |
| --- | --- |
| | Normal Age-Related Changes, |

45
(1)

| | |
| --- | --- |
| | Conditions Common With Aging, |

45
(1)
45
(1)
45
(1)
45
(1)
46
(3)

| | |
| --- | --- |
| | Normal Structure and Function, |

46
(1)
46
(1)

| | |
| --- | --- |
| | Peripheral Nervous System, |

47
(1)

| | |
| --- | --- |
| | Normal Age-Related Changes, |

47
(1)

| | |
| --- | --- |
| | Conditions Common With Aging, |

47
(2)
47
(1)
48
(1)
48
(1)

| | |
| --- | --- |
| | Transient Ischemic Attack, |

48
(1)

| | |
| --- | --- |
| | Cerebrovascular Accident, |

48
(1)
49
(5)

| | |
| --- | --- |
| | Normal Structure and Function, |

49
(1)
49
(1)
50
(1)

| | |
| --- | --- |
| | Normal Age-Related Changes in the Eye, |

50
(1)

| | |
| --- | --- |
| | Eye Conditions Common With Aging, |

51
(1)
51
(1)
51
(1)
51
(1)

| | |
| --- | --- |
| | Macular Degeneration and Retinal Detachment, |

52
(1)

| | |
| --- | --- |
| | Normal Structure and Function, |

52
(1)
52
(1)

| | |
| --- | --- |
| | Normal Age-Related Changes in the Ear, |

52
(1)

| | |
| --- | --- |
| | Ear Conditions Common With Aging, |

53
(1)
53
(1)
53
(1)
53
(1)
53
(1)
53
(1)
53
(1)

| | |
| --- | --- |
| | Normal Age-Related Changes in Taste and Smell, |

53
(1)
54
(3)

| | |
| --- | --- |
| | Normal Structure and Function, |

54
(1)
54
(1)
54
(1)
54
(1)
54
(1)
54
(1)
54
(1)

| | |
| --- | --- |
| | Normal Age-Related Changes, |

55
(1)

| | |
| --- | --- |
| | Conditions Common With Aging, |

55
(2)
55
(2)
57
(1)
57
(1)

| | |
| --- | --- |
| | THE REPRODUCTIVE AND GENITOURINARY SYSTEMS, |

57
(6)

| | |
| --- | --- |
| | Normal Structure and Function, |

57
(1)

| | |
| --- | --- |
| | Female Reproductive Organs, |

57
(1)

| | |
| --- | --- |
| | Male Reproductive Organs, |

57
(1)

| | |
| --- | --- |
| | Normal Age Related Changes, |

57
(1)

| | |
| --- | --- |
| | Conditions Common With Aging, |

58
(6)
58
(1)
58
(1)
58
(1)
58
(3)
UNIT TWO BASIC SKILLS FOR GERONTOLOGIC NURSING,
61
(70)

| | |
| --- | --- |
| | 4 Health Promotion and Health Maintenance, |

63
(10)

| | |
| --- | --- |
| | Recommended Health Practices for Older Adults, |

64
(3)
64
(1)
64
(1)
64
(1)

| | |
| --- | --- |
| | Physical Examinations and Preventive Overall Care, |

65
(1)

| | |
| --- | --- |
| | Dental Examinations and Preventive Oral Care, |

66
(1)

| | |
| --- | --- |
| | Maintaining Healthy Attitudes, |

66
(1)

| | |
| --- | --- |
| | Factors That Affect Health Promotion and Maintenance, |

67
(2)
67
(1)
67
(1)

| | |
| --- | --- |
| | Knowledge and Motivation, |

68
(1)
68
(1)
68
(1)

| | |
| --- | --- |
| | Impact of Cognitive and Sensory Changes, |

68
(1)

| | |
| --- | --- |
| | Impact of Changes Related to |

69
(1)

| | |
| --- | --- |
| | Nursing Process for Ineffective Health Maintenance, |

69
(1)
69
(1)
69
(1)
69
(1)

| | |
| --- | --- |
| | Nursing Interventions, Nursing Process for Noncompliance, |

70
(3)
70
(1)
71
(1)
71
(1)
71
(2)

| | |
| --- | --- |
| | 5 Communicating With Older Adults, |

73
(7)
73
(1)
73
(1)
74
(3)
74
(1)
75
(1)
75
(1)

| | |
| --- | --- |
| | Space, Distance, and Position, |

75
(1)
76
(1)
76
(1)

| | |
| --- | --- |
| | Pace or Speed of Communication, |

76
(1)
77
(1)
77
(1)
77
(1)
77
(3)
78
(1)
78
(1)
78
(1)
78
(1)
78
(1)

| | |
| --- | --- |
| | Communication With Visitors and Families, |

78
(2)

| | |
| --- | --- |
| | 6 Nutrition and Fluid Balance, |

80
(3)
80
(7)
80
(2)
82
(5)
87
(1)

| | |
| --- | --- |
| | Meeting the Nutritional Needs of Independent Older Adults, |

87

| | |
| --- | --- |
| | Social and Cultural Aspects of Nutrition, |

89

| | |
| --- | --- |
| | 7 Medications and Older Adults, |

83
(22)

| | |
| --- | --- |
| | Risks Related to Drug-Testing Methods, |

93
(1)

| | |
| --- | --- |
| | Risks Related to the Physiologic Changes of Aging, |

94
(1)
94
(1)
95
(1)

| | |
| --- | --- |
| | Risks Related to the Use of Multiple Medications, |

95
(1)

| | |
| --- | --- |
| | Risks Related to Cognitive or Sensory Changes, |

96
(1)

| | |
| --- | --- |
| | Risks Related to Inadequate Knowledge, |

96
(1)

| | |
| --- | --- |
| | Risks Related to Financial Factors, |

97
(1)

| | |
| --- | --- |
| | Medication Administration in an Institutional Setting, |

97
(1)

| | |
| --- | --- |
| | Nursing Assessment and Medication, |

97
(2)

| | |
| --- | --- |
| | Medications and the Nursing Care Plan, |

99
(2)

| | |
| --- | --- |
| | Nursing Interventions Related to Medication Administration, |

99
(2)

| | |
| --- | --- |
| | Patient Rights and Medication, |

101
(1)

| | |
| --- | --- |
| | Self-Medication and Older Adults, |

102
(1)

| | |
| --- | --- |
| | In an Institutional Setting, |

102
(1)
102
(1)

| | |
| --- | --- |
| | Teaching Older Adults about Medications, |

102
(3)

| | |
| --- | --- |
| | 8 Health Assessment of Older Adults' |

105
(17)
105
(1)
105
(1)

| | |
| --- | --- |
| | Interviewing Older Adults, |

106
(2)

| | |
| --- | --- |
| | Preparing the Physical Setting |

106
(1)
106
(1)

| | |
| --- | --- |
| | Structuring the Interview |

107
(1)

| | |
| --- | --- |
| | Physical Assessment of Older Adults, |

108
(1)
108
(1)
108
(1)
108
(1)
109
(1)

| | |
| --- | --- |
| | Assessing Vital Signs in Older Adults, |

109
(2)
109
(1)
109
(1)
110
(1)
110
(1)

| | |
| --- | --- |
| | Sensory Assessment of Older Adults, |

111
(1)

| | |
| --- | --- |
| | Psychosocial Assessment of Older Adults, |

112
(10)
112
(10)

| | |
| --- | --- |
| | 9 Meeting Safety Needs of Older Adults, |

122
(9)
122
(1)
123
(5)

| | |
| --- | --- |
| | Nursing Process for Risk for Injury, |

128
(1)
126
(1)
126
120
(6)
126
(2)

| | |
| --- | --- |
| | Nursing Process for Hypothermia/Hyperthermia, |

128
(5)
128
(1)
129
128
(1)
129
(2)
UNIT THREE PSYCHOSOCIAL CARE ELDERLY,
131
(74)

| | |
| --- | --- |
| | 10 Cognition and Perception, |

133
(18)

| | |
| --- | --- |
| | Normal Cognitive-Perceptual Functioning, |

133
(1)

| | |
| --- | --- |
| | Cognition and Intelligence, |

134
(1)
134
(1)

| | |
| --- | --- |
| | Perception-Cognition and Aging, |

134
(1)

| | |
| --- | --- |
| | Nursing Process for Disturbed Sensory Perception, |

135
(3)
135
(3)
138
136
(2)
138
(1)

| | |
| --- | --- |
| | Nursing Process for Disturbed Thought Processes, |

138
(6)
141
(1)
141
(1)
141
(1)
141
(3)

| | |
| --- | --- |
| | Nursing Process for Impaired Verbal Communication, |

144
(3)
146
(1)
146
(1)
146
(1)
146
(1)

| | |
| --- | --- |
| | Nursing Process for Pain, |

147
(4)
148
(1)
149
(1)
149
(1)
149
(2)

| | |
| --- | --- |
| | 11 Self-Perception and Self-Concept, |

151
(12)

| | |
| --- | --- |
| | Normal Self-Perception and Self-Concept, |

151
(1)

| | |
| --- | --- |
| | Self-Perception/Self-Concept and Aging, |

152
(1)

| | |
| --- | --- |
| | Nursing Process for Disturbed Self-Perception and Self Concept, |

153
(1)
153
(1)

| | |
| --- | --- |
| | Nursing Process for Disturbed Body Image, |

153
(1)
154
(1)
154
(1)
154
(1)
154
(1)

| | |
| --- | --- |
| | Nursing Process for Risk for Situational Low Self-Esteem, |

154
(2)
155
(1)
155
(1)
155
(1)
155
(1)

| | |
| --- | --- |
| | Nursing Process for Fear, |

156
(2)
157
(1)
157
(1)
157
(1)
157
(1)

| | |
| --- | --- |
| | Nursing Process for Anxiety, |

158
(1)
158
(1)
158
(1)
158
(1)
158
(1)

| | |
| --- | --- |
| | Nursing Process for Hopelessness, |

158
(1)
159
(1)
159
(1)
159
(1)
159
(1)

| | |
| --- | --- |
| | Nursing Process for Powerlessness, |

159
(4)
160
(1)
160
(1)
160
(1)
160
(3)

| | |
| --- | --- |
| | 12 Roles and Relationships, |

163
(9)

| | |
| --- | --- |
| | Normal Roles and Relationships, |

163
(1)

| | |
| --- | --- |
| | Roles, Relationships, and Aging, |

164
(2)
166
(1)

| | |
| --- | --- |
| | Nursing Process for Dysfunctional Grieving, |

166
(2)
166
(1)
166
(1)
167
(1)
167
(1)

| | |
| --- | --- |
| | Nursing Process for Social Isolation and Impaired Social Interaction, |

168
(1)
168
(1)
168
(1)
168
(1)
168
(1)

| | |
| --- | --- |
| | Nursing Process for Interrupted Family Processes, |

169
(3)
169
(1)
169
(1)
169
(1)
169
(3)
172
(9)

| | |
| --- | --- |
| | Normal Stress and Coping, |

172
(3)

| | |
| --- | --- |
| | Physical Signs of Stress, |

172
(2)
174
(1)

| | |
| --- | --- |
| | Stress-Reduction and Coping Strategies, |

174
(1)

| | |
| --- | --- |
| | Coping and Stress With Aging, |

175
(1)

| | |
| --- | --- |
| | Nursing Process for Ineffective Coping, |

176
(2)
176
(1)
176
(1)
176
(1)
176
(2)

| | |
| --- | --- |
| | Nursing Process for Relocation Stress Syndrome, |

178
(3)
178
(1)
178
(1)
178
(1)
178
(3)
181
(6)

| | |
| --- | --- |
| | Common Values and Beliefs in Older Adults, |

182
(2)
183
(1)
183
(1)

| | |
| --- | --- |
| | Religious or Spiritual Values, |

183
(1)

| | |
| --- | --- |
| | Nursing Process for Spiritual Distress, |

184
(3)
184
(1)
184
(1)
184
(1)
184
(3)
187
(13)

| | |
| --- | --- |
| | The American Way of Dying, |

187
(1)

| | |
| --- | --- |
| | Attitudes Toward Death and End-of-Life Planning, |

187
(2)
188
(1)

| | |
| --- | --- |
| | Caregiver Attitudes Toward End-of-Life Care, |

189
(1)

| | |
| --- | --- |
| | Values Clarification Related to Death and End-of-Life Care, |

189
(1)
190
(1)
190
(1)
190
(1)

| | |
| --- | --- |
| | Collaborative Assessment and Interventions for End-of-Life Care, |

190
(1)

| | |
| --- | --- |
| | Communication at the End-of-Life, |

191
(1)

| | |
| --- | --- |
| | Psychosocial Perspectives, Assessments, and Interventions, |

192
(2)
192
(1)

| | |
| --- | --- |
| | Spiritual Considerations, |

193
(1)

| | |
| --- | --- |
| | Depression, Anxiety, and Fear, |

193
(1)

| | |
| --- | --- |
| | Physiologic Changes, Assessments, and Interventions, |

194
(3)
194
(1)
195
(1)
195
(1)
195
(1)

| | |
| --- | --- |
| | Gastrointestinal Changes, |

196
(1)
197
(1)
197
(1)
197
(1)
197
(1)
197
(1)
198
(1)
198
(2)
200
(5)

| | |
| --- | --- |
| | Factor That Affect Sexuality of Older Adults, |

200
(2)
200
(1)

| | |
| --- | --- |
| | Erectile Dysfunction in Men, |

200
(1)

| | |
| --- | --- |
| | Illness and Decreased Sexual Functioning, |

201
(1)
201
(1)
201
(1)

| | |
| --- | --- |
| | Marriage and Older Adults, |

202
(1)

| | |
| --- | --- |
| | Caregivers and the Sexuality of Older Adults, |

202
(1)

| | |
| --- | --- |
| | Sexual Health and Sexual Orientation, |

202
(1)

| | |
| --- | --- |
| | Privacy and Personal Rights of Older Adults, |

202
(1)

| | |
| --- | --- |
| | Nursing Process for Sexual Dysfunction, |

203
(4)
203
(1)
204
(1)
204
(1)
204
(1)
UNIT FOUR PHYSICAL CARE OF THE ELDERLY,
205
(80)

| | |
| --- | --- |
| | 17 Meeting Nutritional and Fluid Needs, |

207
(15)
207
(1)

| | |
| --- | --- |
| | Nursing Process for Risk for Imbalanced Nutrition, |

208
(5)
209
(1)
210
(1)
210
(1)
210
(3)

| | |
| --- | --- |
| | Nursing Process for Risk for Imbalanced Fluid Volume, |

213
(4)
214
(1)
215
(1)
215
(1)
215
(2)

| | |
| --- | --- |
| | Nursing Process for Impaired Swallowing, |

217
(2)
217
(1)
217
(1)
217
(1)
217
(2)

| | |
| --- | --- |
| | Nursing Process for Risk for Aspiration, |

219
(3)
219
(1)
219
(1)
219
(1)
219
(3)

| | |
| --- | --- |
| | 18 Care of Aging Skin and Mucous Membranes, |

222
(19)

| | |
| --- | --- |
| | Nursing Process for Impaired Skin Integrity, |

222
(7)
229
(6)
229
(1)
229
(1)
230
(5)

| | |
| --- | --- |
| | Nursing Process for Impaired Oral Mucous Membrane, |

235
(6)
237
(1)
237
(1)
237
(1)
237
(4)
241
(14)

| | |
| --- | --- |
| | Normal Elimination Patterns, |

241
(1)
241
(2)
241
(2)
243
(1)

| | |
| --- | --- |
| | Nursing Process for Constipation, |

243
(2)
243
(1)
243
(1)
243
(1)
243
(2)

| | |
| --- | --- |
| | Nursing Process for Diarrhea, |

245
(2)
245
(1)
245
(1)
245
(1)
245
(2)

| | |
| --- | --- |
| | Nursing Process for Bowel Incontinence, |

247
(1)
247
(1)
247
(1)
247
(1)
247
(1)

| | |
| --- | --- |
| | Nursing Process for Impaired Urinary Elimination, |

248
(7)
248
(1)
248
(1)
249
(1)
250
(1)
250
(1)
250
(5)

| | |
| --- | --- |
| | 20 Activity and Exercise, |

255
(23)

| | |
| --- | --- |
| | Normal Activity Patterns, |

255
(1)
256
(1)

| | |
| --- | --- |
| | Effects of Disease Processes on Activity, |

256
(1)

| | |
| --- | --- |
| | Nursing Process for Impaired Physical Mobility, |

257
(7)
257
(1)
258
(1)
258
(1)
258
(6)

| | |
| --- | --- |
| | Nursing Process for Activity Intolerance, |

264
(2)
265
(1)
265
(1)
265
(1)
265
(1)

| | |
| --- | --- |
| | Nursing Process for Problems of Oxygenation, |

266
(3)
266
(1)
266
(1)
267
(1)
267
(2)

| | |
| --- | --- |
| | Nursing Process for Self-Care Deficits, |

269
(3)
270
(1)
270
(1)
270
(1)
270
(2)

| | |
| --- | --- |
| | Nursing Process for Deficient Diversional Activity, |

272
(3)
272
(1)
273
(1)
273
(1)
273
(2)
275
(1)

| | |
| --- | --- |
| | Negative Attitudes:The Controlling or Custodial Focus, |

275
(1)

| | |
| --- | --- |
| | Positive Attitudes: The Rehabilitative Focus, |

276
(2)
278
(7)

| | |
| --- | --- |
| | Sleep Rest Health Pattern, |

278
(1)
278
(2)
279
(1)
279
(1)

| | |
| --- | --- |
| | Nursing Process for Disturbed Sleep Pattern, |

280
(5)
280
(1)
281
(1)
281
(1)
281
(4)
Appendix A,
285
(5)
Appendix B,
290
(5)
Appendix C,
295
(2)
Bibliography and Reader Reference,
297
(5)
Illustration Credits,
302
(2)
Glossary,
304
(5)
Index,
309
(10)
Student Activities,
319