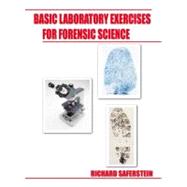 Basic Laboratory Exercises for Forensic Science
by
Unknown
CAREER,HEALTH,EDUCATION & TECHNOLOGY(CHET)
Summary
This new Basic Lab Exercises Supplement contains 17 new lab environment exercises for the forensic science student.
Table of Contents
Locards Exchange Principle
Crime Scene Response and Deductive Reasoning
Crime Scene Sketching and Digital Photography
Forensic Glass Analysis
Fingerprinting
The Microscope
Hair Comparison
Handwriting Examination
Paper Chromatography of Ink
Thin Layer Chromatography of Ink
Blood Spatter Evidence
Blood Stain Analysis
Thin Layer Chromatography of Liquid Lip Color
Tool Mark Analysis
Footwear Impressions
Forensic Entomology
Forensic Anthropology
Table of Contents provided by Publisher. All Rights Reserved.