Note: Supplemental materials are not guaranteed with Rental or Used book purchases.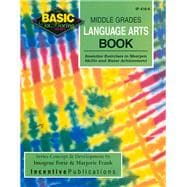 The Basic/Not Boring Middle Grades Language Arts Book Grades 6-8+
ISBN13:
9780865304581
by
Forte, Imogene
Questions About This Book?
What version or edition is this?
This is the edition with a publication date of 5/1/2000.
What is included with this book?
The New copy of this book will include any supplemental materials advertised. Please check the title of the book to determine if it should include any CDs, lab manuals, study guides, etc.
Table of Contents
Introduction
14
(3)

| | |
| --- | --- |
| | Reading Comprehension Skills Checklist |

17
(54)
71
(52)

| | |
| --- | --- |
| | Spelling Skills Checklist |

123
(50)

| | |
| --- | --- |
| | Words & Vocabulary Skills Checklist |

173
(46)

| | |
| --- | --- |
| | Grammar & Usage Skills Checklist |

219
(50)

| | |
| --- | --- |
| | Study & Research Skills Checklist |

269

| | |
| --- | --- |
| | Reading Comprehension Skills Exercises |

16
(43)

| | |
| --- | --- |
| | Rules to Live By...(Determining Word Meaning) |

18
(1)

| | |
| --- | --- |
| | Get Ahead!...(Identifying Main Ideas) |

19
(1)

| | |
| --- | --- |
| | Wanted: Top-Quality Person...(Identifying Main Ideas) |

20
(1)

| | |
| --- | --- |
| | A Word to the Wise...(Identifying Main Ideas) |

21
(1)

| | |
| --- | --- |
| | Puzzlements...(Reading for Details) |

22
(1)

| | |
| --- | --- |
| | Story Building...(Identifying Elements of a Story) |

23
(1)

| | |
| --- | --- |
| | A Famous Lineup...(Explaining Sequence) |

24
(2)

| | |
| --- | --- |
| | Borrowed Trouble...(Explaining Sequence) |

26
(1)

| | |
| --- | --- |
| | Flip-Flop...(Identifying Cause & Effect) |

27
(1)

| | |
| --- | --- |
| | Fact Finder...(Distinguishing Fact & Opinion) |

28
(1)

| | |
| --- | --- |
| | U.F.O....(Distinguishing Fact & Opinion) |

29
(1)

| | |
| --- | --- |
| | A Belly Laugh Ballad...(Summarizing • Identifying Theme) |

30
(1)

| | |
| --- | --- |
| | Lawmakers Gone Loony?...(Making Generalizations) |

31
(1)

| | |
| --- | --- |
| | Tales That Teach...(Drawing Logical Conclusions) |

32
(1)

| | |
| --- | --- |
| | The Dead Tell Tales...(Drawing Logical Conclusions) |

33
(1)

| | |
| --- | --- |
| | The End From the Beginning...(Predicting Outcomes) |

34
(1)

| | |
| --- | --- |
| | Looking in the Mirror...(Connections Between Fiction & Real Life) |

35
(1)

| | |
| --- | --- |
| | It Can Happen...(Comparing & Contrasting) |

36
(1)

| | |
| --- | --- |
| | We the People...(Evaluating Ideas) |

37
(1)

| | |
| --- | --- |
| | Good Intentions or Inventions?...(Making Judgments) |

38
(1)

| | |
| --- | --- |
| | Oops!...(Making Judgments) |

39
(1)

| | |
| --- | --- |
| | Speaking Out On Homework...(Reading for Information) |

40
(1)

| | |
| --- | --- |
| | In Need of a Cure...(Reading for Information) |

41
(1)

| | |
| --- | --- |
| | Advantage or Ad Nauseum...(Using Graphics) |

42
(2)

| | |
| --- | --- |
| | Wholes & Holes...(Interpreting Charts & Graphs) |

44
(1)

| | |
| --- | --- |
| | Fair or Foul?...(Identifying Symbols) |

45
(1)

| | |
| --- | --- |
| | Double View...(Identifying Point of View) |

46
(2)

| | |
| --- | --- |
| | Anonymous Portrait...(Identifying Bias) |

48
(1)

| | |
| --- | --- |
| | Not Your Usual Grandma...(Identifying Stereotype) |

49
(1)

| | |
| --- | --- |
| | A System in Need of Repair?...(Identifying Persuasion & Prejudice) |

50
(1)

| | |
| --- | --- |
| | A Poison Tree...(Identifying Author's Purpose) |

51
(1)

| | |
| --- | --- |
| | Watch That Tone!...(Identifying Tone) |

52
(1)

| | |
| --- | --- |
| | Meet Chaucer's Nun...(Recognizing Characterization Techniques) |

53
(1)

| | |
| --- | --- |
| | Invitation to the Great Outdoors...(Identifying Theme • Figurative Language) |

54
(1)

| | |
| --- | --- |
| | Green Isn't So Bad!...(Identifying Literary Devices) |

55
(1)

| | |
| --- | --- |
| | The Skeleton in Your Closet...(Identifying Figurative Language) |

56
(1)

| | |
| --- | --- |
| | Portrait of America...(Identifying Figures of Speech) |

57
(1)

| | |
| --- | --- |
| | Stop the CDs!...(Explaining Personal Responses) |

58
(1)

| | |
| --- | --- |
| | Reading Comprehension Assessment and Answer Keys |

59
(11)

| | |
| --- | --- |
| | Reading Comprehension Skills Test |

60
(6)
66
(1)
67
(3)
70
(45)

| | |
| --- | --- |
| | Make Your Move!...(Precise Word Choices: Verbs) |

72
(1)

| | |
| --- | --- |
| | Precise Is Powerful...(Precise Word Choices: Adjectives) |

73
(1)

| | |
| --- | --- |
| | Sense-Able Word Choices...(Effective Words) |

74
(1)

| | |
| --- | --- |
| | It Is Written---I Wrote It!...(Active Voice) |

75
(1)

| | |
| --- | --- |
| | Winds That Sigh & Clouds That Cry...(Visual Images • Personification) |

76
(1)

| | |
| --- | --- |
| | Put the Extra in Ordinary...(Strong, Active Verbs) |

77
(1)

| | |
| --- | --- |
| | Subtraction Action...(Unnecessary or Repetitive Words) |

78
(1)

| | |
| --- | --- |
| | Cliche: Avoid It Like the Plague...(Overused Words, Phrases, & Cliches) |

79
(1)

| | |
| --- | --- |
| | Eschew Obfuscation...(Sentence Clarity) |

80
(1)

| | |
| --- | --- |
| | A Little Riddle That Rhymes in the Middle...(Arranging Words for Sound) |

81
(1)

| | |
| --- | --- |
| | The Missing Links...(Making Connections Between Ideas) |

82
(1)

| | |
| --- | --- |
| | Gotcha!...(Surprising, Unusual Elements) |

83
(1)

| | |
| --- | --- |
| | Brainbuster Bonanza...(Proper Sequence) |

84
(1)

| | |
| --- | --- |
| | Comin' On Strong...(Strong Titles) |

85
(1)

| | |
| --- | --- |
| | Making Words Sing...(Sentences with Interesting Rhythm) |

86
(2)

| | |
| --- | --- |
| | Bodacious Beginnings...(Smashing Starts) |

88
(2)

| | |
| --- | --- |
| | Happily Ever After...(Strong Endings) |

90
(2)

| | |
| --- | --- |
| | Line Puzzles...(Varied Sentences Length & Structure) |

92
(3)
95
(1)

| | |
| --- | --- |
| | ``How Terribly Tragic,'' Sobbed the Reader...(Effective Use of Dialogue) |

96
(1)

| | |
| --- | --- |
| | Alphabetics...(Writing for a Specific Audience) |

97
(1)

| | |
| --- | --- |
| | More Alphabetics...(Writing for a Specific Audience) |

98
(2)

| | |
| --- | --- |
| | Tell-Tale Art...(Literary Techniques • Parody) |

100
(2)

| | |
| --- | --- |
| | Fun with Multifarious Forms...(Different Forms of Writing) |

102
(2)

| | |
| --- | --- |
| | Inspiration: Imitation...(Writing for a Specific Purpose) |

104
(1)

| | |
| --- | --- |
| | Abort Report Boredom...(Writing a Report) |

105
(1)

| | |
| --- | --- |
| | Sense-Sation!...(Writing a Descriptive Piece) |

106
(2)

| | |
| --- | --- |
| | Rogues' Expose...(Writing an Expository Piece) |

108
(1)

| | |
| --- | --- |
| | Imagine That...(Writing an Imaginative Narrative Tale) |

109
(1)

| | |
| --- | --- |
| | Perfection Detection...(Writing a Characterization) |

110
(2)

| | |
| --- | --- |
| | Supersnoop...(Writing with Strong Voice • Personal Choices) |

112
(2)

| | |
| --- | --- |
| | Quotation Quandary...(Writing a Persuasive Piece) |

114
(1)

| | |
| --- | --- |
| | Writing Assessment and Answer Keys |

115
(7)
116
(4)
120
(1)
121
(1)

| | |
| --- | --- |
| | Spelling Skills Exercises |

122
(42)

| | |
| --- | --- |
| | Trouble-Makers...(Commonly Misspelled Words) |

124
(1)

| | |
| --- | --- |
| | Words That Puzzle...(Commonly Misspelled Words) |

125
(1)

| | |
| --- | --- |
| | Seeing Double...(Words With Double Letters) |

126
(1)

| | |
| --- | --- |
| | A Devious Duo...(Spelling Rule: I and E) |

127
(1)

| | |
| --- | --- |
| | Rule Breakers...(Exceptions to Spelling Rules) |

128
(1)

| | |
| --- | --- |
| | The Outrageous O...(Words with ``O'') |

129
(1)

| | |
| --- | --- |
| | The Silent Treatment...(Silent Letters) |

130
(1)

| | |
| --- | --- |
| | ``F'' in Disguise...(Words with GH and PH) |

131
(1)

| | |
| --- | --- |
| | To Begin With...(Prefixes) |

132
(1)

| | |
| --- | --- |
| | At the Root of It...(Roots) |

133
(1)

| | |
| --- | --- |
| | Spelling ``Ant''-Ics...(Special Endings) |

134
(1)

| | |
| --- | --- |
| | Edible Endings...(Special Endings) |

135
(1)

| | |
| --- | --- |
| | A Mess in the End...(Special Endings) |

136
(1)

| | |
| --- | --- |
| | Watch Your Tail!...(Special Endings) |

137
(1)

| | |
| --- | --- |
| | Tricky Endings...(Special Endings) |

138
(1)

| | |
| --- | --- |
| | More Tricky Endings...(Special Endings) |

139
(1)

| | |
| --- | --- |
| | Trouble in the Middle...(Vowel Combinations) |

140
(1)

| | |
| --- | --- |
| | Look-Alikes & Sound-Alikes...(Words That Look or Sound Similar) |

141
(1)

| | |
| --- | --- |
| | More Likely Alike...(Words That Look or Sound Similar) |

142
(1)

| | |
| --- | --- |
| | Borrowed Words...(Words of Foreign Origin) |

143
(1)

| | |
| --- | --- |
| | Wild, Weird, & Wacky Words...(Unusual Words) |

144
(1)

| | |
| --- | --- |
| | Words That Confuse...(Confusing Words) |

145
(1)

| | |
| --- | --- |
| | How to Turn a Flea Into a Leaf...(Rearranging Letters) |

146
(1)

| | |
| --- | --- |
| | Small Problems...(Troublesome Small Words) |

147
(1)

| | |
| --- | --- |
| | These Are a Mouthful...(Big Words) |

148
(1)

| | |
| --- | --- |
| | Names to Know...(Proper Nouns) |

149
(1)

| | |
| --- | --- |
| | Aardvarks & Emus...(Animal Names) |

150
(1)

| | |
| --- | --- |
| | Words on the Job...(Words from Professions) |

151
(1)

| | |
| --- | --- |
| | Words on the Move...(Active Words) |

152
(1)

| | |
| --- | --- |
| | Feast on These...(Food Words) |

153
(1)

| | |
| --- | --- |
| | Characteristically Speaking...(Words for Characterization) |

154
(1)

| | |
| --- | --- |
| | A Letter of Quality...(Words with Q) |

155
(1)

| | |
| --- | --- |
| | From Sacred to Sassafras...(Words with S) |

156
(1)

| | |
| --- | --- |
| | The Trouble with W...(Words with W) |

157
(1)

| | |
| --- | --- |
| | X-Ceptional Words...(Words with X) |

158
(1)
159
(1)

| | |
| --- | --- |
| | Z Last Word...(Words with Z) |

160
(1)

| | |
| --- | --- |
| | Laughable Words...(Funny Words) |

161
(1)

| | |
| --- | --- |
| | Emphatically Speaking!...(Correcting Misspelled Words) |

162
(1)

| | |
| --- | --- |
| | Help Needed!...(Correcting Misspelled Words) |

163
(1)

| | |
| --- | --- |
| | Spelling Assessment and Answer Keys |

164
(8)
165
(2)
167
(1)
168
(4)

| | |
| --- | --- |
| | Words & Vocabulary Skills Exercises |

172
(37)

| | |
| --- | --- |
| | Would You? Could You?...(Learning New Words) |

174
(1)

| | |
| --- | --- |
| | Don't Try This at Home!...(Learning New Words) |

175
(1)

| | |
| --- | --- |
| | What Would You Do with It?...(Learning New Words) |

176
(1)

| | |
| --- | --- |
| | A Frappe on a Ferris Wheel?...(Learning New Words) |

177
(1)

| | |
| --- | --- |
| | Clue in to Context...(Context) |

178
(1)

| | |
| --- | --- |
| | Ride the Raging River...(Context) |

179
(1)

| | |
| --- | --- |
| | More Than Meets the Eye...(Denotation and Connotation) |

180
(1)

| | |
| --- | --- |
| | Connotations to Contemplate...(Connotation) |

181
(1)

| | |
| --- | --- |
| | The Impostors...(Synonyms) |

182
(1)

| | |
| --- | --- |
| | Double Trouble...(Synonyms) |

183
(1)

| | |
| --- | --- |
| | Scrambled Synonyms...(Synonyms) |

184
(1)

| | |
| --- | --- |
| | Twisted Words...(Antonyms) |

185
(1)

| | |
| --- | --- |
| | Opposites Attract...(Antonyms) |

186
(1)

| | |
| --- | --- |
| | A Knight in the Night...(Homophones) |

187
(1)

| | |
| --- | --- |
| | Have You Ever Seen?...(Homophones) |

188
(1)

| | |
| --- | --- |
| | Excuse Me!...(Homographs) |

189
(1)

| | |
| --- | --- |
| | What's Up?...(Multiple Meanings) |

190
(1)

| | |
| --- | --- |
| | More Than One...(Multiple Meanings) |

191
(1)

| | |
| --- | --- |
| | Something's Changed...(Prefixes) |

192
(1)

| | |
| --- | --- |
| | Winning Prefixes...(Prefixes) |

193
(1)

| | |
| --- | --- |
| | Juicy Endings...(Suffixes) |

194
(1)

| | |
| --- | --- |
| | Suffix Search...(Suffixes) |

195
(1)

| | |
| --- | --- |
| | Unbelievable!...(Root Words) |

196
(1)

| | |
| --- | --- |
| | Dunk the Dude!...(Root Words) |

197
(1)

| | |
| --- | --- |
| | Missing Links...(Compound Words) |

198
(1)

| | |
| --- | --- |
| | Compound Line-up...(Compound Words) |

199
(1)

| | |
| --- | --- |
| | Look-Alike Words...(Similar Words) |

200
(1)

| | |
| --- | --- |
| | Words That Confuse...(Confusing Words) |

201
(1)

| | |
| --- | --- |
| | Stick Out Your Neck...(Figurative Language) |

202
(1)

| | |
| --- | --- |
| | Over the Edge...(Figurative Language) |

203
(1)

| | |
| --- | --- |
| | Words With a Past...(Word Histories) |

204
(1)

| | |
| --- | --- |
| | Etymologies You Can Eat...(Word Histories) |

205
(1)

| | |
| --- | --- |
| | Which One Fits?...(Analogies) |

206
(1)

| | |
| --- | --- |
| | Analogies Aren't Scary...(Analogies) |

207
(1)

| | |
| --- | --- |
| | On the Same Team...(Word Classification) |

208
(1)

| | |
| --- | --- |
| | Words & Vocabulary Assessment And Answer Keys |

209
(9)

| | |
| --- | --- |
| | Words and Vocabulary Skills Test |

210
(4)
214
(1)
215
(3)

| | |
| --- | --- |
| | Grammar & Usage Skills Exercises |

218
(41)

| | |
| --- | --- |
| | Surf's Up!...(Kinds of Sentences) |

220
(1)

| | |
| --- | --- |
| | One of Each...(Subjects and Predicates) |

221
(1)

| | |
| --- | --- |
| | S.O.S....(Fragments and Run-On Sentences) |

222
(1)

| | |
| --- | --- |
| | What's for Lunch?...(Parts of Speech) |

223
(1)

| | |
| --- | --- |
| | A-Maze-ing Possibilities...(Parts of Speech, Kinds of Sentences) |

224
(1)

| | |
| --- | --- |
| | Two by the Sea...(Common and Proper Nouns) |

225
(1)

| | |
| --- | --- |
| | See You at the Club...(Singular and Plural Nouns) |

226
(1)

| | |
| --- | --- |
| | Seashore Snapshots...(Possessive Nouns) |

227
(1)

| | |
| --- | --- |
| | Pick a Pronoun...(Kinds of Pronouns) |

228
(1)

| | |
| --- | --- |
| | The Agreeable Pronoun...(Pronoun-Antecedent Agreement) |

229
(1)

| | |
| --- | --- |
| | Who's Who?...(Use of Who/Whom, Who's/Whose) |

230
(1)

| | |
| --- | --- |
| | Tense Times...(Verb Tenses, Active and Passive Verbs) |

231
(1)

| | |
| --- | --- |
| | Wild about Verbs...(Verbs of Action and Being) |

232
(1)

| | |
| --- | --- |
| | Fin, Fan, Fun...(Irregular Verbs) |

233
(1)

| | |
| --- | --- |
| | Seaside Scenes...(Transitive and Intransitive Verbs) |

234
(1)

| | |
| --- | --- |
| | Object Overload...(Direct and Indirect Objects) |

235
(1)

| | |
| --- | --- |
| | Troublesome Verbs...(Special Verbs) |

236
(1)

| | |
| --- | --- |
| | Agree or Disagree...(Subject-Verb Agreement) |

237
(1)
238
(1)

| | |
| --- | --- |
| | ``Add'' Verbs...(Adverbs) |

239
(1)

| | |
| --- | --- |
| | Fast, Faster, Fastest...(Comparatives and Superlatives) |

240
(1)

| | |
| --- | --- |
| | No Dangling, Please!...(Dangling Modifiers) |

241
(1)

| | |
| --- | --- |
| | A Double Negative Is a No-No!...(Correct Use of Negatives) |

242
(1)

| | |
| --- | --- |
| | Positions, Please!...(Prepositions and Prepositional Phrases) |

243
(1)

| | |
| --- | --- |
| | A While of a Tale...(Participles and Participial Phrases) |

244
(1)

| | |
| --- | --- |
| | Juggling Gerunds...(Gerunds and Gerund Phrases) |

245
(1)

| | |
| --- | --- |
| | To Swim is to Survive...(Infinitives and Infinitive Phrases) |

246
(1)

| | |
| --- | --- |
| | Loners and Leaners...(Independent and Dependent Clauses) |

247
(1)

| | |
| --- | --- |
| | Clause Caught in Claws???...(Noun, Adjective, and Adverb Clauses) |

248
(1)

| | |
| --- | --- |
| | Cool or Obtuse???...(Capitalization for Proper Nouns and Adjectives) |

249
(1)

| | |
| --- | --- |
| | Clearly Cloudy...(Capitalization and Punctuation in Letters and Addresses) |

250
(1)

| | |
| --- | --- |
| | Title-Wise...(Capitalization and Punctuation in Titles) |

251
(1)

| | |
| --- | --- |
| | Punctuation Repair...(Punctuation Review) |

252
(1)

| | |
| --- | --- |
| | A Perfect Day for Diving...(Proofreaders' Marks---Punctuation and Capitalization) |

253
(1)

| | |
| --- | --- |
| | Lost in the Waves...(Comma Use) |

254
(1)

| | |
| --- | --- |
| | Quotables...(Punctuating Quotations in Dialogue) |

255
(1)

| | |
| --- | --- |
| | Colon & Company...(Punctuation---Colons and Semicolons) |

256
(1)

| | |
| --- | --- |
| | Brilliant Devices...(Punctuation---Dash / Hyphen / Parentheses) |

257
(1)

| | |
| --- | --- |
| | Sailors' Nots...(Contractions) |

258
(1)

| | |
| --- | --- |
| | Grammar & Usage Assessment and Answer Keys |

259
(9)

| | |
| --- | --- |
| | Grammar & Usage Skills Test |

260
(4)
264
(1)
265
(3)

| | |
| --- | --- |
| | Study & Research Skills Exercises |

268
(44)

| | |
| --- | --- |
| | Stolen Jewels!...(Listening) |

270
(1)

| | |
| --- | --- |
| | ``Z'' Connection...(Alphabetizing) |

271
(1)

| | |
| --- | --- |
| | Mysteries of the Mind...(Using a Table of Contents) |

272
(2)

| | |
| --- | --- |
| | Detective's Downtime Dilemma...(Using an Index) |

274
(2)

| | |
| --- | --- |
| | Hidden Treasure Hints...(Following Directions/Using a Map) |

276
(1)

| | |
| --- | --- |
| | Dangerous Impulse...(Interpreting Directions/Drawing a Map) |

277
(1)

| | |
| --- | --- |
| | Copyright = No Copycats...(Using Copyright Pages) |

278
(1)

| | |
| --- | --- |
| | Black and Blue...(Using a Dictionary) |

279
(1)

| | |
| --- | --- |
| | Triple-A Detectives...(Using a Thesaurus) |

280
(1)

| | |
| --- | --- |
| | ``B''eeline to Oblivion...(Using an Atlas) |

281
(1)

| | |
| --- | --- |
| | Miss Watson Is Missing!...(Using an Atlas and Encyclopedia) |

282
(1)

| | |
| --- | --- |
| | Mysteries---Unsolved and Otherwise...(Using an Encyclopedia) |

283
(1)

| | |
| --- | --- |
| | Tortures, Tombs, and Other Trivia...(Using an Encyclopedia) |

284
(1)

| | |
| --- | --- |
| | Information Frenzy...(Using an Encyclopedia Index) |

285
(1)

| | |
| --- | --- |
| | Future Forecast...(Using a Reader's Guide) |

286
(1)

| | |
| --- | --- |
| | It's a Wonder!...(Using an Almanac) |

287
(1)

| | |
| --- | --- |
| | Sports Sleuthing...(Using an Almanac) |

288
(1)

| | |
| --- | --- |
| | Uncommon but Common...(Using a Biographical Dictionary) |

289
(1)

| | |
| --- | --- |
| | Who's Whose Sleuth?...(Using Literary Reference/Encyclopedia) |

290
(1)

| | |
| --- | --- |
| | One for the Record...(Using The Guinness Book of World Records) |

291
(1)

| | |
| --- | --- |
| | The Big News...(Using a Newspaper) |

292
(1)

| | |
| --- | --- |
| | A Brilliant Bibliography...(Writing Bibliographic Entries) |

293
(1)

| | |
| --- | --- |
| | Quick? Or Quicker?...(Selecting Reference/Finding Information) |

294
(1)

| | |
| --- | --- |
| | Kidnapped!...(Selecting Reference/Finding Information) |

295
(1)

| | |
| --- | --- |
| | Sleuthing Tools...(Selecting Best Reference) |

296
(1)

| | |
| --- | --- |
| | Fast Figures...(Using Charts and Tables) |

297
(1)

| | |
| --- | --- |
| | At the Crime Scene...(Using a Graph) |

298
(1)

| | |
| --- | --- |
| | A Deadly Diagram...(Using a Diagram) |

299
(1)

| | |
| --- | --- |
| | Nosing Around in History...(Using a Timeline) |

300
(1)

| | |
| --- | --- |
| | Wanted!...(Using Logical Thinking) |

301
(1)

| | |
| --- | --- |
| | Eyewitness Report...(Forming Questions) |

302
(2)

| | |
| --- | --- |
| | Voices from the Past...(Organizing Information/Observing) |

304
(2)

| | |
| --- | --- |
| | Story for Cases #33, #34, #35...``Chanticleer and the Fox'' |

306
(1)
307
(1)

| | |
| --- | --- |
| | Get Organized!...(Outlining) |

308
(1)

| | |
| --- | --- |
| | Succinctly Speaking...(Summarizing) |

309
(1)

| | |
| --- | --- |
| | Follow the Numbers...(Using the Dewey Decimal System) |

310
(1)

| | |
| --- | --- |
| | Finger-Fast Information...(Using the Card Catalog) |

311
(1)

| | |
| --- | --- |
| | Study & Research Assessment and Answer Keys |

312

| | |
| --- | --- |
| | Study & Research Skills Test |

313
317
318