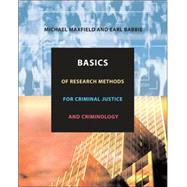 List Price: $82.66
Usually Ships in 2-3 Business Days
Questions About This Book?
What version or edition is this?
This is the 1st edition with a publication date of 7/28/2005.
What is included with this book?
The Used copy of this book is not guaranteed to inclue any supplemental materials. Typically, only the book itself is included.
Summary
1. Criminal Justice and Scientific Inquiry. 2. Theory in Criminal Justice Research. 3. General Issues in Research Design. 4. Concepts, Operationalization, and Measurement. 5. Experimental and Quasi-Experimental Designs. 6. Overview of Data Collection and Sampling. 7. Survey Research and Other Ways of Asking Questions. 8. Field Research. 9. Agency Records, Content Analysis, and Secondary Data. 10. Evaluation Research and Policy Analysis. 11. Interpreting Data.
Table of Contents
| | |
| --- | --- |
| | PART ONE: An Introduction to Criminal Justice Inquiry |

1
(58)

| | |
| --- | --- |
| | Criminal Justice and Scientific Inquiry |

2
(24)
3
(1)
4
(4)
4
(1)
4
(2)
6
(1)
6
(1)
7
(1)
7
(1)

| | |
| --- | --- |
| | Arrest and Domestic Violence |

8
(18)

| | |
| --- | --- |
| | Errors in Personal Human Inquiry |

8
(1)
8
(1)
8
(1)
9
(1)
10
(1)
10
(1)
10
(1)

| | |
| --- | --- |
| | Foundations of Social Science |

11
(1)

| | |
| --- | --- |
| | Theory, Not Philosophy or Belief |

11
(1)
11
(2)
13
(1)

| | |
| --- | --- |
| | Aggregates, Not Individuals |

13
(1)
13
(1)
14
(3)

| | |
| --- | --- |
| | Variables and Relationships |

17
(1)
17
(1)
18
(1)
18
(1)
19
(1)
19
(1)

| | |
| --- | --- |
| | Differing Avenues for Inquiry |

19
(1)

| | |
| --- | --- |
| | Idiographic and Nomothetic Explanations |

20
(1)

| | |
| --- | --- |
| | Inductive and Deductive Reasoning |

21
(1)

| | |
| --- | --- |
| | Quantitative and Qualitative Data |

22
(1)

| | |
| --- | --- |
| | Ethics and Criminal Justice Research |

23
(1)

| | |
| --- | --- |
| | Knowing through Experience: Summing Up and Looking Ahead |

23
(1)
24
(2)

| | |
| --- | --- |
| | Theory and Ethics in Criminal Justice Research |

26
(33)
27
(1)

| | |
| --- | --- |
| | The Creation of Social Scientific Theory |

27
(1)

| | |
| --- | --- |
| | The Traditional Model of Science |

28
(3)
31
(2)

| | |
| --- | --- |
| | Terms Used in Theory Construction |

33
(1)

| | |
| --- | --- |
| | Grounded Theory and Community Prosecution |

34
(8)

| | |
| --- | --- |
| | Theory in Criminal Justice |

36
(1)
36
(2)
38
(1)

| | |
| --- | --- |
| | Theory, Research, and Public Policy |

39
(1)

| | |
| --- | --- |
| | Ecological Theories of Crime and Crime Prevention Policy |

39
(2)

| | |
| --- | --- |
| | Ethical Issues in Criminal Justice Research |

41
(1)
41
(1)

| | |
| --- | --- |
| | Ethics and Extreme Field Research |

42
(10)
44
(1)
45
(1)
45
(1)
46
(1)
46
(1)
47
(2)

| | |
| --- | --- |
| | Promoting Compliance with Ethical Principles |

49
(1)

| | |
| --- | --- |
| | Codes of Professional Ethics |

49
(1)

| | |
| --- | --- |
| | Institutional Review Boards |

50
(2)

| | |
| --- | --- |
| | Ethics and Juvenile Gang Members |

52
(7)

| | |
| --- | --- |
| | The Stanford Prison Experiment |

52
(3)
55
(1)
55
(4)

| | |
| --- | --- |
| | PART TWO: Structuring Criminal Justice Inquiry |

59
(92)

| | |
| --- | --- |
| | General Issues in Research Design |

60
(31)
61
(1)

| | |
| --- | --- |
| | Causation in the Social Sciences |

62
(1)
62
(1)

| | |
| --- | --- |
| | Necessary and Sufficient Causes |

63
(1)

| | |
| --- | --- |
| | Validity and Causal Inference |

63
(1)

| | |
| --- | --- |
| | Statistical Conclusion Validity |

64
(1)
65
(1)
65
(1)
66
(1)

| | |
| --- | --- |
| | Validity and Causal Inference Summarized |

67
(1)

| | |
| --- | --- |
| | Does Drug Use Cause Crime? |

67
(1)

| | |
| --- | --- |
| | Introducing Scientific Realism |

68
(1)
69
(1)

| | |
| --- | --- |
| | Causation and Declining Crime in New York City |

70
(4)
70
(1)
71
(1)
72
(1)
72
(1)
73
(1)

| | |
| --- | --- |
| | Units of Analysis in the National Youth Gang Survey |

74
(17)

| | |
| --- | --- |
| | Units of Analysis in Review |

74
(2)
76
(1)
76
(1)
76
(1)

| | |
| --- | --- |
| | Approximating Longitudinal Studies |

77
(2)

| | |
| --- | --- |
| | The Time Dimension Summarized |

79
(2)

| | |
| --- | --- |
| | How to Design a Research Project |

81
(1)
81
(2)
83
(1)
83
(1)

| | |
| --- | --- |
| | Choice of Research Method |

84
(1)
84
(1)
84
(1)
85
(1)
85
(1)
85
(1)

| | |
| --- | --- |
| | Research Design in Review |

86
(1)
87
(1)

| | |
| --- | --- |
| | Elements of a Research Proposal |

87
(1)

| | |
| --- | --- |
| | Answers to the Units-of-Analysis Exercise |

88
(1)
88
(3)

| | |
| --- | --- |
| | Concepts, Operationalization, and Measurement |

91
(32)
92
(1)
92
(2)
94
(1)

| | |
| --- | --- |
| | Indicators and Dimensions |

94
(1)

| | |
| --- | --- |
| | Creating Conceptual Order |

95
(1)
96
(2)

| | |
| --- | --- |
| | Operationalization Choices |

96
(2)
98
(12)
98
(2)

| | |
| --- | --- |
| | Exhaustive and Exclusive Measurement |

100
(1)
100
(2)

| | |
| --- | --- |
| | Implications of Levels of Measurement |

102
(1)

| | |
| --- | --- |
| | Criteria for Measurement Quality |

103
(1)
104
(2)
106
(2)
108
(1)

| | |
| --- | --- |
| | General Issues in Measuring Crime |

108
(2)

| | |
| --- | --- |
| | Units of Analysis and Measuring Crime |

110
(13)

| | |
| --- | --- |
| | Measures Based on Crimes Known to Police |

110
(3)
113
(1)
114
(2)
116
(1)
117
(1)
117
(1)
118
(2)
120
(1)
120
(3)

| | |
| --- | --- |
| | Experimental and Quasi-Experimental Designs |

123
(28)
124
(1)
124
(1)

| | |
| --- | --- |
| | Independent and Dependent Variables |

125
(1)

| | |
| --- | --- |
| | Pretesting and Posttesting |

125
(1)

| | |
| --- | --- |
| | Experimental and Control Groups |

126
(1)
127
(1)
127
(1)
128
(1)

| | |
| --- | --- |
| | Experiments and Causal Inference |

128
(1)

| | |
| --- | --- |
| | Experiments and Threats to Validity |

129
(1)

| | |
| --- | --- |
| | Threats to Internal Validity |

129
(2)

| | |
| --- | --- |
| | Ruling Out Threats to Internal Validity |

131
(1)

| | |
| --- | --- |
| | Generalizability and Threats to Validity |

132
(1)

| | |
| --- | --- |
| | Threats to Construct Validity |

132
(2)

| | |
| --- | --- |
| | Threats to External Validity |

134
(1)

| | |
| --- | --- |
| | Threats to Statistical Conclusion Validity |

134
(1)

| | |
| --- | --- |
| | Variations in the Classical Experimental Design |

135
(1)

| | |
| --- | --- |
| | Quasi-Experimental Designs |

136
(1)

| | |
| --- | --- |
| | Nonequivalent-Groups Designs |

137
(3)
140
(1)
140
(3)

| | |
| --- | --- |
| | Variations in Time-Series Designs |

143
(2)

| | |
| --- | --- |
| | Variable-Oriented Research and Scientific Realism |

145
(2)

| | |
| --- | --- |
| | Experimental and Quasi-Experimental Designs Summarized |

147
(1)
147
(4)

| | |
| --- | --- |
| | PART THREE: Modes of Observation |

151
(122)

| | |
| --- | --- |
| | Overview of Data Collection and Sampling |

152
(32)
153
(1)
154
(1)
154
(1)

| | |
| --- | --- |
| | Making Direct Observations |

154
(1)

| | |
| --- | --- |
| | Examining Written Records |

155
(1)

| | |
| --- | --- |
| | Using Multiple Data Sources |

155
(1)

| | |
| --- | --- |
| | Multiple Measures in Home Detention |

156
(28)

| | |
| --- | --- |
| | The Logic of Probability Sampling |

157
(1)

| | |
| --- | --- |
| | Conscious and Unconscious Sampling Bias |

158
(2)

| | |
| --- | --- |
| | Representativeness and Probability of Selection |

160
(1)

| | |
| --- | --- |
| | Probability Theory and Sampling Distribution |

160
(1)

| | |
| --- | --- |
| | The Sampling Distribution of 10 Cases |

161
(4)

| | |
| --- | --- |
| | From Sampling Distribution to Parameter Estimate |

165
(1)

| | |
| --- | --- |
| | Estimating Sampling Error |

166
(1)

| | |
| --- | --- |
| | Confidence Levels and Confidence Intervals |

167
(1)

| | |
| --- | --- |
| | Random Sampling and Probability Theory Summed Up |

168
(1)

| | |
| --- | --- |
| | Population and Sampling Frames |

169
(1)

| | |
| --- | --- |
| | Types of Sampling Designs |

170
(1)
170
(1)
170
(1)
171
(1)

| | |
| --- | --- |
| | Disproportionate Stratified Sampling |

172
(1)

| | |
| --- | --- |
| | Multistage Cluster Sampling |

172
(2)

| | |
| --- | --- |
| | Multistage Cluster Sampling with Stratification |

174
(1)

| | |
| --- | --- |
| | Illustration: Two National Crime Surveys |

174
(2)

| | |
| --- | --- |
| | The National Crime Victimization Survey |

176
(1)
177
(1)

| | |
| --- | --- |
| | Probability Sampling in Review |

177
(1)
178
(1)

| | |
| --- | --- |
| | Purposive, or Judgmental, Sampling |

178
(1)
178
(1)

| | |
| --- | --- |
| | Reliance on Available Subjects |

179
(1)
180
(1)

| | |
| --- | --- |
| | Nonprobability Sampling in Review |

181
(1)
181
(3)

| | |
| --- | --- |
| | Survey Research and Other Ways of Asking Questions |

184
(32)
185
(1)

| | |
| --- | --- |
| | Topics Appropriate to Survey Research |

186
(1)
186
(1)
186
(1)
187
(1)
187
(1)
187
(1)
188
(1)

| | |
| --- | --- |
| | Guidelines for Asking Questions |

188
(1)

| | |
| --- | --- |
| | Open-Ended and Closed-Ended Questions |

188
(1)
189
(1)
189
(1)
190
(1)
190
(1)
190
(1)

| | |
| --- | --- |
| | Designing Self-Report Items |

191
(1)

| | |
| --- | --- |
| | Questionnaire Construction |

192
(1)

| | |
| --- | --- |
| | General Questionnaire Format |

192
(1)
193
(2)
195
(1)

| | |
| --- | --- |
| | Ordering Items in a Questionnaire |

195
(1)

| | |
| --- | --- |
| | Self-Administered Questionnaires |

196
(1)

| | |
| --- | --- |
| | Don't Start From Scratch! |

197
(19)

| | |
| --- | --- |
| | Mail Distribution and Return |

197
(1)

| | |
| --- | --- |
| | Warning Mailings and Cover Letters |

198
(1)
199
(1)

| | |
| --- | --- |
| | Acceptable Response Rates |

199
(1)

| | |
| --- | --- |
| | Computer-Based Self-Administration |

199
(2)

| | |
| --- | --- |
| | In-Person Interview Surveys |

201
(1)

| | |
| --- | --- |
| | The Role of the Interviewer |

201
(1)

| | |
| --- | --- |
| | General Rules for Interviewing |

201
(1)
202
(1)

| | |
| --- | --- |
| | Computer-Assisted In-Person Interviews |

203
(2)
205
(1)

| | |
| --- | --- |
| | Computer-Assisted Telephone Interviewing |

206
(1)

| | |
| --- | --- |
| | Comparison of the Three Methods |

207
(1)

| | |
| --- | --- |
| | Strengths and Weaknesses of Survey Research |

208
(2)

| | |
| --- | --- |
| | Other Ways of Asking Questions |

210
(1)
210
(1)
211
(1)

| | |
| --- | --- |
| | Should You Do It Yourself? |

212
(2)
214
(2)
216
(30)
217
(1)

| | |
| --- | --- |
| | Topics Appropriate to Field Research |

218
(1)

| | |
| --- | --- |
| | The Various Roles of the Observer |

219
(2)
221
(2)

| | |
| --- | --- |
| | Gaining Access to Subjects |

223
(1)

| | |
| --- | --- |
| | Gaining Access to Formal Organizations |

223
(2)

| | |
| --- | --- |
| | Gaining Access to Subcultures |

225
(1)

| | |
| --- | --- |
| | Selecting Cases for Observation |

226
(2)

| | |
| --- | --- |
| | Purposive Sampling in Field Research |

228
(1)
229
(1)

| | |
| --- | --- |
| | Cameras and Voice Recorders |

230
(1)
231
(1)
231
(1)

| | |
| --- | --- |
| | Linking Field Observations and Other Data |

232
(3)

| | |
| --- | --- |
| | Illustrations of Field Research |

235
(1)
235
(1)

| | |
| --- | --- |
| | Conducting a Safety Audit |

236
(10)
238
(1)
239
(2)

| | |
| --- | --- |
| | Strengths and Weaknesses of Field Research |

241
(1)
241
(1)
242
(1)
243
(1)
244
(2)

| | |
| --- | --- |
| | Agency Records, Content Analysis, and Secondary Data |

246
(27)
247
(1)

| | |
| --- | --- |
| | Topics Appropriate for Agency Records and Content Analysis |

247
(2)
249
(1)
249
(2)
251
(3)

| | |
| --- | --- |
| | New Data Collected by Agency Staff |

254
(2)

| | |
| --- | --- |
| | Improving Police Records of Domestic Violence |

256
(6)

| | |
| --- | --- |
| | Units of Analysis and Sampling |

256
(1)
256
(2)
258
(1)
258
(1)

| | |
| --- | --- |
| | Sources of Reliability and Validity Problems |

259
(3)

| | |
| --- | --- |
| | How Many Parole Violators Were There Last Month? |

262
(11)
262
(2)

| | |
| --- | --- |
| | Units of Analysis and Sampling in Content Analysis |

264
(2)

| | |
| --- | --- |
| | Coding in Content Analysis |

266
(1)

| | |
| --- | --- |
| | Illustrations of Content Analysis |

267
(2)
269
(1)

| | |
| --- | --- |
| | Sources of Secondary Data |

270
(1)

| | |
| --- | --- |
| | Advantages and Disadvantages of Secondary Data |

270
(1)
271
(2)

| | |
| --- | --- |
| | PART FOUR: Application and Analysis |

273
(61)

| | |
| --- | --- |
| | Evaluation Research and Policy Analysis |

274
(33)
275
(1)

| | |
| --- | --- |
| | Topic Appropriate for Evaluation Research and Policy Analysis |

275
(1)
276
(1)

| | |
| --- | --- |
| | Linking the Process to Evaluation |

277
(2)
279
(1)
280
(1)
281
(2)
283
(3)

| | |
| --- | --- |
| | Designs for Program Evaluation |

286
(1)

| | |
| --- | --- |
| | Randomized Evaluation Designs |

286
(2)

| | |
| --- | --- |
| | Home Detention: Two Randomized Studies |

288
(3)

| | |
| --- | --- |
| | Quasi-Experimental Designs |

291
(3)

| | |
| --- | --- |
| | Other Types of Evaluation Studies |

294
(1)

| | |
| --- | --- |
| | Policy Analysis and Scientific Realism |

294
(1)

| | |
| --- | --- |
| | Modeling Prison Populations |

295
(3)

| | |
| --- | --- |
| | Other Applications of Policy Analysis |

298
(1)

| | |
| --- | --- |
| | Scientific Realism and Applied Research |

299
(2)

| | |
| --- | --- |
| | The Political Context of Applied Research |

301
(1)

| | |
| --- | --- |
| | Evaluation and Stakeholders |

301
(1)
302
(1)

| | |
| --- | --- |
| | When Politics Accommodates Facts |

303
(4)
304
(3)
307
(27)
308
(1)
308
(1)
308
(1)

| | |
| --- | --- |
| | Measures of Central Tendency |

309
(2)
311
(2)

| | |
| --- | --- |
| | Comparing Measures of Dispersion and Central Tendency |

313
(1)
314
(2)

| | |
| --- | --- |
| | Describing Two or More Variables |

316
(1)
316
(3)
319
(1)
320
(14)
324
(1)
324
(1)

| | |
| --- | --- |
| | Tests of Statistical Significance |

325
(2)

| | |
| --- | --- |
| | Visualizing Statistical Significance |

327
(1)
328
(2)

| | |
| --- | --- |
| | Cautions in Interpreting Statistical Significance |

330
(2)
332
(2)
Glossary
334
(8)
References
342
(10)
Name Index
352
(2)
Subject Index
354