Note: Supplemental materials are not guaranteed with Rental or Used book purchases.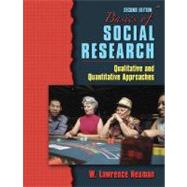 Basics of Social Research : Qualitative and Quantitative Approaches
ISBN13:
9780205484379
by
Neuman, W. Lawrence
Questions About This Book?
What version or edition is this?
This is the 2nd edition with a publication date of 1/1/2007.
What is included with this book?
The Used copy of this book is not guaranteed to include any supplemental materials. Typically, only the book itself is included.
Related Products
Summary
Helps students understand what research can and cannot do, become better consumers of research, and learn why properly conducted research is important. This text teaches students to be a better consumer of research results, understand how the research enterprise works, and prepares them to conduct small research projects. Upon completing this text, students will be aware of what research can and cannot do, and why properly conducted research is important. Using clear, accessible language and examples from real research, this discusses both qualitative and quantitative approaches to social research, emphasizing the benefits of combining various approaches. Briefer, paperback text, adapted from Neuman's Social Research Methods, Sixth Edition.
Table of Contents
Preface
xi
1
(22)
2
(1)

| | |
| --- | --- |
| | Alternatives to Social Research |

3
(4)
7
(2)

| | |
| --- | --- |
| | Steps in the Research Process |

9
(1)
10
(11)
21
(2)

| | |
| --- | --- |
| | Theory and Social Research |

23
(24)
24
(1)
24
(2)
26
(3)
29
(12)

| | |
| --- | --- |
| | The Three Major Approaches to Social Science |

41
(3)
44
(1)
45
(2)

| | |
| --- | --- |
| | Ethics in Social Research |

47
(21)
48
(1)
48
(1)
49
(1)

| | |
| --- | --- |
| | Ethical Issues Involving Research Participants |

50
(9)

| | |
| --- | --- |
| | Ethics and the Scientific Community |

59
(2)

| | |
| --- | --- |
| | Ethics and the Sponsors of Research |

61
(2)
63
(1)

| | |
| --- | --- |
| | Value-Free and Objective Research |

64
(2)
66
(2)

| | |
| --- | --- |
| | Reviewing the Scholarly Literature and Planning a Study |

68
(40)
69
(1)
69
(11)

| | |
| --- | --- |
| | Using the Internet for Social Research |

80
(4)

| | |
| --- | --- |
| | Qualitative and Quantitative Orientations toward Research |

84
(4)

| | |
| --- | --- |
| | Qualitative Design Issues |

88
(3)

| | |
| --- | --- |
| | Quantitative Design Issues |

91
(15)
106
(2)

| | |
| --- | --- |
| | Qualitative and Quantitative Measurement |

108
(32)
109
(1)
109
(1)

| | |
| --- | --- |
| | Quantitative and Qualitative Measurement |

110
(1)

| | |
| --- | --- |
| | Parts of the Measurement Process |

111
(4)
115
(6)

| | |
| --- | --- |
| | A Guide to Quantitative Measurement |

121
(5)
126
(2)
128
(10)
138
(2)

| | |
| --- | --- |
| | Qualitative and Quantitative Sampling |

140
(26)
141
(1)
141
(4)
145
(19)
164
(2)

| | |
| --- | --- |
| | PART TWO Conducting Quantitative Research |

166
(34)
167
(1)

| | |
| --- | --- |
| | The Logic of Survey Research |

168
(1)

| | |
| --- | --- |
| | Constructing the Questionnaire |

169
(17)

| | |
| --- | --- |
| | Types of Surveys: Advantages and Disadvantages |

186
(4)
190
(6)
196
(1)
197
(3)
200
(24)
201
(1)
202
(2)

| | |
| --- | --- |
| | Experimental Design Logic |

204
(8)

| | |
| --- | --- |
| | Internal and External Validity |

212
(7)
219
(1)

| | |
| --- | --- |
| | Results of Experimental Research: Making Comparisons |

219
(2)
221
(1)
222
(2)

| | |
| --- | --- |
| | Nonreactive Research and Secondary Analysis |

224
(23)
225
(1)
225
(2)
227
(9)

| | |
| --- | --- |
| | Existing Statistics/Documents and Secondary Analysis |

236
(8)

| | |
| --- | --- |
| | Issues of Inference and Theory Testing |

244
(1)
245
(2)

| | |
| --- | --- |
| | Analysis of Quantitative Data |

247
(28)
248
(1)
248
(3)

| | |
| --- | --- |
| | Results with One Variable |

251
(6)

| | |
| --- | --- |
| | Results with Two Variables |

257
(6)
263
(5)
268
(4)
272
(3)

| | |
| --- | --- |
| | PART THREE Conducting Qualitative Research |

275
(29)
275
(3)

| | |
| --- | --- |
| | The Logic of Field Research |

278
(2)

| | |
| --- | --- |
| | Choosing a Site and Gaining Access |

280
(5)
285
(2)

| | |
| --- | --- |
| | Observing and Collecting Data |

287
(9)

| | |
| --- | --- |
| | The Field Research Interview |

296
(3)
299
(1)
300
(1)

| | |
| --- | --- |
| | Ethical Dilemmas of Field Research |

301
(1)
302
(2)

| | |
| --- | --- |
| | Historical-Comparative Research |

304
(23)
304
(2)

| | |
| --- | --- |
| | The Logic of Historical-Comparative Research |

306
(4)

| | |
| --- | --- |
| | Steps in a Historical-Comparative Research Project |

310
(2)

| | |
| --- | --- |
| | Data and Evidence in Historical Context |

312
(5)
317
(5)

| | |
| --- | --- |
| | Equivalence in Historical-Comparative Research |

322
(3)
325
(1)
325
(2)

| | |
| --- | --- |
| | Analysis of Qualitative Data |

327
(16)
328
(1)

| | |
| --- | --- |
| | Comparing Methods of Data Analysis |

328
(1)

| | |
| --- | --- |
| | Coding and Concept Formation |

329
(6)

| | |
| --- | --- |
| | Analytic Strategies for Qualitative Data |

335
(4)
339
(1)

| | |
| --- | --- |
| | Software for Qualitative Data |

340
(2)
342
(1)

| | |
| --- | --- |
| | PART FOUR Writing a Research Report |

| | |
| --- | --- |
| | Writing the Research Report |

343
(18)
344
(1)
344
(15)
359
(2)
Glossary
361
(16)
Bibliography
377
(14)
Name Index
391
(2)
Subject Index
393