Note: Supplemental materials are not guaranteed with Rental or Used book purchases.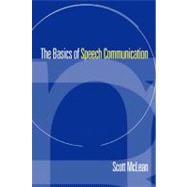 The Basics of Speech Communication
ISBN13:
9780205335282
by
McLean, Scott
Related Products
Summary
This brief book presents basic communication concepts, terms, theories, and exercises in a readily accessible manner.The Basics of Speech Communication is designed to introduce readers to the basics of the field in a clear, concise, and engaging way. This book focuses readers in on the "nuts and bolts" without excessive detail, in order to ensure that the fundamentals are mastered and allowing instructors ample time to integrate additional materials and/or hear classroom presentations. With an emphasis on skills and competencies, this book delivers the necessary material without being overwhelming or cost-prohibitive.For those interested or involved in speech communication.
Table of Contents
Preface
xv
1
(19)
2
(1)

| | |
| --- | --- |
| | Definition of Communication |

3
(1)
4
(2)

| | |
| --- | --- |
| | Essential Components of Communication |

6
(5)
7
(1)
7
(1)
7
(1)
8
(1)
8
(1)
8
(1)
9
(1)
9
(2)
11
(2)

| | |
| --- | --- |
| | Intrapersonal Communication |

11
(1)

| | |
| --- | --- |
| | Interpersonal Communication |

11
(1)
12
(1)
12
(1)
13
(1)

| | |
| --- | --- |
| | Principles of Communication |

13
(4)

| | |
| --- | --- |
| | Communication Is Constant |

13
(1)

| | |
| --- | --- |
| | Communication Is Transactional |

14
(1)

| | |
| --- | --- |
| | Communication Is a Process |

15
(1)

| | |
| --- | --- |
| | Communication Is Irreversible |

16
(1)
16
(1)
17
(1)
18
(1)
18
(1)
19
(1)
20
(26)

| | |
| --- | --- |
| | Why Don't We All See Things the Same Way? |

23
(1)
24
(4)
28
(3)
31
(6)
37
(1)
37
(1)
38
(1)
39
(1)
40
(3)
42
(1)

| | |
| --- | --- |
| | Dislike the Speaker, Disregard the Message |

42
(1)

| | |
| --- | --- |
| | Can't See the Forest Through the Trees |

42
(1)
42
(1)

| | |
| --- | --- |
| | Improving Listening Skills |

43
(1)
44
(1)
44
(1)
45
(1)
45
(1)
46
(23)
47
(1)

| | |
| --- | --- |
| | Principles of Verbal Communication |

48
(7)
48
(2)

| | |
| --- | --- |
| | Our Reality Is Shaped by Our Language |

50
(2)

| | |
| --- | --- |
| | Language Is Arbitrary and Symbolic |

52
(1)
53
(1)

| | |
| --- | --- |
| | Language Organizes and Classifies Reality |

54
(1)

| | |
| --- | --- |
| | Language as an Obstacle to Communication |

55
(7)

| | |
| --- | --- |
| | Speech Is Not Like Written Language |

55
(1)
56
(1)
57
(1)

| | |
| --- | --- |
| | Sexist and Racist Language |

57
(2)
59
(1)
59
(2)
61
(1)
62
(1)
62
(1)

| | |
| --- | --- |
| | Barriers to Communication |

62
(2)
62
(1)
63
(1)
63
(1)

| | |
| --- | --- |
| | Improving Verbal Communication |

64
(2)

| | |
| --- | --- |
| | Actively Listen to the Speaker |

64
(1)
64
(1)
65
(1)
65
(1)

| | |
| --- | --- |
| | Know the Difference Between Objectivity and Subjectivity |

65
(1)
66
(1)
66
(1)
67
(1)
67
(2)
69
(19)

| | |
| --- | --- |
| | What Is Nonverbal Communication? |

70
(1)

| | |
| --- | --- |
| | Principles of Nonverbal Communication |

70
(5)

| | |
| --- | --- |
| | Nonverbal Communication Is Fluid |

70
(1)

| | |
| --- | --- |
| | Nonverbal Communication Is Fast |

71
(1)

| | |
| --- | --- |
| | Nonverbal Communication Can Add to or Replace Verbal Communication |

71
(2)

| | |
| --- | --- |
| | Nonverbal Communication Is Universal |

73
(1)

| | |
| --- | --- |
| | Nonverbal Communication Is Confusing and Contextual |

74
(1)

| | |
| --- | --- |
| | Nonverbal Communication Can Be Intentional or Unintentional |

75
(1)

| | |
| --- | --- |
| | Types of Nonverbal Communication |

75
(10)
75
(3)
78
(2)
80
(1)
80
(1)
81
(1)
81
(2)
83
(1)
83
(2)

| | |
| --- | --- |
| | Improving Your Understanding |

85
(1)
85
(1)
85
(1)

| | |
| --- | --- |
| | Focus on a Specific Type of Nonverbal Communication |

85
(1)
85
(1)
86
(1)
86
(1)
86
(2)

| | |
| --- | --- |
| | Intercultural Communication |

88
(25)

| | |
| --- | --- |
| | Definition of Intercultural Communication |

90
(1)

| | |
| --- | --- |
| | History of the Study of Intercultural Communication |

91
(4)

| | |
| --- | --- |
| | The Burgeoning Period in the Study of Intercultural Communication |

91
(2)

| | |
| --- | --- |
| | The Study of Intercultural Communication in the 1960s |

93
(1)

| | |
| --- | --- |
| | The Study of Intercultural Communication in the 1970s |

93
(1)

| | |
| --- | --- |
| | The Study of Intercultural Communication in the 1980s |

94
(1)

| | |
| --- | --- |
| | The Study of Intercultural Communication in the 1990s |

94
(1)

| | |
| --- | --- |
| | The Study of Intercultural Communication: 2001 and Beyond |

94
(1)

| | |
| --- | --- |
| | Characteristics of Intercultural Communication |

95
(7)

| | |
| --- | --- |
| | Cultures Share a Common Experience of History and Tradition that We Learn |

96
(1)

| | |
| --- | --- |
| | Rites of Initiation, For Example, Serve this Purpose of Socialization into the Community |

96
(2)
98
(2)

| | |
| --- | --- |
| | Cultures Share Common Values and Principles |

100
(1)

| | |
| --- | --- |
| | Communities Share a Common Purpose and a Sense of Mission |

101
(1)

| | |
| --- | --- |
| | Cultures Have Common Symbols, Boundaries, Status, Language, and Rituals |

101
(1)

| | |
| --- | --- |
| | Our Cultures Are Always Changing |

102
(1)
102
(1)
102
(1)

| | |
| --- | --- |
| | Barriers to Intercultural Communication |

103
(6)
103
(2)
105
(3)
108
(1)

| | |
| --- | --- |
| | Improving Intercultural Communication |

109
(1)
110
(1)
110
(1)
110
(1)
111
(2)

| | |
| --- | --- |
| | Intrapersonal and Interpersonal Communication |

113
(24)

| | |
| --- | --- |
| | What Is Intrapersonal Communication? |

115
(2)

| | |
| --- | --- |
| | What Is Interpersonal Communication? |

117
(2)

| | |
| --- | --- |
| | Why Should We Engage in Interpersonal Communication? |

119
(1)
119
(2)

| | |
| --- | --- |
| | Schutz's Interpersonal Needs |

121
(1)
122
(1)
123
(2)

| | |
| --- | --- |
| | Social Penetration Theory |

125
(3)

| | |
| --- | --- |
| | How Do Relationships Develop? |

128
(1)
128
(1)
129
(1)

| | |
| --- | --- |
| | How Do We Manage Interpersonal Conflict? |

130
(2)

| | |
| --- | --- |
| | Improving Interpersonal Communication |

132
(2)
133
(1)
133
(1)
133
(1)
133
(1)
134
(1)
134
(1)
134
(1)
135
(1)
135
(2)
137
(24)
138
(1)

| | |
| --- | --- |
| | How Groups Meet Our Basic Needs |

139
(1)

| | |
| --- | --- |
| | How Many Members Does It Take to Make a Group? |

140
(1)

| | |
| --- | --- |
| | Groups Play by Their Own Rules |

141
(1)

| | |
| --- | --- |
| | Problem Solving in Groups |

141
(4)
142
(1)
142
(1)
143
(1)

| | |
| --- | --- |
| | Consider Possible Solutions to the Problem |

143
(1)
144
(1)
145
(1)

| | |
| --- | --- |
| | Follow up on the Solution |

145
(1)
145
(2)
147
(2)

| | |
| --- | --- |
| | Why Do People Stay in a Group? |

149
(1)

| | |
| --- | --- |
| | Group Members Have Roles to Play |

149
(2)
150
(1)

| | |
| --- | --- |
| | Factors that Influence Roles |

150
(1)

| | |
| --- | --- |
| | When Groups Come Together Via Computers |

151
(2)
153
(5)

| | |
| --- | --- |
| | How Does One Become a Leader? |

154
(1)
155
(1)
156
(1)

| | |
| --- | --- |
| | No Initiative or Laissez-Faire Leader |

156
(1)
156
(1)
157
(1)
157
(1)
158
(1)
158
(1)
159
(1)
159
(2)
161
(19)

| | |
| --- | --- |
| | What Do You Know Already? |

164
(1)

| | |
| --- | --- |
| | What Do You Need to Know? |

165
(1)
165
(1)

| | |
| --- | --- |
| | You've Got the Invitation to Interview! |

165
(6)

| | |
| --- | --- |
| | Effective Communication in Interpersonal Interaction |

171
(3)

| | |
| --- | --- |
| | Effective Communication in Teams and Groups |

174
(1)

| | |
| --- | --- |
| | Effective Communication in Meetings |

175
(1)

| | |
| --- | --- |
| | Effective Communication in Virtual Meetings |

176
(1)
177
(1)
177
(1)
178
(1)
179
(1)
180
(21)

| | |
| --- | --- |
| | What Is Mass Communication? |

181
(1)

| | |
| --- | --- |
| | Types of Mass Communication |

182
(11)

| | |
| --- | --- |
| | The Development of Newspapers |

182
(4)
186
(1)
186
(1)
187
(1)
188
(1)
188
(1)
189
(1)
190
(1)
190
(1)
191
(1)
192
(1)

| | |
| --- | --- |
| | Functions of Mass Communication |

193
(1)

| | |
| --- | --- |
| | Effects of Mass Communication |

193
(2)

| | |
| --- | --- |
| | Critical Analysis of Mass Communication |

195
(3)
195
(1)

| | |
| --- | --- |
| | Is the Problem as Important as It Is Portrayed? |

196
(1)

| | |
| --- | --- |
| | Is There Enough Evidence Presented to Justify the Claim or Main Point? |

196
(1)
196
(1)

| | |
| --- | --- |
| | Have Sources Been Provided? |

196
(1)

| | |
| --- | --- |
| | How Credible Are the Sources? |

197
(1)

| | |
| --- | --- |
| | Are the Arguments Logical? |

197
(1)

| | |
| --- | --- |
| | Has the Message Tried to Manipulate Me by Appealing to Emotions or Needs I May Have? |

197
(1)
198
(1)
198
(1)
198
(1)
199
(2)
201
(25)
203
(1)

| | |
| --- | --- |
| | Factors in Choosing a Topic |

203
(2)

| | |
| --- | --- |
| | Write General-Purpose and Thesis Statements |

205
(1)
206
(1)

| | |
| --- | --- |
| | Planning Your Investigation for Information |

206
(1)

| | |
| --- | --- |
| | Searching for Information Via Electronic Sources |

207
(2)
209
(1)

| | |
| --- | --- |
| | Getting to Know Your Audience |

210
(5)
210
(1)
211
(1)
212
(3)

| | |
| --- | --- |
| | The Eleven Types of Speech Structures |

215
(3)

| | |
| --- | --- |
| | The Five Parts of Any Speech |

218
(5)
218
(2)
220
(1)
221
(1)
222
(1)
222
(1)

| | |
| --- | --- |
| | Consider Visual Aids as You Plan Your Speech |

223
(1)

| | |
| --- | --- |
| | What the Audience Expects |

223
(1)
224
(1)
224
(1)
224
(1)
225
(1)
226
(21)

| | |
| --- | --- |
| | What Makes for a ``Good'' Delivery? |

227
(4)

| | |
| --- | --- |
| | The Delivery Should Create Common Ground |

227
(2)

| | |
| --- | --- |
| | The Delivery Should Not Distract From the Message |

229
(1)

| | |
| --- | --- |
| | The Delivery Should Help the Audience Listen, Understand, Remember, and Act |

229
(1)

| | |
| --- | --- |
| | The Delivery, and the Speech Itself, Should Be Flexible |

230
(1)
231
(2)
233
(2)
235
(1)
236
(2)
238
(1)
239
(1)
240
(1)
241
(1)
242
(1)
242
(1)

| | |
| --- | --- |
| | Incorporating Ethics into Your Communication |

243
(1)
244
(1)
245
(1)
245
(1)
245
(2)
Index
247