Note: Supplemental materials are not guaranteed with Rental or Used book purchases.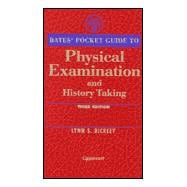 Bates' Pocket Guide to Physical Examination and History Taking
ISBN13:
9780781718691
by
Bickley, Lynn S.
Summary
This concise pocket-sized guide presents the classic Bates approach to physical examination and history taking in a quick-reference outline format. The book features a beautiful full-color design with over 500 drawings and photographs and an easy-to-follow two-column format with examination techniques on the left and abnormalities and interpretations on the right. Highlights of this edition include greater emphasis on patient communication and interview techniques, a new chapter on the older adult, and new drawings and photographs of abnormalities. A bound-in CD-ROM contains a free PDA download with outlines of examination procedures and techniques.
Table of Contents
Introduction
xi
1
(10)

| | |
| --- | --- |
| | A Comprehensive History of an Adult |

4
(5)

| | |
| --- | --- |
| | A Comprehensive Pediatric History |

9
(2)

| | |
| --- | --- |
| | Health Promotion and Counseling |

11
(8)

| | |
| --- | --- |
| | The Physical Examination of an Adult |

19
(90)
20
(3)
23
(1)
24
(4)
28
(1)
29
(3)
32
(1)
33
(1)
34
(1)
35
(3)
38
(5)
43
(2)

| | |
| --- | --- |
| | The Cardiovascular System |

45
(5)
50
(8)
58
(2)

| | |
| --- | --- |
| | Anus, Rectum, and Prostate---Male |

60
(1)

| | |
| --- | --- |
| | Female Genitalia, Anus, and Rectum |

61
(4)

| | |
| --- | --- |
| | The Peripheral Vascular System |

65
(3)

| | |
| --- | --- |
| | The Musculoskeletal System |

68
(24)
92
(17)

| | |
| --- | --- |
| | The Physical Examination of Infants and Children |

109
(24)
111
(1)

| | |
| --- | --- |
| | Mental and Physical Status |

112
(1)
113
(2)
115
(2)
117
(1)
118
(1)

| | |
| --- | --- |
| | The Nose, Mouth, Pharynx, and Neck |

119
(1)
120
(1)
120
(1)

| | |
| --- | --- |
| | The Cardiovascular System |

121
(1)
121
(1)
122
(1)
123
(1)

| | |
| --- | --- |
| | The Musculoskeletal System |

124
(1)
125
(8)
133
(114)

| | |
| --- | --- |
| | Height and Weight Tables for Adults Age 25 and Over |

135
(2)

| | |
| --- | --- |
| | Classification of a Newborn Infant's Level of Maturity |

137
(1)

| | |
| --- | --- |
| | Height and Weight Grids for Girls: Birth to 36 Months |

138
(1)

| | |
| --- | --- |
| | Height and Weight Grids for Girls: 2 to 18 Years |

139
(1)

| | |
| --- | --- |
| | Height and Weight Grids for Boys: Birth to 36 Months |

140
(1)

| | |
| --- | --- |
| | Height and Weight Grids for Boys: 2 to 18 Years |

141
(1)

| | |
| --- | --- |
| | Boys: Birth to 18 Years---Head Circumference Growth |

142
(1)

| | |
| --- | --- |
| | Girls: Birth to 18 Years---Head Circumference Growth |

143
(1)
144
(1)
145
(1)
146
(2)

| | |
| --- | --- |
| | Color Changes in the Skin |

148
(1)
149
(2)
151
(1)
152
(2)
154
(1)

| | |
| --- | --- |
| | Physical Findings in and Around the Eye |

155
(2)
157
(1)
158
(1)

| | |
| --- | --- |
| | Abnormalities of the Optic Disc |

159
(2)
161
(3)
164
(1)
165
(1)
166
(1)

| | |
| --- | --- |
| | Abnormalities of the Lips |

167
(2)

| | |
| --- | --- |
| | Abnormalities of the Gums and Teeth |

169
(2)
171
(2)

| | |
| --- | --- |
| | Abnormalities of the Pharynx |

173
(1)

| | |
| --- | --- |
| | Abnormalities of the Hard Palate |

174
(1)

| | |
| --- | --- |
| | Abnormalities of the Thyroid Gland |

175
(1)

| | |
| --- | --- |
| | Abnormalities of Thyroid Function |

175
(1)

| | |
| --- | --- |
| | Rate and Rhythm of Breathing |

176
(1)

| | |
| --- | --- |
| | Deformities of the Thorax |

177
(1)
178
(1)
179
(1)
180
(1)
181
(1)
182
(2)

| | |
| --- | --- |
| | Signs in Selected Chest Disorders |

184
(2)
186
(1)

| | |
| --- | --- |
| | The Cardiovascular System |

187
(1)

| | |
| --- | --- |
| | Average Heart Rate of Infants and Children at Rest |

188
(1)
189
(1)

| | |
| --- | --- |
| | Blood Pressure in Children |

190
(7)
197
(1)
198
(2)

| | |
| --- | --- |
| | An Apparently Split First Heart Sound |

200
(1)

| | |
| --- | --- |
| | Splitting of the Second Heart Sound |

201
(1)

| | |
| --- | --- |
| | Heart Murmurs and Similar Sounds |

202
(2)

| | |
| --- | --- |
| | Cyanosis and Congenital Heart Disease |

204
(1)
205
(1)

| | |
| --- | --- |
| | Breasts/Sex Maturity Ratings in Girls |

| | |
| --- | --- |
| | Sex Maturity Ratings in Girls: Breasts |

206
(1)

| | |
| --- | --- |
| | Sex Maturity Ratings in Girls: Pubic Hair |

207
(1)

| | |
| --- | --- |
| | Male Genitalia/Sex Maturity Ratings in Boys |

| | |
| --- | --- |
| | Sex Maturity Ratings in Boys |

208
(2)

| | |
| --- | --- |
| | Abnormalities of the Penis |

210
(1)

| | |
| --- | --- |
| | Abnormalities in the Scrotum |

211
(2)
213
(1)

| | |
| --- | --- |
| | Anus, Rectum, and Prostate |

| | |
| --- | --- |
| | Abnormalities on Rectal Examination |

214
(1)

| | |
| --- | --- |
| | Abnormalities of the Vulva and Urethral Meatus |

215
(1)
216
(2)

| | |
| --- | --- |
| | Relaxations of the Pelvic Floor |

218
(1)

| | |
| --- | --- |
| | Common Variations in the Cervix |

219
(1)

| | |
| --- | --- |
| | Abnormalities of the Cervix |

220
(1)

| | |
| --- | --- |
| | Positions of the Uterus and Uterine Myomas |

221
(1)

| | |
| --- | --- |
| | The Diagnosis of Pregnancy |

222
(1)

| | |
| --- | --- |
| | The Peripheral Vascular System |

| | |
| --- | --- |
| | Chronic Vascular Insufficiency |

223
(1)

| | |
| --- | --- |
| | Peripheral Causes of Edema |

224
(1)

| | |
| --- | --- |
| | The Musculoskeletal System |

| | |
| --- | --- |
| | Abnormalities of the Hands |

225
(2)
227
(1)
228
(2)
230
(3)

| | |
| --- | --- |
| | Abnormalities of the Feet |

233
(1)
234
(2)
236
(1)
237
(1)
238
(2)
240
(2)
242
(2)

| | |
| --- | --- |
| | Abnormal Postures in Coma |

244
(1)

| | |
| --- | --- |
| | Metabolic and Structural Coma |

245
(1)

| | |
| --- | --- |
| | Attributes of Clinical Data |

246
(1)

| | |
| --- | --- |
| | Clinical Thinking and the Patient's Record |

247
(8)
249
(2)
251
(2)
253
(1)
253
(1)
254
(1)
254
(1)
Index
255