Note: Supplemental materials are not guaranteed with Rental or Used book purchases.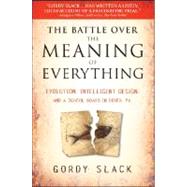 The Battle Over the Meaning of Everything Evolution, Intelligent Design, and a School Board in Dover, PA
by
Slack, Gordy
Summary
THE BATTLE OVER THE MEANING OF EVERYTHING is science journalist Gordy Slack's account of the Dover, PA, trial. It shows us that the trial revealed much more than a disagreement about how to approach science education. It revealed two essentially different and conflicting views of the world: the fundamentalist-creationist view, which mandates the existence of a creative and engaged personal God, and the secular-evolutionary one, which does not. The ruling by George W. Bush-appointed Judge John Jones III unexpectedly concluded that intelligent design was religion and not science and scolded the school board for wasting precious public time and money. This sophisticated examination of the deep cultural, religious, and political tensions that continue to divide America into two separate and increasingly alienated nations is based on Slack's personal account of the trial and interviews with key figures from both sides of the controversy. He reports not only on the trial but on the deep philosophical and cultural differences that drove it and that are still very much alive today in debates on education, government, and other American social institutions.
Table of Contents
Prologue
p. v
The Takeover
p. 1
The Train to Dover
p. 16
The Theory Is Not a Fact
p. 23
Assembling Goliath
p. 43
Thomas More and ID Lite
p. 61
ID Heavy and the Wedge
p. 74
Down by Law
p. 85
Search and Replace
p. 98
The Varieties of Materialistic Experience
p. 109
The Flagellar Fandango
p. 124
Liars for Christ
p. 144
The Unraveling
p. 158
The Fortieth Day
p. 170
The People's Court and the Gospel According to John Jones
p. 182
Afterword
p. 199
Notes
p. 209
Acknowledgments
p. 219
About the Author
p. 223
Index
p. 224
Table of Contents provided by Ingram. All Rights Reserved.