Note: Supplemental materials are not guaranteed with Rental or Used book purchases.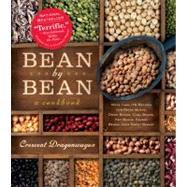 Bean by Bean : A Cookbook - More Than 200 Recipes for Fresh Beans, Dried Beans, Cool Beans, Hot Beans, Savory Beans. Even Sweet Beans!
ISBN13:
9780761132417
by
Dragonwagon, Crescent
Questions About This Book?
What version or edition is this?
This is the edition with a publication date of 1/15/2012.
What is included with this book?
The New copy of this book will include any supplemental materials advertised. Please check the title of the book to determine if it should include any CDs, lab manuals, study guides, etc.
The eBook copy of this book is not guaranteed to include any supplemental materials. Typically only the book itself is included.
Summary
Has there ever been a more generous ingredient than the bean? Down-home, yet haute, soul-satisfyingly hearty, valued, versatile, deeply delectable, healthful, and inexpensive to boot, there'¬"s nothing a bean can'¬"t do'¬ ;and nothing that Crescent Dragonwagon can'¬"t do with beans. From old friends like chickpeas and pintos to rediscovered heirloom beans like rattlesnake beans and teparies, from green beans and fresh shell beans to peanuts, lentils, and peas, Bean by Bean is the definitive cookbook on beans. It'¬"s a 200-plus recipe cornucopia overflowing with information, kitchen wisdom, lore, anecdotes, and a zest for good food and good times. Consider the lentil, to take one example. Discover it first in a delicious slather, Lentil Tapenade. Then in half a dozen soups,  including Sahadi'¬"s Lebanese Lentil Soup with Spinach, Kerala-Style Dahl, and Crescent'¬"s Very, Very Best Lentil, Mushroom & Barley Soup. It then turns up in Marinated Lentils De Puy with Greens, Baked Beets, Oranges & Walnuts. Plus there'¬"s Jamaica Jerk-Style Lentil-Vegetable Patties, Ethiopian Lentil Stew, and Lentil-Celeriac Skillet Sauce. Do the same for black beans'¬ ;from Tex-Mex Frijoles Dip to Feijoada Vegetariana to Maya'¬"s Magic Black Beans with Eggplant & Royal Rice. Or shell beans'¬ ;Newly Minted Puree of Fresh Favas, Baked Limas with Rosy Sour Cream, Edamame in a Pod. And on and on'¬ ;from starters and soups to dozens of entrees. Even desserts: Peanut Butter Cup Brownies and Red Bean Ice Cream.
Author Biography
Crescent Dragonwagon is the author of more than 50 books, seven of them cookbooks, including the James Beard Award-winning Passionate Vegetarian. She has grown more than 31 bean varieties and once had a cat named Beanblossom. She writes the blog Nothing Is Wasted on the Writer and lives in Westminster West, Vermont.
Table of Contents
Introduction: How to Know Beans
p. IX
Bean Basics
p. 1
The A, B(ean), Cs
A primer for all things bean. Everything you've ever wondered about selecting, preparing, cooking, and storing dried beans, fresh beans, shell beans, canned beans, and dehydrated beans-including, yes, a revolutionary method for making beans more belly friendly.
Hummus, Where the Heart Is
p. 23
Leguminous Starters
Small plates and sumptuous bowls beckon nibblers, grazers, and feasters alike. From rich dips like Newly Minted Puree of Fresh Favas (page 43) and the exotic Marrakech Melange (page 36), to surprising party munchies like Gotcha-Hotcha Sweet-Smoky Cocktail Peanuts (page 28), these satisfying starters are the pillars of any appetizer spread.
Soulful Simmer
p. 51
Soups for Spirit and Substance
Explore the globe with bean soup, the very potage our ancestors-even the biblical Jacob and Esau-made for thousands of years. Ladle up the flavors of the Middle East with Syrian Zucchini-Chickpea Soup (page 61), then journey to Kilimanjaro for Tanzanian Black-Eyed Pea & Coconut Soup (page 72). Nourish and soothe with Noodled Japanese Broth with Tofu & Bean Threads (page 79); turn up the heat with India's Kerala-Style Dahl (page 85); and trace the bean's journey through Europe with belly-filling Pasta e Fagioli (page 96) and garlicky Caldo Verde (page 102). End in the New World on a high note: rich, golden, avocado-and-egg flourished Fanesca.
Cool Beans
p. 127
Salads for Every Season
Crunchy or tender, hearty or light-here, green beans and dried beans dance together and apart. The cool bean takes many forms, from sprightly starter salads-Sugar Snap Pea, Orange & Spinach Salad with Citrus-Mint Vinaigrette (page 134)-all the way to full-meal salads, like Dragon-Style Dan-Dan Noodles with Baked Tofu, Bean Sprouts & Crisp Vegetables (page 147).
Chili Weather
p. 157
Chili spans the color spectrum: from Brown Bean Chili with Sweet Potatoes (page 180) to White Chili with White Beans, Poblanos & Hominy (page 182). You'll find chili variations from all cardinal directions, and, of course, their go-to go-withs: cornbreads, fixins, even salsas.
Superior Stews, Companionable Curries
p. 185
The plot thickens, or, rather, the soup does, enticing us into the realm of luscious curries and satisfying stews. Whatever you choose to call them, these hearty bowlfuls-like Dorothy Read's Yellow-Eye Beans Redux (page 190) and Mellow Coconut-Tempeh Curry with Spinach, Zucchini & Sweet Potatoes (page 206)-will surprise, tempt, and sustain you.
Bountiful Bean Bakes, Comforting Casseroles
p. 213
Bubbling and beckoning, these oven-baked beauties are truly hot items. Old-Fashioned, Down-Home All-Day Baked Beans (page 216) with Steamed Boston Brown Bread (page 219) and Vegetarian Cassoulet (page 234). Baked Beans Brazilian with Olives & Cheese (page 230), several methods for oven-baked tofu, and Summer Garden Potpie with Cheese-Herb Drop Biscuits (page 240). All are served up golden-brown and piping hot.
Home on the Range
p. 251
Simpatico Skillets and Stir-Fries
Stovetop beans are one-pot wonders: They can be both contemplative, slow-cooked simmers and quick-fire weeknight dinners. You'll discover falafel, both Traditional (page 260) and Neo-Traditional (page 264); the so easy and so good CD's Beans & Greens Pasta with Lemon, Garlic & Chile (page 273); and nearly infinite variations on the stir-fry. There's even Socca (page 277)-addictive chickpea flatbread-to soak up any leftover skillet sauce.
Beans and Grains
p. 299
Earthy Soul Mates
It's a perfect marriage: Beans and grains complete each other in traditional dishes like Mjeddrah (page 301), Dragon-style Dancin' John (page 312), and two-styles of Red Beans & Rice (pages 306 and 308). And they delight in imaginative'-bean-grain two-steps like Maya's Magic Black Beans with Eggplant & Royal Rice (page 314). All are heavenly matches made on earth.
Sweet Beans
p. 319
In Which Legumes Dessert You
Let's champion the versatility of the legume! Julie's Peanut Butter Chocolate Chip Oatmeal Cookies (page 322) are sure to satisfy your sweet tooth. So, too, will the tart Lime Tofu Mousse-Custard (page 330) and the luscious spiced navy bean custard that fills "Don't Hurt Yourself Bean Pie (page 327). And of course, this dessert chapter wouldn't be worth a hill of beans without Red Bean Ice Cream (page 339)-a delicious ending to our leguminous journey.
A Few Last Words
p. 343
Basic Beanery
p. 344
Luscious Lentils & Other Lovable Little Legumes
p. 354
Index
p. 356
Conversion Tables
p. 370
Table of Contents provided by Ingram. All Rights Reserved.