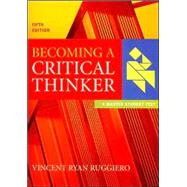 Questions About This Book?
What version or edition is this?
This is the 5th edition with a publication date of 2/1/2005.
What is included with this book?
The New copy of this book will include any supplemental materials advertised. Please check the title of the book to determine if it should include any CDs, lab manuals, study guides, etc.
Summary
The Fifth Edition ofBecoming a Critical Thinkerhas increased its market appeal by enhancing sections on persuasive communication and evaluating arguments, while continuing to stress concrete and practical applications of critical thinking in everyday situations. Coverage of technology has also been enhanced. The text breaks up critical thinking into a series of cumulative activities, taking a "student-as-consumer-of-information" perspective that encourages students to apply the skills outlined to their own lives. This unique approach has made this text a staple of many critical thinking courses. The Fifth Edition strengthens the connection between critical thinking and career preparation with new material throughout the text that focuses on communication and the evaluation of evidence in the workplace. Additionally, a new section in Chapter 6 called "Thinking Critically about Careers" addresses practical ways to apply critical thinking to career decisions. With the goals of improving students' sense of self-empowerment and their ability to communicate effectively in any situation, this text helps create a flow from the fundamentals of thinking to the exploration of arguments and evidence. A concise structure makes the text a useful supplement to any student success course. "Good Thinking" boxesfeature profiles of individuals that underscore the role of critical thinking in achievement. These boxes appear throughout the text and offer students a variety of role models to emulate. Exercisesencourage students to put strategies to practical use in their daily lives. Students are also asked to analyze and compare real arguments and viewpoints on contemporary topics as a way of expanding their own reasoning capabilities. Quizzesat the end of each chapter allow students to test their understanding of chapter concepts.
Table of Contents
Acknowledgments
v
To the Instructor
xiii
Introduction: Strategies for Effective Learning
xv
Good Thinking! The Story of Frank and Lillian Gilbreth
xv
Plan your days
xvi
Good Thinking! The Story of Art Fry
xvi
View frustrations as opportunities
xvi
Tackle unpleasant tasks immediately
xvii
Chip away at big jobs
xviii
Take charge of your mind
xviii
Listen actively
xix
Refuse to tolerate confusion
xix
Study efficiently
xix
Capture insights
xx
Read for understanding
xx
Keep a journal
xxi
Turn these strategies into habits
xxi
1
(30)
2
(1)

| | |
| --- | --- |
| | Good Thinking! The Story of Albert Einstein |

3
(1)
4
(1)

| | |
| --- | --- |
| | Key principles of thinking |

5
(5)

| | |
| --- | --- |
| | Truth is discovered, not created |

5
(2)

| | |
| --- | --- |
| | A statement can't be both true and false at the same time and in the same way |

7
(2)

| | |
| --- | --- |
| | All people make mistakes, even experts |

9
(1)

| | |
| --- | --- |
| | Good Thinking! The Story of Elizabeth Loftus |

10
(2)

| | |
| --- | --- |
| | Ideas can be examined without being embraced |

11
(1)

| | |
| --- | --- |
| | Feeling is no substitute for thinking |

11
(1)

| | |
| --- | --- |
| | Identifying facts and opinions |

12
(3)

| | |
| --- | --- |
| | Checking facts and testing opinions |

15
(6)

| | |
| --- | --- |
| | Consult everyday experience |

17
(1)

| | |
| --- | --- |
| | Consider the opinion's likely consequences |

17
(1)

| | |
| --- | --- |
| | Consider the implications |

17
(1)
18
(1)
18
(1)
19
(1)

| | |
| --- | --- |
| | Look for relevant research |

19
(2)
21
(3)
24
(1)

| | |
| --- | --- |
| | Good Thinking! The Story of Stanton Samenow |

24
(2)

| | |
| --- | --- |
| | A comprehensive thinking strategy |

26
(4)

| | |
| --- | --- |
| | Step 1: Identify facts and opinions |

27
(1)

| | |
| --- | --- |
| | Step 2: Check the facts and test the opinion(s) |

27
(1)

| | |
| --- | --- |
| | Step 3: Evaluate the evidence |

27
(1)

| | |
| --- | --- |
| | Step 4: Make your judgment |

27
(3)
30
(1)
31
(26)
32
(3)

| | |
| --- | --- |
| | Opportunities in the classroom |

33
(1)

| | |
| --- | --- |
| | Opportunities in the workplace |

33
(1)

| | |
| --- | --- |
| | Opportunities in the community |

34
(1)

| | |
| --- | --- |
| | Opportunities in relationships |

34
(1)

| | |
| --- | --- |
| | How is persuasion achieved? |

35
(1)
35
(1)

| | |
| --- | --- |
| | Understand your audience's viewpoint(s) |

35
(1)

| | |
| --- | --- |
| | Begin on a point of agreement |

35
(1)

| | |
| --- | --- |
| | Good Thinking! The Story of Dale Carnegie |

36
(2)

| | |
| --- | --- |
| | Acknowledge unpleasant facts and make appropriate concessions |

36
(1)
37
(1)

| | |
| --- | --- |
| | Keep your expectations modest |

37
(1)

| | |
| --- | --- |
| | Strategy for persuasive writing |

38
(3)

| | |
| --- | --- |
| | Step 1: State what you think about the issue and why you think it |

38
(1)

| | |
| --- | --- |
| | Step 2: Consider how those who disagree might react to your view |

39
(1)

| | |
| --- | --- |
| | Step 3: Arrange your ideas and write a draft of your presentation |

39
(1)

| | |
| --- | --- |
| | Step 4: Check your draft for matters of style |

40
(1)

| | |
| --- | --- |
| | Step 5: Check your draft for grammar, usage, punctuation, and spelling |

40
(1)

| | |
| --- | --- |
| | Good Thinking! The Story of George Orwell |

41
(1)

| | |
| --- | --- |
| | Overcoming errors in grammar |

42
(3)

| | |
| --- | --- |
| | Make your subjects and predicates agree |

42
(1)

| | |
| --- | --- |
| | Choose correct pronoun case |

42
(1)

| | |
| --- | --- |
| | Avoid sentence fragements |

43
(1)

| | |
| --- | --- |
| | Avoid mixed constructions |

43
(1)

| | |
| --- | --- |
| | Make pronoun reference clear and accurate |

44
(1)

| | |
| --- | --- |
| | Distinguish adverbs from adjectives |

44
(1)

| | |
| --- | --- |
| | Choose proper comparatives and superlatives |

44
(1)

| | |
| --- | --- |
| | Overcoming errors in usage |

45
(2)

| | |
| --- | --- |
| | Strategy for persuasive speaking |

47
(2)

| | |
| --- | --- |
| | Step 4: Create note cards |

47
(1)

| | |
| --- | --- |
| | Step 5: Rehearse using a tape or video recorder |

48
(1)

| | |
| --- | --- |
| | Strategy for group discussion |

49
(6)
55
(2)
57
(30)
58
(1)

| | |
| --- | --- |
| | Good Thinking! The Story of Viktor Frankl |

59
(1)
59
(2)
61
(5)

| | |
| --- | --- |
| | Four empowering attitudes |

66
(3)

| | |
| --- | --- |
| | Attitude 1: There's always room for improvement |

66
(1)

| | |
| --- | --- |
| | Attitude 2: Criticism, including self-criticism, has value |

67
(1)

| | |
| --- | --- |
| | Attitude 3: Effort is the key to success |

67
(1)

| | |
| --- | --- |
| | Attitude 4: Other people are as important as I am |

68
(1)
69
(3)
69
(1)

| | |
| --- | --- |
| | Dishonest appeals to emotion |

70
(1)
71
(1)
71
(1)
72
(1)
72
(5)
72
(1)
73
(2)
75
(2)

| | |
| --- | --- |
| | Good Thinking! The Story of Nellie Bly |

77
(2)
78
(1)
79
(7)

| | |
| --- | --- |
| | Be wary of first impressions |

79
(1)
80
(1)
80
(1)
80
(2)
82
(1)

| | |
| --- | --- |
| | Look for connections among subjects |

82
(1)

| | |
| --- | --- |
| | Consider other viewpoints |

82
(1)

| | |
| --- | --- |
| | Base your judgment on evidence |

83
(3)
86
(1)
87
(30)
88
(1)

| | |
| --- | --- |
| | Conducting library research |

89
(1)

| | |
| --- | --- |
| | Good Thinking! The Melvil Dewey Story |

90
(1)

| | |
| --- | --- |
| | Conducting Internet research |

91
(3)
91
(1)
91
(3)
94
(1)
95
(2)
97
(2)

| | |
| --- | --- |
| | Anecdotes and cases-in-point |

97
(1)
98
(1)
98
(1)
98
(1)

| | |
| --- | --- |
| | Good Thinking! The Story of Walter Reed |

99
(2)
100
(1)
100
(1)
100
(1)
100
(1)

| | |
| --- | --- |
| | Evaluating complex arguments |

101
(6)

| | |
| --- | --- |
| | Step 1: Identify facts and opinions |

101
(3)

| | |
| --- | --- |
| | Step 2: Check the facts and test the opinions |

104
(1)
105
(1)

| | |
| --- | --- |
| | Step 4: Evaluate the evidence |

105
(2)

| | |
| --- | --- |
| | Step 5: Make your judgment |

107
(1)
107
(9)
116
(1)

| | |
| --- | --- |
| | Recognizing Errors in Thinking |

117
(28)
118
(1)
118
(2)

| | |
| --- | --- |
| | ``Mine is better'' thinking |

118
(1)
119
(1)

| | |
| --- | --- |
| | Gullibility and skepticism |

119
(1)

| | |
| --- | --- |
| | Good Thinking! The Story of Paul Vitz |

120
(3)
121
(1)
122
(1)
122
(1)
123
(2)
123
(1)
124
(1)

| | |
| --- | --- |
| | Overgeneralizing or stereotyping |

124
(1)

| | |
| --- | --- |
| | Good Thinking! The Story of Carol Tavris |

125
(9)
126
(1)
126
(2)

| | |
| --- | --- |
| | Failure to make a distinction |

128
(1)
129
(5)
134
(4)
134
(1)

| | |
| --- | --- |
| | Shifting the burden of proof |

134
(1)
135
(1)
135
(3)
138
(5)
143
(2)

| | |
| --- | --- |
| | Applying Your Thinking Skills |

145
(54)

| | |
| --- | --- |
| | Thinking critically about everyday problems |

146
(4)

| | |
| --- | --- |
| | Step 1: Be alert for problems |

147
(1)

| | |
| --- | --- |
| | Step 2: Express the problem |

147
(1)

| | |
| --- | --- |
| | Step 3: List possible solutions |

148
(1)

| | |
| --- | --- |
| | Step 4: Select and refine your best solution |

148
(2)

| | |
| --- | --- |
| | Thinking critically about relationships |

150
(2)

| | |
| --- | --- |
| | Good Thinking! The Story of Aaron Feuerstein |

152
(4)

| | |
| --- | --- |
| | Guidelines for successful relationships |

153
(3)

| | |
| --- | --- |
| | Thinking critically about careers |

156
(3)
158
(1)

| | |
| --- | --- |
| | Thinking critically about ethical judgments |

159
(4)

| | |
| --- | --- |
| | A better basis for judgment |

162
(1)

| | |
| --- | --- |
| | Good Thinking! the Story of Chiara Lubich |

163
(4)
164
(1)
164
(3)

| | |
| --- | --- |
| | Thinking critically about commercials |

167
(5)
168
(1)
168
(1)
168
(1)
168
(1)
169
(1)
169
(1)
169
(1)
170
(2)

| | |
| --- | --- |
| | Thinking critically about print advertising |

172
(3)

| | |
| --- | --- |
| | Thinking critically about television programming |

175
(7)

| | |
| --- | --- |
| | Thinking critically about movies |

182
(3)
183
(1)
183
(1)
183
(1)
183
(2)

| | |
| --- | --- |
| | Thinking critically about music |

185
(2)

| | |
| --- | --- |
| | Thinking critically about magazines |

187
(3)

| | |
| --- | --- |
| | Thinking critically about newspapers |

190
(3)

| | |
| --- | --- |
| | Thinking critically about the Internet |

193
(3)
193
(1)

| | |
| --- | --- |
| | What function does the site serve? |

193
(1)

| | |
| --- | --- |
| | Which statements are fact and which are opinion? |

193
(1)

| | |
| --- | --- |
| | Where can statements of fact be confirmed? |

194
(1)

| | |
| --- | --- |
| | How widely shared is this opinion? What do authorities on the subject think of it? |

194
(1)

| | |
| --- | --- |
| | Is the reasoning behind the opinion logical? |

194
(1)

| | |
| --- | --- |
| | Does the evidence support the opinion? |

195
(1)
196
(3)
Epilogue
199
(1)
Make the end a beginning
199
(2)
Works Cited
201
(2)
Bibliography
203
(4)
Index
207
(4)
About the Author
211