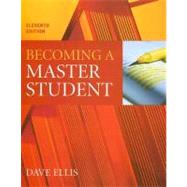 Questions About This Book?
What version or edition is this?
This is the 11th edition with a publication date of 12/1/2004.
What is included with this book?
The Used copy of this book is not guaranteed to include any supplemental materials. Typically, only the book itself is included.
Summary
The Eleventh Edition of Becoming a Master Student raises the bar for Student Success texts. While the vision and proven content of the text has been maintained, the Eleventh Edition has been rejuvenated with a cleaner, more sophisticated design to address comments that the previous layout was too "busy" and "MTV-like." The new design appeals to both traditional students and adult learners. Other enhancements include: a new, organizational framework that provides structure throughout the text and helps students learn to monitor thinking and learning; career application case studies at the end of each chapter that allow students to apply new skills to the workplace environment right away; improved integration of learning styles within each chapter to make addressing the four modes of learning easier; and expanded coverage of Multiple Intelligences and a new Visual, Auditory, and Kinesthetic inventory in to help students discover more about their individual learning styles. The long-standing best seller in student success, Becoming a Master Student gives students a framework for examining their lives from a self-discovery perspective. Through a student-created and value-based approach to life and learning, the text inspires and motivates students to acquire and develop the skills needed for success in college and throughout life. Articles, strategies, and exercises help students understand their strengths and weaknesses, set goals, and practice academic and life skills. New! Master Student Map (Metacognitive Application Process) feature provides an organizational framework that introduces each chapter and acts as a common theme throughout the text to guide students in monitoring thinking and learning. A reasoning model based on the Learning Styles Inventory, the map helps students understand why the chapter matters, what is included in the chapter, how they can use the chapter, and what to think about as they read ("As you read, ask yourself what if..."). New! Power Process: "Discover What You Want" establishes the motivation for students to act on their goals. This new Power Process is found in the Introduction. New! Technology chapter (Chapter 10) assists students in mastering learning in an online environment; finding useful, accurate information on the Internet; and taking part in online communities that promote success. New! Put it to Work feature--an in-depth article at the end of each chapter--shows students how skills apply to the world of work. Similarly, the feature discusses how skills developed in the workplace can translate to academic work. The Introduction has been enhanced by the Master Student Map and with the addition of essential advice on making the transition to college and locating campus resources. Goal Setting coverage has been enhanced: The exercise "Divide and Conquer your Goals" from the Tenth Edition has been integrated into a new article and exercise, "Setting and Achieving Goals." Similar exercises throughout the book ask students to re-think and refine their goals. The newly titled chapter 2, "Planning," also covers more on goal setting. Money Management coverage in the new "Planning" chapter (2) helps students get started in planning their finances right from the start. Discovery and Intention Journal Entry System asks students to explain the whys, whats, and hows in their writing, and offers instructors a more specific and measurable form of journal writing than
Table of Contents
Note: Each chapter begins with Master Student Map and ends with Put It to Work, Quiz, and Learning Styles Application
Introduction: Making Transitions This book is worthless;if you just read it This book is worth $1,000
Textbook reconnaissance Get the most out of this book
Commitment The Discovery and Intention Journal Entry system Rewrite this book Discovery and Intention Statement guidelines
Discovery Statement Making the transition to higher education The art of re-entry: Going back to school as an adult learner Connect to school resources Connect to community resources Extracurricular activities: Reap the benefits Following instructions Link to the world of work Ways to change a habit
Discovery Statement Power Process: Discover what you want
First Steps First Step: Truth is a key to mastery
Discovery/Intention Statement If you skipped the Introduction
Taking the First Step
The Discovery Wheel
Discovery/Intention Statement Textbook reconnaissance, take two Learning styles: Discovering how you learn
Discovery Statement Using your learning style profile to succeed in school Claim your multiple intelligences Learning by seeing, hearing, and moving: The VAK system The magic of metacognition The Master Student Motivation Attitudes, affirmations, and visualizations Attitude replacements
Planning You've got the time
Discovery/Intention Statement
The Time Monitor/Time Plan process
Discovery Statement Setting and achieving goals
Get real with your goals The ABC daily to-do list Planning sets you free Strategies for scheduling The seven-day antiprocrastination plan More ways to stop procrastination Practicing Critical Thinking #2 25 ways to get the most out of now Keep on going? Remember cultural differences Time management for right-brained people (or what to do if to-do lists are not your style)
Master monthly calendar Gearing up: Using a long-term planner Strategies for even longer-term planning
Create a lifeline Financial planning: Meeting your money goals Places to find money for school Take charge of your credit card
Education by the hour Practicing Critical Thinking #3 Power Process: Be here now Master Student Profile: Greg Louganis
Memory Take your memory out of the closet
Discovery/Intention Statement The memory jungle 20 memory techniques Pay attention to your attention
Use Q-cards to reinforce memory Set a trap for your memory Keep your brain fit for life Notable failures, part one
Remembering your car keys--or anything else
Discovery Statement Remembering names Mnemonic devices
Be a poet Notable failures, part two Practicing Critical Thinking #4
Move from problems to solutions Power Process: Love your problems (and experience your barriers) Master Student Profile: Cesar Chavez
Reading Muscle Reading
Discovery/Intention Statement How Muscle Reading works Phase one: Before you read Phase two: While you read Five smart ways to highlight a text Phase three: After you read Muscle Reading--a leaner approach Read with a dictionary in your lap Reading fast
Relax When reading is tough
Discovery Statement English as a second language Reading with children underfoot Practicing Critical Thinking #5 Power Process: Notice your pictures and let them go Master Student Profile: Helen Keller
Notes The note-taking process flows
Discovery/Intention Statement Observe
Discovery/Intention Statement What to do when you miss a class Record Review
Discovery Statement Improving your handwriting
Consider the impact of handwriting Create your instructor When your instructor talks fast Taking notes on your journey: The art of journal writing
Television note taking Taking notes while reading
Revisit your goals Get to the bones of your book with concept maps Practicing Critical Thinking #6 Power Process: I create it all Master Student Profile: Craig Kielburger
Tests Disarm tests
Discovery/Intention Statement What to do before the test Ways to predict test questions Cooperative learning: Studying with people
Intention Statement What to do during the test Words to watch for in essay questions The test isn't over until. . . Integrity in test taking: The costs of cheating Let go of test anxiety
Twenty things I like to do
Discovery/Intention Statement
Discovery Statement Overcoming math and science anxiety
Discovery/Intention Statement Taking math and science tests How to cram (even though you shouldn't)
reasons to celebrate mistakes Practicing Critical Thinking #7 Power Process: Detach Master Student Profile: Barbara Jordan
Thinking Critical thinking: A survival skill
Discovery/Intention Statement Becoming a critical thinker Attitudes of a critical thinker Finding "aha!": Creativity fuels critical thinking Tangram Ways to create ideas Create on your feet Ways to fool yourself: Six common mistakes in logic Uncovering assumptions Gaining skill at decision making Four ways to solve problems "But I don't know what I want to do": Choosing a major Majors for the taking
Make a trial choice of major Solving math and science problems Asking questions Practicing Critical Thinking #8
Explore emotional reactions
Translating goals into action
Discovery/Intention Statement Power Process: Find a bigger problem
Fix-the-world brainstorm Master Student Profile: Paul Farmer
Communicating Communicating creates our world
Discovery/Intention Statement The communication loop The communication loop: Listening The communication loop: Sending Five ways to say "I"
Discovery/Intention Statement The fine art of conflict management You deserve compliments
Write an "I" message Relationships can work Relationships change Seven steps to effective complaints Criticism really can be constructive
V.I.P.'s (very important persons) Three phases of effective writing Phase 1: Getting ready to write Phase 2: Writing a first draft Phase 3: Revising your draft
Discovery Statement Giving credit where credit is due: Avoiding the high cost of plagiarism Writing and delivering speeches Making the grade in group presentations Practicing Critical Thinking #9 Power Process: Employ your word Master Student Profile: Ron Brown
Diversity Living with diversity
Discovery/Intention Statement Diversity is real--and valuable
Table of Contents provided by Publisher. All Rights Reserved.