Note: Supplemental materials are not guaranteed with Rental or Used book purchases.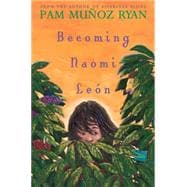 Summary
Naomi Soledad LeOn Outlaw has had a lot to contend with in her young life, her name for one. Then there are her clothes (sewn in polyester by Gram), her difficulty speaking up, & her status at school as "nobody special." But according to Gram's self-prophecies, most problems can be overcome with positive thinking. Luckily, Naomi also has her carving to strengthen her spirit. And life with Gram & her little brother, Owen, is happy & peaceful. That is, until their mother reappears after 7 years of being gone, stirring up all sorts of questions & challenging Naomi to discover who she really is.
Author Biography
A former teacher and an avid speaker on literacy, Pam Ryan is the author of more than twenty-five books for children
Table of Contents
A rabble of yesterdays
p. 1
A paddling of ducks
p. 3
A skulk of foxes
p. 16
A lamentation of swans
p. 26
A memory of elephants
p. 34
A charm of hummingbirds
p. 43
A school of fish
p. 52
An unkindness of ravens
p. 61
A burden of mules
p. 75
A shiver of sharks
p. 88
A schizophrenia of hawks
p. 107
A flight of swallows
p. 123
A passel of todays
p. 137
A drey of squirrels
p. 139
A sleuth of bears
p. 154
A leap of leopards
p. 167
A piteousness of doves
p. 178
A team of horses
p. 189
An exaltation of starlings
p. 201
A pride of lions
p. 211
A cry of hounds
p. 218
A crash of hippopotami
p. 227
A brood of chicks
p. 241
A murmuration of tomorrows
p. 244
Table of Contents provided by Rittenhouse. All Rights Reserved.