Note: Supplemental materials are not guaranteed with Rental or Used book purchases.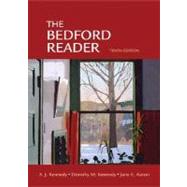 Questions About This Book?
What version or edition is this?
This is the 10th edition with a publication date of 2/6/2008.
What is included with this book?
The Used copy of this book is not guaranteed to include any supplemental materials. Typically, only the book itself is included.
Summary
One of the most widely adopted composition readers of all time,The Bedford Readercontinues to engage and inspire students with remarkable selections, outstanding instructional material, and a unique "Writers on Writing" feature in which 50 of the book's writers comment on their process and their work. Thorough coverage of critical reading, effective writing, and working with sources guides students, now more than ever, through their own academic writing. And an exciting visual dimension shows that rhetorical methods apply to both images and text.The Bedford Readeris a favorite of students for the Kennedys' clarity and wit, of instructors for the flexible and realistic view of the rhetorical methods, and of both for the superior selections and perceptive commentaries by writers worth reading.
Author Biography
X. J. KENNEDY is an acclaimed poet, children's writer, college teacher, and textbook author. He has taught freshman composition at the University of Michigan, the University of North Carolina at Greensboro, and Tufts University. Since 1966, more than two million students have treasured his introductory literature texts and The Bedford Guide for College Writers, Eighth Edition (2008), coauthored with Dorothy M. Kennedy and Marcia F. Muth.

DOROTHY M. KENNEDY is a writer and editor whose articles and reviews have appeared in both professional and academic journals. She has taught composition at the University of Michigan and Ohio University and, with X. J. Kennedy, is the recipient of the NCTE Teacher's Choice Award for Knock at a Star: A Child's Introduction to Poetry.

JANE E. AARON is a respected writer and editor who has taught composition at New York University and New School University. For Bedford/St. Martin's she is the author of The Compact Reader, Eighth Edition (2008), and 40 Model Essays: A Portable Anthology (2005).
Table of Contents
Preface for Instructors

Thematic Contents

Introduction

Why Read? Why Write? Why Not Phone?

Using The Bedford Reader

PART I. READING AND WRITING

1. Critical Reading

Reading an Essay

Nancy Mairs, Disability

Thinking Critically About Visual Images

]VISUAL IMAGE: Nicole Waugh, 6, with her father, Chief Warrant Officer Joel Waugh, departing from Fort Benning, GA, photograph by Erik S. Lesser

]2. The Writing Process

Analyzing the Writing Situation

Discovering Ideas

An Essay-in-Progress

]Rosie Anaya (student), Mental Illness and the Media

]3. Academic Writing

Responding to a Text

Integrating Source Material

Writing from Research

Avoiding Plagiarism

Sample Research Paper

Source Citation

Using MLA Style

]Rosie Anaya (student), The Best Kept Secret on Campus

PART II. THE METHODS

4. Narration: Telling a Story

VISUAL IMAGE: How Joe's Body Brought Him Fame Instead of Shame, advertisement for Charles Atlas

The Method

The Process

Focus on Verbs

Checklist for Revising a Narrative

Narration in Paragraphs

Narration in Practice: Reporting a car accident

DIFFERENCE

Maya Angelou, Champion of the World
Maya Angelou on Writing

Amy Tan, Fish Cheeks
Amy Tan on Writing

Annie Dillard, The Chase
Annie Dillard on Writing

]Harold Taw, Finding Prosperity by Feeding Monkeys

Jessica Cohen (student), Grade A: The Market for a Yale Woman's Eggs
Jessica Cohen on Writing

Shirley Jackson, The Lottery (short story)
Shirley Jackson on Writing

Note: Chapters 5 through 13 follow the same structure as Chapter 4

5. Description: Writing with Your Senses

VISUAL IMAGE: Doug and Mizan's House, East River, 1993, photograph by Margaret Morton

FATHERS

Brad Manning (student), Arm Wrestling with My Father
Brad Manning on Writing

Sarah Vowell, Shooting Dad
Sarah Vowell on Writing

]Yiyun Li, Orange Crush
]Yiyun Li on Writing

]Robert Benchley, My Face
]Robert Benchley on Writing

]James Joyce, Araby (short story)


6. Example: Pointing to Instances

]VISUAL IMAGE: Low Energy Drinks, cartoon by Glen Le Lievre

HOMELESSNESS

Barbara Lazear Ascher, On Compassion
Barbara Lazear Ascher on Writing

Anna Quindlen, Homeless
Anna Quindlen on Writing

]Andrew Koritz Krull (student), Celebrating the Pity of Brotherly Love

Brent Staples, Black Men and Public Space
Brent Staples on Writing

]Roger Rosenblatt, We Are Free to Be You, Me, Stupid, and Dead
]Roger Rosenblatt on Writing

7. Comparison and Contrast: Setting Things Side by Side

VISUAL IMAGES: American Gothic, painting by Grant Wood; Rural Rehabilitation Client, 1935, photograph by Ben Shahn

PERSONALITIES

Suzanne Britt, Neat People vs. Sloppy People
Suzanne Britt on Writing

Dave Barry, Batting Clean-up and Striking Out
Dave Barry on Writing

Bruce Catton, Grant and Lee: A Study in Contrasts
Bruce Catton on Writing

Fatema Mernissi, Size 6: The Western Women's Harem

]George Chauncey, The Legacy of Antigay Discrimination

Alice Walker, Everyday Use (short story)
Alice Walker on Writing

8. Process Analysis: Explaining Step by Step


VISUAL IMAGE: Workers Making Dolls, photograph by Wally McNamee

PAIR THEME HEADING

Linnea Saukko (student), How to Poison the Earth
Linnea Saukko on Writing

]Gretel Ehrlich, Chronicles of Ice
]Gretel Ehrlich on Writing

]Ian Frazier, How to Operate a Shower Curtain
]Ian Frazier on Writing

Jessica Mitford, Behind the Formaldehyde Curtain
Jessica Mitford on Writing

Daniel Orozco, Orientation (short story)
Daniel Orozco on Writing

9. Division or Analysis: Slicing into Parts

VISUAL IMAGE: Deconstructing Lunch, cartoon by Roz Chast

MEN AND WOMEN

Judy Brady, I Want a Wife

Armin A. Brott, Not All Men are Sly Foxes

]Bella DePaulo, The Myth of Doomed Kids
]Bella DePaulo on Writing

Laila Ayad (student), The Capricious Camera



VISUAL IMAGE: Mounted Troops on the Lookout for Likely Polish Children, photograph

Jamaica Kincaid, Girl (short story)
Jamaica Kincaid on Writing

10. Classification: Sorting into Kinds


VISUAL IMAGE: What Everyone Should Know About the Movie Rating System, chart from the Motion Picture Association of America

Russell Baker, The Plot Against People
Russell Baker on Writing

Deborah Tannen, But What Do You Mean?
Deborah Tannen on Writing

]Luc Sante, What Secrets Tell
]Luc Sante on Writing

LIES

Stephanie Ericsson, The Ways We Lie


Stephanie Ericsson on Writing

William Lutz, The World of Doublespeak
William Lutz on Writing

11. Cause and Effect: Asking Why

VISUAL IMAGE: Garbage In . . . , cartoon by Mike Thompson

Chitra Divakaruni, Live Free and Starve
Chitra Divakaruni on Writing

Marie Jadani (student), Plata O Plomo: Silver or Lead

]Sarah Adams, Be Cool to the Pizza Dude

]Chris Anderson, The Rise and Fall of the Hit
]Chris Anderson on Writing

Don DeLillo, Videotape (short story)


Don DeLillo on Writing

12. Definition: Tracing a Boundary

VISUAL IMAGE: Need Is a Very Subjective Word, advertisement for HUMMER

HURTFUL WORDS

Gloria Naylor, The Meanings of a Word
Gloria Naylor on Writing

Christine Leong (student), Being a Chink
Christine Leong on Writing

Thomas Sowell, Needs

Dagoberto Gilb, Pride
Dagoberto Gilb on Writing

]Emily Dickinson, "Hope" is the thing with feathers (poem)
]Emily Dickinson on Writing

13. Argument and Persuasion: Stating Opinions and Proposals


VISUAL IMAGE: Corporate America Flag, image from Adbusters Media Foundation

Colleen Wenke (student), Too Much Pressure

]Carol Fletcher, Madness in Magazines
]Carol Fletcher on Writing

GENERATION ME

]Andie Wurster, Won't You be My Friendster
]Andie Wurster on Writing

]Brian Williams, But Enough About You...

SAME SEX MARRIAGE

Katha Pollitt, What's Wrong with Gay Marriage?
Katha Pollitt on Writing

Charles Colson, Gay "Marriage": Societal Suicide

SECURITY VERSUS LIBERTY

PROFILING

Adnan R. Khan, Close Encounters with US Immigration

Linda Chavez, Everything Isn't Racial Profiling

IMMIGRATION

]Edwidge Danticat, Not Your Homeland
]Edwidge Danticat on Writing

]Mark Krikorian, Safety Through Immigration Control

PART III. MIXING THE METHODS

Sandra Cisneros, Only Daughter
Sandra Cisneros on Writing

]Joan Didion, In Bed
]Joan Didion on Writing

Barbara Ehrenreich, The Roots of War
Barbara Ehrenreich on Writing

Stephen Jay Gould, A Biological Homage to Mickey Mouse

VISUAL IMAGES: Mickey's "Evolution" During 50 Years, drawing; Diagram of Human and Animal Craniums, diagram

Stephen Jay Gould on Writing

Martin Luther King, Jr., I Have a Dream

Maxine Hong Kingston, No Name Woman
Maxine Hong Kingston on Writing

George Orwell, Shooting an Elephant
George Orwell on Writing

]Francine Prose, What Words Can Tell
]Francine Prose on Writing

Richard Rodriguez, Aria: A Memoir of a Bilingual Childhood
Richard Rodriguez on Writing

Edward Said, Clashing Civilizations?
Edward Said on Writing

Jonathan Swift, A Modest Proposal
Jonathan Swift on Writing

E. B. White, Once More to the Lake
E. B. White on Writing



] new to this edition