Note: Supplemental materials are not guaranteed with Rental or Used book purchases.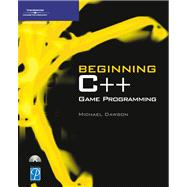 Questions About This Book?
What version or edition is this?
This is the 1st edition with a publication date of 5/13/2004.
What is included with this book?
The New copy of this book will include any supplemental materials advertised. Please check the title of the book to determine if it should include any CDs, lab manuals, study guides, etc.
Related Products
Summary
Interactivity - the unique feature that sets games apart from other forms of entertainment. The power of interactivity lies in the programming that occurs behind the scenes. If you're ready to jump into the world of programming for games, "Beginning C++Game Programming" will get you started on your journey, providing you with a solid foundation in the game programming language of the professionals. As you cover each programming concept, you'll create small games that demonstrate your new skills. Wrap things up by combining each major concept to create an ambitious multiple player game. Get ready to master the basics of game programming with C++!
Author Biography
Michael Dawson has worked as a programmer and a computer game designer and producer. In addition to real-world game industry experience, Dawson earned his bachelor's degree in Computer Science from the University of Southern California. Dawson currently teaches game programming and design through UCLA Extension courses and private lessons.
Table of Contents
Introduction
xi
Chapter 1 Types, Variables, and Standard I/O: Lost Fortune
1
(34)
1
(3)

| | |
| --- | --- |
| | Writing Your First C++ Program |

4
(5)

| | |
| --- | --- |
| | Working with the std Namespace |

9
(2)

| | |
| --- | --- |
| | Using Arithmetic Operators |

11
(2)

| | |
| --- | --- |
| | Declaring and Initializing Variables |

13
(8)

| | |
| --- | --- |
| | Performing Arithmetic Operations with Variables |

21
(4)
25
(2)
27
(3)
30
(1)
31
(1)
32
(1)
33
(2)
Chapter 2 Truth, Branching, and the Game Loop: Guess My Number
35
(36)
35
(1)
36
(4)
40
(3)

| | |
| --- | --- |
| | Using the switch Statement |

43
(3)
46
(2)
48
(2)

| | |
| --- | --- |
| | Using break and continue Statements |

50
(2)
52
(6)

| | |
| --- | --- |
| | Generating Random Numbers |

58
(3)

| | |
| --- | --- |
| | Understanding the Game Loop |

61
(2)

| | |
| --- | --- |
| | Introducing Guess My Number |

63
(3)
66
(1)
67
(1)
68
(1)
69
(2)
Chapter 3 For Loops, Strings, and Arrays: Word Jumble
71
(28)
71
(4)
75
(2)
77
(6)
83
(4)

| | |
| --- | --- |
| | Understanding C-Style Strings |

87
(1)

| | |
| --- | --- |
| | Using Multidimensional Arrays |

88
(2)
90
(4)
94
(1)
95
(2)
97
(1)
97
(2)
Chapter 4 The Standard Template Library: Hangman
99
(30)

| | |
| --- | --- |
| | Introducing the Standard Template Library |

99
(1)
100
(5)
105
(7)
112
(4)

| | |
| --- | --- |
| | Understanding Vector Performance |

116
(2)

| | |
| --- | --- |
| | Examining Other STL Containers |

118
(1)
119
(1)
120
(4)
124
(1)
125
(1)
126
(1)
127
(2)
Chapter 5 Functions: Mad Lib
129
(32)
129
(3)

| | |
| --- | --- |
| | Using Parameters and Return Values |

132
(5)

| | |
| --- | --- |
| | Understanding Software Reuse |

137
(1)
138
(4)
142
(3)
145
(1)
145
(4)
149
(2)
151
(2)

| | |
| --- | --- |
| | Introducing the Mad Lib Game |

153
(3)
156
(1)
157
(1)
158
(1)
159
(2)
Chapter 6 References: Tic-Tac-Toe
161
(30)
161
(3)

| | |
| --- | --- |
| | Passing References to Alter Arguments |

164
(3)

| | |
| --- | --- |
| | Passing References for Efficiency |

167
(3)

| | |
| --- | --- |
| | Deciding How to Pass Arguments |

170
(1)
171
(3)

| | |
| --- | --- |
| | Introducing the Tic-Tac-Toe Game |

174
(12)
186
(1)
187
(2)
189
(1)
189
(2)
Chapter 7 Pointers: Tic-Tac-Toe 2.0
191
(28)

| | |
| --- | --- |
| | Understanding Pointer Basics |

191
(7)

| | |
| --- | --- |
| | Understanding Pointers and Constants |

198
(3)
201
(4)
205
(4)

| | |
| --- | --- |
| | Understanding the Relationship between Pointers and Arrays |

209
(4)

| | |
| --- | --- |
| | Introducing the Tic-Tac-Toe 2.0 Game |

213
(1)
213
(2)
215
(1)
216
(1)
217
(2)
Chapter 8 Classes: Critter Caretaker
219
(26)
219
(5)
224
(2)

| | |
| --- | --- |
| | Setting Member Access Levels |

226
(5)

| | |
| --- | --- |
| | Using Static Data Members and Member Functions |

231
(4)

| | |
| --- | --- |
| | Introducing the Critter Caretaker Game |

235
(6)
241
(1)
242
(1)
243
(1)
244
(1)
Chapter 9 Advanced Classes and Dynamic Memory: Game Lobby
245
(34)
245
(4)

| | |
| --- | --- |
| | Using Friend Functions and Operator Overloading |

249
(3)

| | |
| --- | --- |
| | Dynamically Allocating Memory |

252
(6)

| | |
| --- | --- |
| | Working with Data Members and the Heap |

258
(17)
275
(1)
276
(2)
278
(1)
278
(1)
Chapter 10 Inheritance and Polymorphism: Blackjack
279
(46)
279
(5)

| | |
| --- | --- |
| | Controlling Access under Inheritance |

284
(2)

| | |
| --- | --- |
| | Calling and Overriding Base Class Member Functions |

286
(4)

| | |
| --- | --- |
| | Using Overloaded Assignment Operators and Copy Constructors in Derived Classes |

290
(1)
291
(5)
296
(3)
299
(4)

| | |
| --- | --- |
| | Introducing the Blackjack Game |

303
(19)
322
(1)
323
(1)
324
(1)
324
(1)
Index
325