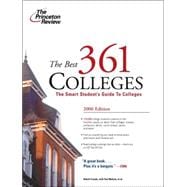 Summary
The Princeton Review asks college students (more than 110,000 of them) what their schools are really like, and reports the most revealing answers in this book. The "Best Party School" ranking list gets a lot of attention, but it is just one small part of this must-have guide that covers all the essentials--from professors to cafeteria food, and everything in between. The unique rankings in The Best 361 Colleges rate the nation's top schools in more than 60 categories, including: Professors Get High Marks Best Academic Bang for Your Buck Dorms Like Palaces Most Politically Active Diverse Student Population Great College Newspaper ...and many more!
Table of Contents
Introduction
p. 1
A Parent's Guide to the College Search
p. 3
Ap_lic_t_o_
p. 7
How We Produce This Book
p. 9
How This Book is Organized
p. 13
Glossary
p. 23
About Those College Rankings
p. 25
Schools Ranked by Category
p. 29
The Best 361 Colleges
p. 45
"My roommate's Feet Really Stink"
p. 769
Indexes
p. 785
Index of College Counselors
p. 786
Index of Schools
p. 801
Index of Schools by Location
p. 805
About the Authors
p. 810
Table of Contents provided by Ingram. All Rights Reserved.