Note: Supplemental materials are not guaranteed with Rental or Used book purchases.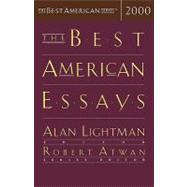 The Best American Essays 2000
ISBN13:
9780618035809
by
Lightman
Houghton Mifflin Harcourt
Summary
Best-selling author Alan Lightman selects the year's finest nonfiction as this acclaimed series celebrates its fifteenth year. He has chosen a diverse, very personal collection that celebrates the essay as an independent genre unlike any other. This year's pieces embrace stylistic freedom and strong opinions and afford the reader a fascinating view of the writer's mind as it struggles with truth, memory, and experience. Featured writers include Jamaica Kincaid, Edward Hoagland, Cynthia Ozick, Mary Gordon, Edwidge Danticat, and others.
Table of Contents
Foreword
ix
Introduction
xiii

| | |
| --- | --- |
| | The Last Time I Saw Paris |

1
(12)
13
(7)

| | |
| --- | --- |
| | The Joys and Perils of Victimhood |

20
(12)
32
(15)
47
(5)
52
(12)
64
(16)
80
(6)

| | |
| --- | --- |
| | Those Words That Echo...Echo...Echo Through Life |

86
(5)

| | |
| --- | --- |
| | If You Are What You Eat, Then What Am I? |

91
(10)
101
(9)
110
(12)
122
(12)
134
(6)

| | |
| --- | --- |
| | The Singer Solution to World Poverty |

140
(7)

| | |
| --- | --- |
| | Gray Area: Thinking with a Damaged Brain |

147
(13)
160
(9)
169
(13)

| | |
| --- | --- |
| | What's So Bad About Hate? |

182
(19)
201
(10)

| | |
| --- | --- |
| | A Shark in the Mind of One Contemplating Wilderness |

211
(10)
Biographical Notes
221
(5)
Notable Essays of 1999
226
Excerpts
IntroductionLast winter, at the end of December, my family and friends rented neighboring apartments on an island off Florida and waited together for the new millennium. We came from Massachusetts and Connecticut, Maryland and South Carolina, all of us sensing some cosmic event. For the past twenty-five years, we had been visiting each other at birthdays, naming ceremonies, the deaths of parents, bat mitzvahs, postmortems of love affairs gone bad. An island off the coast of Florida is an ideal spot to ponder the meaning of one thousand years. First of all, youre cut off from the rest of the world and its day-to-day rumblings. For a millennium-size view, you need distance and space. Second, life moves at a slow pace on an island, and a person has the time and the quiet to think. A half-mile away from the center of town, only a single road meanders through the palm trees and low shrubs at the edge of the sea. Most people get around by cycle or on foot, accompanied by the silent stares of ospreys and crows. The most demanding activity of the day might be embarking on a trip to the small market for milk or shaking the sand from your sandals after a walk on the beach. And the weather is pleasantly warm, adding to the unreality of the place. As you stand on your deck in shorts and T-shirt, gazing at the waves sliding in from infinity, a light-year from e-mail and telephones and faxes, you feel that you might at last be prepared to take stock. On the eve of the millennium, December 31, 1999, we gather in one of our condos. All in all, there are nineteen or twenty of us, including college-age children born through our years together, a six-month-old baby named Grace, and my mother-in-law, Harriet, perky at age eighty- three. We sit on the screened balcony drinking cold beer and retelling stories until the smooth ocean light starts to fade. Then we begin eating. Sam, a schoolteacher who spent last summer in Zanzibar and received private lessons on the local cooking, serves a Zanzibari feast. In fact, weve been smelling Sams dinner in preparation all afternoon as aromas wafted from his kitchen window. Rice spiced with cardamom, pepper, cinnamon, and coconut milk; masala and onions, peppers, zucchini, tomatoes, eggplant, seasoned with cumin, garam masala, and Zanzibari red curry; lightly fried pompano caught earlier in the day by David and his two daughters. Sams cooking for his friends has always been an expression of love. Sam himself is ablaze in his Hawaiian shirt with yellow blossoms and pink fishtails. "Whats your wish for the millennium?" I ask him as he passes around a bowl of kiwi, cantaloupe, and honeydew for dessert. "That my millennium countdown clock doesnt explode at midnight." There follows a discussion of the purpose of digital millennium countdown clocks after their final moment. And will they start over on a count to 3000 or freeze in stupefaction at 0:0:0:0? Mary, often hours or days late for any occasion, arrives
---

Excerpted from The Best American Essays 2000
All rights reserved by the original copyright owners. Excerpts are provided for display purposes only and may not be reproduced, reprinted or distributed without the written permission of the publisher.