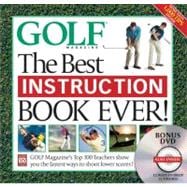 Best Instruction Book Ever! : Golf Magazine's Top 100 Teachers Show You the Fastest Ways to Shoot Lower Scores!
by
Editors of Golf Magazine
Time Home Entertainment, Inc
Summary
Want simple tips to help smash it past your pals? Want to know how to generate the most power from your swing, put it close with irons, and stop three-putting? GOLF Magazine's Top 100 Teachers combine their knowledge to help you get your game back in shape with their first book, "The Best Instruction Book Ever!" This book would include the simple, direct and helpful tips that make the YOUR GAME section in GOLF Magazine the most popular part of the magazine. The book will be concentrated into different key areas: Driving, Iron Play, Chipping, Putting, Fault Fixes, Trouble Shots. Stunning photography from the world's best golf instruction photographers would give the book an extra edge in the marketplace as well as three dimensional diagrams which take instruction to a new level.