Note: Supplemental materials are not guaranteed with Rental or Used book purchases.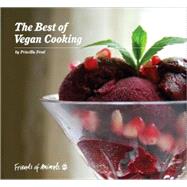 Summary
What's for dinner? Pick any page of this gorgeous cookbook, which includes many of Priscilla Feral'¿¿s own offerings, and those of other creators who have joined in as well to offer 84 recipes that represent cuisines from around the globe. Feral, a former designer for Godiva, explores the diversity of "plant-based cuisine" with contributions from New York food columnist Mark Bittman, restaurateur Susan Wu and other high-profile culinary artists. It'¿¿s all about community, as its extraordinarily talented food photographer Linda Long has said -- expanding the offerings beyond one person's vision. The array includes Manhattan Vegetable Chowder (Trish Sebben-Krupka), Himalayan Red Rice Salad with Cranberries (Jesus Gonzales), Spicy Barbecued Tofu Triangles (Bryant Terry), and Charlie Trotter'¿¿s Mignardises (Chocolate Truffles). Also included are chapters on pasta, risotto (including gluten-free recipes), and pancakes, breads, and muffins. Forget the things you've heard about a vegan diet being a sacrifice, or this type of cooking being tasteless or unattractive; this book banishes the stereotype forever, and the results have won accolades from vegan and other reviewers alike. With recipes ranging from easy to sophisticated, the content and tone provide careful guidance to delicious, healthful meals for everyone, and for both new and experienced cooks. The book's intro includes a brief explanation of the vegan philosophy of living in harmony with the planet, but the overriding message is one of healthful eating and fresh, well-prepared dishes. We all win -- humans, the animals, and the planet.
Author Biography
Priscilla Feral, President of Friends of Animals An avid gardener and vegan cook, Priscilla Feral nurtures a profound respect for nature and its abundance, the source of these plant-derived recipes. Together with Lee Hall, Priscilla previously authored Dining With Friends: The Art of North American Vegan Cuisine. Priscilla once designed chocolate recipes for Godiva, and has since produced vegan recipes that have appeared in The New York Times and many other publications. A resident of Connecticut, Priscilla enjoys nature walks, and, as an advocate for animals, seeks to cultivate respect for their right to live on their terms.