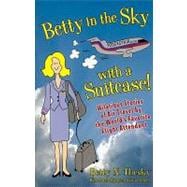 Betty in the Sky with a Suitcase : Hilarious Stories of Air Travel by the World's Favorite Flight Attendant
by
Thesky, Betty N.
List Price: $9.95

More New and Used
from Private Sellers
Summary
At any given moment, approximately 60,000 people are airborne over the U.S. With that many strangers crammed into metal tubes hurtling across the country at 30,000 feet, unusual things are bound to happen. In 2005, a career flight attendant named Betty began collecting stories of the odd and outrageous things that happen in airplanes. Betty has been a flight attendant for a major airline for nearly a quarter of a century. In that time, she has taken over 12,500 flights, spent more than 25,000 hours in the air, and served some six million passengers. Not all of the passengers are normal, and not all of the flights are routine. Operating under the premise that "what doesn't kill you, gives you a great story" Betty began recording tales of the weird and wonderful world of flying, sharing interesting events in a podcast entitled, "Betty in the Sky with a Suitcase" which has now been turned into a book.
Author Biography
Betty was born the youngest of ten children in Pittsburgh, Pennsylvania. She knew from a young age that she wanted to travel and see the world. After graduating from Shippensburg University, she got a job as a flight attendant for a major airline. Betty currently lives in Los Angeles, California and is still flying¨so you might see her on your next flight! In 2005 she started her own podcast called ˘Betty in the Sky with a Suitcase÷. The podcast was then turned into a book. Composed of airline and travel stories, both the podcast and the book give listeners an insider's view of life in the air.