Note: Supplemental materials are not guaranteed with Rental or Used book purchases.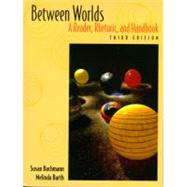 Between Worlds : A Reader, Rhetoric, and Handbook
ISBN13:
9780321055095
by
Bachmann
Summary
This immediately engaging resource will help anyone understand how to write better with a thematically-organized collection of readings (organized around the theme of " in-between-ness" ), a writing guide, and a concise handbook. Engages readers through the theme of in-between-ness and helps readers to become better writers with an easy to understand writing guide. Readings on being caught between generations, living with diverse cultures, dealing with gender conflicts, and exploring differing perceptions of the self and others. Writing Guide. Handbook. General interest.
Table of Contents
Thematic Contents
xix
Rhetorical Contents
xxi
Preface
xxv
Part I: The Reader
1
(346)

| | |
| --- | --- |
| | Getting the Most from Your Reading |

2
(1)
2
(1)
3
(4)

| | |
| --- | --- |
| | Discussion of Active Reading |

5
(1)

| | |
| --- | --- |
| | Practicing Active Reading |

6
(1)
7
(51)
8
(4)
12
(3)
15
(3)
18
(3)
21
(8)
29
(4)
33
(2)

| | |
| --- | --- |
| | Fetal Alcohol Syndrome: A National Perspective |

35
(4)
39
(19)
58
(92)
59
(6)

| | |
| --- | --- |
| | A New Vision of Masculinity |

65
(8)
73
(7)

| | |
| --- | --- |
| | Yes, Families Are Changing---For the Better |

80
(8)
88
(10)
98
(5)
103
(4)
107
(4)
111
(2)
113
(18)
131
(3)

| | |
| --- | --- |
| | Where Are You Going, Where Have You Been? |

134
(16)
150
(73)
151
(3)
154
(4)
158
(8)
166
(4)
170
(6)
176
(9)

| | |
| --- | --- |
| | The Rage of the Black Middle Class |

185
(10)
195
(2)

| | |
| --- | --- |
| | Proper Care and Maintenance |

197
(14)
211
(12)
223
(42)

| | |
| --- | --- |
| | Living Under Circe's Spell |

224
(4)
228
(3)

| | |
| --- | --- |
| | The Blind Always Come as Such a Surprise |

231
(2)
233
(3)
236
(3)
239
(6)
245
(8)

| | |
| --- | --- |
| | Black Men and Public Space |

253
(4)
257
(2)
259
(6)
265
(82)

| | |
| --- | --- |
| | Remote Control: How to Raise a Media Skeptic |

266
(3)

| | |
| --- | --- |
| | But First, a Word from Our Sponsor |

269
(6)

| | |
| --- | --- |
| | The Language of Advertising |

275
(4)
279
(4)

| | |
| --- | --- |
| | California Department of Health Services |

283
(7)
290
(3)

| | |
| --- | --- |
| | Youth Must Be Served---With Respect |

293
(7)

| | |
| --- | --- |
| | Making Media a Familiar Scapegoat |

300
(4)
304
(9)

| | |
| --- | --- |
| | Solid Waste: Treasure in Trash |

313
(5)

| | |
| --- | --- |
| | The NEXT Industrial Revolution |

318
(13)

| | |
| --- | --- |
| | The Haves and the Have Nots |

331
(5)
336
(4)
340
(2)

| | |
| --- | --- |
| | Three Ways of Meeting Oppression |

342
(5)
Part II: The Rhetoric
347
(220)
349
(22)
349
(18)

| | |
| --- | --- |
| | Analyzing Lamott's Purpose |

352
(1)

| | |
| --- | --- |
| | What's the Aim?...What's the Claim? |

352
(1)

| | |
| --- | --- |
| | Analyzing Lamott's Strategy |

352
(1)
353
(1)
353
(2)
355
(1)
355
(1)

| | |
| --- | --- |
| | Using a Journal for Active Reading |

355
(1)

| | |
| --- | --- |
| | Practicing Journal Writing |

356
(1)
357
(1)
357
(1)
358
(1)
359
(1)
359
(2)

| | |
| --- | --- |
| | Practicing Active Reading |

361
(1)

| | |
| --- | --- |
| | Group Brainstorming---Collaborative Learning |

361
(1)

| | |
| --- | --- |
| | Practicing Brainstorming in Small Groups |

362
(1)
363
(1)
363
(1)
363
(1)

| | |
| --- | --- |
| | Identifying Your Audience |

363
(4)
367
(1)

| | |
| --- | --- |
| | Analyzing Audience Awareness |

367
(1)

| | |
| --- | --- |
| | Example: Why Stop Smoking? Let's Get Clinical |

367
(4)
369
(1)

| | |
| --- | --- |
| | Practicing Audience Awareness |

370
(1)

| | |
| --- | --- |
| | A Final Word About Audience |

370
(1)

| | |
| --- | --- |
| | Organizing and Drafting an Essay |

371
(29)

| | |
| --- | --- |
| | From Prewriting to Purpose |

371
(3)
371
(1)
372
(1)
373
(1)
374
(4)
375
(1)
375
(1)
376
(1)
376
(1)
376
(1)

| | |
| --- | --- |
| | Practicing Thesis Writing |

377
(1)

| | |
| --- | --- |
| | Critical Thinking and the ``So What?'' Response |

377
(1)
378
(6)
378
(1)
379
(1)
379
(1)
380
(1)
380
(1)

| | |
| --- | --- |
| | Evaluating the First Draft |

381
(2)

| | |
| --- | --- |
| | Revising the Thesis: What's Your Aim? What's Your Claim? |

383
(1)
384
(3)

| | |
| --- | --- |
| | Organizing to Highlight Key Points |

384
(1)

| | |
| --- | --- |
| | To Outline or Not to Outline |

385
(1)
385
(1)
386
(1)
387
(3)
387
(1)

| | |
| --- | --- |
| | Practicing Topic Sentences |

388
(1)

| | |
| --- | --- |
| | Analyzing an Effective Paragraph |

388
(1)
389
(1)
390
(1)

| | |
| --- | --- |
| | Using Sources for Support |

390
(6)
390
(1)

| | |
| --- | --- |
| | Giving Credit and Avoiding Plagiarism |

391
(1)

| | |
| --- | --- |
| | Incorporating Quoted Material |

392
(1)

| | |
| --- | --- |
| | The Sandwich as a Development Technique |

392
(1)

| | |
| --- | --- |
| | Practicing the ``Sandwich'' |

393
(3)
396
(4)

| | |
| --- | --- |
| | Illustrating Paraphrasing |

396
(2)

| | |
| --- | --- |
| | Combining Paraphrase and Quotation |

398
(1)

| | |
| --- | --- |
| | Practicing Combining Paraphrase and Quotation |

398
(2)
400
(24)
400
(11)

| | |
| --- | --- |
| | Thinking Critically for an Audience |

400
(1)
401
(1)
402
(4)

| | |
| --- | --- |
| | Revising Can Make the Difference |

406
(1)

| | |
| --- | --- |
| | A Checklist for Revising and Editing Papers |

406
(1)

| | |
| --- | --- |
| | Student Example: Dieting Daze: No In-Between |

407
(4)
411
(6)

| | |
| --- | --- |
| | A Paragraph That Lacks Coherence |

411
(1)
411
(1)
412
(2)
414
(1)

| | |
| --- | --- |
| | Synonyms or Key Word Substitutions |

414
(1)
414
(1)

| | |
| --- | --- |
| | Transitions Between Paragraphs |

415
(1)
416
(1)
417
(1)
417
(4)

| | |
| --- | --- |
| | Introductions and Audience |

417
(1)
418
(3)

| | |
| --- | --- |
| | A Final Word on Introductions |

421
(1)
421
(3)

| | |
| --- | --- |
| | Final Tips for Writing Conclusions |

423
(1)

| | |
| --- | --- |
| | Methods for Developing Essays |

424
(87)

| | |
| --- | --- |
| | Combining Multiple Methods |

424
(3)
425
(1)
426
(1)
427
(1)

| | |
| --- | --- |
| | Organizing and Developing a Summary |

427
(3)

| | |
| --- | --- |
| | Student Example: A Summary of ``Three Ways of Dealing With Oppression'' |

428
(1)

| | |
| --- | --- |
| | Analyzing the Writer's Strategy |

429
(1)

| | |
| --- | --- |
| | Summary as Part of a Larger Assignment |

430
(1)
430
(1)
431
(1)
431
(1)

| | |
| --- | --- |
| | Organizing and Developing a Narrative |

431
(6)

| | |
| --- | --- |
| | Brainstorming for a Subject |

432
(1)
432
(1)

| | |
| --- | --- |
| | From Brainstorming to Drafting a Paper |

433
(1)

| | |
| --- | --- |
| | Student Example: A Bully's Unjust Deserts |

433
(3)

| | |
| --- | --- |
| | Analyzing the Writer's Strategy |

436
(1)

| | |
| --- | --- |
| | Practicing Writing Essays with Narration |

436
(1)

| | |
| --- | --- |
| | Final Tips for a Narrative |

437
(1)
438
(1)

| | |
| --- | --- |
| | When to Write an Evaluative Response Essay |

438
(1)

| | |
| --- | --- |
| | Organizing and Developing an Evaluative Response Essay |

438
(5)

| | |
| --- | --- |
| | Student Example: Thanksgiving Beyond the Cleaver Family |

439
(3)

| | |
| --- | --- |
| | Analyzing the Writer's Strategy |

442
(1)

| | |
| --- | --- |
| | Practicing Writing an Evaluative Response Essay |

443
(1)

| | |
| --- | --- |
| | Final Tips for an Evaluative Response |

443
(1)
444
(1)
444
(1)

| | |
| --- | --- |
| | Organizing and Developing a Definition Essay |

445
(1)
445
(6)

| | |
| --- | --- |
| | Example: ``Concentration Camp'' or ``Relocation Center'': What's in a Name? |

446
(3)

| | |
| --- | --- |
| | Analyzing the Writer's Strategy |

449
(1)

| | |
| --- | --- |
| | Practicing Writing Definition Essays |

450
(1)

| | |
| --- | --- |
| | Final Tips for a Definition Essay |

451
(1)
452
(1)

| | |
| --- | --- |
| | When to Use Cause-and-Effect Development |

452
(1)

| | |
| --- | --- |
| | Organizing and Developing a Cause-and-Effect Essay |

452
(2)
454
(4)

| | |
| --- | --- |
| | Practicing Finding Causes and Effects |

455
(1)

| | |
| --- | --- |
| | Example: I Confess Some Envy |

455
(2)

| | |
| --- | --- |
| | Analyzing the Writer's Strategy |

457
(1)

| | |
| --- | --- |
| | Practicing Writing Essays About Causes and Effects |

458
(1)

| | |
| --- | --- |
| | Final Tips for Cause-and-Effect Development |

458
(1)
459
(1)

| | |
| --- | --- |
| | When to Use Comparison-Contrast Development |

459
(1)

| | |
| --- | --- |
| | Organizing and Developing a Comparison-Contrast Essay |

460
(1)

| | |
| --- | --- |
| | Which Method to Use: Block or Point by Point? |

460
(5)
461
(2)

| | |
| --- | --- |
| | Analyzing the Writer's Strategy |

463
(1)

| | |
| --- | --- |
| | Practicing Writing Essays that Use Comparison and Contrast |

464
(1)

| | |
| --- | --- |
| | Final Tips for Comparison and Contrast |

465
(1)
466
(1)
466
(1)
466
(1)
467
(1)

| | |
| --- | --- |
| | Organizing and Developing an Argument |

467
(1)

| | |
| --- | --- |
| | Avoiding Logical Fallacies |

468
(1)
468
(1)
469
(7)

| | |
| --- | --- |
| | Student Example: My Favorite School Class: Involuntary Servitude |

469
(2)

| | |
| --- | --- |
| | Explanatory Notes for the Argument Essay |

471
(5)

| | |
| --- | --- |
| | Practicing Writing Argument Essays |

476
(1)
476
(1)

| | |
| --- | --- |
| | Analysis of a Process, Problem, or Subject |

477
(1)
477
(1)
477
(6)

| | |
| --- | --- |
| | Brainstorming for a Topic |

478
(1)

| | |
| --- | --- |
| | Organizing and Developing a Process Analysis |

478
(1)

| | |
| --- | --- |
| | Practicing Process Analysis in Small Groups |

478
(1)

| | |
| --- | --- |
| | Example: Oh, What a Web We Weave |

479
(3)

| | |
| --- | --- |
| | Analyzing the Writer's Strategy |

482
(1)

| | |
| --- | --- |
| | Practicing Writing a Process Analysis Essay |

482
(1)

| | |
| --- | --- |
| | Final Tips for a Process Analysis Essay |

483
(1)
483
(6)

| | |
| --- | --- |
| | When to Use Problem Analysis |

483
(1)

| | |
| --- | --- |
| | Organizing and Developing a Problem Analysis Essay |

483
(2)

| | |
| --- | --- |
| | Example: Don't Let Stereotypes Warp Your Judgments |

485
(3)

| | |
| --- | --- |
| | Analyzing the Writer's Strategy |

488
(1)

| | |
| --- | --- |
| | Practicing Writing a Problem Analysis Essay |

488
(1)

| | |
| --- | --- |
| | Final Tips for a Problem Analysis Essay |

489
(1)
489
(2)

| | |
| --- | --- |
| | Brainstorming for a Topic |

489
(1)

| | |
| --- | --- |
| | When to Use Subject Analysis |

489
(1)

| | |
| --- | --- |
| | Organizing and Developing a Subject Analysis |

489
(1)

| | |
| --- | --- |
| | Essay Assignments for Subject Analysis |

490
(1)

| | |
| --- | --- |
| | Character and Poetry Analysis |

491
(1)

| | |
| --- | --- |
| | What Is Character Analysis? |

491
(8)

| | |
| --- | --- |
| | Organizing and Developing a Character Analysis Essay |

491
(1)

| | |
| --- | --- |
| | Prewriting for a Text-Based Character Study |

491
(1)

| | |
| --- | --- |
| | Listing Information from a Book |

491
(1)

| | |
| --- | --- |
| | Listing Information from a Short Story |

492
(1)

| | |
| --- | --- |
| | Arranging and Thesis Construction |

493
(1)

| | |
| --- | --- |
| | Student Example: Who Were You, Connie, and Why Did You Go? |

494
(4)

| | |
| --- | --- |
| | Analyzing the Writer's Strategy |

498
(1)

| | |
| --- | --- |
| | Practicing Writing a Character Analysis |

499
(1)
499
(8)

| | |
| --- | --- |
| | How to Actively Read a Poem |

501
(1)
502
(1)
503
(1)

| | |
| --- | --- |
| | Student Example: Digging Deep |

503
(3)

| | |
| --- | --- |
| | Analyzing the Writer's Strategy |

506
(1)

| | |
| --- | --- |
| | Practicing Writing Poetry Analysis |

506
(1)

| | |
| --- | --- |
| | Final Tips for Poetry Analysis |

507
(1)
507
(4)
507
(1)
508
(1)

| | |
| --- | --- |
| | An Outline for an In-Class Essay |

509
(1)

| | |
| --- | --- |
| | Practicing Outlining for an In-Class Essay |

510
(1)

| | |
| --- | --- |
| | Writing the Research Paper |

511
(56)

| | |
| --- | --- |
| | Planning the Research Paper |

511
(2)
511
(1)

| | |
| --- | --- |
| | Time Schedule for the Research Paper |

512
(1)

| | |
| --- | --- |
| | Gathering Library Material |

513
(2)
513
(1)
514
(1)
514
(1)
514
(1)
515
(11)

| | |
| --- | --- |
| | Keeping Track of Internet Sources |

516
(1)

| | |
| --- | --- |
| | The Abuse of Electronic Sources |

517
(1)

| | |
| --- | --- |
| | Evaluating Online Sources |

517
(2)

| | |
| --- | --- |
| | Using Traditional Methods |

519
(1)
519
(2)

| | |
| --- | --- |
| | Sample Bibliography Cards |

521
(1)
522
(1)

| | |
| --- | --- |
| | Practice Finding the Errors |

523
(1)
524
(2)

| | |
| --- | --- |
| | Developing a Working Thesis |

526
(1)

| | |
| --- | --- |
| | Gathering Additional Information: The Interview |

526
(20)

| | |
| --- | --- |
| | Preparing for the Interview |

526
(1)
527
(1)
527
(1)

| | |
| --- | --- |
| | Sample Student Paper: From Access to Acceptance: Enabling America's Largest Minority |

528
(1)

| | |
| --- | --- |
| | Explanatory Notes for the Research Paper |

529
(17)

| | |
| --- | --- |
| | Documenting the Research Paper: MLA Style |

546
(15)

| | |
| --- | --- |
| | Writing Parenthetical Citations |

546
(4)

| | |
| --- | --- |
| | Preparing the Works-Cited Page |

550
(1)
551
(9)

| | |
| --- | --- |
| | Organizing the Works Cited |

560
(1)

| | |
| --- | --- |
| | Documenting the Research Paper: APA Style |

561
(6)

| | |
| --- | --- |
| | Writing Parenthetical Citations |

561
(1)

| | |
| --- | --- |
| | Specific Examples of APA Form |

561
(2)

| | |
| --- | --- |
| | Preparing the References Page |

563
(1)
563
(4)
Part III: The Handbook
567
(64)

| | |
| --- | --- |
| | Editing Symbols (these also appear on rear inside cover) |

568
(2)

| | |
| --- | --- |
| | Understanding How Sentences Work |

570
(9)
570
(2)
570
(1)
571
(1)
571
(1)
572
(1)
572
(1)
572
(1)

| | |
| --- | --- |
| | Object of the Preposition |

572
(1)
572
(1)
572
(1)
572
(1)
573
(1)
573
(1)
574
(2)
574
(1)
575
(1)
576
(1)
576
(1)
576
(1)
577
(2)
577
(1)
577
(1)
578
(1)

| | |
| --- | --- |
| | Compound-Complex Sentences |

578
(1)

| | |
| --- | --- |
| | Practicing Sentence Variation |

578
(1)

| | |
| --- | --- |
| | Understanding Common Errors |

579
(16)
579
(2)

| | |
| --- | --- |
| | Run-on or Fused Sentences |

581
(3)
581
(1)

| | |
| --- | --- |
| | Correcting Run-on Sentences |

581
(1)
582
(1)
582
(2)

| | |
| --- | --- |
| | Pronoun Reference Agreement |

584
(2)
586
(2)
588
(2)

| | |
| --- | --- |
| | Shifts in Person and Number |

588
(1)
589
(1)
589
(1)
590
(2)
591
(1)
591
(1)

| | |
| --- | --- |
| | Misplaced (and Dangling) Modifiers |

592
(1)
593
(2)
593
(1)
593
(1)
593
(1)
594
(1)

| | |
| --- | --- |
| | Understanding Punctuation |

595
(18)
595
(3)
598
(3)
598
(1)
599
(2)

| | |
| --- | --- |
| | The Period, Question Mark, and Exclamation Point |

601
(1)
602
(1)
603
(1)
604
(1)
604
(3)
607
(1)
608
(1)
609
(1)
610
(1)
610
(3)

| | |
| --- | --- |
| | Understanding Faulty Word Choice |

613
(4)
613
(1)

| | |
| --- | --- |
| | Slang, Jargon, and Colloquial Words |

614
(1)

| | |
| --- | --- |
| | Archaic Words, Euphemisms, and Pretentious Words |

614
(1)
615
(1)
615
(2)

| | |
| --- | --- |
| | Understanding Commonly Confused Words |

617
(14)
617
(14)
Acknowledgments
631
(3)
Author Index
634
(1)
Subject and Title Index
635
(9)
Editing Symbols chart appears opposite
644