Note: Supplemental materials are not guaranteed with Rental or Used book purchases.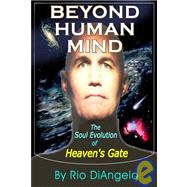 Beyond Human Mind: the Soul Evolution of Heaven's Gate
ISBN13:
9781427618559
by
Diangelo, Rio
Summary
Beyond Human Mind-The Soul Evolution of Heaven┐s Gate by Rio DiAngelo (Author) First Edition (Hardcover) This book redefines the story of Heaven's Gate told by the last insider. A well written, autobiographical, true-life account experienced by Rio DiAngelo. After turning forty years old, feeling grateful for a full creative life he prays to God for a way to show his appreciation. In 1994 he joins the Heaven's Gate, cloistered, celibate monastery for men and women to focus on a life of giving back to God, only to realize soon after that the group of people were the ┐Second Coming of Jesus┐ and His present day Disciples. Includes Rio┐s three years with the group and ten years after, a statement from DO, the leader and representative from Heaven and what He taught. Plus personal testimonials from each member of the group recorded days before their mass suicide in 1997. Find out: * The untold truth about the largest mass suicide in U.S. history. * Why they did it. * Why the news media did not report the whole story. * How they knew it was the present day Jesus. * How the members created a Soul to make the transition.
Author Biography
Rio DiAngelo has been a spiritual seeker his whole life. At an early age he was exposed to many different belief systems from around which started his quest for spiritual answers to life's questions such as ˘Why are we here?, What is our greatest potential?, What is the purpose to life? and How can we all grow closer to God?÷ He studied Eastern and Western philosophy's from many spiritual leaders. In his new book ˘Beyond Human Mind-the Soul Evolution of Heaven's Gate÷ he has a way of gathering his collective wisdom and presenting it as a simple lesson plan for gaining Higher Soul Mind through Behavioral Refinements. He calls it a Meditative Metamorphic Methodology.A Corporate Art Director, Former Celibate Monk, Author and Ex-Member of the Heaven's Gate Monastery.This Spiritual Teacher has been a Master of Soul development for 14 years. He has helped many people change their life's into a positive blessing of Self Improvement, Love and Spiritual Advancement.Featured on: TV ű Larry King Live Prime Time Live with Diane Sawyer CNN's Anderson Cooper 360 ˘This Morning÷ in London National Geographic's ˘Final Report.÷ History Channel MAGAZINE - Newsweek/Cover Story Fate/Cover Story People Us People Magazine's ˘25 most Intriguing People of the Year.÷ RADIO ű Art Bell National Public Radio BOOKű ˘Beyond Human Mind ű The Soul Evolution of Heaven's Gate.÷