Note: Supplemental materials are not guaranteed with Rental or Used book purchases.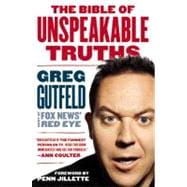 The Bible of Unspeakable Truths
ISBN13:
9780446552301
by
Gutfeld, Greg
Summary
Greg Gutfeld, the acclaimed host of the popular, nightly Fox News show Red Eye, has packed this book full of his most aggressive (and funny) diatribes -- each chapter exploring Unspeakable Truths that cut right to the core and go well beyond just politics. Greg deconstructs pop culture, media, kids, disease, race, food, sex, celebrity, current events, and nearly every other aspect of life, with Truths including but not limited to: "if you're over 25 and still use party as a verb, then you're beyond redemption," "the media wanted bird flu to kill thousands," "attractive people don't write for a living," "death row inmates make the best husbands," and "the urge to punch Zach Braff in the face is completely natural." With an irreverent voice, incredible wit, and a firm take on just about everything, this is a manual for how to think about stuff, by a guy who has thought about precisely that same stuff. And, even if you disagree with Greg, this book will make you laugh--guaranteed.* *Not guaranteed.
Author Biography
Greg Gutfeld is-áthe host of Fox News Channel's nightly news show,-á
Red Eye
, and a blogger for The Daily Gut. He was one of the first and most popular bloggers at
The Huffington Post
, and the only one-áto garner a petition to be thrown off the site. Born and raised in
San Mateo
,
California
, Gutfeld earned-áhis bachelor's degree from the
University
of
California
,
Berkeley
, and currently resides in
New York City
with his wife, Elena.
Table of Contents
Media Assjackets
p. 1
Political Crap
p. 15
Stupid Brats
p. 67
Obligatory Sex Junk
p. 81
Pets and the People Who Touch Them
p. 105
Racial Junk and Junk That's Racial
p. 113
Celebrity Psychosis
p. 121
Terror and Other Unimportant Stuff
p. 133
Things That Are Stupid
p. 145
Gender Studying
p. 159
Health Mulch
p. 177
Society, Culture, and Other Vague Chapter Headings
p. 201
Sporting Sport Sports
p. 223
Religion and Morality (Don't Worry, It's Short)
p. 229
Crime and the Criminals Who Crime It
p. 239
Drugs and How Much I Hate (Meaning Miss) Them
p. 247
Stuff You Put in Your Face
p. 253
Miscellany (i.e., Really Great Stuff That Pretty Much Could Go Anywhere in the Book but Ended Up Here Because I'm Lazy)
p. 259
Table of Contents provided by Ingram. All Rights Reserved.