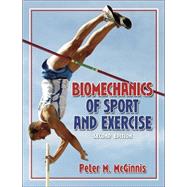 List Price: $83.00
In Stock Usually Ships in 24 Hours
Questions About This Book?
What version or edition is this?
This is the 2nd edition with a publication date of 11/1/2004.
What is included with this book?
The Used copy of this book is not guaranteed to inclue any supplemental materials. Typically, only the book itself is included.
Summary
Like the groundbreaking first edition, >Biomechanics of Sport and Exercise, Second Edition,> introduces exercise and sport biomechanics in simple and concise terms rather than focusing on complex math and physics. With a unique presentation of biomechanical concepts supported with illustrations, the book helps students learn to appreciate external forces and their effects, how the body generates forces to maintain position, and how forces create movement in physical activities.>Biomechanics of Sport and Exercise, Second Edition,> allows students to discover the principles of biomechanics through observation of common activities. By observing ordinary activities firsthand, students will be able to develop functional and meaningful explanations, resulting in a deeper understanding of the underlying mechanical concepts. This practical approach combines striking visual elements with clear and concise language to encourage active learning and improved comprehension.Many new benefits are in the second edition for students and instructors alike:--More sample problems throughout the book to illustrate problem-solving techniques-A quick reference guide of frequently used equations printed on the inside cover-A new chapter on technology used in the study of biomechanics-Review questions at the end of each chapter to test the reader's understanding of important concepts-A new instructor guide outlining each chapter and step-by-step solutions to the quantitative problems presented, as well as a test package>Biomechanics of Sport and Exercise, Second Edition,> is ideal for those needing a deeper understanding of biomechanics from a qualitative perspective. Designed for students who will likely take only one course in biomechanics, the text prepares students to utilize the principles of biomechanics as professionals in the physical activity field. Thoroughly updated and expanded, >Biomechanics of Sport and Exercise, Second Edition,> makes the biomechanics of physical activity easy to understand and apply.
Author Biography
Peter M. McGinnis is a professor in the department of exercise science and sport studies at the State University of New York, College at Cortland, where he has taught since 1990.
Table of Contents
Preface
ix
Acknowledgments
xi
Introduction Why Study Biomechanics?
1
(2)
3
(1)

| | |
| --- | --- |
| | What Are the Goals of Exercise and Sport Biomechanics? |

3
(7)

| | |
| --- | --- |
| | The History of Sport Biomechanics |

10
(1)

| | |
| --- | --- |
| | The Organization of Mechanics |

11
(1)

| | |
| --- | --- |
| | Basic Dimensions and Units of Measurement Used in Mechanics |

12
(2)
14
(3)

| | |
| --- | --- |
| | Part I External Biomechanics: External Forces and Their Effects on the Body and Its Movement |

17
(194)

| | |
| --- | --- |
| | Forces: Maintaining Equilibrium or Changing Motion |

19
(28)
20
(1)
21
(2)
23
(4)

| | |
| --- | --- |
| | Addition of Forces: Force Composition |

27
(8)
35
(4)
39
(5)
44
(3)

| | |
| --- | --- |
| | Linear Kinematics: Describing Objects in Linear Motion |

47
(30)
48
(2)
50
(12)

| | |
| --- | --- |
| | Uniform Acceleration and Projectile Motion |

62
(11)
73
(4)

| | |
| --- | --- |
| | Linear Kinetics: Explaining the Causes of Linear Motion |

77
(24)

| | |
| --- | --- |
| | Newton's First Law of Motion: Law of Inertia |

78
(3)
81
(6)

| | |
| --- | --- |
| | Newton's Second Law of Motion: Law of Acceleration |

87
(4)
91
(4)

| | |
| --- | --- |
| | Newton's Third Law of Motion: Law of Action-Reaction |

95
(1)

| | |
| --- | --- |
| | Newton's Law of Universal Gravitation |

96
(1)
97
(4)

| | |
| --- | --- |
| | Work, Power, and Energy: Explaining the Causes of Motion Without Newton |

101
(16)
102
(3)
105
(2)

| | |
| --- | --- |
| | The Work-Energy Relationship |

107
(5)
112
(1)
113
(4)

| | |
| --- | --- |
| | Torques and Moments of Force: Maintaining Equilibrium or Changing Angular Motion |

117
(30)
118
(8)

| | |
| --- | --- |
| | Forces and Torques in Equilibrium |

126
(3)

| | |
| --- | --- |
| | What Is Center of Gravity? |

129
(14)
143
(4)

| | |
| --- | --- |
| | Angular Kinematics: Describing Objects in Angular Motion |

147
(26)

| | |
| --- | --- |
| | Angular Position and Displacement |

148
(3)

| | |
| --- | --- |
| | Angular and Linear Displacement |

151
(2)
153
(1)

| | |
| --- | --- |
| | Angular and Linear Velocity |

153
(3)
156
(1)

| | |
| --- | --- |
| | Angular and Linear Acceleration |

156
(2)

| | |
| --- | --- |
| | Anatomical System for Describing Limb Movements |

158
(11)
169
(4)

| | |
| --- | --- |
| | Angular Kinetics: Explaining the Causes of Angular Motion |

173
(20)
174
(6)
180
(2)

| | |
| --- | --- |
| | Angular Interpretation of Newton's First Law of Motion |

182
(3)

| | |
| --- | --- |
| | Angular Interpretation of Newton's Second Law of Motion |

185
(1)

| | |
| --- | --- |
| | Angular Impulse and Angular Momentum |

186
(1)

| | |
| --- | --- |
| | Angular Interpretation of Newton's Third Law of Motion |

187
(2)
189
(4)

| | |
| --- | --- |
| | Fluid Mechanics: The Effects of Water and Air |

193
(18)

| | |
| --- | --- |
| | Buoyant Force: Force Due to Immersion |

194
(3)

| | |
| --- | --- |
| | Dynamic Fluid Force: Force Due to Relative Motion |

197
(12)
209
(2)

| | |
| --- | --- |
| | Part II Internal Biomechanics: Internal Forces and Their Effects on the Body and Its Movement |

211
(74)

| | |
| --- | --- |
| | Mechanics of Biological Materials: Stresses and Strains on the Body |

213
(24)
214
(10)
224
(2)

| | |
| --- | --- |
| | Mechanical Properties of Materials: The Stress-Strain Relationship |

226
(4)

| | |
| --- | --- |
| | Mechanical Properties of the Musculoskeletal System |

230
(5)
235
(2)

| | |
| --- | --- |
| | The Skeletal System: The Rigid Framework of the Body |

237
(14)
238
(4)
242
(7)
249
(2)

| | |
| --- | --- |
| | The Muscular System: The Motors of the Body |

251
(22)

| | |
| --- | --- |
| | The Structure of Skeletal Muscle |

252
(3)
255
(5)
260
(11)
271
(2)

| | |
| --- | --- |
| | The Nervous System: Control of the Musculoskeletal System |

273
(12)

| | |
| --- | --- |
| | The Nervous System and the Neuron |

274
(2)
276
(2)
278
(4)
282
(3)

| | |
| --- | --- |
| | Part III Applying Biomechanical Principles |

285
(86)

| | |
| --- | --- |
| | Qualitative Biomechanical Analysis to Improve Technique |

287
(28)

| | |
| --- | --- |
| | Types of Biomechanical Analysis |

288
(1)

| | |
| --- | --- |
| | Qualitative Biomechanical Analysis to Improve Technique |

289
(10)
299
(14)
313
(2)

| | |
| --- | --- |
| | Qualitative Biomechanical Analysis to Improve Training |

315
(24)

| | |
| --- | --- |
| | Biomechanics and Training |

316
(1)

| | |
| --- | --- |
| | Qualitative Anatomical Analysis Method |

317
(4)
321
(12)
333
(6)

| | |
| --- | --- |
| | Qualitative Biomechanical Analysis to Understand Injury Development |

339
(22)

| | |
| --- | --- |
| | Mechanical Stress and Injury |

340
(2)

| | |
| --- | --- |
| | Tissue Response to Stress |

342
(3)

| | |
| --- | --- |
| | Mechanism of Overuse Injury |

345
(1)

| | |
| --- | --- |
| | Individual Differences in Tissue Threshold |

345
(1)

| | |
| --- | --- |
| | Intrinsic and Extrinsic Factors Affecting Injury |

346
(3)
349
(9)
358
(3)

| | |
| --- | --- |
| | Technology in Biomechanics |

361
(10)

| | |
| --- | --- |
| | Quantitative Biomechanical Analysis |

362
(1)
362
(2)

| | |
| --- | --- |
| | Tools for Measuring Biomechanical Variables |

364
(5)
369
(2)
Appendix A Units of Measurement and Conversions
371
(6)
Appendix B Answers to Selected Problems and Review Questions
377
(10)
Glossary
387
(12)
References and Suggested Readings
399
(4)
Index
403
(8)
About the Author
411