Note: Supplemental materials are not guaranteed with Rental or Used book purchases.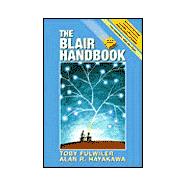 Questions About This Book?
What version or edition is this?
This is the 4th edition with a publication date of 6/1/2002.
What is included with this book?
The New copy of this book will include any supplemental materials advertised. Please check the title of the book to determine if it should include any CDs, lab manuals, study guides, etc.
Summary
A reference handbook for any course. Focused on the needs of contemporary college writers, the widely acclaimed Blair Handbook provides a practical, comprehensive handbook and extensive research manual. Organized around the writing process, it offers professional and student samples of the qualities of good writing, and teaches students how to effectively shape, organize, and develop a voice of their own as they write. It explains and illustrates issues of style, grammar, punctuation, usage, and mechanics as matters of writer choices that depend upon audience, purpose, and situation rather than static and absolute rules.
Table of Contents
Preface
xxii
PART ONE Writing in College
1
(36)

| | |
| --- | --- |
| | Questions and Answers About Writing |

3
(8)

| | |
| --- | --- |
| | What is difficult about writing? |

3
(1)

| | |
| --- | --- |
| | What do you enjoy about writing? |

4
(1)

| | |
| --- | --- |
| | What surprises are in store? |

5
(1)

| | |
| --- | --- |
| | Why is reading important? |

6
(1)

| | |
| --- | --- |
| | What can you learn from the experience of others? |

6
(2)

| | |
| --- | --- |
| | What else do you want to know about writing? |

8
(3)

| | |
| --- | --- |
| | Reading Critically to Think Critically |

11
(15)

| | |
| --- | --- |
| | Reading to understand ESL* |

11
(4)
15
(11)
26
(11)

| | |
| --- | --- |
| | Describing writing as a process ESL |

26
(2)
28
(1)
29
(1)
30
(1)
31
(1)
32
(1)
33
(1)

| | |
| --- | --- |
| | Writing in English as a second language |

34
(3)
PART TWO Planning
37
(38)
39
(11)
39
(2)
41
(2)

| | |
| --- | --- |
| | Ideas for college journals ESL |

43
(7)

| | |
| --- | --- |
| | Inventing and Discovering |

50
(8)
50
(1)
51
(2)
53
(1)

| | |
| --- | --- |
| | Asking reporters' questions |

53
(1)
54
(1)
55
(1)
55
(3)

| | |
| --- | --- |
| | Assuming a Rhetorical Stance |

58
(17)
58
(4)
62
(5)
67
(1)
68
(7)
PART THREE Drafting
75
(78)
77
(16)

| | |
| --- | --- |
| | Delineating character (who?) |

78
(1)

| | |
| --- | --- |
| | Finding a subject (what?) |

79
(3)

| | |
| --- | --- |
| | Establishing perspective (how?) |

82
(2)

| | |
| --- | --- |
| | Describing the setting (where?) |

84
(1)

| | |
| --- | --- |
| | Narrating a sequence of events (when?) |

85
(1)

| | |
| --- | --- |
| | Developing a theme (why?) |

86
(3)

| | |
| --- | --- |
| | Shaping the whole paper (student essay) |

89
(4)
93
(17)
93
(1)
94
(1)
95
(1)

| | |
| --- | --- |
| | Using strategies to explain |

96
(8)
104
(1)

| | |
| --- | --- |
| | Maintaining a neutral perspective |

105
(1)

| | |
| --- | --- |
| | Shaping the whole paper (student essay) |

105
(5)
110
(28)

| | |
| --- | --- |
| | Understanding the elements of argument |

110
(3)
113
(2)
115
(2)
117
(1)
118
(6)

| | |
| --- | --- |
| | Organizing a position paper |

124
(5)

| | |
| --- | --- |
| | Shaping the whole paper (student essay) |

129
(9)
138
(15)

| | |
| --- | --- |
| | Writing interpretive essays |

138
(1)
139
(1)

| | |
| --- | --- |
| | Joining an interpretive community |

140
(3)

| | |
| --- | --- |
| | Developing an interpretation |

143
(4)

| | |
| --- | --- |
| | Interpreting different genres |

147
(2)

| | |
| --- | --- |
| | Shaping the whole paper (student essay) |

149
(4)
PART FOUR Researching
153
(118)
155
(17)
156
(2)

| | |
| --- | --- |
| | Managing the research process ESL |

158
(5)

| | |
| --- | --- |
| | Formulating a working thesis |

163
(1)
164
(1)

| | |
| --- | --- |
| | Using the writing process |

165
(7)

| | |
| --- | --- |
| | Conducting Library Research |

172
(23)

| | |
| --- | --- |
| | Planning library research |

173
(2)

| | |
| --- | --- |
| | Finding sources of information |

175
(11)
186
(2)

| | |
| --- | --- |
| | Reading library sources critically |

188
(1)
189
(6)

| | |
| --- | --- |
| | Conducting Internet Research |

195
(8)
195
(3)

| | |
| --- | --- |
| | Check e-mail and newsgroups |

198
(1)
199
(4)

| | |
| --- | --- |
| | Conducting field Research |

203
(10)
204
(1)
205
(3)
208
(2)
210
(3)

| | |
| --- | --- |
| | Evaluating Research Sources |

213
(15)

| | |
| --- | --- |
| | Evaluating library sources |

213
(4)

| | |
| --- | --- |
| | Evaluating electronic sources |

217
(7)
224
(4)
228
(17)
228
(1)
229
(1)

| | |
| --- | --- |
| | Synthesizing information from sources |

229
(1)

| | |
| --- | --- |
| | Integrating information from sources ESL |

230
(10)
240
(1)

| | |
| --- | --- |
| | Using sources in an I-search essay |

241
(1)

| | |
| --- | --- |
| | Understanding and avoiding plagiarism |

241
(4)

| | |
| --- | --- |
| | A Sampler of Research Essays |

245
(26)
245
(2)
247
(7)
254
(11)

| | |
| --- | --- |
| | Collaborative research essay |

265
(6)
PART FIVE Revising
271
(44)
273
(9)

| | |
| --- | --- |
| | Understanding revising ESL |

273
(1)
274
(1)

| | |
| --- | --- |
| | Asking revision questions |

275
(2)

| | |
| --- | --- |
| | Using revision strategies |

277
(5)
282
(14)
282
(3)
285
(2)
287
(3)
290
(4)

| | |
| --- | --- |
| | Experimenting with revising versus academic convention |

294
(2)
296
(9)
296
(1)

| | |
| --- | --- |
| | Giving constructive responses ESL |

297
(3)
300
(1)

| | |
| --- | --- |
| | Responding through one-to-one conferences |

300
(1)

| | |
| --- | --- |
| | Responding in writing groups ESL |

301
(4)
305
(10)
305
(1)
306
(2)
308
(2)
310
(1)
311
(2)
313
(2)
PART SIX Editing
315
(16)
317
(14)
318
(7)

| | |
| --- | --- |
| | Understanding the meaning of ``error'' |

325
(1)
325
(1)
326
(2)

| | |
| --- | --- |
| | Editing when English is your second language ESL |

328
(1)

| | |
| --- | --- |
| | Using part six of The Blair Handbook |

329
(2)
EDITING FOR EFFECTIVENESS
331
(132)

| | |
| --- | --- |
| | Shaping Strong Paragraphs |

333
(10)

| | |
| --- | --- |
| | Ensuring that paragraphs are unified |

333
(1)
334
(4)

| | |
| --- | --- |
| | Making paragraphs coherent |

338
(5)

| | |
| --- | --- |
| | Improving Openings and Conclusions |

343
(14)
343
(4)
347
(3)

| | |
| --- | --- |
| | Making conclusions satisfying |

350
(3)

| | |
| --- | --- |
| | Strengthening conclusions |

353
(4)

| | |
| --- | --- |
| | Strengthening Sentence Structure |

357
(17)
357
(4)
361
(2)

| | |
| --- | --- |
| | Coordinating and subordinating effectively ESL |

363
(5)

| | |
| --- | --- |
| | Eliminating choppy sentences |

368
(1)
368
(3)

| | |
| --- | --- |
| | Creating effective parallelism |

371
(3)

| | |
| --- | --- |
| | Creating Emphasis and Variety |

374
(15)

| | |
| --- | --- |
| | Using the emphatic first and final positions |

374
(3)
377
(2)

| | |
| --- | --- |
| | Varying sentence types ESL |

379
(5)

| | |
| --- | --- |
| | Varying sentence openings |

384
(1)

| | |
| --- | --- |
| | Using deliberate repetition |

385
(1)

| | |
| --- | --- |
| | Omitting words deliberately |

386
(3)
389
(15)

| | |
| --- | --- |
| | Using concrete, specific nouns |

390
(1)
391
(4)

| | |
| --- | --- |
| | Selecting active or passive voice ESL |

395
(5)

| | |
| --- | --- |
| | Using vital modifiers ESL |

400
(4)
404
(13)

| | |
| --- | --- |
| | Eliminating vague generalities |

405
(1)
406
(1)

| | |
| --- | --- |
| | Simplifying grammatical constructions |

407
(2)

| | |
| --- | --- |
| | Eliminating redundancy ESL |

409
(3)

| | |
| --- | --- |
| | Avoiding pretentious language |

412
(1)
413
(4)
417
(10)
417
(2)

| | |
| --- | --- |
| | Selecting a point of view |

419
(2)

| | |
| --- | --- |
| | Achieving the right level of formality |

421
(3)

| | |
| --- | --- |
| | Maintaining consistent tone |

424
(3)
427
(25)

| | |
| --- | --- |
| | Understanding the history of English |

427
(2)

| | |
| --- | --- |
| | Using the dictionary and thesaurus ESL |

429
(6)

| | |
| --- | --- |
| | Expanding your vocabulary |

435
(4)
439
(1)

| | |
| --- | --- |
| | Distinguishing among frequently confused words |

440
(1)

| | |
| --- | --- |
| | Using prepositions and particles idiomatically ESL |

440
(5)

| | |
| --- | --- |
| | Using slang, regionalisms and jargon |

445
(2)

| | |
| --- | --- |
| | Using figurative language |

447
(2)
449
(3)

| | |
| --- | --- |
| | Eliminating Biased Language |

452
(11)
452
(2)

| | |
| --- | --- |
| | Using labels carefully ESL |

454
(3)
457
(6)
EDITING GRAMMAR
463
(120)

| | |
| --- | --- |
| | Eliminating Sentence Fragments |

464
(8)

| | |
| --- | --- |
| | Editing fragments lacking subjects or verbs ESL |

464
(4)

| | |
| --- | --- |
| | Editing dependent clause fragments |

468
(1)

| | |
| --- | --- |
| | Using sentence fragments for special effects |

469
(3)

| | |
| --- | --- |
| | Correcting Fused Sentences and Comma Splices |

472
(10)

| | |
| --- | --- |
| | Using a comma and a coordinating conjunction |

474
(1)
475
(2)
477
(1)

| | |
| --- | --- |
| | Writing separate sentences |

477
(1)

| | |
| --- | --- |
| | Subordinating one clause to the other |

478
(1)

| | |
| --- | --- |
| | Creating one independent clause |

478
(4)
482
(39)
482
(1)

| | |
| --- | --- |
| | Understanding the five verb forms |

482
(3)

| | |
| --- | --- |
| | Using standard verb forms ESL |

485
(8)

| | |
| --- | --- |
| | Using auxiliary verbs ESL |

493
(3)
496
(1)
496
(3)

| | |
| --- | --- |
| | Using verb tenses in appropriate sequence |

499
(3)
502
(1)
502
(1)

| | |
| --- | --- |
| | Using the subjunctive mood |

503
(2)
505
(1)

| | |
| --- | --- |
| | Making subjects and verbs agree |

505
(1)

| | |
| --- | --- |
| | Ignoring words between subject and verb |

506
(1)

| | |
| --- | --- |
| | Finding the subject when it follows the verb |

507
(1)

| | |
| --- | --- |
| | Creating agreement with linking verbs |

508
(1)

| | |
| --- | --- |
| | Making verbs agree with subjects joined by and |

509
(1)

| | |
| --- | --- |
| | Making verbs agree with subjects joined by or and nor |

510
(1)

| | |
| --- | --- |
| | Making verbs agree with collective nouns ESL |

511
(1)

| | |
| --- | --- |
| | Making verbs agree with indefinite pronouns ESL |

512
(3)

| | |
| --- | --- |
| | Making verbs agree with who, which, and that |

515
(1)

| | |
| --- | --- |
| | Making verbs agree with subjects that refer to amounts |

516
(1)

| | |
| --- | --- |
| | Using noun phrases and noun clauses |

516
(1)

| | |
| --- | --- |
| | Using singular verbs with titles and with words used as words |

517
(1)

| | |
| --- | --- |
| | Recognizing singular subjects ending in -s |

517
(1)

| | |
| --- | --- |
| | Recognizing troublesome plurals ESL |

517
(4)

| | |
| --- | --- |
| | Using Modifiers Correctly |

521
(19)

| | |
| --- | --- |
| | Choosing adjectives or adverbs ESL |

521
(3)

| | |
| --- | --- |
| | Using adjectives after linking verbs |

524
(1)

| | |
| --- | --- |
| | Choosing between commonly confused modifiers |

524
(2)

| | |
| --- | --- |
| | Avoiding double negatives ESL |

526
(2)

| | |
| --- | --- |
| | Using comparatives and superlatives ESL |

528
(4)

| | |
| --- | --- |
| | Placing modifiers correctly |

532
(2)

| | |
| --- | --- |
| | Eliminating dangling modifiers |

534
(1)

| | |
| --- | --- |
| | Moving disruptive modifiers ESL |

535
(5)
540
(28)
540
(1)

| | |
| --- | --- |
| | Establishing a clear antecedent |

540
(2)

| | |
| --- | --- |
| | Providing explicit antecedents ESL |

542
(2)

| | |
| --- | --- |
| | Replacing a vague if, the, that |

544
(1)

| | |
| --- | --- |
| | Choosing who, which, that |

545
(3)

| | |
| --- | --- |
| | Eliminating unneeded pronouns |

548
(1)
548
(1)

| | |
| --- | --- |
| | Making pronouns and antecedents agree ESL |

548
(2)

| | |
| --- | --- |
| | Making pronouns agree with antecedents joined by and |

550
(1)

| | |
| --- | --- |
| | Making pronouns agree with antecedents, joined by or and nor |

550
(1)

| | |
| --- | --- |
| | Making pronouns agree with collective nouns |

551
(1)

| | |
| --- | --- |
| | Making pronouns agree with indefinite antecedent |

552
(3)
555
(1)
555
(1)

| | |
| --- | --- |
| | Choosing case after elements joined by and, or, and nor |

556
(3)

| | |
| --- | --- |
| | Choosing case for appositive pronouns |

559
(1)

| | |
| --- | --- |
| | Choosing us or we before a noun |

560
(1)

| | |
| --- | --- |
| | Choosing case with verbals |

560
(2)

| | |
| --- | --- |
| | Choosing case after than or as |

562
(1)
563
(2)

| | |
| --- | --- |
| | Choosing reflexive pronouns |

565
(3)

| | |
| --- | --- |
| | Making Sentences Consistent and Complete |

568
(15)

| | |
| --- | --- |
| | Avoiding unnecessary shifts |

568
(7)

| | |
| --- | --- |
| | Eliminating mixed constructions |

575
(3)
578
(5)
EDITING PUNCTUATION
583
(72)
584
(6)
584
(1)
585
(2)
587
(3)
590
(23)

| | |
| --- | --- |
| | Using commas before coordinating conjunctions joining independent clauses |

591
(1)

| | |
| --- | --- |
| | Using commas after introductory elements |

592
(2)

| | |
| --- | --- |
| | Using commas to self off nonrestrictive elements |

594
(3)

| | |
| --- | --- |
| | Using commas to set off parenthetical expressions and element of contract |

597
(1)

| | |
| --- | --- |
| | Using commas to set off tag sentences, direct address, and interjections |

598
(2)

| | |
| --- | --- |
| | Using commas between items in a serious and between coordinate adjectives |

600
(1)

| | |
| --- | --- |
| | Using commas with quotations |

601
(2)

| | |
| --- | --- |
| | Using commas with numbers, dates, names, places, and addresses |

603
(2)

| | |
| --- | --- |
| | Using commas to prevent misreading |

605
(2)
607
(6)
613
(6)

| | |
| --- | --- |
| | Using semicolons between independent clauses |

613
(2)

| | |
| --- | --- |
| | Using semicolons in a series containing commas |

615
(4)
619
(4)

| | |
| --- | --- |
| | Using colons as marks of introduction |

619
(2)

| | |
| --- | --- |
| | Using colons as marks of separation |

621
(2)
623
(9)

| | |
| --- | --- |
| | Using appostrophes to form the possessive case of nouns and indefinite pronouns |

623
(3)

| | |
| --- | --- |
| | Forming plurals of words used as words, letters, numbers, and symbols |

626
(1)

| | |
| --- | --- |
| | Using apostrophes to show the omission of letter |

627
(5)
632
(11)

| | |
| --- | --- |
| | Using quotation marks for direct quotations |

633
(2)

| | |
| --- | --- |
| | Using quotation marks for dialogue |

635
(1)

| | |
| --- | --- |
| | Using quotation marks for certain titles |

636
(2)

| | |
| --- | --- |
| | Using quotation marks for translations, specialized terms, ironic usages, and nicknames |

638
(1)

| | |
| --- | --- |
| | Using other punctuation with quotation marks |

639
(4)
643
(12)
643
(3)
646
(2)
648
(2)
650
(2)
652
(3)
EDITING MECHANICS
655
(46)
656
(15)

| | |
| --- | --- |
| | Checking for commonly confused words ESL |

656
(6)
662
(9)
671
(7)

| | |
| --- | --- |
| | Capitalizing the first word of sentence |

671
(1)

| | |
| --- | --- |
| | Capitalizing quotations and lines of poetry |

672
(1)

| | |
| --- | --- |
| | Capitalizing proper nouns and their derivatives |

673
(3)
676
(2)
678
(6)

| | |
| --- | --- |
| | Hyphenating words at the ends of lines |

678
(1)

| | |
| --- | --- |
| | Hyphenating after some prefixes |

679
(1)

| | |
| --- | --- |
| | Hyphenating compound words |

680
(1)

| | |
| --- | --- |
| | Hyphenating numbers, fractions and units of measure |

681
(3)
684
(5)
684
(1)

| | |
| --- | --- |
| | Italicizing the names of individual trains, ships, airplanes, and spacecraft |

685
(1)

| | |
| --- | --- |
| | Italicizing for emphasis and clarity |

685
(1)

| | |
| --- | --- |
| | Italicizing words, numerals, and letters used as words |

686
(1)

| | |
| --- | --- |
| | Italicizing words from other languages |

686
(3)

| | |
| --- | --- |
| | Numbers and Abbreviations |

689
(12)

| | |
| --- | --- |
| | Choosing between figures and words according to context |

689
(2)

| | |
| --- | --- |
| | Using figures when required by convention ESL |

691
(2)

| | |
| --- | --- |
| | Limiting abbreviations in nontechnical texts |

693
(1)

| | |
| --- | --- |
| | Abbreviating titles and degrees |

693
(1)

| | |
| --- | --- |
| | Abbreviating time, dates, amounts, and symbols |

694
(1)

| | |
| --- | --- |
| | Abbreviating geographic names |

695
(2)

| | |
| --- | --- |
| | Abbreviating common Latin terms |

697
(1)

| | |
| --- | --- |
| | Using initials and acronyms ESL |

697
(4)
PART SEVEN Presenting Your Work
701
(44)
703
(14)
703
(1)
704
(9)
713
(3)

| | |
| --- | --- |
| | Choosing a printing method and paper |

716
(1)

| | |
| --- | --- |
| | Portfolios and Publishing |

717
(9)
717
(1)

| | |
| --- | --- |
| | Preparing a course portfolio |

717
(4)

| | |
| --- | --- |
| | Preparing a story portfolio |

721
(3)
724
(2)

| | |
| --- | --- |
| | Writing for the World Wide Web |

726
(11)
726
(5)
731
(6)

| | |
| --- | --- |
| | Making Oral Presentations |

737
(8)

| | |
| --- | --- |
| | Interpreting the assignment |

737
(1)

| | |
| --- | --- |
| | Preparing a speaking text |

738
(2)
740
(2)

| | |
| --- | --- |
| | Selecting creative options |

742
(3)
PART EIGHT Writing Across the Curriculum
745
(128)

| | |
| --- | --- |
| | Understanding the College Curriculum |

747
(4)

| | |
| --- | --- |
| | Understanding differences among the disciplines |

747
(2)

| | |
| --- | --- |
| | Understanding similarities among the disciplines |

749
(2)

| | |
| --- | --- |
| | Writing in Languages and Literature |

751
(43)

| | |
| --- | --- |
| | The aims of writing in languages and literature |

751
(2)

| | |
| --- | --- |
| | The style of writing in languages and literature |

753
(1)

| | |
| --- | --- |
| | Common forms of writing in languages and literature |

753
(2)

| | |
| --- | --- |
| | Documenting sources: MLA style |

755
(8)

| | |
| --- | --- |
| | Conventions for list of Works Cited |

763
(20)

| | |
| --- | --- |
| | Research essay: MIA style |

783
(11)

| | |
| --- | --- |
| | Writing in the Humanities |

794
(13)

| | |
| --- | --- |
| | The aims of writing in the humanities |

794
(1)

| | |
| --- | --- |
| | The style of writing in the humanities |

795
(1)

| | |
| --- | --- |
| | Common forms of writing in the humanities |

795
(1)

| | |
| --- | --- |
| | Documentation and format conventions: Chicago style (CMS) |

796
(8)

| | |
| --- | --- |
| | Sample page with endnotes |

804
(1)

| | |
| --- | --- |
| | Sample page with footnotes |

804
(3)

| | |
| --- | --- |
| | Writing in the Social Sciences |

807
(31)

| | |
| --- | --- |
| | The aims of writing in the social sciences |

807
(1)

| | |
| --- | --- |
| | The style of writing in the social sciences |

808
(1)

| | |
| --- | --- |
| | Common forms of writing in the social science |

809
(1)

| | |
| --- | --- |
| | Documentation and format conventions: APA guidelines |

810
(16)

| | |
| --- | --- |
| | Informational research paper: APA style |

826
(12)

| | |
| --- | --- |
| | Writing in the Physical Sciences |

838
(8)

| | |
| --- | --- |
| | The aims of writing in the sciences |

838
(1)

| | |
| --- | --- |
| | The style of writing in the sciences |

839
(1)

| | |
| --- | --- |
| | Common forms of writing in the sciences |

840
(1)

| | |
| --- | --- |
| | Documentation and format conventions systems |

841
(5)
846
(9)

| | |
| --- | --- |
| | The aims of writing in business |

846
(1)

| | |
| --- | --- |
| | The style of writing in business |

846
(1)

| | |
| --- | --- |
| | Common forms of writing in business |

847
(7)

| | |
| --- | --- |
| | Documentation and format conventions |

854
(1)
855
(11)

| | |
| --- | --- |
| | Citing sources in the body of a paper: COS style |

855
(2)

| | |
| --- | --- |
| | Guidelines for compiling a COS Works Cited list |

857
(1)

| | |
| --- | --- |
| | Preparing a COS bibliography |

858
(8)

| | |
| --- | --- |
| | Writing Essay Examinations |

866
(7)

| | |
| --- | --- |
| | Understanding the question |

867
(1)
868
(5)
PART NINE A Grammar Reference
873
(28)
875
(14)
875
(1)
876
(5)
881
(3)
884
(2)
886
(1)
887
(1)
888
(1)

| | |
| --- | --- |
| | The Elements of a Sentence |

889
(8)
889
(1)
890
(1)
891
(1)
891
(1)
892
(2)
894
(3)

| | |
| --- | --- |
| | Sentence Classification and Sentence Patterns |

897
(4)

| | |
| --- | --- |
| | Classifying sentences by function |

897
(1)

| | |
| --- | --- |
| | Classifying sentences by grammatical structure |

898
(1)

| | |
| --- | --- |
| | Understanding sentence patterns |

899
(2)
Glossary of Usage
901
(17)
Glossary of Terms
918
(22)
Credits
940
(1)
ESL Index
941
(2)
Index
943
Excerpts
This fourth edition of The Blair Handbook, like its predecessors, focuses on the needs of contemporary college writers. Our goal is the same: to offer clear explanations of language conventions, practices, and guidelines that govern good writing; to provide strategies for learning your own approach to the writing process; and samples of writing by both published authors and student writers that model both good practices and successful products. As the field of English studies continues to evolve--particularly with the growth of the computer as a writing and research tool--we have revised the text to make it as up-to-date as possible. We remain committed to the process-oriented approach that has characterized all previous editions. We have simplified the treatment of the writing process and expanded the coverage of research. The result is a handbook that continues to offer the most practical and jargon-free guidance available on the crafting of expository prose. PRINCIPLES UNDERLYING THE BLAIR HANDBOOK Writing as a process The organization of The Blair Handbook corresponds to the stages of the writing process, so all chapters are contextualized, as much as possible, within the process. We have presented traditional handbook material--information on style, grammar, punctuation, and mechanics--as part of the "editing process," where writers check their final-draft language for clarity and correctness. Part One, Writing in College (Chapters 1-3), introduces students to the five interrelated but discrete stages of the writing process--planning, drafting, researching, revising, and editing--explored in more detail in each of the next five parts. Part Two, Planning (Chapters 4-6), discusses planning as an informal yet focused activity where writers work out their voice in relation to their purpose and audience. Part Three, Drafting (Chapters 7-10), explains strategies for finding topics, formulating arguments, making claims, using evidence, and developing drafts for four specific writing purposes: reflecting, explaining, arguing, and interpreting. Part Four, Researching (Chapters 11-17), explores research methods and examines field, library, and online resources for writing lively research papers. Part Five, Revising (Chapters 18-21), focuses on a variety of strategies that make revision both the most demanding and creative part of the writing process. Part Six, Editing (Chapters 22-49), presents guidelines to make finished work as clear and correct as possible. An overview of "Editing" is introduced in Chapter 22, while subsequent chapters cover effectiveness (Chapters 23-31), grammar (Chapters 32-37), punctuation (Chapters 38-44), and mechanics (Chapters 45-49). Part Seven, Presenting Your Work (Chapters 50-53), covers topics ranging from the formatting of papers to publishing class books and Web pages to developing writing portfolios and making oral presentations. Part Eight, Writing Across the Curriculum (Chapters 54-61), discusses the distinguishing characteristics of writing in different academic disciplines and includes guidelines for documentation according to MLA, APA, and other disciplinary systems. Part Nine, A Grammar Reference (Chapters 62-64), is a concise resource for students who seek technical explanations of parts of speech and grammatical structure of sentences. Treatment of students as writers Because writing skills are essential to success in college and beyond, we encourage students to think of themselves as writers as well as being technically proficient in all phases of the writing process. We stress that writing is a dynamic activity in which writers make choices, experiment with language, evaluate the results, and rewrite as necess