Note: Supplemental materials are not guaranteed with Rental or Used book purchases.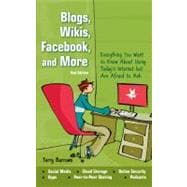 Blogs, Wikis, Facebook, and More : Everything You Want to Know about Using Today's Internet but Are Afraid to Ask
by
Unknown
Questions About This Book?
What version or edition is this?
This is the 2nd edition with a publication date of 4/1/2012.
What is included with this book?
The New copy of this book will include any supplemental materials advertised. Please check the title of the book to determine if it should include any CDs, lab manuals, study guides, etc.
Summary
For both internet gurus and online novices, this handy mini-encyclopedia explores the useful and interesting sites--big and small, popular and obscure--that make up today's internet community. With social media, streaming video, apps, cyber security, and clouds, today's internet is changing fast, and an explosion of new hardware, from smart phones to tablets to GPS devices, adds a new layer of complexity. To help navigate it all, this book explains each website and online application through step-by-step screen shots with details of what each does, why it should be used, how to get started, and special features. Grouped by type, dozens of alternative URLs are offered that cover similar online territory, but with their own unique takes. Newly updated and expanded, this guidebook teaches how to evaluate hardware and apps, launch a blog, explore the virtual world of Second Life, improve network security, and use tags and bookmarks to navigate news and social networking sites like a pro. Even expert surfers will find little-known tips to better use the sites they visit every day.
Author Biography
Terry Burrows is the author of more than 50 books, including How to Read Music and TXT TLK.
Table of Contents
Introduction
p. 10
Changing Communications
p. 12
The Internet Today
p. 16
Blogging
p. 20
Apache Roller
B2evolution
BattleBlog
BBlog
Bitty
Blip
Blog.com
Blogger
Blogs
Blurb
Cocomment
DotClear
Drupal
Ecto
Feedblitz
Geeklog
LifeType
LiveJournal
Mephisto
Nucleus
Pivotlog
Posterous
Qumana
Serendipity
Squarespace
Slash
Subtext
Talkr
Tumblr
WordPress
Xanga.
Bookmarks and Tagging
p. 28
9rules
Blinklist
Blogmarks
Blummy
Bmaccess
Buddymarks
Clipmarks
Connotea
Delicious
Digg
Diigo
Feedmarker
Heystaks
Jeteye
Knowledge Plaza
Licorizes
Mylinkvault
Onlywire
Qoosa
Shadows
Sitebar
Socialmarks
Squidoo
Startaid
StumbleUpon
Surftail
Tendango
Twine
Yoono.
Cloud Storage
p. 42
4shared
ADrive
Box
Carbonite
ElephantDrive
FlipDrive
Grokthis
Iron Mountain
Mailbigfile
Mozy
Multiply
MyPCBackup
OpenDrive
Ourmedia
Pando
Railsbase
Sproutit
Storegate
Strongspace
TextDrive
Zingee.
Communications
p. 48
8×8
Aim
BigString
Blauk
BlueTie
BroadVoice
ContactOffice
DropBox
Dropsend
EBuddy
FastMail
FWD
Gadu-Gadu
Gmail
Google Talk
HamSphere
ICQ
InBox
Jabber
LavaBit
Lingo
LuxSci
Mediacom
Meebo
MSN Hotmail
MXit
Myemail
MyWay
Ooma
Fladvision
RingCentral
Skype
Sendspace
SunRocket
Jempinbox
Trustmymail
Voicewing
Vonage
VZOchat
Xfire
YouSendlt
Yahoo! Mail
Yahoo! Messenger.
Design
p. 60
Clickdensity
ColorBlender
Flickrlogomakr
Flower Maker
LogoSauce
Picreflect
Pixenate
Resizr
Typetester.
e-Commerce
p. 64
AboutUs.org
Adgenta
Amazon
Ansearch
Auction Mapper
Bigcartel
Billmonk
Blish
Cafépress
Castingwords
Carbonmade
Clipfire
Cooqy
Coverpop
Donorschoose
eBay
Etsy
Flyspy
Fundable
Gumshoo
Hawkee
Oolsi
PayPal
Qoop
Smarkets
Starting Point Directory
Stylehive
Wazima
Wists
Yelp
Yub
Zopa.
Education and Knowledge
p. 70
3Form
7 Tips On
Answers.com
Askeet
Askville
Answerbag
Brainreactions
Bubbl.us
Copyscape
Echosign
eHow
Gibeo
GuruLib
Hanzoweb
Helium
How Stuff Works
HubPages
Jots
Manage My Ideas
MetaGlossary
Nuvvo
ProProfs
Ouomon
Quotiki
Root/vaults
Sparkhive
Squidoo
Tractis
WisdomDB
Wondir
Yahoo! Answers.
Games and Virtual Worlds
p. 76
Arcaplay
Atomic Puzzle
Auditorium
Bloodwars
Bubble Tanks
Bunny Hunt
Chihuahua
Desktop Defender
Fastr
Phrasr
Pikipimp
Play Portal
Quantum Legacy
Red Remover
Runescape
Second Life
Sherwood Dungeon
Sink My Ship
Tag Man
Web 2.0 Games
Zelderex.
Kids' Sites
p. 84
A Small Car
Bingo For Kids
ICT Games
Internet Crime Complaint Center
National Geographic Kids
Netsmartz
Panfu
Play Kids Games
SafeFamilies
SafeTeens
SecretBuilders
SumDog
WebWiseKids
Yahoo! Kids.
Mapping
p. 88
Google Maps
Planiglobe
Tagzania
Wayfaring.
Music
p. 98
Dottunes
eJamming
The H-Lounge
Kompoz
Jamendo
Last.fm
Musipedia
Napster
Pandora;
PodBop
RateYourMusic
SideLoad
Snaptune
Spotify
Streampad
Tubes
UpTo11
Yahoo! Music.
News
p. 106
BBC News
Bits of News
Clipmarks
Newsvine
Reuters
Topix
USA Today
The Washington Post
Wired
Yahoo! News.
Peer-to-Peer Sharing
p. 112
Anatomic P2P
BitComet
BitLord
BitSpirit
BitTornado
BitTorrent
Demoniod
Fenopy
isoHunt
LegalTorrents
MegaNova
Mininova
SoulSeek
The Pirate Bay
Torrent
Torrentbox
Torrentmatrix
Torrentportal
TorrentReactor
Torrents
TorrentScan
TorrentSpy
uTorrent
Yotoshi
Vuze.
Personal Management Tools
p. 120
1 Time
30 Boxes
88 Miles
Basecamp
Citadel
Clockinglt
DekkoTime
Eventful
Harvest
HipCal
Inventiondb
MeetWithApproval
Projectplace
Remember the Milk
SlimTimer
Ta-Da List
Taskfreak!
Taskspro
Time 59
Time IQ
Time-Tracker
ToadTime
Toggl
Trackslife
Trumba
Worktrec.
Photographs and Videos
p. 128
23hq
Adultswim
Blip. TV
Break
Broadbandsports
Clipshack
DailyMotion
Dropshots
Flappr
Flickr
FlickrFling
Flyinside
Fotolia
Google Video
Groupr
JumpCut
Mefeedia
Metacafe
Mightyv
Phlog
Photobucket
Photomap
Revver
Slide
Slidestory
Smilebox
SmugMug
Stickam
StupidVideos
Tagworld
Truveo
Veoh
Videobomb
Videoegg
Vidlife
Vimeo
Webshots
Yahoo! Video
YouTube
ZippyVideos
Zoomer
Zoto.
Podcasts
p. 142
@Podder
All Podcasts
AmigoFish
BlogMatrix Sparks!
Digital Podcast
Doppler
EveryPodcast.com
fluctu8. com
HappyFish
HardPodCafe
iPodderX
iTunes
Juice
Learn Out Loud
NetNewsWire
NewsFire
NewsMacPro
New Time Radio
Nutsie
Peapod
Phonecasting
PodBean
Podcast Alley
Podcast Blaster
Podcast Central
Podcast Directory
Podcast Empire
PodcastPickle
Podcast Pup
Poddumfeeder
Podspider
Replay Radio
Revision3
RSSRadio
StreetlQ
Synclosure
TVTonic
WinAmp
Yamipod
Zencast.
Portals
p. 158
24eyes
Eskobo
Favoor
Feedtv
Googlemodules
iGoogle
Gritwire
Inbox
Itsastart
Klipfolio
Netvibes
Pageflakes
Pobb
Protopage
Windowslive
Wrickr.
Security Issues
p. 164
12VPN
Avast! Pro
Bitdefender
Black Logic
ChicaPC-Shield
ESET NOD32
Express VPN
Happy VPN
Hide My Ass
Kaspersky
Lavasoft Ad-Aware
Liberty VPN
Malwarebytes
Norton Antivirus
Overplay
Pixelock
Roboform
Strong VPN
Super AntiSpyware
Swiss VPN
VyprVPN
Webroot Antivirus.
Search Engines
p. 170
Blekko
Blogpulse
Exalead
Factbites
Gahooyoogle
Google
Hakia
Healthline
Icerocket
Lexxe
Liveplasma
Makidi
Nextaris
Omgili
Prase us
Prefound
Ouintura
Releton
Rollyo
Surfwax
Swicki
Technorati
Wikimatrix
Wink
Yoono
Yippy
Yubnub
Social Networking
p. 176
43 Things
43places
Bebo
Blogtronix
Communitywalk
Facebook
Friendster
Gala
Giftbox
Google+
Greedyme
Groups
Ikarma
Linkedin
LiveJournal
Lovento
Match A Dream
Meetup
Mologogo
Mozes
Myprogs
MySpace
OpenBC
Opinity
Orkut
Partysync
Peerprofile
Peertrainer
Phusebox
Piczo
Plum
Rabble
SocialGo
Stache Passions
TheBlackStripe
Towncrossing
Twitter
Vcarious
Ziggs
Web-Based Office Software
p. 194
CK Fditor
Gliffy
GOffice
Google Docs
Microsoft Office 365
NumSum
S5
ThinkFree
Zimbra
Zoho
Wikis & Collaboration
p. 200
Bbbuddy
Boltwire
Citeulike
Confluence
Daisy
EditMe
Epictrip
GeniusWiki
JamWiki
LionWiki
MediaWiki
PB Wiki
ProductWiki
Qwika
Reader2
Readitswapit
SeedWiki
ShopWiki
Sputnik
Tiddlywiki
Wetpaint Central
Wikibooks
Wikihealth
Wikihost
Wikihow
Wikimatrix
Wikipedia
Wikispaces
World66
Glossary
p. 210
Index
p. 218
Acknowledgments
p. 224
Table of Contents provided by Ingram. All Rights Reserved.