Note: Supplemental materials are not guaranteed with Rental or Used book purchases.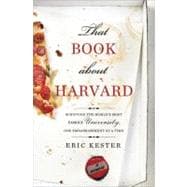 That Book about Harvard : Surviving the World's Most (in)Famous University, One Embarrassment at a Time
ISBN13:
9781402267505
by
Kester, Eric
Questions About This Book?
What version or edition is this?
This is the edition with a publication date of 7/1/2012.
What is included with this book?
The New copy of this book will include any supplemental materials advertised. Please check the title of the book to determine if it should include any CDs, lab manuals, study guides, etc.
The eBook copy of this book is not guaranteed to include any supplemental materials. Typically only the book itself is included.
Summary
Eric's one goal for his first semester at Harvard is simple: to not thoroughly embarrass himself. He manages to fail this single objective in the first hour of the first day when he accidentally locks himself out of his room in nothing but his underwear. Thus begins one of the craziest years ever at Harvard, in which Eric finds himself involved in a cheating scheme, trying to join a prestigious Finals Club, falling for a stunning type-A brunette, all to finally understand that the success of his life isn't defined by a girl, a social club, or even a Harvard degree. Instead, happiness is about accepting yourself.
Author Biography
Eric Kester graduated from Harvard in 2008, where he wrote a popular column for the undergraduate newspaper the Crimson. Now a featured writer for CollegeHumor.com, Eric has also contributed to the Boston Globe, someEcards.com, and Dorkly.com.
Table of Contents
A Note from the Author
p. vii
Prologue
p. 1
The Last Package
p. 5
38 Caliber Shock
p. 21
Mac Attack
p. 41
Into the Depths of the Pusey
p. 64
Tripping on A-Bombs
p. 78
Diversity University
p. 97
Party in the USA
p. 114
Arrested Development
p. 135
There's Something about Larry
p. 147
Somebody at Harvard Loves You
p. 161
Three Bathrooms and a Funeral
p. 179
The Ace of Clubs
p. 199
Beauty and the Beast
p. 225
Yellow is the New Crimson
p. 250
Mac and P.C
p. 272
Rash Decisions
p. 297
The Final Harvard Act
p. 319
Acknowledgments
p. 335
About the Author
p. 337
Table of Contents provided by Ingram. All Rights Reserved.
Excerpts
<p><b>Prologue</b></p><p>It must have looked pretty weird to people driving by: two parents flanking their teenage son as they all made a solemn walk down the driveway. My ashen face and hesitant steps likely made it look like I was walking the plank, or being led by my parents through some bizarre driveway-based version of that punishment. But anyone who's ever opened a college admissions letter can attest that this was far more terrifying.</p><p>Mr. Lynch, our neighbor across the street, was out mowing his lawn and began to watch us. He seemed surprised to see me walk up to the mailbox. "Already time for the Sports Illustrated swimsuit issue?" he shouted cheerfully.</p><p>Part of me wanted to snap at him. I was checking the mail today because I was getting my admissions decision from Harvard, not because I was some sort of obsessive horndog. Besides, the next swimsuit issue was still 293 days away.</p><p>I kept quiet, though; my anxiety about the letter had me unusually irritable, and snapping at Mr. Lynch wouldn't do anything to change what was going to be in the letter when I opened it.</p><p>I was a decent college candidate (at least that's what I had been told by family members obligated to say such things). But everything I had ever heard about the prestigious university indicated that being "good enough" wasn't good enough for Harvard. So by the time my parents and I finally reached the mailbox, I had already read the letter in my mind:</p><p>Dear Eric "Failure" Kester,</p><p>After carefully reviewing your application, we have determined that we cannot offer admission to you or any of your future offspring. This was not an easy decision*, but ultimately we concluded that it reflects poorly on the Harvard brand to admit a student who would be better served attending a lesser school, perhaps as a janitor. For your benefit we've included a pamphlet to a nearby orphanage in the event that your parents abandon you in shame. We wish you the best of luck in your future, highly unsuccessful life.</p><p>*It was.</p><p>With the utmost sincerity,</p><p>Harvard Admissions</p><p>P.S. Your ex-girlfriend was right about you.</p><p>My mom reached into the mailbox and pulled out the heap of mail. She then forced me to walk halfway up our driveway before handing over the pile. Getting into Harvard wasn't a life or death situation for me, but still my parents thought it might be best if I opened my letter a safe distance away from oncoming traffic.</p><p>Breathing, hearing, and pretty much all other bodily functions ceased to work as I hastily flipped through the mail, starting first with the thin letters at the top. The past two years of my life were flashing before my eyes-the grueling "college process" filled with SATs, APs, GPAs, and other miserable letters that have left me forever terrified of the alphabet. The stakes were huge: an acceptance letter would mean that all my hard work had actually paid off. And that my parents wouldn't have to return those Harvard T-shirts they bought on my campus tour.</p><p>I found the envelope from Harvard near the bottom, and it was thick. Under normal circumstances this would indicate good news; acceptance letters include brochures and other informational material for the new admits, while rejections are normally just a letter in a thin envelope. But I remained skeptical. I figured that, in typical Harvard fashion, the university would make even their rejection letters ostentatious, and I would open the fat envelope only to release a package of fireworks that would explode above my house and spell in giant letters: YOU'RE REJECTED.</p><p>But my mind was the only thing that exploded when I tore open the letter, scanned the first line, and saw "Congratulations!"</p><p>Holy shit, I'm going to Harvard!</p><p>In my excitement I accidently expressed this thought out loud. But my parents didn't notice; they were too busy cheering. We collapsed into a prolonged three-way hug that made an uncomfortable Mr. Lynch turn off his lawn mower and go inside. My mom ran back to the house to call my grandma and probably the local newspaper, leaving my dad and me to relish the moment.</p><p>"I'm proud of you, son."</p><p>He looked at me with misty eyes, and we shared a long man-hug. Now I had banned such public displays of affection back in middle school, when I learned that girls don't have "dad hugger" high on their list of turn-ons. But this was a special moment. Something miraculous had just happened. I had somehow been accepted into Harvard, and I didn't even play the violin.</p><p>While we walked back up the driveway, my dad held onto the other mail as I leafed through the Harvard brochure, excited to get a taste of my new school. It was filled with picture after picture of highly enthusiastic Harvard students engaging in various academic activities. There was one photo of a guy in a white lab coat mixing test tubes of chemicals, then another of a young woman at a blackboard writing what appeared to be Egyptian hieroglyphics. Or maybe it was calculus...I wasn't sure.</p><p>For some reason, I felt my chest begin to tighten. Next was a picture of a student relaxing with a magazine in his dorm room. It wasn't a magazine I'd qualify as "leisure reading," and it sure as hell wasn't the swimsuit issue. It was The Economist, and the guy was giggling with delight while reading it.</p><p>My hands felt sweaty as I quickly turned the page. Now I was faced with a picture of a student just standing there and staring intensely at me, his unnaturally wide eyes bulging like they were being squeezed out of his skull by his oversized brain. I looked at his shirt, neatly pressed and tucked in. I glanced down at my shirt, the host of an ongoing territorial war between ketchup and mustard stains.</p><p>I closed the brochure, and the iconic crimson shield stared me in the face.</p><p>Oh shit, I thought, I'm going to Harvard...</p>