Note: Supplemental materials are not guaranteed with Rental or Used book purchases.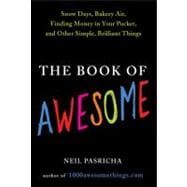 The Book of Awesome Snow Days, Bakery Air, Finding Money in Your Pocket, and OtherSimple, Brilliant Things
ISBN13:
9780399156519
by
Pasricha, Neil
Summary
Based on the award-winning 10-million-plus-hit blog 1000awesomethings.com, The Book of Awesome is a high five for humanity and a big celebration of life's little moments: o Popping Bubble Wrap o Wearing underwear just out of the dryer o Fixing electronics by smacking them o Getting called up to the dinner buffet first at a wedding o Watching The Price Is Right when you're home sick o Hitting a bunch of green lights in a row o Waking up and realizing it's Saturday. Sometimes it's easy to forget the things that make us smile. With a 24/7 news cycle reporting that the polar ice caps are melting, hurricanes are swirling in the seas, wars are heating up around the world, and the job market is in a deep freeze, it's tempting to feel that the world is falling apart. But awesome things are all around us-sometimes we just need someone to point them out. The Book of Awesome reminds us that the best things in life are free (yes, your grandma was right). With laugh-out-loud observations from award- winning comedy writer Neil Pasricha, The Book of Awesome is filled with smile-inducing moments on every page that make you feel like a kid looking at the world for the first time. Read it and you'll remember all the things there are to feel good about.
Author Biography
Neil Pasricha works an office job in the suburbs, eats frozen burritos for dinner, and needs to go to the gym more. He's just a regular guy who loves the smell of gasoline, sleeping on the cool side of the pillow, and peeling an orange in one shot.