Note: Supplemental materials are not guaranteed with Rental or Used book purchases.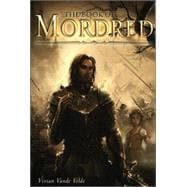 Summary
Dark forces are taking hold in the kingdom of Camelot: King Arthur struggles to keep his knights in line as they steadily divide themselves into factions; the great Merlin has vanished at the hands of his lover and pupil, Nimue; wizards all over the countryside battle for whatever measures of power they can find. At the center of the maelstrom stands Keira, an innocent girl who possesses the ability to foretell the fate of her world. When Keira is kidnapped from her village home, her mother, Alayna, flees to Camelot and finds Mordred, an enigmatic knight who will ultimately become Keira's greatest champion, Alayna's greatest love, and King Arthur's greatest enemy. In the long tradition of Arthurian legend, Mordred has been characterized as a buffoon, a false knight, and a bloodthirsty traitor. The Book of Mordred reveals a mysterious man through the eyes of three women who love him.
Author Biography
Vivian Vande Velde has published several books with Harcourt, including A HIDDEN MAGIC (illustrated by Trina Schart Hyman) and TALES FROM THE BROTHERS GRIMM AND SISTERS WEIRD. A full-time writer, she has written numerous books of fantasy for young readers and was hailed as "a master of the unexpected" by the ST. LOUIS POST-DISPATCH. She lives and works in Rochester, New York, with her husband and daughter.
Excerpts
So I said to Sir Malory, "Thomas, youve written of the adventures of Sir Galahad and La Cote Male Taile. Youve devoted one whole book each to Sirs Launcelot, Tristan, and Gareth. What of Sir Mordred?" "Mordred?" he said. "Mordred set knight against knight and brought about the destruction of King Arthurs Round Table." "True," said I. "But before all that, he rescued his fair amount of damsels and had several good adventures, if you will. Even if we didnt have the documentation for it, wed know that he must have had a reputation as a fair and honest knight, or the others would never have chosen him above Arthur." Then Sir Malorys eyes grew hard. In the years we had spent compiling the stories of Camelot, he had grown to love Arthur, as of course had I, so that now he said, "Le Morte DArthur is my book, written in my way." "But surely," I said, "you dont expect that by ignoring Sir Mordreds more noble endeavors you can make people forget they ever occurred?" Sir Thomas raised his eyebrows at me. "Oh, no?" he said. -from a letter by Brother Lucien, a scribe and a friar of the Holy Order of St. Benedict, to his sister, Claire. Spring, 1471Part I AlaynaChapter 1 After looking everywhere in the house, Alayna found Kiera in the barn, talking to the horses. Alayna knew that-given the chance-most children of five years would talk to horses. But Kiera was crying, sobbing, her voice coming out in gasps and hiccups, barely able to get the words out, and what she was saying to the horses was "No, Im sorry. I couldnt tell. But something terrible." She was still dressed in her night dress, and she had her arms flung around the neck of the mare, Alaynas own horse, who was nuzzling her as though to offer comfort. The other horse, Tolands old nag, looked up as Alayna entered and gave a soft nickering sound. "No," Kiera said as if in answer. "Why should I? She never believes me anyway." "Kiera." Alaynas voice came more sharply than shed intended, for it was one thing to talk to horses; it was something else entirely to think they talked back. Her daughter turned and stood there, still crying, but not speaking. "What is it?" Alayna asked. "What has happened?" Then, because Kiera was her only child and Alayna did have a tendency to worry: "Are you hurt or ill?" Kiera hesitated and the mare used her head to gently bump Kieras back, forcing her to take a step forward. Looking and sounding torn between reluctance and hope, Kiera said, "I had a dream. A very bad dream. Something bad was about to happen, but I dont know what." Alayna crouched down among the straw bedding, unmindful of the hem of her gown, and held her arms out, and Kiera ran to accept the hug. Alayna stroked her hair, soft and shiny but still tangled from the nights sleep. "Everybody has bad dreams," Alayna assured her in a gentle murmur. Kiera pushed herself away. "This was not that kind of bad dream." Not again, Alayna thought. "Come back to the house," s
---

Excerpted from The Book of Mordred by Vivian Vande Velde, Vivian Vande Velde
All rights reserved by the original copyright owners. Excerpts are provided for display purposes only and may not be reproduced, reprinted or distributed without the written permission of the publisher.