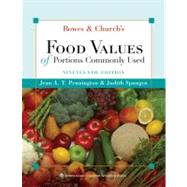 Questions About This Book?
What version or edition is this?
This is the 19th edition with a publication date of 8/24/2009.
What is included with this book?
The New copy of this book will include any supplemental materials advertised. Please check the title of the book to determine if it should include any CDs, lab manuals, study guides, etc.
The Used copy of this book is not guaranteed to include any supplemental materials. Typically, only the book itself is included.
Related Products
Summary
This classic guide to nutrition has helped put the "balance" in balanced diets since 1937! Now completely updated for the Nineteenth Edition, this bestseller continues to supply authoritative data on the nutritional value of foods in a form for quick and easy reference. The book's main table reflects the current food supply-listing more than 8,500 common foods-and contains data on the nutritional content of foods, organized by food groups.
Table of Contents
Dedication Preface to the First Edition Preface to the Nineteenth Edition Features of the Nineteenth Edition Dietary Reference Intakes (DRIs) Macronutrients: Recommended Dietary Allowances (RDAs), Adequate Intakes (AIs), and Estimated Average Requirements (EARs) Amino Acids: Recommended Dietary Allowances (RDAs), Adequate Intakes (AIs), and Estimated Average Requirements (EARs) Vitamins: Recommended Dietary Allowances (RDAs) and Adequate Intakes (AIs) Vitamins: Estimated Average Requirements (EARs) Vitamins: Tolerable Upper Intake Levels (ULs) Elements: Recommended Dietary Allowances (RDAs) and Adequate Intakes (AIs) Elements: Estimates Average Requirements (EARs) Elements: Tolerable Upper Intake Levels (ULs) Electrolytes and Water: Adequate Intakes (AIs) and Tolerable Upper Intake Levels (ULs) Estimated Energy Requirements (EERs) for Men and Women 30 Years of Age Acceptable Macronutrient Distribution Ranges Daily Values (DVs) for Nutrition Labeling Food Component Definitions Amino Acids and Pathways of Utilization Abbreviations and Symbols Reference Codes Heat, Weight, and Volume Conversions Gram-Ounce Equivalents MAIN DATABASE FOR THE COMPOSITION OF FOODS 1. Beverages 2. Candy 3. Cereals and Grains, Cooked 4. Cereals, Ready-To-Eat 5. Cheese, Cheese Products, and Cheese Substitutes 6. Creams and Creamers (Cream Substitutes) 7. Desserts 8. Eggs, Egg Dishes, and Egg Substitutes 9. Entrees and Meals 10. Fast Foods and Restaurant Foods 11. Fats, Oils, Shortenings, and Spreads 12. Fish and Seafood 13. Flour, Meals, and Grain Fractions 14. Fruit and Vegetable Juices and Juice Drinks 15. Fruits 16. Grain- and Vegetable-Based Snack Foods 17. Grain Products 18. Infant, Junior, and Toddler Foods 19. Meats 20. Meats, Luncheon and Snack 21. Meat Substitutes, Tofu, and Related Soy Products 22. Milks, Milk Beverages, and Yogurt 23. Nuts and Seeds 24. Poultry 25. Salad Dressings 26. Sauces, Gravies, and Condiments 27. Soups 28. Spices, Herbs, and Flavorings 29. Sugars, Syrups, and Other Sweeteners 30. Vegetables and Vegetable Dishes 31. Miscellaneous Food Ingredients 32. Special Dietary Foods SUPPLEMENTARY DATABASES FOR THE COMPOSITION OF FOODS Alcohol, Ethyl (Ethanol) Amines: Histamine / Serotonin / Tryptamine / Tyramine Amino Acids Caffeine and Theobromine Carotenoids: Alpha-Carotene, Beta-Carotene, Beta-Cryptoxanthin, Lutein and Zeaxanthin, and Lycopene / Zeaxanthin Coenzyme Q (Ubiquinone) Dietary Fiber Components: Lignin and Pectin Fatty Acids: Omega-3 Fatty Acids / Trans Fatty Acids Flavonoids: Anthocyanins / Flavan-3-ols: Catechins / Flavan-3-ols: Theaflavins and Thearubigins / Flavones (Apigenin and Luteolin) / Flavonols / Flavanones / Proanthocyanidins (polymers of flavan-3-ols) / Isoflavones (Daidzein, Genistein, and Glycitein) / Coumesterol, Formononetin, and Biochanin A Glutathione Gluten Minerals: Fluoride / Iodine / Molybdenum Plant Acids: Oxalic Acid / Phytic Acid / Salicylic Acid Plant Sterols: Phytosterols / Beta-Sitosterol, Stigmasterol, and Campesterol Index of Food Names Abbreviated Table of Contents