Note: Supplemental materials are not guaranteed with Rental or Used book purchases.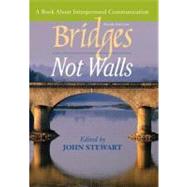 Bridges Not Walls : A Book about Interpersonal Communication
ISBN13:
9780072862867
by
Stewart, John Robert
McGraw-Hill Humanities/Social Sciences/Languages
Related Products
Summary
Through fifty scholarly and popular readings, this anthology examines a broad range of topics, drawing from such various disciplines as communication, philosophy, social science, and psychology. The thought-provoking articles discuss the nature of interpersonal contact, connections between verbal and nonverbal cues, person perception and social intelligence, listening, identity management, interpersonal ethics, types of love, transformational conflict management, and diversity. The new ninth edition features 23 new readings, including new content related to the dark side of communication (power, deception, betrayal, and harassment).
Table of Contents
PREFACE
xi
Part I ENTERING THE INTERPERSONAL ARENA

| | |
| --- | --- |
| | Chapter 1 Introduction to the Editor and to This Book |

3
(11)

| | |
| --- | --- |
| | Chapter 2 Defining Communication and Interpersonal Communication |

14
(48)

| | |
| --- | --- |
| | John Stewart: Communicating and Interpersonal Communicating |

16
(27)

| | |
| --- | --- |
| | David Bohm: On Communication |

43
(4)

| | |
| --- | --- |
| | Stuart J. Sigman: Toward Study of the Consequentiality (Not Consequences) of Communication |

47
(2)

| | |
| --- | --- |
| | Susan Scott: Fierce Conversations |

49
(8)

| | |
| --- | --- |
| | Neil Postman: The Communication Panacea |

57
(5)

| | |
| --- | --- |
| | Chapter 3 Defining Ourselves as Communicators |

62
(52)

| | |
| --- | --- |
| | John Stewart, Karen E. Zediker, and Saskia Witteborn: Constructing Identities |

64
(12)

| | |
| --- | --- |
| | Daniel Goleman: The Rudiments of Social Intelligence |

76
(9)

| | |
| --- | --- |
| | Gerald Corey and Marianne Schneider-Corey: Meaning and Values |

85
(10)

| | |
| --- | --- |
| | Harold Barrett: Maintaining the Self in Communication |

95
(15)

| | |
| --- | --- |
| | Richard Rodriguez: Hispanic |

110
(4)

| | |
| --- | --- |
| | Chapter 4 Making Contact Verbally and Non verbally |

114
(61)

| | |
| --- | --- |
| | John Stewart and Carole Logan: Verbal and Nonverbal Dimensions of Talk |

115
(26)

| | |
| --- | --- |
| | Virginia Satir: Paying Attention to Words |

141
(7)

| | |
| --- | --- |
| | Mark L. Knapp and Judith A. Hall: Nonverbal Communication: Basic Perspectives |

148
(16)

| | |
| --- | --- |
| | Daniel J. Canary, Michael J. Cody, and Valerie L. Manusov: Functions of Nonverbal Behavior |

164
(11)
Part II MAKING MEANING TOGETHER

| | |
| --- | --- |
| | Chapter 5 Understanding and Listening: Communication as Inhaling |

175
(63)

| | |
| --- | --- |
| | Sarah Trenholm and Arthur Jensen: Interpretive Competence: How We Perceive Individuals, Relationships, and Social Events |

177
(14)

| | |
| --- | --- |
| | Julia T. Wood: It's Only Skin Deep: Stereotyping and Totalizing Others |

191
(7)

| | |
| --- | --- |
| | Kay Lindahl: What Is Listening? |

198
(7)

| | |
| --- | --- |
| | Karen Kissel Wegela: Being a Good Listener |

205
(8)

| | |
| --- | --- |
| | John M. Gottman: Above All, Just Listen |

213
(6)

| | |
| --- | --- |
| | John Stewart, Karen E. Zediker, and Saskia Witteborn: Empathic and Dialogic Listening |

219
(19)

| | |
| --- | --- |
| | Chapter 6 Engaging Others: Communication as Exhaling |

238
(49)

| | |
| --- | --- |
| | David W. Johnson: Being Open with and to Other People |

240
(9)

| | |
| --- | --- |
| | Matthew McKay, Martha Davis, and Patrick Fanning: Expressing |

249
(12)

| | |
| --- | --- |
| | John M. Gottman: Putting Feelings into Words |

261
(7)

| | |
| --- | --- |
| | Lawrence B. Rosenfeld and Jack M. Richman: What to Tell: Deciding When, How, and What to Self-Disclose |

268
(8)

| | |
| --- | --- |
| | Beverly Engel: Confronting Emotional Abuse |

276
(11)
Part III CHANGING RELATIONSHIPS

| | |
| --- | --- |
| | Chapter 7 Communicating with Family and Friends |

287
(65)

| | |
| --- | --- |
| | Stephanie Coontz: Working with What We've Got: The Strengths and Vulnerabilities of Today's Families |

289
(20)

| | |
| --- | --- |
| | Kathleen M. Galvin, Carma L. Bylund, and Bernard J. Brommel: Intimacy and Closeness Within Families |

309
(18)

| | |
| --- | --- |
| | Steve Duck: Our Friends, Ourselves |

327
(14)

| | |
| --- | --- |
| | John Hardwig: In Search of an Ethics of Personal Relationships |

341
(11)

| | |
| --- | --- |
| | Chapter 8 Communicating with Intimate Partners |

352
(51)

| | |
| --- | --- |
| | Gerald Corey and Marianne Schneider-Corey: Intimate Relationships |

354
(12)

| | |
| --- | --- |
| | Daniel J. Canary and Tara M. Emmers-Sommer, with Sandra Faulkner: Moving Beyond Sex and Gender Stereotypes |

366
(11)

| | |
| --- | --- |
| | Julia T. Wood: Gendered Standpoints on Personal Relationships |

377
(8)

| | |
| --- | --- |
| | Joyce A. Arditti and Melissa Kauffman: Staying Close When Apart: Intimacy and Meaning in Long-Distance Dating Relationships |

385
(7)

| | |
| --- | --- |
| | Alvin Cooper and Leda Sportolari: Romance in Cyberspace: Understanding Online Attraction |

392
(11)
Part IV BRIDGES NOT WALLS

| | |
| --- | --- |
| | Chapter 9 Recognizing Communication Walls |

403
(70)

| | |
| --- | --- |
| | John Stewart, Karen E. Zediker, and Saskia Witteborn: Deception, Betrayal, and Aggression |

405
(12)

| | |
| --- | --- |
| | Anita L. Vangelisti: Messages That Hurt |

417
(12)

| | |
| --- | --- |
| | Kenneth N. Cissna and Evelyn Sieburg: Patterns of Interactional Confirmation and Disconfirmation |

429
(11)

| | |
| --- | --- |
| | Robert Greene: The 48 Laws of Power |

440
(12)

| | |
| --- | --- |
| | William W. Wilmot and Joyce L. Hocker: Power: The Structure of Conflict |

452
(14)

| | |
| --- | --- |
| | Patricia Evans: Children and Verbal Abuse |

466
(7)

| | |
| --- | --- |
| | Chapter 10 Managing Conflict by Turning Walls into Bridges |

473
(68)

| | |
| --- | --- |
| | Joseph P. Folger, Marshall Scott Poole, and Randall K. Stutman: Conflict and Interaction |

475
(14)

| | |
| --- | --- |
| | William W. Wilmot: Communication Spirals, Paradoxes, and Conundrums |

489
(16)

| | |
| --- | --- |
| | Jeffrey Kottler: Taking Responsibility without Blaming |

505
(9)

| | |
| --- | --- |
| | Steve Duck: Handling the Break-Up of Relationships |

514
(9)

| | |
| --- | --- |
| | Hugh and Gayle Prather: How to Resolve Issues Unmemorably |

523
(10)

| | |
| --- | --- |
| | John Paul Lederach: Conflict Transformation |

533
(8)

| | |
| --- | --- |
| | Chapter 11 Bridging Cultural Differences |

541
(49)

| | |
| --- | --- |
| | David W. Johnson: Building Relationships with Diverse Others |

543
(13)

| | |
| --- | --- |
| | Letty Cottin Pogrebin: The Same and Different: Crossing Boundaries of Color, Culture, Sexual Preference, Disability, and Age |

556
(17)

| | |
| --- | --- |
| | Pui Yee Beryl Tsang: There's a White Man in My Bed: Scenes from an Interracial Marriage |

573
(8)

| | |
| --- | --- |
| | Marsha Houston: When Black Women Talk with White Women: Why Dialogues Are Difficult |

581
(9)

| | |
| --- | --- |
| | Chapter 12 Promoting Dialogue |

590
(45)

| | |
| --- | --- |
| | Deborah Tannen: The Roots of Debate in Education and the Hope of Dialogue |

592
(8)

| | |
| --- | --- |
| | Sheila McNamee and Kenneth J. Gergen; Eero Riikonen: Relational Responsibility and Dialogue |

600
(6)

| | |
| --- | --- |
| | William Isaacs: A Conversation with a Center, Not Sides |

606
(7)

| | |
| --- | --- |
| | Karen Zediker and John Stewart: Dialogue's Basic Tension |

613
(10)

| | |
| --- | --- |
| | Rick Ross: Skillful Discussion: Protocols for Reaching a Decision-Mindfully |

623
(12)
Part V APPROACHES TO INTERPERSONAL COMMUNICATION

| | |
| --- | --- |
| | Chapter 13 A Teacher's Approach |

635
(21)

| | |
| --- | --- |
| | C. Roland Christensen: Every Student Teaches and Every Teacher Learns: The Reciprocal Gift of Discussion Teaching |

637
(19)

| | |
| --- | --- |
| | Chapter 14 A Counselor's Approach |

656
(10)

| | |
| --- | --- |
| | Carl R. Rogers: Experiences in Communication |

658
(8)

| | |
| --- | --- |
| | Chapter 15 A Spiritual Approach |

666
(13)

| | |
| --- | --- |
| | Parker J. Palmer: Leading from Within: Out of the Shadow, into the Light |

668
(11)

| | |
| --- | --- |
| | Chapter 16 A Philosopher's Approach |

679

| | |
| --- | --- |
| | Martin Buber: Elements of the Interhuman |

684
PHOTO CREDITS
C-1
INDEX
I-1