Note: Supplemental materials are not guaranteed with Rental or Used book purchases.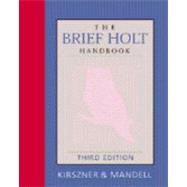 The Brief Holt Handbook
ISBN13:
9780155067370
by
KIRSZNER
Questions About This Book?
What version or edition is this?
This is the 3rd edition with a publication date of 4/28/2000.
What is included with this book?
The New copy of this book will include any supplemental materials advertised. Please check the title of the book to determine if it should include any CDs, lab manuals, study guides, etc.
Summary
The Brief Hold Handbook, 3/e serves as a concise writing reference for composition courses and beyond. Distinct from the competition, this easy-to-use reference covers critical thinking and reading and also addresses the use of computers and the Internet in every stage of writing and research.
Table of Contents
Preface
ix
Introduction: Philosophy
1
(1)
1
(9)
10
(5)

| | |
| --- | --- |
| | A Modern Approach to Philosophy |

15
(5)

| | |
| --- | --- |
| | A Brief Introduction to Logic |

20
(23)
21
(5)
26
(3)
29
(1)

| | |
| --- | --- |
| | Argument by Counter-Example |

30
(2)
32
(1)

| | |
| --- | --- |
| | The Worst Kind of Fallacies |

32
(5)
37
(4)

| | |
| --- | --- |
| | Bibliography and Further Reading |

41
(2)
PART ONE THE WORLD AND BEYOND
43
(276)
45
(78)

| | |
| --- | --- |
| | ``The Way The World Really Is'' |

46
(1)

| | |
| --- | --- |
| | The First Philosophers: The ``Turning Point of Civilization'' |

47
(2)

| | |
| --- | --- |
| | The Early Greek Philosophers |

49
(9)
49
(2)

| | |
| --- | --- |
| | Monism, Materialism, and Immaterial ``Stuff'' |

51
(1)
51
(1)

| | |
| --- | --- |
| | Democritus, Atoms, and Pluralism |

52
(1)
53
(1)
53
(1)

| | |
| --- | --- |
| | The Appearance/Reality Distinction |

54
(1)
54
(2)
56
(1)
56
(2)

| | |
| --- | --- |
| | Ultimate Reality in the East: India, Persia and China |

58
(9)

| | |
| --- | --- |
| | Reality as Spirit: The Upanishads |

58
(3)

| | |
| --- | --- |
| | Reality, Good, and Evil: Zarathustra |

61
(1)
62
(1)

| | |
| --- | --- |
| | Lao Tsu, or the Poets of Tao Te Ching |

63
(1)
64
(3)

| | |
| --- | --- |
| | Two Kinds of Metaphysics: Plato and Aristotle |

67
(21)
68
(12)
80
(8)

| | |
| --- | --- |
| | Modern Metaphysics: Descartes, Spinoza, and Leibniz |

88
(35)
90
(5)
95
(10)

| | |
| --- | --- |
| | Gottfried Wilhelm von Leibniz |

105
(11)
116
(1)
117
(4)

| | |
| --- | --- |
| | Bibliography and Further Reading |

121
(2)
123
(61)
123
(7)
130
(17)

| | |
| --- | --- |
| | The Traditional Conception of God |

130
(2)

| | |
| --- | --- |
| | Can We Know That God Exists? |

132
(15)

| | |
| --- | --- |
| | Religion, Morality, and Evil |

147
(14)

| | |
| --- | --- |
| | Religion and ``Practical Reason'' |

147
(5)
152
(6)

| | |
| --- | --- |
| | Hinduism, Buddhism, Karma, and Compassion |

158
(3)
161
(4)
165
(10)
166
(2)
168
(5)
173
(2)

| | |
| --- | --- |
| | The Attack on Religion: Marx, Nietzsche, and Freud |

175
(9)
181
(1)
181
(2)

| | |
| --- | --- |
| | Bibliography and Further Reading |

183
(1)
184
(64)

| | |
| --- | --- |
| | The Rationalist's Confidence: Descartes |

190
(11)

| | |
| --- | --- |
| | Innate Ideas Concerning Human Understanding: John Locke |

201
(5)

| | |
| --- | --- |
| | The Empiricist Theory of Knowledge |

206
(8)

| | |
| --- | --- |
| | Common Sense Undone: Bishop Berkeley |

214
(8)

| | |
| --- | --- |
| | The Congenial Skeptic: David Hume |

222
(15)

| | |
| --- | --- |
| | An Ancient Skeptic: Nagarjuna |

237
(1)

| | |
| --- | --- |
| | Double Vision: A Non-Western Feminist Perspective |

238
(10)
243
(1)
244
(2)

| | |
| --- | --- |
| | Bibliography and Further Reading |

246
(2)
248
(71)
251
(8)
252
(4)
256
(3)
259
(12)
259
(2)
261
(7)
268
(3)
271
(8)

| | |
| --- | --- |
| | The Battle in Europe after Kant: Relativism and Absolutism |

279
(16)
279
(10)
289
(2)
291
(4)
295
(3)

| | |
| --- | --- |
| | Hermeneutics, Pragmatism, and Feminism: Relativism Reconsidered |

298
(21)
313
(1)
314
(4)

| | |
| --- | --- |
| | Bibliography and Further Reading |

318
(1)
PART TWO KNOW THY SELF
319
(166)
321
(56)

| | |
| --- | --- |
| | Consciousness and the Self From Descartes to Kant |

323
(17)

| | |
| --- | --- |
| | Existentialism: Self Identity and the Responsibility of Choice |

340
(8)

| | |
| --- | --- |
| | The Individual and the Community |

348
(16)
354
(6)
360
(4)

| | |
| --- | --- |
| | One Self? Any Self? Questioning the Concept of Personal ``Essence'' |

364
(13)
374
(1)
375
(1)

| | |
| --- | --- |
| | Bibliography and Further Reading |

376
(1)
377
(44)
377
(6)
383
(6)
389
(21)
389
(1)
390
(7)
397
(6)
403
(4)

| | |
| --- | --- |
| | Functionalism: The Mind and the Computer |

407
(2)
409
(1)

| | |
| --- | --- |
| | The Problem of Consciousness |

410
(11)

| | |
| --- | --- |
| | Changing Our Minds: Holism and Consciousness |

414
(4)
418
(1)
419
(1)

| | |
| --- | --- |
| | Bibliography and Further Reading |

420
(1)
421
(64)
422
(5)
427
(8)
435
(17)
436
(3)

| | |
| --- | --- |
| | Determinism versus Indeterminism |

439
(3)

| | |
| --- | --- |
| | The Role of Consciousness |

442
(2)
444
(8)
452
(15)
460
(7)
467
(8)

| | |
| --- | --- |
| | Radical Freedom: Existentialism |

475
(10)
482
(1)
482
(2)

| | |
| --- | --- |
| | Bibliography and Further Reading |

484
(1)
PART THREE THE GOOD AND THE BEAUTIFUL
485
(208)
487
(92)
489
(2)
491
(7)
498
(6)

| | |
| --- | --- |
| | Morality as Virtue: Aristotle |

504
(14)

| | |
| --- | --- |
| | Morality and Sentiment: Hume and Rousseau |

518
(8)

| | |
| --- | --- |
| | Morality and Practical Reason: Kant |

526
(15)
541
(12)

| | |
| --- | --- |
| | The Creation of Morality: Nietzsche and Existentialism |

553
(12)
565
(14)
574
(1)
574
(3)

| | |
| --- | --- |
| | Bibliography and Further Reading |

577
(2)
579
(70)
581
(36)

| | |
| --- | --- |
| | Two Ancient Theories of Justice: Plato and Aristotle |

582
(6)

| | |
| --- | --- |
| | Two Modern Theories of Justice: Hume and Mill on Utility and Rights |

588
(6)
594
(13)

| | |
| --- | --- |
| | Two Contemporary Theories of Justice: Rawls and Nozick |

607
(8)

| | |
| --- | --- |
| | Justice or Care: A Feminist View |

615
(2)

| | |
| --- | --- |
| | Individual Rights and Freedom |

617
(7)

| | |
| --- | --- |
| | Fighting for Rights and Justice |

624
(17)

| | |
| --- | --- |
| | On the Origins of Good and Evil |

641
(8)
646
(1)
646
(2)

| | |
| --- | --- |
| | Bibliography and Further Reading |

648
(1)
649
(44)

| | |
| --- | --- |
| | Plato and the Transcendence of Beauty |

650
(9)

| | |
| --- | --- |
| | Aristotle and the Self-Sufficiency of Art |

659
(4)
663
(4)

| | |
| --- | --- |
| | Kant: Disputes about Taste Resolved |

667
(3)

| | |
| --- | --- |
| | After Kant: Art, Society, and Self-Awareness |

670
(7)
671
(3)
674
(1)
675
(2)

| | |
| --- | --- |
| | Art and Reality in the Twentieth Century |

677
(4)

| | |
| --- | --- |
| | The Other Half of the Picture-Feminist Aesthetics |

681
(4)

| | |
| --- | --- |
| | Art and Culture: Japan and Africa |

685
(8)
691
(1)
691
(1)

| | |
| --- | --- |
| | Bibliography and Further Reading |

692
(1)
Brief Biographies
693
(12)
Literary Credits
705
(10)
Index
715