Note: Supplemental materials are not guaranteed with Rental or Used book purchases.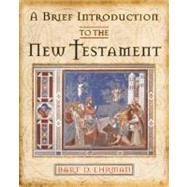 A Brief Introduction to the New Testament
ISBN13:
9780195161236
by
Ehrman, Bart D.
Related Products
Summary
This is an abbreviated and more pedagogical version of Ehrman's best-selling The New Testament: A Historical Introduction to the Early Christian Writings 3/e. It approaches the New Testament from a consistently historical and comparative perspective, emphasizing the rich diversity of the earliest Christian literature. This concise version incorporates numerous study devices including key terms, chapter summaries, review and study questions, and more visual aids.
Table of Contents
Boxes
xiii
Preface
xvii
Acknowledgments
xix
Notes on Suggestions for Further Readings
xxi
Credits
xxiii
Master Time Line
xxv

| | |
| --- | --- |
| | Introduction: What Is the New Testament? |

1
(13)
1
(3)

| | |
| --- | --- |
| | The New Testament: Some Basic Information |

4
(2)

| | |
| --- | --- |
| | Other Early Christian Writings |

6
(1)

| | |
| --- | --- |
| | The Development of the Christian Canon |

6
(1)

| | |
| --- | --- |
| | Implications for Our Study |

7
(1)

| | |
| --- | --- |
| | The New Testament: One Other Set of Problems |

8
(2)

| | |
| --- | --- |
| | At a Glance: The New Testament Canon |

10
(1)

| | |
| --- | --- |
| | Excursus: Some Additional Reflections: The Historian and the Believer |

10
(4)

| | |
| --- | --- |
| | Suggestions for Further Reading |

12
(1)
12
(1)

| | |
| --- | --- |
| | Questions for Study and Reflection |

13
(1)

| | |
| --- | --- |
| | The Environment of Early Christian Traditions: The Greco-Roman World |

14
(17)
14
(1)

| | |
| --- | --- |
| | The Problem of Beginnings |

14
(1)
15
(4)

| | |
| --- | --- |
| | The Environment of the New Testament: Religions in the Greco-Roman World |

19
(9)

| | |
| --- | --- |
| | At a Glance: The World of Early Christianity |

28
(3)

| | |
| --- | --- |
| | Suggestions for Further Reading |

29
(1)
30
(1)

| | |
| --- | --- |
| | Questions for Study and Reflection |

30
(1)

| | |
| --- | --- |
| | The Environment of Early Christian Traditions: The World of Ancient Judaism |

31
(20)
31
(1)

| | |
| --- | --- |
| | Monotheism: The Belief in the One True God |

32
(1)

| | |
| --- | --- |
| | The Covenant: Israel's Pact with Its God |

33
(1)

| | |
| --- | --- |
| | The Law: Israel's Convental Obligations |

33
(2)

| | |
| --- | --- |
| | Temple and Synagogue: Israel's Places of Worship |

35
(2)
37
(1)

| | |
| --- | --- |
| | Political Crises in Palestine and Their Ramifications |

38
(2)

| | |
| --- | --- |
| | The Formation of Jewish Sects |

40
(6)

| | |
| --- | --- |
| | The Jewish Context for the Traditions about Jesus |

46
(2)

| | |
| --- | --- |
| | At a Glance: The World of Early Judaism |

48
(3)

| | |
| --- | --- |
| | Suggestions for Further Reading |

48
(1)
49
(1)

| | |
| --- | --- |
| | Questions for Study and Reflection |

50
(1)

| | |
| --- | --- |
| | The Traditions of Jesus in Their Greco-Roman Context |

51
(13)
51
(1)

| | |
| --- | --- |
| | Oral Traditions Behind the Gospel |

51
(10)

| | |
| --- | --- |
| | The Gospels as Biographies of Jesus |

61
(1)

| | |
| --- | --- |
| | At a Glance: The Traditions of Jesus |

61
(1)

| | |
| --- | --- |
| | Some Additional Reflections: The Authors of the Gospels |

62
(2)

| | |
| --- | --- |
| | Suggestions for Further Reading |

63
(1)
63
(1)

| | |
| --- | --- |
| | Questions for Study and Reflection |

63
(1)

| | |
| --- | --- |
| | Jesus, The Suffering Son of God: The Gospels According to Mark |

64
(17)
64
(1)
64
(1)

| | |
| --- | --- |
| | Mark, Our Earliest Gospel |

65
(1)

| | |
| --- | --- |
| | The Beginning of the Gospel: Jesus the Messiah, the Son of God Who Fulfills Scripture |

65
(3)

| | |
| --- | --- |
| | Jesus the Authoritative Son of God |

68
(1)

| | |
| --- | --- |
| | Jesus the Opposed Son of God |

69
(2)

| | |
| --- | --- |
| | Jesus the Misunderstood Son of God |

71
(1)

| | |
| --- | --- |
| | Jesus the Acknowledged Son of God |

71
(2)

| | |
| --- | --- |
| | Jesus the Suffering Son of God |

73
(2)

| | |
| --- | --- |
| | Jesus the Crucified Son of God |

75
(2)

| | |
| --- | --- |
| | Jesus the Vindicated Son of God |

77
(1)

| | |
| --- | --- |
| | Conclusion: Mark and His Readers |

77
(2)

| | |
| --- | --- |
| | At a Glance: The Gospel of Mark |

79
(2)

| | |
| --- | --- |
| | Suggestions for Further Reading |

80
(1)
80
(1)

| | |
| --- | --- |
| | Questions for Study and Reflection |

80
(1)

| | |
| --- | --- |
| | Jesus, the Jewish Messiah: The Gospel According to Matthew |

81
(18)
81
(1)

| | |
| --- | --- |
| | A Redactional Approach to Matthew |

82
(1)

| | |
| --- | --- |
| | The Importance of Beginnings: Jesus the Jewish Messiah in Fulfillment of the Jewish Scriptures |

82
(5)

| | |
| --- | --- |
| | The Portrayal of Jesus in Matthew: The Sermon on the Mount as a Springboard |

87
(6)

| | |
| --- | --- |
| | Jesus Rejected by the Jewish Leaders |

93
(2)
95
(2)

| | |
| --- | --- |
| | At a Glance: The Gospel of Matthew |

97
(2)

| | |
| --- | --- |
| | Suggestions for Further Reading |

97
(1)
98
(1)

| | |
| --- | --- |
| | Questions for Study and Reflection |

98
(1)

| | |
| --- | --- |
| | Jesus, the Savior of the World: The Gospel according to Luke |

99
(17)
99
(1)

| | |
| --- | --- |
| | A Comparative Overview of the Gospel |

100
(1)

| | |
| --- | --- |
| | The Preface to Luke's Gospel |

100
(3)

| | |
| --- | --- |
| | Luke's Birth Narrative in Comparative Perspective |

103
(3)

| | |
| --- | --- |
| | From Jew to Gentile: Luke's Portrayal of Jesus the Rejected Prophet |

106
(1)

| | |
| --- | --- |
| | Luke's Distinctive Emphases Throughout His Gospel |

107
(6)

| | |
| --- | --- |
| | Conclusion: Luke in Comparative Perspective |

113
(1)

| | |
| --- | --- |
| | At a Glance: The Gospel of Luke |

114
(2)

| | |
| --- | --- |
| | Suggestions for Further Reading |

115
(1)
115
(1)

| | |
| --- | --- |
| | Questions for Study and Reflection |

115
(1)

| | |
| --- | --- |
| | Luke's Second Volume: The Book of Acts |

116
(17)
116
(1)

| | |
| --- | --- |
| | The Genre of Acts and Its Significance |

116
(1)

| | |
| --- | --- |
| | The Thematic Approach to Acts |

117
(1)

| | |
| --- | --- |
| | From Gospel to Acts: The Opening Transition |

118
(3)

| | |
| --- | --- |
| | Themes in the Speeches in Acts |

121
(9)

| | |
| --- | --- |
| | At a Glance: The Book of Acts |

130
(1)

| | |
| --- | --- |
| | Conclusion: The Author and His Themes in Context |

130
(3)

| | |
| --- | --- |
| | Suggestions for Further Reading |

132
(1)
132
(1)

| | |
| --- | --- |
| | Questions for Study and Reflection |

132
(1)

| | |
| --- | --- |
| | Jesus, the Man Sent from Heaven: The Gospel According to John and the Johannine Epistles |

133
(25)
133
(1)

| | |
| --- | --- |
| | The Gospel of John from a Literary-Historical Perspective |

134
(2)

| | |
| --- | --- |
| | The Gospel of John from a Redactional Perspective |

136
(5)

| | |
| --- | --- |
| | The Gospel of John from a Thematic Perspective |

141
(1)

| | |
| --- | --- |
| | The Gospel of John from a Comparative Perspective |

142
(4)

| | |
| --- | --- |
| | The Author of the Fourth Gospel |

146
(1)

| | |
| --- | --- |
| | At a Glance: The Gospel of John |

147
(1)
147
(1)

| | |
| --- | --- |
| | The Questions of Genre and Author |

148
(2)

| | |
| --- | --- |
| | The New Testament Epistolary Literature and the Contextual Method |

150
(2)

| | |
| --- | --- |
| | The Johannine Epistles from a Contextual Perspective |

152
(2)

| | |
| --- | --- |
| | Reflections on the Contextual Method |

154
(2)

| | |
| --- | --- |
| | At a Glance: The Johannine Epistles |

156
(2)

| | |
| --- | --- |
| | Suggestions for Further Reading |

156
(1)
157
(1)

| | |
| --- | --- |
| | Questions for Study and Reflection |

157
(1)
158
(27)
158
(1)
158
(2)
160
(1)
160
(4)

| | |
| --- | --- |
| | Jesus in His Apocalyptic Context |

164
(1)

| | |
| --- | --- |
| | The Beginning and End as Keys to the Middle |

164
(1)

| | |
| --- | --- |
| | The Apocalyptic Deeds of Jesus |

165
(10)

| | |
| --- | --- |
| | The Apocalyptic Teachings of Jesus |

175
(5)

| | |
| --- | --- |
| | The Apocalyptic Death of Jesus |

180
(2)

| | |
| --- | --- |
| | At a Glance: Jesus the Apocalyptic Prophet |

182
(3)

| | |
| --- | --- |
| | Suggestions for Further Reading |

183
(1)
184
(1)

| | |
| --- | --- |
| | Questions for Study and Reflection |

184
(1)

| | |
| --- | --- |
| | From Jesus to the Gospels |

185
(10)
185
(1)

| | |
| --- | --- |
| | The Beginning of Christianity |

185
(1)

| | |
| --- | --- |
| | Jesus' Resurrection from an Apocalyptic Perspective |

186
(3)

| | |
| --- | --- |
| | Jesus' Death, According to the Scriptures |

189
(1)

| | |
| --- | --- |
| | The Emergence of Different Understandings of Jesus |

190
(3)

| | |
| --- | --- |
| | At a Glance: From Jesus to the Gospels |

193
(2)

| | |
| --- | --- |
| | Suggestions for Further Reading |

194
(1)
194
(1)

| | |
| --- | --- |
| | Questions for Study and Reflection |

194
(1)

| | |
| --- | --- |
| | Paul the Apostle: The Man and His Mission |

195
(17)
195
(1)

| | |
| --- | --- |
| | The Study of Paul: Methodological Difficulties |

196
(5)
201
(9)

| | |
| --- | --- |
| | At a Glance: Paul and His Mission |

210
(2)

| | |
| --- | --- |
| | Suggestions for Further Reading |

210
(1)
211
(1)

| | |
| --- | --- |
| | Questions for Study and Reflection |

211
(1)

| | |
| --- | --- |
| | Paul and His Apostolic Mission: 1 Thessalonians as a Test Case |

212
(15)
212
(1)

| | |
| --- | --- |
| | The Founding of the Church in Thessalonica |

213
(5)

| | |
| --- | --- |
| | The Beginnings of the Thessalonian Church: A Socio-Historical Perspective |

218
(2)

| | |
| --- | --- |
| | The Church at Thessalonica after Paul's Departure |

220
(4)

| | |
| --- | --- |
| | Conclusion: Paul the Apostle |

224
(1)

| | |
| --- | --- |
| | At a Glance: 1 Thessalonians |

225
(2)

| | |
| --- | --- |
| | Suggestions for Further Reading |

225
(1)
225
(1)

| | |
| --- | --- |
| | Questions for Study and Reflection |

226
(1)

| | |
| --- | --- |
| | Paul and the Crises of His Churches: The Corinthian Correspondence |

227
(17)
227
(1)
227
(10)

| | |
| --- | --- |
| | At a Glance: 1 Corinthians |

237
(1)
237
(5)

| | |
| --- | --- |
| | At a Glance: 2 Corinthians |

242
(2)

| | |
| --- | --- |
| | Suggestions for Further Reading |

242
(1)
242
(1)

| | |
| --- | --- |
| | Questions for Study and Reflection |

243
(1)

| | |
| --- | --- |
| | Paul and the Crises of His Churches: Galatians, Philippians, and Philemon |

244
(17)
244
(1)
244
(8)
252
(1)
253
(3)
256
(1)
257
(2)
259
(2)

| | |
| --- | --- |
| | Suggestions for Further Reading |

259
(1)
259
(1)

| | |
| --- | --- |
| | Questions for Study and Reflection |

260
(1)

| | |
| --- | --- |
| | The Gospel According to Paul: The Letter to the Romans |

261
(14)
261
(1)

| | |
| --- | --- |
| | The Occasion and Purpose of the Letter |

262
(2)
264
(1)

| | |
| --- | --- |
| | Pauline Models for Salvation |

265
(5)

| | |
| --- | --- |
| | The Flow of Paul's Argument |

270
(3)

| | |
| --- | --- |
| | Conclusion: Paul and the Romans |

273
(1)
273
(2)

| | |
| --- | --- |
| | Suggestions for Further Reading |

274
(1)
274
(1)

| | |
| --- | --- |
| | Questions for Study and Reflection |

274
(1)

| | |
| --- | --- |
| | In the Wake of the Apostle: The Deutero-Pauline and Pastoral Epistles |

275
(20)
275
(1)

| | |
| --- | --- |
| | Pseudonymity in the Ancient World |

275
(3)

| | |
| --- | --- |
| | The Deutero-Pauline Epistles |

278
(9)

| | |
| --- | --- |
| | At a Glance: The Deutero-Pauline Epistles |

287
(2)
289
(1)

| | |
| --- | --- |
| | The Historical Situation and Authorship of the Pastoral Epistles |

290
(3)

| | |
| --- | --- |
| | At a Glance: The Pastoral Epistles |

293
(2)

| | |
| --- | --- |
| | Suggestions for Further Reading |

293
(1)
294
(1)

| | |
| --- | --- |
| | Questions for Study and Reflection |

295
(1)

| | |
| --- | --- |
| | From Paul's Female Colleagues to the Pastor's Intimidated Women: The Oppression of Women in Early Christianity |

295
(12)
295
(1)
295
(1)

| | |
| --- | --- |
| | Women Associated with Jesus |

296
(3)

| | |
| --- | --- |
| | Paul's Understanding of Women in the Church |

299
(1)

| | |
| --- | --- |
| | Women in the Aftermath of Paul |

300
(2)

| | |
| --- | --- |
| | Ancient Ideologies of Gender |

302
(1)

| | |
| --- | --- |
| | Gender Ideology and the Pauline Churches |

303
(2)

| | |
| --- | --- |
| | At a Glance: Women in Early Christianity |

305
(2)

| | |
| --- | --- |
| | Suggestions for Further Reading |

305
(1)
306
(1)

| | |
| --- | --- |
| | Questions for Study and Reflection |

306
(1)

| | |
| --- | --- |
| | Christian Conflicts with Jews and Pagans: Hebrews and 1 Peter |

307
(23)
307
(1)
308
(1)

| | |
| --- | --- |
| | Early Christian Self-Definition |

308
(1)

| | |
| --- | --- |
| | Continuity and Superiority: The Epistle to the Hebrews |

309
(8)
317
(1)
317
(7)

| | |
| --- | --- |
| | Christians in a Hostile World: The Letter of 1 Peter |

324
(4)
328
(2)

| | |
| --- | --- |
| | Suggestions for Further Reading |

328
(1)
329
(1)

| | |
| --- | --- |
| | Questions for Study and Reflection |

329
(1)

| | |
| --- | --- |
| | Christian Conflicts with Christians and With the Cosmos: James, 2 Peter, Jude, and the Book of Revelation |

330
(23)
330
(1)

| | |
| --- | --- |
| | Christian Conflicts with Christians |

330
(1)
331
(2)
333
(1)
334
(2)

| | |
| --- | --- |
| | Conflicts within the Early Christian Communities |

336
(1)

| | |
| --- | --- |
| | At a Glance: Christian Internal Conflicts |

337
(1)

| | |
| --- | --- |
| | Christian Conflicts with the Cosmos |

337
(1)

| | |
| --- | --- |
| | The Content and Structure of the Book of Revelation |

338
(1)

| | |
| --- | --- |
| | The Book of Revelation from a Historical Perspective |

339
(1)

| | |
| --- | --- |
| | Apocalyptic World Views and Apocalypse Genre |

340
(4)

| | |
| --- | --- |
| | The Revelation of John in Historical Context |

344
(6)

| | |
| --- | --- |
| | At a Glance: The Book of Revelation |

350
(3)

| | |
| --- | --- |
| | Suggestions for Further Reading |

350
(1)
351
(1)

| | |
| --- | --- |
| | Questions for Study and Reflection |

351
(2)
Glossary of Terms
353
(16)
Index
369