Note: Supplemental materials are not guaranteed with Rental or Used book purchases.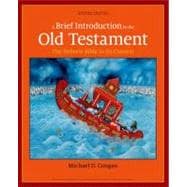 A Brief Introduction to the Old Testament The Hebrew Bible in Its Context
ISBN13:
9780199830114
by
Coogan, Michael D.
Questions About This Book?
Why should I rent this book?
Renting is easy, fast, and cheap! Renting from eCampus.com can save you hundreds of dollars compared to the cost of new or used books each semester. At the end of the semester, simply ship the book back to us with a free UPS shipping label! No need to worry about selling it back.
How do rental returns work?
Returning books is as easy as possible. As your rental due date approaches, we will email you several courtesy reminders. When you are ready to return, you can print a free UPS shipping label from our website at any time. Then, just return the book to your UPS driver or any staffed UPS location. You can even use the same box we shipped it in!
What version or edition is this?
This is the 2nd edition with a publication date of 11/4/2011.
What is included with this book?
The Used copy of this book is not guaranteed to include any supplemental materials. Typically, only the book itself is included.
The Rental copy of this book is not guaranteed to include any supplemental materials. You may receive a brand new copy, but typically, only the book itself.
Related Products
Summary
Engaging and accessible to students from all backgrounds,A Brief Introduction to the Old Testament: The Hebrew Bible in Its Context,Second Edition, is an updated, concise, and more pedagogical version of Michael D. Coogan's best-sellingThe Old Testament: A Historical and LiteraryIntroduction to the Hebrew Scriptures,Second Edition (OUP, 2010).Coogan works primarily from a historical and critical methodology but also introduces students to literary analysis and other interpretive strategies.He examines all the books of the Hebrew Bible and considers additional writings from the ancient Near East. The Apocryphal / Deuterocanonical books are included in an appendix. Providing a nondenominational and nondoctrinal treatment, this text offers a unique and captivating introduction to the Hebrew scriptures themselves and to how they have been--and can be--interpreted. PEDAGOGICAL FEATURES: * Chapter introductions connecting each chapter to the preceding material and previewing the material to come * Chapter summaries that highlight key points and link each chapter to the rest of the book * Important terms, boldfaced at their first appearance and defined in the glossary * Numerous strategically placed text boxes that offer interesting and useful supplementary information * Timelines, photos, illustrations, maps, and a four-color insert on Jerusalem in biblical times * Review questions, suggestions for further reading, a general bibliography, and annotated bibliographies at the end of each chapter * A FREE 6-month subscription to Oxford Biblical Studies Online (www.oxfordbiblicalstudies.com)--a $180 value--with the purchase of every new copy of this text. Please contact your Oxford University Press Sales Representative at 800.280.0280 for details. NEW TO THIS EDITION: * Fully revised for even easier readability, with additional coverage of such compelling topics as levirate marriage--in which the brother of a deceased man is obligated to marry his brother's widow--the law of talion ("an eye for an eye"), and traditionally pure and impure foods * Three new text boxes: "Myth and the Bible," "'God' and the Lord (God)," and "The Judges of Israel in the Book of Judges" * Ten new or revised illustrations and maps * Expanded and improved glossary and timelines * Thoroughly updated general and chapter bibliographies * A new table in the appendix depicting the modern equivalents for biblical weights and measures * Afully updated Instructor's Resource CDfeaturing a test bank of multiple-choice questions, chapter summaries, essay questions, Powerpoint-based lecture outlines, suggested readings, a glossary, and downloadable PDF files of maps from the book * Anupdated Companion Website at www.oup.com/us/coogancontaining all of the material from the Instructor's Manual along with student resources including self-quizzes, a glossary, maps, and relevant links
Author Biography

Michael D. Coogan is Professor Emeritus of Religious Studies at Stonehill College, Lecturer in the Hebrew Bible / Old Testament at Harvard Divinity School, and Director of Publications for the Harvard Semitic Museum. One of the leading biblical scholars in the United States, he is the author of The Old Testament: A Historical and Literary Introduction to the Hebrew Scriptures, Second Edition (OUP, 2010), the editor of Oxford Biblical Studies Online, and a coeditor of The New Oxford Annotated Bible, New Revised Standard Version, Fourth Edition (OUP, 2010).

Table of Contents

*=New to this Edition
Preface
Abbreviations
Credits
PART ONE. INTRODUCTORY
1. WHAT IS THE OLD TESTAMENT?
Box 1.1 Chapter and Verse
The Jewish Canon
The Christian Canons
Box 1.2 The Canons of the Hebrew Bible/Old Testament
A Look Back and Ahead
2. THE PROMISED LAND: GEOGRAPHY, HISTORY, AND IMPORTANCE
Geography
History
Box 2.1 Timeline
Importance
A Look Back and Ahead
PART TWO. COSMIC ORIGINS
3. CREATIONS Genesis 1-3
The Book of Genesis
Genesis 1 and the Sabbath
Box 3.1 Genesis and Science
Box 3.2 The Sabbath in Jewish and Christian Tradition
The Second Account of Creation (Gen 2.4b-3.24)
* Box 3.3 Myth and the Bible
* Box 3.4 "God" and the Lord (God)
Box 3.5 The Garden of Eden
Box 3.6 Adam and Eve in Jewish and Christian Tradition
A Look Back and Ahead
4. THE FORMATION OF THE PENTATEUCH AND THE PRIMEVAL HISTORY Genesis 4-11
The Traditional View
The Development of Modern Interpretation
A Summary of the Documentary Hypothesis
The Formation of the Pentateuch
Challenges to the Documentary Hypothesis
Other Strategies for Interpreting the Pentateuch
Primeval History
J (the Yahwist Source)
Box 4.1 Cain and Abel
Box 4.2 Noah's Drunkenness
Box 4.3 The Sons of God
P (the Priestly Source)
Box 4.4 The Tower of Babel
Box 4.5 The Table of Nations
The Flood
Box 4.6 The Documentary Hypothesis at Work
A Look Back and Ahead
PART THREE. NATIONAL ORIGINS
5. THE ANCESTORS OF ISRAEL Genesis 12-50
The Nature of the Narratives
Source Criticism
Box 5.1 Abram and Abraham, Sarai and Sarah
Box 5.2 The Binding of Isaac
Form Criticism
Box 5.3 Circumcision
Ancient Near Eastern Parallels
Box 5.4 The Ugaritic Texts
The Joseph Narrative
The Ancestors of Israel
Box 5.5 Abraham, Father of Believers
History and the Ancestors of Israel
The Religion of the Ancestors
A Look Back and Ahead
6. ESCAPE FROM EGYPT Exodus 1-15
The Book of Exodus
Exodus 1-15
Box 6.1 Legends of Rescue
Box 6.2 The Divine Name Yahweh
Box 6.3 The Hardening of the Pharaoh's Heart
Box 6.4 The Development of the Passover Celebration
The Exodus and History
The Exodus and the History of Religions
A Look Back and Ahead
7. FROM EGYPT TO SINAI Exodus 16-24
Itineraries
Incidents on the Journey
Box 7.1 Manna
Box 7.2 The Location of Sinai
At Sinai
Covenant
The Ten Commandments
Box 7.3 The Status and Numbering of the Ten Commandments
The Ratification of the Covenant
A Look Back and Ahead
8. LAW, RITUAL, AND HOLINESS Exodus 20.22-23.33 and 25-40 and Leviticus
Law in the Ancient Near East
Box 8.1 Excerpt from the Code of Hammurapi
The Covenant Code (Ex 20.22-23.33)
The Ark, the Tabernacle, and the Priestly Vestments and Ordination
Box 8.2 "An Eye for an Eye"
The Golden Calf
Box 8.3 Forty Days and Forty Nights
The Ritual Decalogue
Box 8.4 An Ancient Hebrew Agricultural Calendar
Sequel
The Book of Leviticus
Sacrifices (Lev 1-7)
The Consecration Ceremonies and Their Aftermath (Lev 8-10)
Purity and Impurity (Lev 11-15)
The Day of Atonement
The Holiness Code
Box 8.5 Capital Punishment
Women in Israelite Ritual and Law
The Ethics of Leviticus
A Look Back and Ahead
9. IN THE WILDERNESS Numbers
The Book of Numbers
Preparations for the Journey
Law, Ritual, and Purity
The Chronology and Geography of the Wanderings
Rebellions in the Wilderness
Box 9.1 Miriam
Opposition on the Journey
Box 9.2 Excerpt from the Deir Alla Texts
Preparations for the Entry into the Land
A Look Back and Ahead
10. THE END OF THE JOURNEY TO THE PROMISED LAND Deuteronomy
The Book of Deuteronomy
Box 10.1 The Shema
The Origins of Deuteronomy
The Deuteronomic School
The Character and Personality of Moses
Box 10.2 The Meanings of "Torah"
A Look Back and Ahead
11. JOSHUA AND THE CONQUEST OF THE LAND OF CANAAN Joshua
The Deuteronomistic History
The Book of Joshua
History and the Book of Joshua
Box 11.1 Shechem in Biblical Tradition
A Look Back and Ahead
12. THE EMERGENCE OF ISRAEL IN THE LAND OF CANAAN Judges and Ruth
The Book of Judges
* Box 12.1 The Judges of Israel in the Book of Judges
Box 12.2 The Moabites and the Ammonites
Box 12.3 The Song of Deborah
Box 12.4 The Philistines
History and the Israelite Confederation
The Book of Ruth
A Look Back and Ahead
PART FOUR. KINGS AND PROPHETS
13. THE ESTABLISHMENT OF THE MONARCHY 1 Samuel
The Books of Samuel
1 Samuel
Box 13.1 Positive Assessments of Saul
History
A Look Back and Ahead
14. THE REIGN OF DAVID 2 Samuel, 1 Kings 1-2
2 Samuel
Box 14.1 David's Compositions
Box 14.2 Jerusalem
A Look Back and Ahead
15. THE REIGN OF SOLOMON 1 Kings 1-11 and Psalm 89
The Books of Kings
1 Kings 1-11
Box 15.1 Solomon in Later Tradition
The Ideology of the Davidic Monarchy
Box 15.2 The Royal Ideology in Later Traditions
A Look Back and Ahead
16. THE DIVIDED KINGDOMS OF ISRAEL AND JUDAH FROM THE LATE TENTH TO THE EARLY EIGHTH CENTURIES BCE 1 Kings 12-2 Kings 14
History
Box 16.1 Chronology of the Kings of Israel and Judah Late Tenth to Mid-Eighth Centuries BCE
Institutions and Society
Prophets and Prophecy
Box 16.2 Prophets in Later Traditions
The Legends of Elijah and Elisha
Box 16.3 Elijah in Later Tradition
A Look Back and Ahead
17. THE NORTHERN KINGDOM OF ISRAEL IN THE EIGHTH CENTURY BCE 2 Kings 14-17, Amos, and Hosea
History
Box 17.1 Chronology of the Eighth Century BCE
Prophetic Books and "Classical" Prophecy
Amos
Box 17.2 The Day of the Lord
Hosea
Box 17.3 Prophetic Attacks on Rituals
Box 17.4 Marriage in Ancient Israel
A Look Back and Ahead
18. THE KINGDOM OF JUDAH IN THE EIGHTH AND EARLY SEVENTH CENTURIES BCE 2 Kings 15-20, 2 Chronicles 29-32, Isaiah 1-39, and Micah
History
Box 18.1 Chronology of the Eighth and Seventh Centuries BCE
The Reign of Hezekiah
Isaiah
The Siege of Jerusalem in 734 BCE
Box 18.2 The Identity of Immanuel
The Assyrian Invasion of Judah in 701 BCE
Box 18.3 Sennacherib's Attack on Jerusalem (701 BCE) according to the Assyrian Annals
Box 18.4 Hezekiah's Tunnel
Micah
A Look Back and Ahead
19. JUDAH IN THE SEVENTH AND EARLY SIXTH CENTURIES BCE: THE END OF ASSYRIAN DOMINATION AND THE FALL OF JERUSALEM 2 Kings 21-25, 2 Chronicles 33-36, Zephaniah, Nahum, Habakkuk, and Jeremiah
History
Box 19.1 Chronology of the Seventh and Early Sixth Centuries BCE
The Reign of Manasseh
Box 19.2 Ashurbanipal's Library
The Reign of Josiah
Box 19.3 Megiddo and Armageddon
The Last Kings of Judah
The Fall of Jerusalem
The Book of Zephaniah
The Book of Nahum
The Book of Habakkuk
Jeremiah
Box 19.4 Jeremiah in Postbiblical Tradition
Box 19.5 Jeremiah and the History of Bookmaking
A Look Back and Ahead
PART FIVE. EXILE AND RETURN
20. AFTER THE FALL: JEWS IN JUDAH AND BABYLON Lamentations, Psalm 137, Obadiah, and Ezekiel
History
The Book of Lamentations
Box 20.1 Acrostic Poems
The Jews in Babylonia
Psalm 137
The Book of Obadiah
Ezekiel
Box 20.2 Yahweh as Violent Spouse
Box 20.3 Gog of Magog
A Look Back and Ahead
21. RETURN FROM EXILE Ezra 1-2 and Isaiah 34-35 and 40-55
History
Box 21.1 Chronology of the Sixth Century BCE
The Priestly Source of the Pentateuch
The Exilic Edition of the Deuteronomistic History
Isaiah 40-55
Box 21.2 The Development of Monotheism
Box 21.3 Female Images of God
A Look Back and Ahead
PART SIX. RECONSTRUCTION, CONSOLIDATION, AND CHALLENGE
22. THE RESTORATION: JUDAH IN THE LATE SIXTH AND FIFTH CENTURIES BCE Ezra 3-10, Haggai, Zechariah, Isaiah 24-27 and 56-66, Joel, and Malachi
History
Box 22.1 Chronology of the Mid-Sixth to the Fourth Centuries BCE
Ezra 3-6
Box 22.2 Aramaic
The Book of Haggai
Zechariah 1-8
Isaiah 56-66
The Books of Ezra and Nehemiah
Box 22.3 The Elephantine Papyri
Apocalyptic Literature
The "Isaiah Apocalypse" (Isa 24-27)
Zechariah 9-14
The Book of Joel
The Book of Malachi
A Look Back and Ahead
23. THE CONSOLIDATION OF TRADITIONS 1-2 Chronicles, Psalms, and Proverbs
The Books of Chronicles
Box 23.1 Samaria and the Samaritans
The Book of Psalms
Box 23.2 Parallelism
Music in Ancient Israel
Wisdom Literature
The Book of Proverbs
A Look Back and Ahead
24. DISSIDENTS, LOVERS, AND HEROES Job, Ecclesiastes, Song of Solomon, Jonah, Esther, and Daniel
The Book of Job
Box 24.1 The Satan
Box 24.2 "I Know That My Redeemer Liveth"
Box 24.3 Behemoth and Leviathan
Box 24.4 Job's Wife and Daughters
The Book of Ecclesiastes
The Development of Beliefs in Life after Death in Ancient Israel
The Song of Solomon
Historical Romances
The Book of Jonah
The Book of Esther
Box 24.5 The Festival of Purim
The Book of Daniel
Box 24.6 Angels and Demons
Box 24.7 "Son of Man"
A Look Back and Ahead
Appendix: The Apocryphal/Deuterocanonical Books
Revisions of and Additions to Biblical Books
Historiographic Literature
Historical Fiction
Wisdom Literature
Other Compositions
Chronology
General Bibliography
Glossary
* Weights and Measures
Index