Note: Supplemental materials are not guaranteed with Rental or Used book purchases.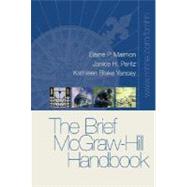 Related Products
Summary
Drawing on its authors' more than twenty years of research into writing in college, this economy handbook offers extensive technological support and an indispensable resource for learning, writing, researching, and editing.The Brief McGraw-Hill Handbookfeatures practice exercises throughout, a focus on visual rhetoric, content tied to outcomes, grammar diagnostic quizzes, strong coverage of research and plagiarism, extensive support for multilingual writers, a fully integrated online component, and much more.
Table of Contents
The Brief McGraw-Hill Handbook
Preface for Students and Tutorials
Preface for Instructors
Introduction: Writing to Learn
Studying a range of academic disciplines
Using writing as a tool for learning
Taking responsibility for reading, writing, and research
Recognizing that writing improves with practice
Writing and Designing Papers
Reading, Thinking, Writing: The Critical Connection
Reading critically
Thinking critically
Writing critically
Planning and Shaping
Learning how to approach assignments
Exploring your ideas
Developing a working thesis
Planning structure
Considering visuals
Drafting
Using online tools for drafting
Developing ideas and using visuals
Writing focused, clearly organized paragraphs
Integrating visuals effectively
Revising and Editing
Getting comments from readers
Using online tools for revising
Focusing on the purpose of your writing
Testing your thesis
Reviewing structure
Revising paragraphs
Revising visuals
Editing sentences
Proofreading carefully
Using campus, Internet, and community resources
Learning from one student's revisions
Designing Academic Papers and Portfolios
Considering audience and purpose
Using computer toolbars
Thinking intentionally about design
Compiling a portfolio
Writing in College and beyond College
Informative Reports
Understanding the assignment
Approaching writing an informative report as a process
Student paper: Informative report
Interpretive Analyses and Writing about Literature
Understanding the assignment
Approaching writing an interpretive analysis as a process
Student paper: Interpretive analysis
Arguments
Understanding the assignment
Approaching writing an argument as a process
Student paper: Argument
Other Kinds of Writing Assignments
Personal essays
Essay exams
Oral Presentations
Planning
Drafting
Preparing
Multimedia Writing
Tools for creating multimedia texts
Interpreting images
Hypertext essays
Multimedia presentations
Web sites
Blogs
Writing beyond College
Addressing the community
Designing brochures, posters, and newsletters
Internships
Résumés
Job application letters and interviews
Writing on the job
Researching
Understanding Research
Primary and secondary research
Research and college writing
Choosing a research question
Understanding the research assignment
Creating a research plan
Finding and Managing Print and Online Sources
Using the library in person and online
Kinds of sources
Keyword searches
Printed and online reference works
Print indexes and online databases
Search engines and subject directories
Using the library's online or card catalog
Government documents
Online communication
Finding and Creating Effective Visuals
Finding and displaying quantitative data
Online and print sources
Evaluating Sources
Print sources
Internet sources
Evaluating a source's arguments
Doing Research in the Archive, Field, and Lab
Ethics
Archival research
Field research
Lab research
Plagiarism, Copyright Infringement, and Intellectual Property
Definitions
Avoiding plagiarism
Fair use
Working with Sources and Avoiding Plagiarism
Maintaining a working bibliography
Creating an annotated bibliography
Taking notes
Taking stock
Integrating quotations, paraphrases, and summaries
Writing the Paper
Planning and drafting
Revising
Documenting
MLA Documentation Style
MLA Style: In-Text Citations
MLA Style: List of Works Cited
MLA Style: Explanatory Notes
MLA Style: Paper Format
Student Paper in MLA Style
APA Documentation Style
APA Style: In-Text Citations
APA Style: References
APA Style: Paper Format
Student Paper in APA Style
Editing for Clarity
Avoiding Wordiness
Redundancies and unnecessary modifiers
Wordy phrases
Roundabout sentences
Adding Missing Words
Compound structures
The word that
Words in comparisons
The articles a, an, the
Unscrambling Mixed Constructions
Mixed-up sentences
Illogical predicates
Fixing Confusing Shifts
In point of view
In tense
In mood and voice
Between direct and indirect quotations and questions
Using Parallel Constructions
Items in a series
Paired ideas
Function words
Fixing Misplaced and Dangling Modifiers
Misplaced modifiers
Ambiguous modifiers
Disruptive modifiers
Split infinitives
Dangling modifiers
Using Coordination and Subordination Effectively
Coordination for equal ideas
Major ideas in subordinate clauses
Excessive subordination
Varying Your Sentences
Sentence openings
Length and structure
Cumulative and periodic sentences
Inversions, rhetorical questions, and exclamations
Choosing Active Verbs
Alternatives to "be" verbs
Active voice
Using Appropriate Language
Slang, regional expressions, and nonstandard English
Levels of formality
Jargon
Euphemisms and doublespeak
Biased or sexist language
Using Exact Language
Connotations
Specific and concrete words
Standard idioms
Clichés
Figures of speech
Misusing words
Using the dictionary
Glossary of Usage
Editing for Grammar Conventions
Fixing Sentence Fragments
Dependent-clause fragments
Phrase fragments
Other types of fragments
Repairing Comma Splices and Run-on Sentences
Adding a coordinating conjunction
Using a semicolon
Separating into two sentences
Making one clause dependent
Transforming two clauses into one independent clause
Maintaining Subject-Verb Agreement
Subject separated by a word group from the verb
Compound subjects
Collective subjects
Indefinite subjects
When the subject comes after the verb
Subject complement
Relative pronouns
–ing phrases
Titles, company names, or words representing themselves
Recognizing Problems with Verbs
Regular and irregular verbs
"Lay" and "lie," "sit" and "set," "rise" and "raise"
"–s" or "–es" endings
"̵
Table of Contents provided by Publisher. All Rights Reserved.