Note: Supplemental materials are not guaranteed with Rental or Used book purchases.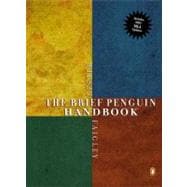 The Brief Penguin Handbook (MLA Update)
ISBN13:
9780321202598
by
Faigley, Lester
Summary
In The Penguin Handbook, Brief Edition , Faigley rethinks the way handbooks present information and ideas with a reference that's tailored for today's visually and technologically oriented students. Drawing on student feedback and a wealth of classroom experience to design a handbook that gives students the information they need in a format they will actually use, The Penguin Handbook, Brief Edition, addresses the changing nature of today's students as well as today's writing assignments. This text uses unique, at-a-glance documentation pages to help students visually understand how to cite sources, while Common Errors boxes for grammar and style help students identify the building blocks necessary for academic writing so that they can successfully employ them in their work. Additional visuals throughout the text help students with everything from how to construct a descriptive paragraph to understanding how visual information can be used in a paper, presentation, or Website. The Penguin Handbook, Brief Edition, makes major advances over existing handbooks by broadening the context of communication, including concise, practical discussions of verbal and visual texts as well as detailed coverage of writing in its many forms. While an emphasis on the process of academic writing and research is maintained throughout, the book and its Website also include coverage of non-fiction genresbrochures, magazine articles, and letters of applicationthat are used more typically outside the classroom. In addition, The Penguin Handbook is the first handbook to combine this coverage with three purposes of writing: reflective, informative, and persuasive writing. Throughout, Lester Faigley's expertise in matters relating to technology is consistently evident, including integrated references to the text's comprehensive and meticulously constructed Web site. This site extends the interactive nature of the text by providing self-scoring exercises linked to the Common Error boxes, ESL Worksheets for non-native speakers, Writing in the World projects linked to the writing process chapters, and more. On everything from Internet research and documenting online sources to cutting-edge chapters on writing for the Web and creating visuals for papers and oral presentations, The Brief Penguin Handbook, Brief Edition, ensures that student writers are adequately prepared for anything they are likely to encounter in today's academic environment and beyond.
Table of Contents
Composing in The Digital Era
Inroduction: Writing for Different Purposes in Different Media
The Rhetorical Situation
The Rhetorical Triangle
A Writer's Audience
A Writer's Ethos
A Writer's Purpose
Words and Images
Verbal vs. Visual Media
Where Visuals Work Best
Where Words Work Best
Planning and Drafting
Establish Your Goals
Explore Your Topic
Write a Working Thesis
Plan a Strategy
Compose a Draft
Write as a Member of a Team
Stay Organized
Composing Paragraphs
Focus Your Paragraphs
Organize Your Paragraphs
Make Your Paragraphs Coherent
Consider Paragraph Length
Link Across Paragraphs
Write Effective Beginning and Ending Paragraphs
Rewriting, Editing, and Proofreading
Switch from Writer to Reader
Learn Strategies for Rewriting
Respond to Other Writers' Drafts
Edit for Particular Goals
Proofread Carefully
Learn to Edit the Writing of Others
Writing in College and Beyond
Critical Reading and Viewing
Two Kinds of Reading and Viewing
Critical Reading
Verbal Fallacies
Critical Viewing
Visual Fallacies
Writing to Reflect
Find An Reflective Topic
Identify a Focus
Develop Your Response
Sample Reflective Essay
A Reflective Magazine Article
A Reflective Web Site
Writing to Inform
Find an Informative Topic
Narrow Your Topic and Write a Thesis
Develop and Organize Your Ideas
An Informative Brochure
Business Letters, Emails, and Memos
Reports
Writing to Persuade
Find an Arguable Topic
Make an Arguable Claim
Developand Organize Good Reasons
Sample Proposal Argument
A Persuasive Letter of Application and Résumé
Visual Rhetoric
Design Basics
Create a Visual Relationship
Make Similar Elements Look Similar
Make Different Elements Look Different
Understanding the Rhetoric of Type
Creating Graphics, Tables, and Charts
Types of Illustrations
Illustrations
Imaging Editors
Formats and Printers
Tables
Charts and Graphs
Verbal and Visual Presentations
Planning a Presentation
Delivering a Presentation
Design Effective Visuals
Writing for The Web
Web Basics
The Architecture of a Web Site
Visual Design on the Web
Establish Goals for a Web Site
Steps in Creating a Web Site
Get Started
How HTML Tags Work
Adding Links and Images
Organize Your Web Site
Building a Multi-Page Site
Principles of Navigational Design
Tools for Navigation
Navigation on Complex Sites
Make Your Site Accessible
Test and Improve Your Site
Researching
Planning Your Research
Analyze the Research Task
Set a Schedule
Find a Topic That Interests You
Ask a Question and Draft a Working Thesis
Decide What Kind of Research You Need to Do
Plan Field Research
Finding Sources
Research in Libraries and on the Web
Find Books
Find Articles in Journals
Find Newspaper Articles
Find Information on the Web
Start a Working Bibliography
Evaluating Sources
Determine the Relevance of Sources
Determine the Reliability of Print Sources
Determine the Reliability of Internet Sources
Avoiding Plagiarism When Using Sources
The Purpose of Documenting Sources
Intellectual Property and Scholastic Honesty
Avoid Plagiarism
Quote Sources without Plagiarizing
Summarize and Paraphrase Sources Without Plagiarizing
Writing the Research Project
Review Your Goals and Thesis
Plan Your Organ
Table of Contents provided by Publisher. All Rights Reserved.